Flipkart has partnered with eDAO to launch a Virtual Shopping Experience in the metaverse - called Flipverse. Created using eDAO's pioneering Web3 tech stack, Flipverse will enable brands to organize unique product launches and create engaging experiences for users within the photorealistic virtual world. Deep dive into what it all means on a special LinkedIn Live with our experts. Read more below.
Are you ready to 'flip' the shopping narrative? Welcome to the Flipverse – a metaverse space where Flipkart customers can shop in a photorealistic virtual destination via the Flipkart app. Think of it as a virtual shopping theater where you engage in immersive shopping and also communicate with brands in the metaverse.
In partnership with eDAO, a Polygon-incubated organization that designs and launches global art, media and entertainment IPs at scale into the world of Web3, Flipverse will offer gamified, interactive and immersive shopping experiences for consumers in a digital world by giving them access to their favorite brands, Supercoins, and digital collectibles.
Flipverse aims to enable customers to get closer to their favorite brands in an interactive metaverse where the communication runs two ways. Flipverse will be available on Flipkart's newly launched platform FireDrops, which can be accessed from the Flipkart app.
How does the Flipverse change the game for e-commerce? How will it redefine the shopping experience for consumers today? How does Web3 and the metaverse revolutionize brand partnerships?
To deep dive into everything Flipverse, join the special Linkedin Live with speakers Naren Ravula, VP and Head of Product Strategy and Deployment, Flipkart, Ajay Ponna Venkatesh, Director and Head of Flipkart Labs, Anand Venkateswaran, Co-Founder and CEO, eDAO, Mairu Gupta, Chief Operating Officer, eDAO, Sandeep Nailwal, Co-Founder, Polygon, and Sai Krishna V K, Chief Innovation Architect, Flipkart Labs.
The Linkedin Live will be held on the official Flipkart LinkedIn handle on Tuesday, October 18, 2022, at 7 pm IST. Click here to join the event.
Get to know your speakers below:
Ajay Ponna Venkatesh – Director & Head of Flipkart Labs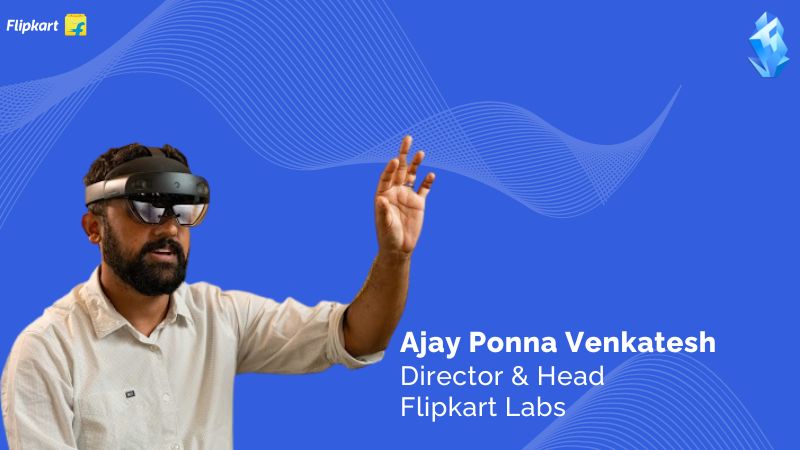 Ajay Ponna Venkatesh is the Director & Head of Flipkart Labs. Ajay co-founded Scapic, an award-winning AR startup acquired by Flipkart in November 2020, leading to the birth of Flipkart Camera which is one of the world's largest deployments of 3D & AR on an eCommerce platform. –. Flipkart Camera is now a part of the larger Flipkart Labs team led by Ajay, which has launched Firedrops, an NFT platform. A huge believer in Web3 and XR shaping the future of computing, he has been following these domains actively for over 7 years. Ajay is a sports enthusiast and a dog lover who loves traveling in his free time.
---
Sai Krishna – Head of Product and Innovation Architecture at Flipkart Labs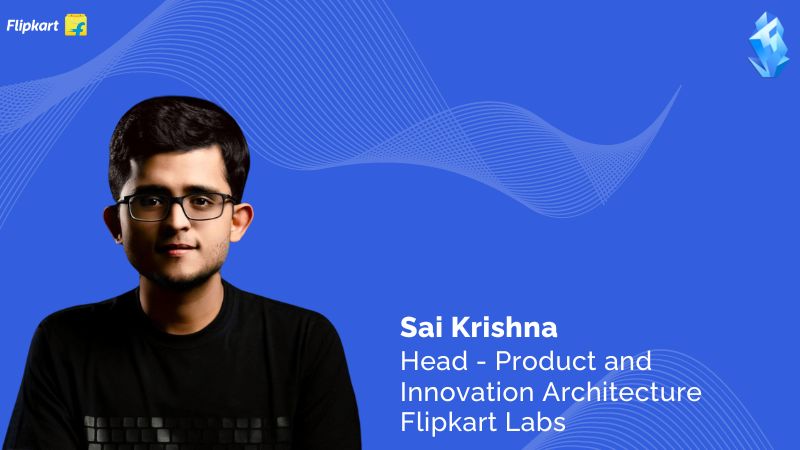 ​Sai Krishna is the Head of Product and Innovation Architecture at Flipkart Labs. Sai has spent over – 9 years building deep tech startups. He was an early believer and pioneer in the Metaverse and has built and backed startups in the domain, including Scapic's acquisition by Flipkart. At Flipkart, Sai leads Firedrops – The NFT and Web3 wing, Flipkart Labs – The moonshot factory focusing on future tech, and Flipkart Camera – Augmented Reality and Virtual Reality commerce.
He is an alumnus of Stanford University Graduate School of Business, a recipient of the Indian National Startup Awards, and a fellowship recipient from Ondeck.He has been awarded by organizations such as Facebook, the Global Student Entrepreneur Awards, Wharton, and IIM. Sai has delivered 80+ keynotes at international conferences pertaining to the Metaverse.
When it's not about work, Sai is quintessentially south Indian, with an affinity to dosas and filter coffee.
---
Naren Ravula – VP, Head of Product Strategy & Deployment, Flipkart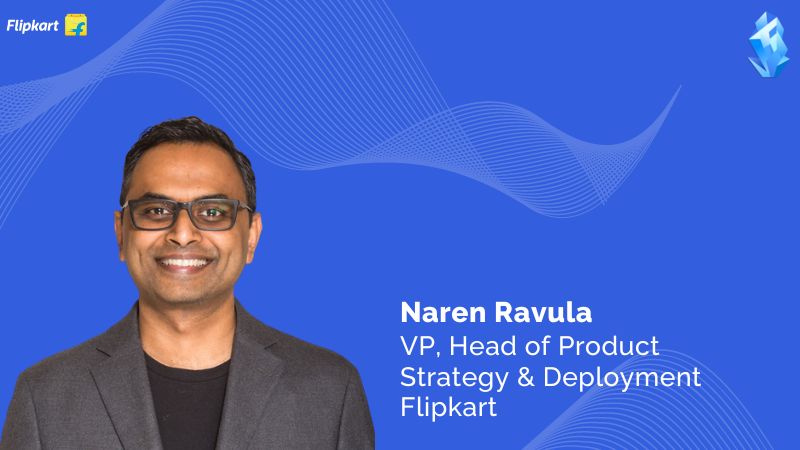 Naren Ravula is the VP and Head of Product Strategy and Deployment at Flipkart. He leads Product Strategy across the Flipkart portfolio, Flipkart Labs – Flipkart group's incubation arm for emerging technologies and Strategy Deployment, including the Strategic and Technical Program Management teams.
Prior to Flipkart, Naren was Head of Product Strategy at NetApp Inc and Senior Director of Product Strategy at Salesforce. He brings diverse experience across Product Development, Product Management, and Strategy/Advisory. Naren's earlier roles include stints as an Analyst at Intel Capital and in the Technology Media and Telecom Investment Banking team at UBS. Naren started his career as a chip design engineer working on several generations of Intel Microprocessors.
He holds an MBA degree from the University of California, Berkeley's Haas School of Business, and degrees in Electronics and Computer Engineering from the National Institute of Technology, Karnataka, and the University of Colorado, Boulder.
---
Anand Venkateswaran – Co-Founder and CEO, eDAO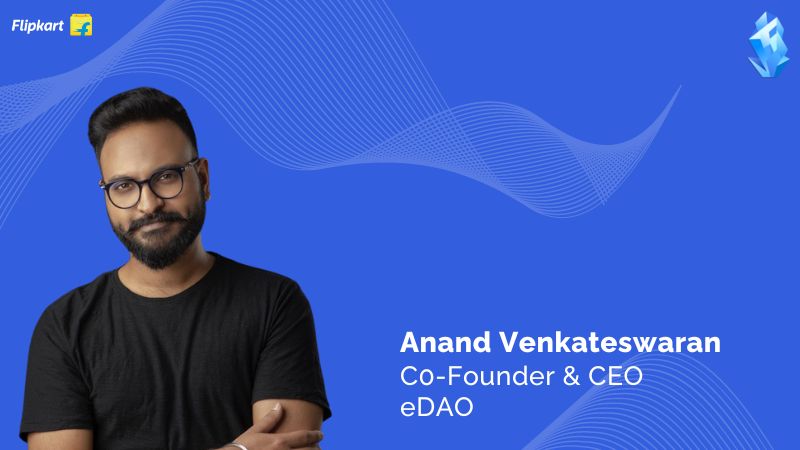 Anand Venkateswaran is the Co-founder and CEO of eDAO and the head honcho with a penchant for the Web3 world who has co-pioneered the Flipverse experience through eDAO's tech stack. In the metaspace, Anand Venkateswaran has been a journalist, an ad man, and a writer for hire. In the metaverse, he was Twobadour, one half of the duo that won the historic $69 mn Christie's auction for Beeple's Everydays: The First 5000 Days. He was the Steward of Metapurse – the largest NFT fund in the world. He found his groove as a capital allocator, storyteller, community builder, and artist fanboy. He was the executive producer of Metapalooza, then the biggest metaverse event, and of Dreamverse, the first and largest ever NFT Art Exhibition and EDM Concert, held in New York.
---
Mairu Gupta – COO, eDAO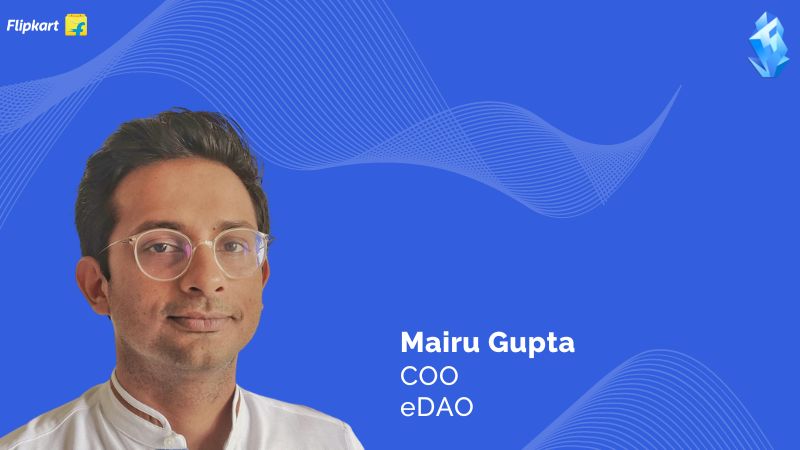 Mairu Gupta is COO, eDAO and the lead entertainment and consumer experience pioneer for the brand's latest venture. Mairu leads the entertainment DAO incubated via Polygon where he's responsible for building the Web3 ecosystem for the media and entertainment industry globally. For the Flipverse, he leads the 'operating systems' efforts in championing the conceptualisation and experience strategy. Previously, Mairu led the digital business for Sony Music in India, driving revenue, digital partnerships, strategy, and content for SAARC markets. Prior to that, he was leading the media & content distribution business for the NBA in India. This was a high growth role across product, content, media distribution, marketing, and revenue. Earlier in his career, he spent 8 years in advertising, where he launched early-stage advertising startups including the digital agency Jack in the Box, and SapientNitro's India play and worked with various advertising agencies such as Rediffusion, Saatchi & Saatchi among others.
---
Sandeep Nailwal – Co-Founder, Polygon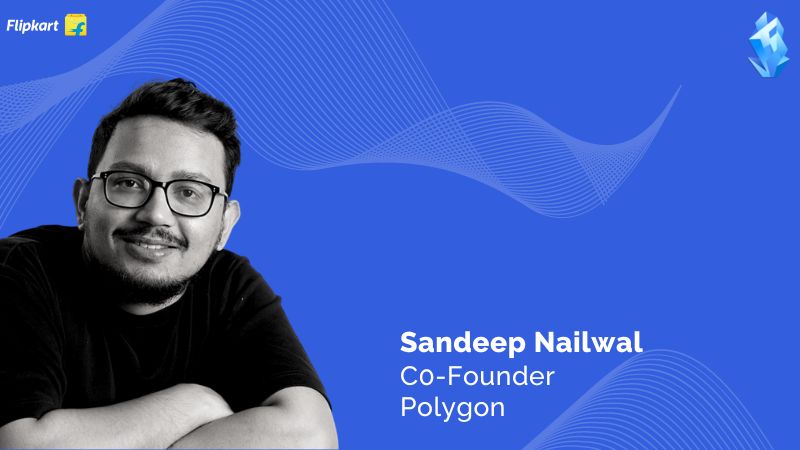 Sandeep Nailwal is a co-founder of Polygon, a leading Ethereum scaling and infrastructure platform. Sandeep started his career as a software engineer and, in 2015, launched ScopeWeaver, India's largest marketplace for professional services, where he designed blockchain-based decentralized application architecture. Prior to that, Sandeep led the technology department at Welspun, the largest textile company in Asia, and worked as a consultant at Deloitte. Sandeep co-founded Polygon with Jaynti Kanani and Anurag Arjun in 2017.
Sandeep holds an MBA from the National Institute of Industrial Engineering (Nitie), one of the top business schools in India. He is based in Dubai with his more than 200 people team distributed across India, Dubai, Asia, the USA, and Europe. His primary responsibilities include spearheading the branding, marketing, adoption, and operations at Polygon as well as partnering with key stakeholders to push forward the vision of Polygon. He is widely regarded as the architect of the blockchain developer ecosystem in India. He has helped 100+ Web3 companies to bootstrap and grow.
---
Also read: Inclusive tech innovation is bridging the gap in India: Q&A with Bharath Ram