Growing alongside the Flipkart Group, eKart and Jeeves have unveiled new brand identities as they externalize core services in supply chain and logistics to make businesses more competitive. Learn about the vision driving these changes from Mani Bhushan, Chief Business Officer - eKart Externalization, Nipun Sharma, CEO of Jeeves, and Rizwan Syed, Senior Director - Brand Marketing, Flipkart.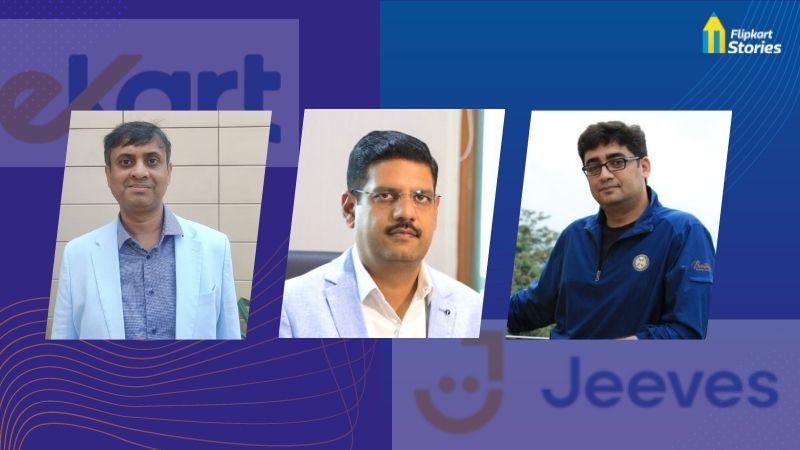 Earlier this year, we announced that eKart, the supply chain and logistics arm of the Flipkart Group, and Jeeves, the one-stop destination for customized end-to-end solutions for all after-sales needs, would offer end-to-end B2B services to brands, platforms, and businesses. eKart's suite of services include end-to-end supply chain management, including dropship, inventory management, distribution, aggregation, and more, built on years of extensive experience since its inception in 2009. By supporting businesses and managing the end-to-end cycle of fulfillment and after-sales seamlessly, eKart and Jeeves will enable brands and businesses to focus on functions core to innovation and growth. In line with their new customer value proposition, eKart and Jeeves recently announced new brand identities true to their extended service footprint.
With this rebranding, eKart and Jeeves have positioned their offerings as active enablers in supporting a vibrant digital commerce ecosystem in India, offering a superior customer experience through quality delivery and post-sales services by using tech-enabled logistics solutions. eKart's new logo is designed keeping in mind the brand attributes, which are empowering businesses, being trustworthy partners, and premium service providers to realize the vision of "Powering India, Powering You". Jeeves, which supports the end-to-end cycle of after-sales services, announced that its brand refresh is in line with its vision of being the most trusted, expert partner for businesses and consumers through its largest network of end-to-end post-purchase solutions.
The new brand logos will be visible across touchpoints including packaging on customer orders, delivery vehicles, bags, and branded t-shirts/attire of eKart's delivery executives and Jeeves' installation personnel.
---
Enjoying this story? Listen to the accompanying podcast below: 
---
For a more nuanced look into these rebranding efforts and to get a behind-the-scenes take on the elements that inspired these changes,we spoke to Mani Bhushan, Chief Business Officer, eKart externalization, Nipun Sharma, Head of Jeeves, and Rizwan Syed, Senior Director, Brand Marketing, Flipkart.
---
Excerpts from the Q&A:
Mani, what can you tell us about the evolution of eKart over the years, and what has it culminated into at present?
eKart has built a massive scale of operations over the years. We have been reliable and flexible in our journey as well. We have a pan-India reach through our own supply chain network. With our modern tech-enabled assets, we deliver across the nation – to the Indo-Pak border in Gujarat, and 5,000 feet above sea level in Siliguri, and beyond.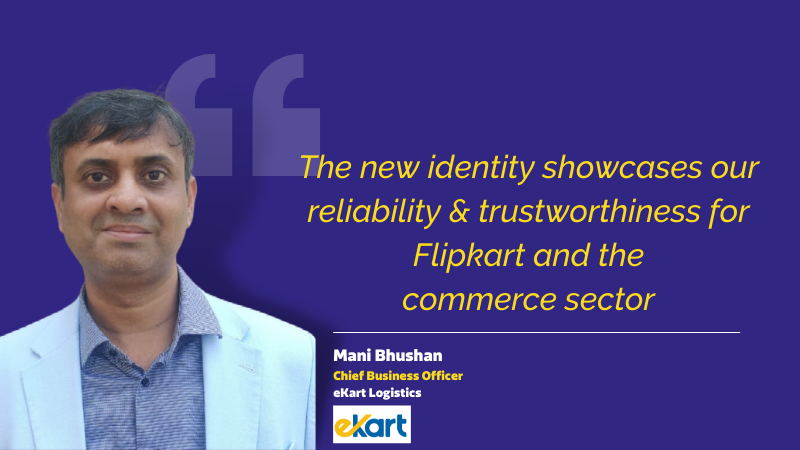 What is the vision for eKart going forward, keeping customers and the ecosystem in mind?
eKart intends to be the most trusted supply chain partner in the ecosystem. Currently, we have around 400 million registered users and 4.2 lakh sellers use our portals to sell around 150 million products across 80 plus categories. Now, if we can do it for Flipkart, we can do it for the entire ecosystem. In a nutshell, we want eKart to be the complete supply chain and logistics solution provider in India.
I feel logistics is at the cusp of a revolution and as modern retail and e-commerce progress, logistics too is going to be more organized. This points to a huge opportunity for any logistics provider, and I feel eKart is trying to do the right things at the right time by enabling commerce in India.
What was the idea behind the new eKart brand identity?
eKart has been the most trusted and reliable partner for Flipkart. We want to build the same trust and reliability for the entire commerce sector, and this needs to be reflected in our identity and logo as well. We express this intent through the color palette, which showcases our reliability and trustworthiness for both Flipkart and the commerce sector.
---
Nipun, as the Head of Jeeves, what can you tell us about the new brand identity?
The brand refresh of Jeeves is a testament of what we stand for and who we want to be perceived as in the eyes of our customer. The smiley in the new logo not only shows the smiles of the customers, but is also reflective of the mood of our employees.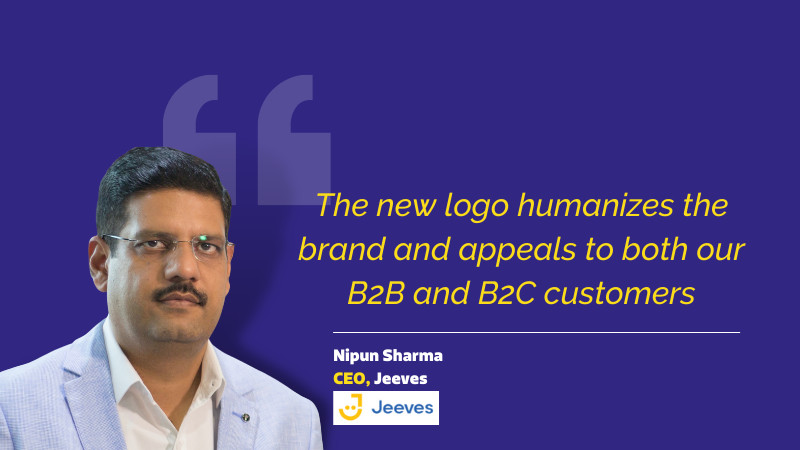 How has Jeeves evolved as a brand over its journey while keeping pace with the growth of the Flipkart group?
Our entire business operates on the value proposition of convenience, reliability, and expertise. When Jeeves started out, the vision was to offer Flipkart our services in the categories of large appliances, mobiles, laptops, IT products, electronics, and furniture. As Flipkart expanded into new categories, we did as well. We now provide Flipkart with post-purchase sales support, which includes services like installation demo, repairs, and other value-added services.
Today, as our business has grown both within Flipkart and with our B2B customers, we now have a workforce of 7,500+ qualified service technicians, offering services across 19,000 PIN codes. We have one of the largest pan-India service providers in the country on a third-party basis.
What is the new brand identity of Jeeves and what is the customer promise it conveys?
In the services business, there's nothing more important to us than our customers' smiles. The new logo with the smiley signifies not only happy customers, but also happy brands. It humanizes the brand and appeals to both our B2B and B2C customers. Also, the minimalistic design language cues the premium imagery, which we want to have as we provide best-in-class service for our customers.
What is the road ahead for Jeeves?
We've got three clear areas of focus. Firstly, we will continue to contribute to Flipkart's leadership in the Indian e-commerce market by delivering superior customer experience across both existing as well as the new product categories. Secondly, we will monetize the capabilities which we have created for Flipkart through our B2B externalization business. This we intend to do by becoming the preferred end-to-end solutions provider for brands. And thirdly, we have recently partnered with Yaantra to launch our mobile and laptop repair services in all the major cities of India.
---
Rizwan, since you lead Brand Marketing at Flipkart, please tell us about the idea behind the rebranding for eKart and Jeeves?
The new eKart identity represents a value proposition that is strong and active — of 'Powering India and Powering You'. The 'you' in it stands for the consumer. The new logo identity embodies all of this in the way it is created. The cultures are borrowed from Flipkart, so that we carry forward the trust that Flipkart brings into the market.
The Jeemoji is here! What is it? And how does it represent a superb customer experience? The people behind eKart & Jeeves' new look tell you that and more in this episode of #Studio34: https://t.co/j7PWfkGimj#FlipkartForIndia pic.twitter.com/O8223XoFFt

— Flipkart Stories (@FlipkartStories) August 3, 2022
The new logo also has a very distinctive 'E' that connotes a source of power that eKart would bring to the market. The upward trajectory symbolizes the growth that eKart would give the partners, all in a design language that is both modern and minimal.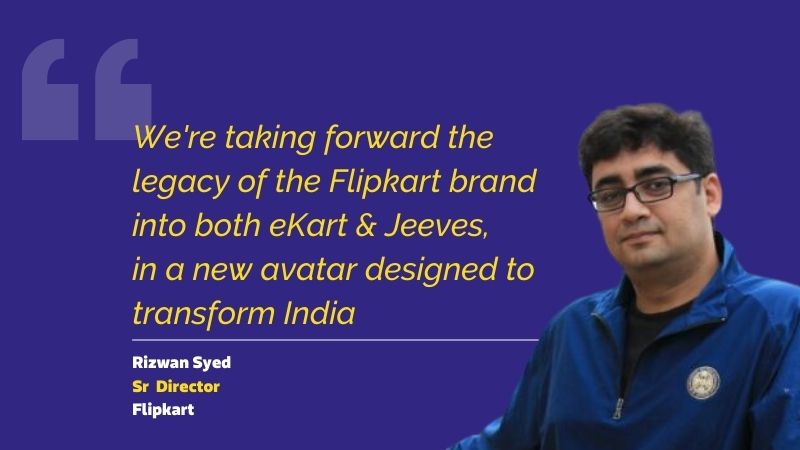 How does the positioning of eKart and Jeeves represent the collective group of people and the services that we provide to our customers across India?
What we're doing here is really taking forward the legacy of the Flipkart brand into both eKart and Jeeves, in a new avatar designed to transform India. With long-standing expertise, we are committed to empowering our partners for growth and living up to the raison d'être for customers – to bring delight to their happy faces.
For eKart and Jeeves, the new brand positioning reaffirms Flipkart Group's commitment to enable lakhs of businesses, D2C companies, brands and platforms to reach millions of customers across the country. As pioneers, these partnerships will further the Indian e-commerce space, and do it all while upholding the customer first promise!
To read other Q&As like this, click here.