As you get set to celebrate the festival of lights, here is something from us that can brighten up your Diwali celebrations. Take part in the Ekart Courier Contest through the #DiwaliBoxQuiz and get a chance to win some special gifts from us.
The season of celebrations is on! With Diwali just around the corner, here's something to make the celebration even sweeter. Play the EKART Courier #DiwaliBoxQuiz and 10 winners will get a chance to win Flipkart Gift Vouchers worth ₹500. This Ekart Courier Contest requires you to read the Ekart Courier – Diwali article and watch the video.
How to play:
Click the relevant links for each question and answer the questions.
To be chosen a winner, you must fulfill ALL the following conditions:

Get all answers right
Like the Flipkart Stories Facebook page
Tweet the link to the contest after you are done playing with the hashtag #DiwaliBoxQuiz
Ten (10) lucky contestants who complete these steps shall be selected to win Flipkart electronic gift vouchers (EGVs) worth INR ₹500.
The results of the quiz will be announced within a week. Selected winners will receive an email from Flipkart Stories. Follow the instructions and comply with the requirements to receive your prize. Prizes will be awarded within 30 days.
---
THIS CONTEST IS CLOSED. Here are the lucky ones! Don't let that stop you from playing. It's fun!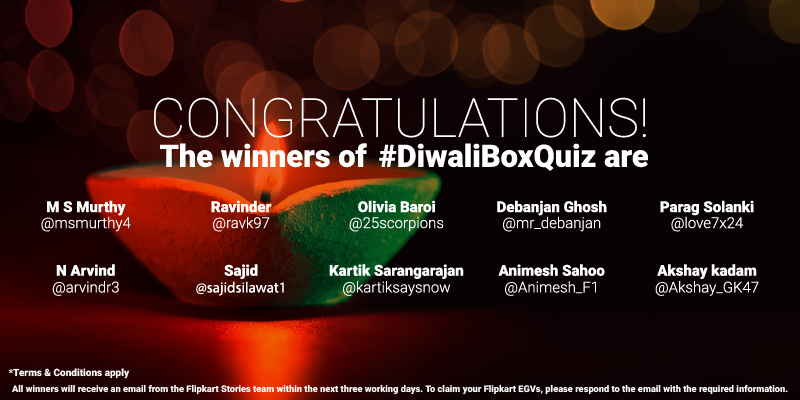 ---
By playing this Ekart Courier Contest it is deemed that you have read and accepted the terms and conditions 
---
EKART COURIER CONTEST – TERMS AND CONDITIONS