The season of celebrations is on! With Diwali just around the corner, here's something to make the celebration even sweeter. Play the EKART Courier #DiwaliBoxQuiz and 10 winners will get a chance to win Flipkart Gift Vouchers worth ₹500. This Ekart Courier Contest requires you to read the Ekart Courier – Diwali article and watch the video.
How to play:
Click the relevant links for each question and answer the questions.
To be chosen a winner, you must fulfill ALL the following conditions:
Ten (10) lucky contestants who complete these steps shall be selected to win Flipkart electronic gift vouchers (EGVs) worth INR ₹500.
The results of the quiz will be announced within a week. Selected winners will receive an email from Flipkart Stories. Follow the instructions and comply with the requirements to receive your prize. Prizes will be awarded within 30 days.
---
THIS CONTEST IS CLOSED. Here are the lucky ones! Don't let that stop you from playing. It's fun!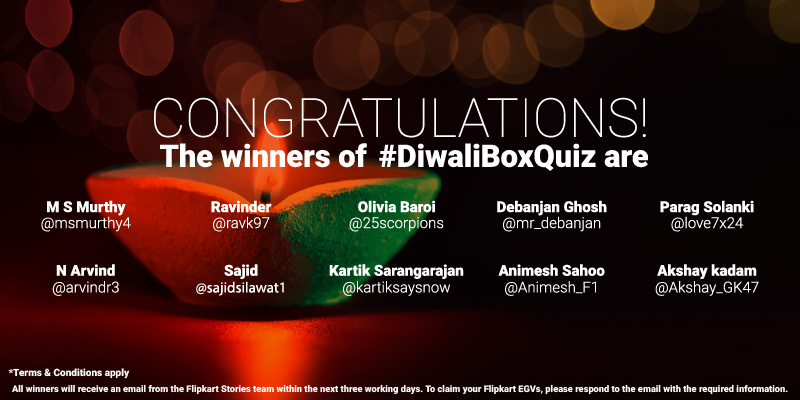 ---
By playing this Ekart Courier Contest it is deemed that you have read and accepted the terms and conditions
---
EKART COURIER CONTEST – TERMS AND CONDITIONS