Important Note: eKart, Flipkart's logistics arm, is India's largest e-commerce logistics provider, delivering a million shipments a day. In 2016, eKart introduced eKart Courier as a consumer service. This was an experimental venture and has since been discontinued. Please note that eKart Logistics no longer operates the eKart Courier service for consumers. If you come across any person or agency claiming to offer eKart Courier services, please reach out to our customer support team, who will advise you on the necessary action. We thank you for your understanding.
This archived article provides information about the history of eKart Courier.
---
Whether it's important documents or gifts for your loved ones, courier service is one facility that we have depended on for decades. Today, multiple players have entered this market, offering a variety of supplementary services to users, but somewhere along that journey the basic needs of the customer were forgotten. Those are precisely the gaps that Ekart Courier — our very own courier service — steps in to fill.
Initiated late in 2015, Ekart Courier started as a concept tested with a select user group under the code-name Flash. The system and process was designed based on deep research around customer convenience and their expectations from a courier partner. Three key insights stood out: The need for a courier service that was (1) quick, (2) convenient and (3) reliable. These qualities are today integral to the newly launched Ekart Courier service.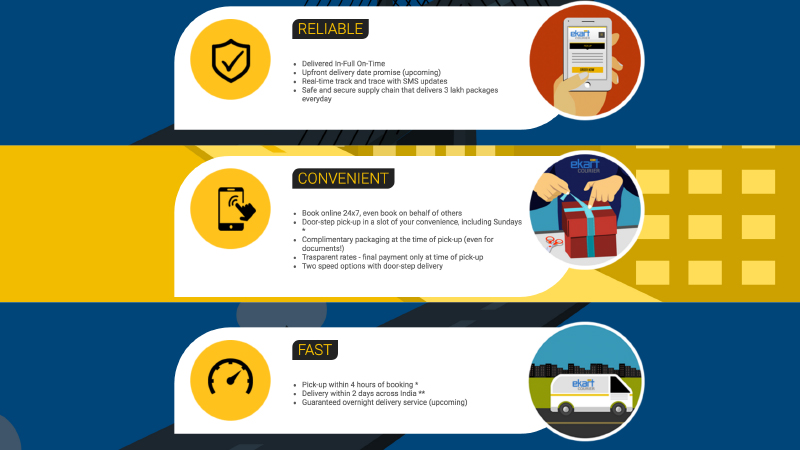 The Ekart Courier service will officially open its online booking channel in the week of 23rd May, 2016. You can click here and fill in your details to be notified once the service goes live. To know more about how the service works, read on.
---
Watch this short animated video story that explains how EKART Courier can help you deliver happiness.
---
How does Ekart Courier work?
No more packaging hassles and no more running around to send a package by courier. Just place your courier booking on the Ekart Courier website or mobile site and our Wishmaster (Ekart personnel) will pick up the package right from your doorstep. As for you, all it takes is 3 simple steps to get your package picked, packed and delivered to the desired destination. Here's what you need to do.
Step 1: Checking pickup and delivery feasibility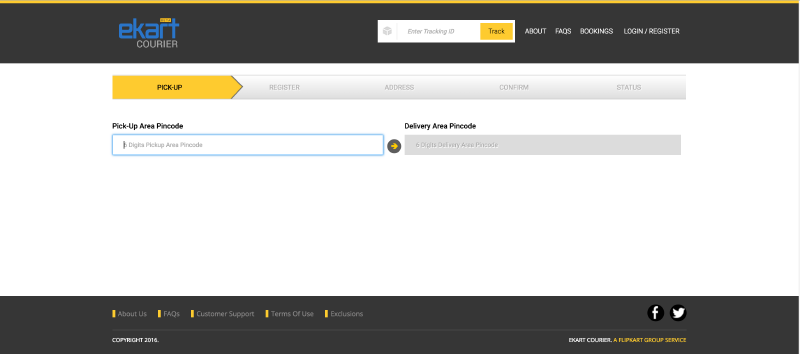 To send your parcel, start by simply clicking this link on your mobile phone or desktop browser. You will be required to complete two fields on the page — the pickup and delivery pincodes. If your pincodes are serviceable, the live alert will turn green and you can proceed to the next step. Ekart Courier services over 3800 pincodes across India.
Once the pincodes are validated and service is confirmed, you must confirm the type of courier (Document or Non-Document), the approximate weight of the package, and the time slot to get your package picked up. Predetermined time-slots help ensure a guaranteed pickup based on service availability and your convenience.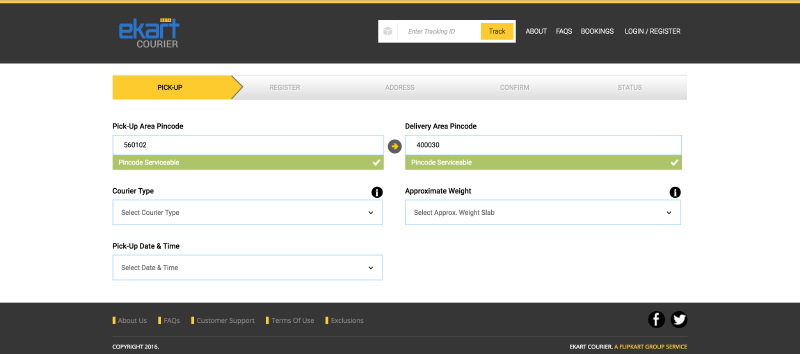 If everything looks good, cost and time estimates are prepared for your confirmation. There are two service options available for customers. The Standard option will get your package to the destination within 4 business days and the premium Prime option fast paces this by 2 business days. Once you select either of these options, click the button to confirm and move ahead to the next step.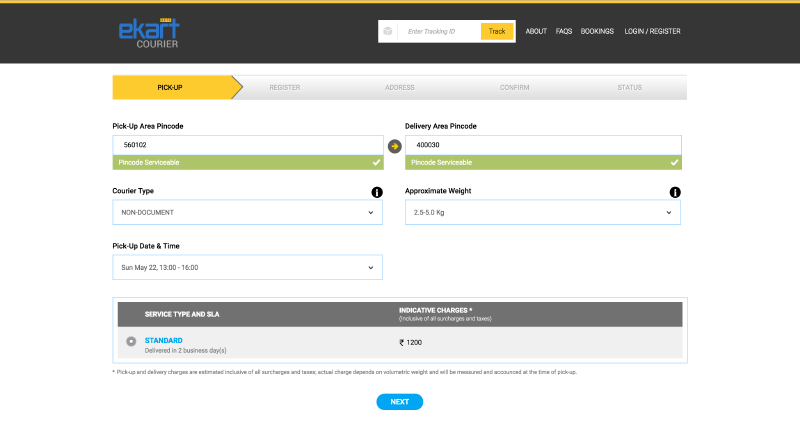 STEP 2: Entering location details and create your profile on-the-go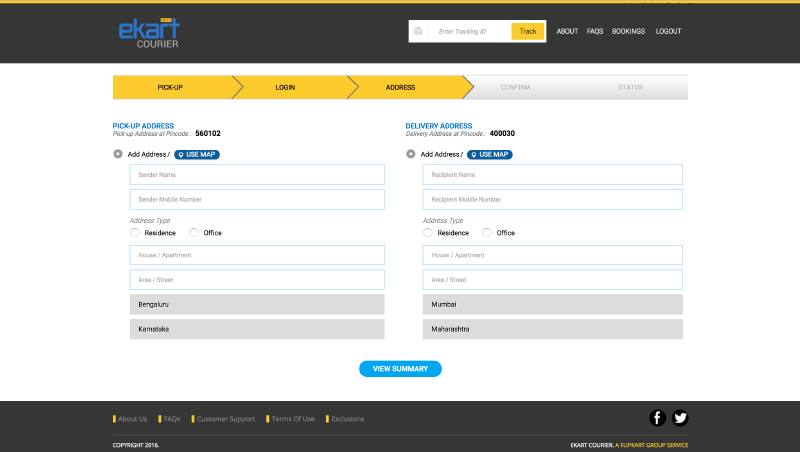 With Ekart Courier, the user registration process is seamless. There is no need to create a separate profile to start using this service. Users just need to add the pickup and delivery address and your profile gets created on-the-go. Don't have the time to enter your address? Then use the Maps option to pinpoint your location and the system registers this.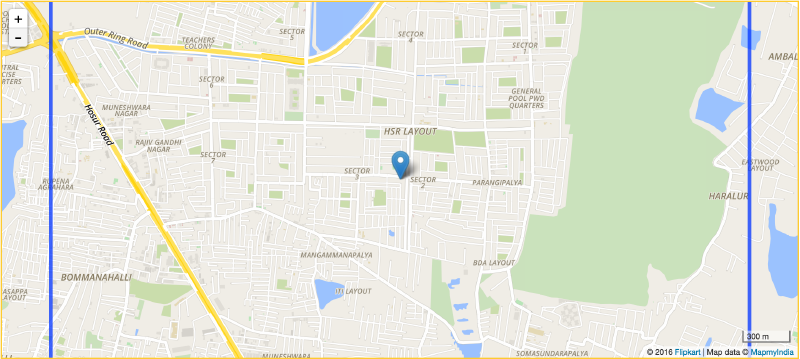 Once you have registered your details, the system automatically recommends the predefined address during your next usage instance. All you need to do now is select the address on the click of a button and proceed to view your request summary.
STEP 3: Validation and confirmation of booking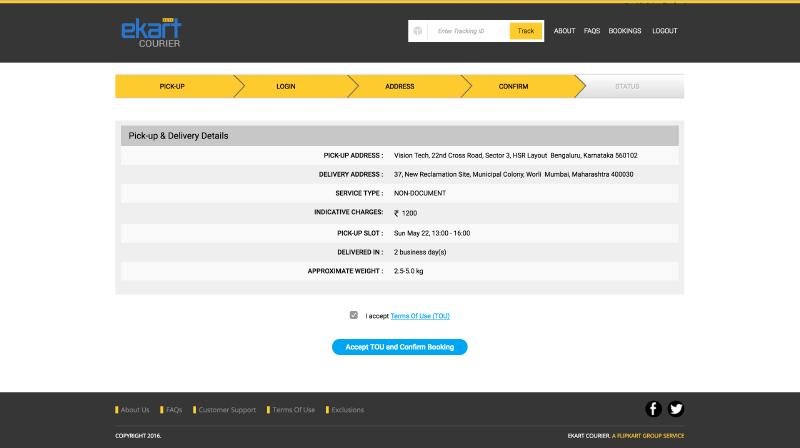 The final step to getting your parcel across is to validate the details and confirm the booking. Once these are confirmed, you will instantly receive an Ekart tracking ID. This can be used at our website for real-time tracking of your booking.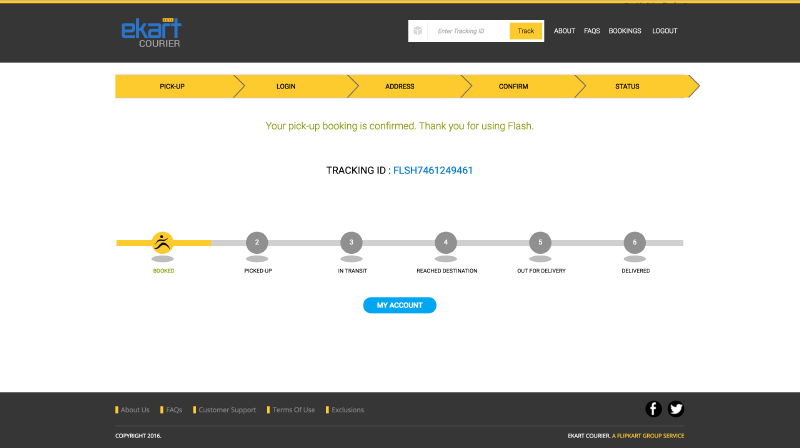 You can now check your booking in the My Booking tab and track its progress. Based on your convenient schedule, our Wishmaster will pick up and pack your item, right at your home. In case you won't be available at the scheduled time, you can reschedule the pick-up to a different slot, or cancel the booking from the portal. Other tabs in this section also let you edit your profile and input bank details for instances of refunds.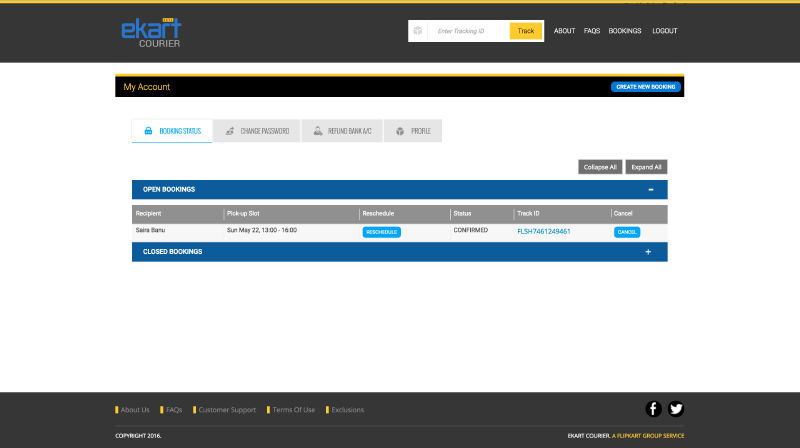 Key highlights of Ekart Courier
Wondering how Ekart Courier is different from other courier services? Here are three primary highlights that make sure your package is in good hands.
Courier at your convenience
No more hunting for a courier service or waiting in long queues. Ekart Courier will come right to your home to pickup your package. Just fix a time slot in the system and our executive will be at your doorstep. What's more, there's no need to worry about packaging – no more searching for envelopes, bubble wrap or duct tape. Depending on the size and type of item to be transported, the Ekart Courier Courier executive will optimally package your item or document, right in front of you. You can send parcels weighing up to 10 kg.
Leave your worries with us
Worried about misplaced couriers? Don't worry. Our tracking mechanism allows you to see the progress of your parcel to the delivery point. Users can get SMS alerts and emails at different interventions, ensuring the package reaches the destination safely. If you are still concerned about your courier, log on to your Ekart Courier account and track the consignment online.
ALSO READ
Soon, Ekart will also launch an RFID and GPS-based tracking system that will track your courier on a map, throughout its journey — even as it travels on a truck or a plane!
Speedy service
Ekart Courier offers one of the fastest services available in the market. With the same service that delivers millions of Flipkart packages, our Wishmasters ensure timely pickup and delivery of your package. Our SLAs ensure that your package reaches its destination within 2-5 days of the pick.
Find out more about the Ekart Courier service in the week of 23rd May, 2016.