Even as Flipkart's Customer Support executives work day in and day out to address your issues and ensure that you have a great experience, we find that most happy Flipkart customers are also the quietest ones. That's why we want to hear your Flipkart story — every good one, every great one and, most of all, every terrific one!
---
Watch – this was the first-ever Flipkart story
Who was Flipkart's first customer? Here's the story

Who was Flipkart's first customer? As Flipkart celebrates 10 years, we look back at the very first online sale that got the Indian e-commerce startup in business. Founders Sachin Bansal and Binny Bansal, who had met at IIT Delhi in 2005, had quit their jobs and borrowed money from their parents to strike it on their own. Working out of a small apartment in Bengaluru, they started up Flipkart, an online bookstore, in 2007. In Mahabubnagar, 480 km away, a young bookworm was out scouting for books. Each weekend VVK Chandra would travel 90-odd km to Hyderabad to scour the city's bookstores for books. Chandra, a techie, also wrote a blog. One of his posts received a comment from someone who identified himself as Sachin. In his signature was a link to a site Chandra had never heard of. Chandra clicked on www.flipkart.com — and the rest is history. Watch this video to learn how that story unfolded. And, wait, there's more. What's YOUR Flipkart true story? Share it with us. The best storytellers will be selected to win prizes from Flipkart. Start here: http://bit.ly/cUst0ries#FlipkartBIG10 #CustomerFirst

Posted by Flipkart Stories on Thursday, 13 July 2017
---
If you are a Flipkart customer, you've surely had your share of good and not-so-good experiences. Flipkart has grown by learning a lot from you over the last ten years, and we have developed and improved our services and our customer experience based on the insights you have been instrumental in sharing with us. We have earned your trust and we have battled hard to remain India's best online shopping destination. And our most loyal customers keep coming back, encouraging us to do more and to do better.
However, we find it's often our dissatisfied customers who speak out the loudest, while our delighted customers merely smile to themselves. Some might write product reviews or ratings, but the real story behind their #CustomerFirst experience remains untold.
---
We're listening… tell us your Flipkart Story!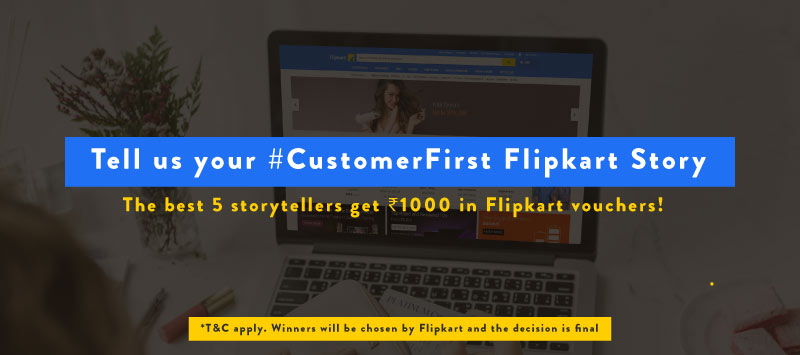 So here's your opportunity to tell us your best-ever story as a Flipkart customer.
Did you receive an order before the expected date?

Did the Flipkart delivery executive go out of his or her way to get your order to you?

Did you find a product you have always wanted at a great deal on Flipkart?

Did your purchase on Flipkart make someone dear to you smile?

Did you get a great deal with Flipkart's exchange program?
Did Flipkart make your dreams affordable with No Cost EMI?

Did a customer support executive go the distance to resolve your issues?
These are just a few examples to get you thinking. You may have some of your own to share. We are looking for real, authentic #CustomerFirst moments that left you delighted, smiling and recommending Flipkart to your friends.
---
How to tell your #CustomerFirst Flipkart Story
We've made this easy for you.
Start by filling up the submission form
You can submit any number of entries.
To verify that your story is true, please state your Flipkart order ID and contact information. Your order ID is available on your package as well as in the Flipkart app under Account > My Orders > Order Details
Your personal information will be maintained in strict confidence
Five selected stories will be published every month on Flipkart Stories. Each published story will be awarded a Flipkart electronic gift voucher worth ₹1000
There is no last date for entries. Winning entries will be published every month
The decision of Flipkart Stories regarding the winning stories will be final
---
---
Looking for inspiration? See the prize-winning customer story submissions of July and August 2017.
Tell us your Flipkart story in the best way you can. Don't worry if you're not that great a wordsmith or storyteller. We will select and publish the best stories. And we will reward the best 5 storytellers every month.
---