Customer First is not just a Flipkart value, it's a tradition and a practice. Read about how these Customer Care Heroes put aside everything to rush to the aid of their customers.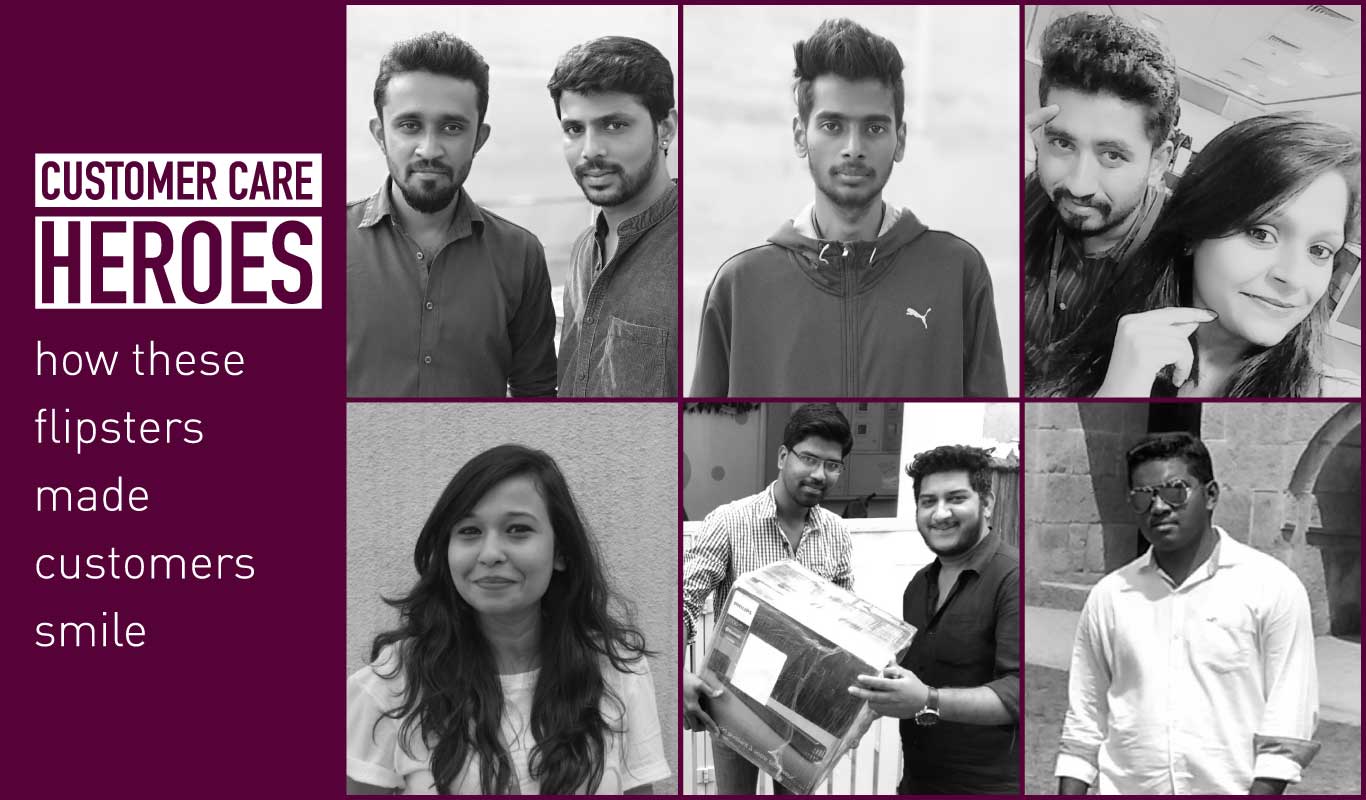 Patience. Persistence. Relentless customer focus. These are the hallmarks of Flipkart's Customer Care Heroes who go out of the way to live and exemplify one of the core Flipkart values — Customer First. The next time you call the Flipkart customer care number 1800 208 9898, remember you are interacting with a superhero.
---
When some Flipkart customers found themselves in frustrating situations seemingly beyond their control, they dialed Customer Support. Sensing the customer's distress, these men and women from Flipkart Customer Support stepped up and went out of their way to help. Their quick thinking and promptness proved the catalyst that not only got these aggrieved customers what they wanted but lit up their faces with a smile. These stories are testimony to the dedication and commitment of these Customer Care Heroes. 
---
---
A tiny gesture, a big smile 
When a Flipster dad of two adorable twins found himself in a difficult situation as his order of baby wipes hadn't been delivered, Customer Care Heroes, Flipsters Akshatha S and Sameer Patil, immediately looked into the issue and decided that the doting father shouldn't have to wait any longer. The customer care heroes rushed to a pharmacy to purchase the wet wipes and deliver it in person to the customer's home.
"Your customers want to know that you're on top of things and that there's nothing in the world more important to you than fixing whatever is broken," says Akshatha.
Flipkart's own Wonder Woman
When a customer called in to express his distress over a delayed shipment, Flipster Yamini Jain from the Service Recovery team knew she had to do whatever it took to get the product over to the customer ASAP.

"I am myself a customer to many organizations so I understand how a customer thinks about the organization based on their experience with them. Understanding this has driven me to be customer-centric and resolution-driven," Yamini says.
The product in question was a phone that the customer had purchased online to gift to his dad on his birthday. Unfortunately, the shipment was delayed as the phone was shipped along with another item in the same order. Without wasting a minute, Yamini coordinated with the warehouse team to ensure that the customer received his order just in time for his flight. To the customer, Yamini is undoubtedly the 'Wonder Woman' who saved his dad's birthday.
"For me, my dad is the biggest hero and I would do anything to keep him smiling. When this customer thanked me for the service after the delivery of the gift, the first thing on my mind was my dad smiling. After this experience, I understand the happiness of every child gifting something to their parents," she adds.
Teamwork makes the dream work for customer care heroes
A customer in Muzaffarpur had placed an order for a home theater system as a birthday gift for his dad. The customer, who had a flight to catch to his hometown on October 18, was distressed when the scheduled delivery date was set for October 21.
"Our tagline says 'Ab Har Wish Hogi Poori'. When we say this, we mean it, and fulfilling customer needs on time makes us feel good and encourages us," says Shivaraj Maruthi.
Along with Shivaraj, Flipsters Dilip Kumar S and Mohammad Wasim Shaik pursued their contacts at GATI, the online product-tracking system, and established a timeline to locate the product. Come October 18, the three customer care heroes were granted permission to have the product released to them so that they could ensure that it reached the customer just in time for his flight. Needless to say, the customer was elated!
In the nick of time
Jayanth from the Service Recovery team had a similar opportunity to put a customer's woes to rest.
"Helping others is not only a good thing to do, it makes us happier too. And it's not all about money – going out of the way also makes customers feel good. So if you want to feel good, do good," says Jayanth G.
A customer had ordered a brand new DSLR camera for his son who was to travel to the US shortly after his birthday. The camera was intended to be his birthday gift but, owing to a mix-up, the wrong model was delivered to the customer. Jayanth sprang into action. He coordinated with all the teams involved. Soon enough, he delivered the right DSLR model to the father whose joy knew no bounds when he placed the camera in his son's hands.
"The camera was purchased to capture special moments from an international trip. The joy on a customer's face when a product is delivered motivates to do more," he adds.
Where there's a will
During The Big Billion Days, a customer placed an order for an electric chimney as a Diwali gift for his brother. Unfortunately, it was only upon installation that the customer realized that this chimney wasn't the one he had ordered. He rang up the technician and requested an immediate uninstallation of the chimney but his request was denied. The customer found himself in a predicament with no way out. He was stuck ordering all his family's meals from restaurants outside as he was afraid that using the chimney would lead to soot and dust collecting on it. How could he possibly return the product then?
Two Flipsters from the Service Recovery team, Chethan P and Sundeep P, shouldered the responsibility for the uninstallation. Coordinating with the customer, the duo reached the customer's house and to his amazement, flawlessly executed the uninstallation in the dead of night. Not only did they succeed in helping out the customer, they also ensured that the return pickup and refund were closed by the very next afternoon.
At Flipkart, customer satisfaction defines success. Flipsters work relentlessly to ensure that this goal is realized. Our customer care heroes ensure that Flipkart customers remain happy, and that Flipkart remains India's favorite online shopping destination. So, the next time you dial 1800 208 9898, remember you're in good hands.
---
Read more: How Flipkart Customer Support fulfills the 'customer-first' promise
---
FlipTales features stories of extraordinary Flipsters and the great work they do. Looking for jobs at Flipkart? Head over to Flipkart Careers and find your fit!