Rushing to the aid of frontline healthcare staff, Flipkart is orchestrating a multi-pronged collaboration involving brands, consumers and employees through deep platform engagements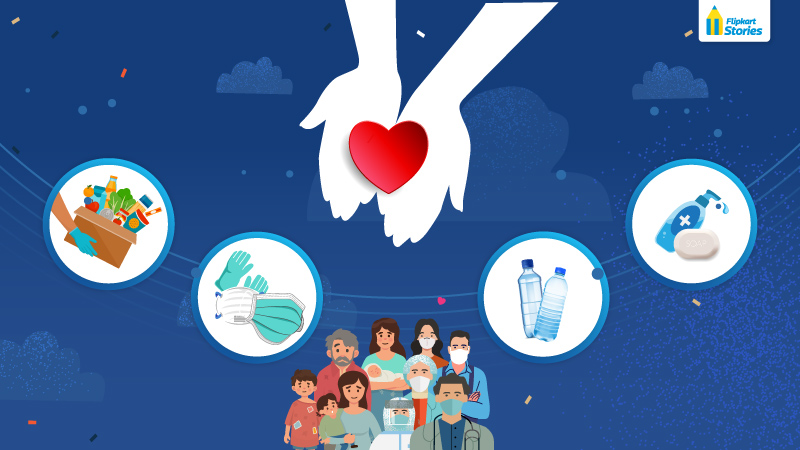 Beginning March 23, India went through a protracted series of lockdowns as the threat of the global coronavirus pandemic knocked on our doors. Three months down, even as we initiate Unlock 1.0, the COVID-19 pandemic continues to test our resolve in multiple ways. Yet, through all this adversity, it brings to light how humanity, heart and initiative can triumph over extreme odds. As a brand with a conscience, Flipkart has rallied customers to the clarion call of giving, forged collaborations with ecosystem partners to expedite the delivery of essentials, and partnered with NGOs and government departments to ensure that personal protective equipment reaches frontline healthcare workers.
In early May, even as the extended lockdown was partially relaxed in green and orange zones across the country, businesses strove to approximate dynamic challenges and adapt to this "new normal". E-commerce deliveries of non-essentials to red zones opened up following the May 17 relaxation of curbs. Optimism remains pervasive as we eagerly anticipate the resumption and eventual restoration of services in increments. Meanwhile, the battle against the coronavirus is far from ended as it throws us new challenges and stubborn statistics every day. Combating the spread of the virus and mitigating its impact continues to demand a humongous effort involving all organs of society.
This concerted action has seen corporate citizens, non-governmental organizations and governments rally forces. Captains of industry and marquee brands have responded to the crisis in manifold ways, forging partnerships and tapping into synergies in a manner never before seen in this complex and competitive market ecosystem.
Coming to the aid of frontline healthcare workers
For Flipkart, working with governments to keep both employees and customers safe and well provided for during the lockdown has been a top priority. Even as our supply chain spares no effort to make preventive hygiene and sanitation an integral part of the system and a daily habit for staff, our thoughts dwell on the caregivers toiling on the frontlines of this battle. Doctors, nurses and paramedics are working endless shifts caring for the affected even as the toll of infections rockets into six figures.
In April, Flipkart along with Walmart and Walmart Foundation committed ₹460 million to contribute much-needed personal protective equipment (PPE) for healthcare workers and financial support for organizations providing essential relief materials to farmers and small businesses. The first supply of disposable medical gowns was delivered to our partner Give India, who have in turn deployed them with the Government of Karnataka on May 8.
Reiterating our commitment to #COVID19 emergency relief efforts, @Flipkart, in collaboration with @Walmart @myntra & @GiveIndia, delivered the first supply of PPEs (medical-grade gowns) for frontline healthcare workers to Govt of Karnataka warehouses today.

2/2 pic.twitter.com/XLM6WZhLQO

— Flipkart Stories (@FlipkartStories) May 8, 2020
Rallying the consumer community
Flipkart, in partnership with GiveIndia, tapped into the generosity of its pan-India customer base, encouraging shoppers to contribute to the fight against COVID-19. In April, over 5.5 lakh Flipkart customers donated over 40 million of the SuperCoins they had earned as shopping loyalty rewards to enable our partner GiveIndia to donate over 5 lakh masks and hygiene kits for healthcare workers in addition to more than 8.6 lakh meals to the needy.
Here's a big thank-you to over 400,000 @Flipkart customers who donated 35 million+ #Supercoins. Your generosity has paid for 3.8 lakh+ masks and 6.4 lakh+ meals!

Donate your SuperCoins and help communities in need: https://t.co/oOiIO4gHTO@GiveIndia pic.twitter.com/kUAEsiVUgv

— Flipkart Stories (@FlipkartStories) April 24, 2020
Flipkart Video, offering an expanded range of free streaming entertainment on the Flipkart app, ensured that customers stayed home and safe. Breaking the boundaries of genre in terms of format and creativity was Entertainer No. 1, a unique stay-at-home reality show featuring Bollywood star Varun Dhawan. The show mandated that participants send in their entries while staying safely locked down at home, and its unique format enabled brands to pledge support to a meaningful cause.
"People are in need of positivity and optimism during this time," observes Prakash Sikaria, Vice President – Growth and Monetization at Flipkart. "From the rooftops of Kolkata to the painted homes of Madhubani, people from all over the country participated in this one-of-a-kind show by bringing out their creative best. From dancers to acrobats, magicians to actors, and everything else in between, the showcase of talent has been astounding. With a growing community of participants on a single platform, we saw the opportunity to use this engagement to enable people to give back to the community."
#BhesBadalke India ko entertain karne aa rahe hai @Varun_dvn aur India ke 25000 entertainers.
Watch now only on @flipkartvideo on the #FlipkartApp.https://t.co/d8WUEpH4es#EntertainerNo1 pic.twitter.com/9aGL3YAXf6

— Flipkart Video (@FlipkartVideo) May 4, 2020
Through a partnership on the Flipkart Video platform, he explains, Flipkart enabled partner brands to leverage the value of entertainment meaningfully. In partnership with Lifebuoy, the storied personal hygiene brand from the house of Hindustan Unilever, each video entry resulted in the donation of an essentials kit to someone in need. To participate, users on the Flipkart app were required to follow a simple 3-step process to submit their entertaining entry to the show, based on weekly themes.
"For every entry that was uploaded, an essentials kit was donated — it was as simple as that!" adds Prakash.
Life under lockdown is a lot more entertaining with @FlipkartVideo Originals anchored by India's finest entertainers! Prakash Sikaria, Vice President – Growth and Monetisation at @Flipkart, offers a peek into the world of original content on the platform.https://t.co/MbNhzk6Aa9

— Flipkart Stories (@FlipkartStories) May 16, 2020
As a part of Lifebuoy's partnership with Entertainer No. 1, a commitment was made to donate 3.2 million units of Lifebuoy essentials to those in need. As a part of its CSR initiatives, Hindustan Unilever is working with several NGOs and medical facilities to distribute essential products.
The unique stay-at-home competition witnessed its grand finale on June 8 when an 18-year-old dancer from Rajasthan, Yuvraj Singh, better known by his stage name 'Baba Jackson', emerged victorious and bagged the title of India's Entertainer No. 1. While all the participants enjoyed themselves on the show, their actions contributed to making a positive difference to the lives of others.
The moment when success knocks on your door is indeed special! Here's #EntertainerNo1 @iBabaJackson and his family, sharing their immense joy and excitement on his big win. Congratulations! pic.twitter.com/tdPCFCrg89

— Flipkart Video (@FlipkartVideo) June 8, 2020
Positive entertainment, according to Srirup Mitra, CCVP – Skin Cleansing at Hindustan Unilever, is helping people stay together and lifting each other's spirits during the lockdown.
"We believe in the power of partnerships for the greater good, and this ethos reflects in our partnership with Flipkart," he adds. "Lifebuoy is a brand that was crafted with the mission of saving lives and with Flipkart Original's 'Entertainer No.1' show, Lifebuoy saw the opportunity for not only a fruitful collaboration using entertainment as a platform, but a chance to enable participants to play a positive role in giving back to those in need. This partnership is unique and Lifebuoy is proud to play a role in bringing people together for a good cause while continuing to save lives by reaching as many consumers as possible with the simple message of washing hands."
Enabling a culture of giving
Within Flipkart, the culture of giving is not a new one. In fact, it has evolved significantly since Mahesh Pratap Singh and his team began streamlining a structured CSR initiative last year. The COVID-19 pandemic only offered more avenues for deepening Flipkart's commitment to giving back to the community.
"Flipkart is enabling and nurturing a culture of giving," says Mahesh, who is a Senior Director leading the Sustainability charter for the Flipkart Group. "In the last 10 weeks, a lot of work has gone into shaping the culture of giving back to the community through employees, customers and brand partners."
Mahesh explains that besides nudging and enabling employees to give generously, Flipkart has sought to find common ground with corporate citizens and marquee brands that share its ethos and commitment to social good. "Entertainer No. 1 is a good example of how we have collaborated to activate this network effect," he says.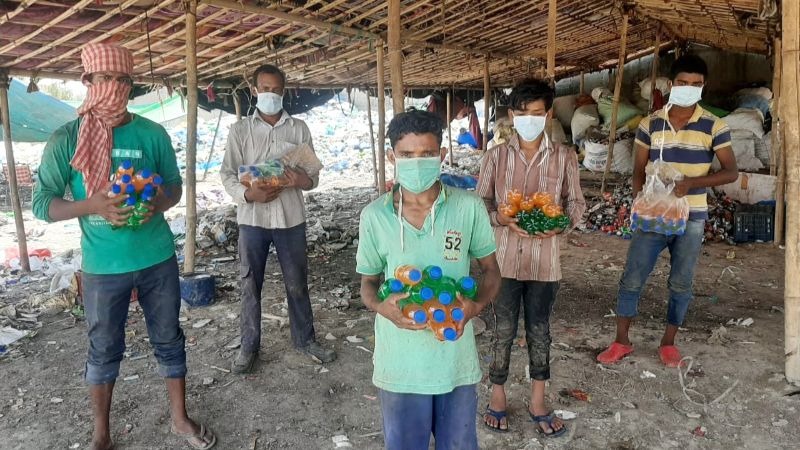 Another key brand partner is Coca-Cola, which has partnered with Flipkart to donate beverages to NGOs and voluntary organizations engaged in COVID-19 relief work. Coca-Cola has always remained focused on environmental and social aspects as a foundational step to conduct its business and develop strategies. Over the years, the company has identified and launched several strategic global and local initiatives as part of its journey to be a true partner in the growth of the communities where it operates.
"During these extremely distressing times of the pandemic, the India Business Unit has committed US$ 10 MM towards immediate community relief and improving the health infrastructure of the country," says Ishteyaque Amjad, Vice President – (Public Affairs, Communication & Sustainability) at Coca-Cola. "It is this unique partnership with Flipkart that would facilitate acknowledging our frontline warriors and saluting the heroes who have selflessly led their way with supporting the most vulnerable and underprivileged sections, like migrant and unemployed labourers, waste workers, rag pickers, etc. who have faced the maximum burden of this great challenge to humankind. It is to celebrate our actual brave-hearted celebrities on the ground!"
"With a growing consumer base across India, Flipkart Video has truly democratized participation in reality shows through this show," chimes in Prakash, referring to Entertainer No. 1.
"Entertainment has always remained central in people's lives but also one of the most effective forms of communication and spreading messages across the intended audience or even masses," adds Ishteyaque. "Hence, a collaboration between entertainment and social causes would undoubtedly lead to mass outreach as well as effective and sustained awareness creation over a continued period of time. It would certainly enhance people's knowledge of welfare measures and positive initiatives taken by the society for communities, through engaging channels and interesting mediums for bringing out the goodness in the society in these not so good times."
Brands with a conscience are not a novelty, but when they come together to unearth hidden synergies, humanity wins.
---
Compiled by Bijoy Venugopal & Priyanka Serrao
Design: Sana Khan