The wait is finally over. Thank you for your patience. We received over 500 entries for Flipkart's Chief Misschief Ambassador – with complete photographic evidence of the young candidates bringing the house down. Here are the top 5 winning entries. Each winner is eligible to win prizes worth ₹5,000* from Flipkart.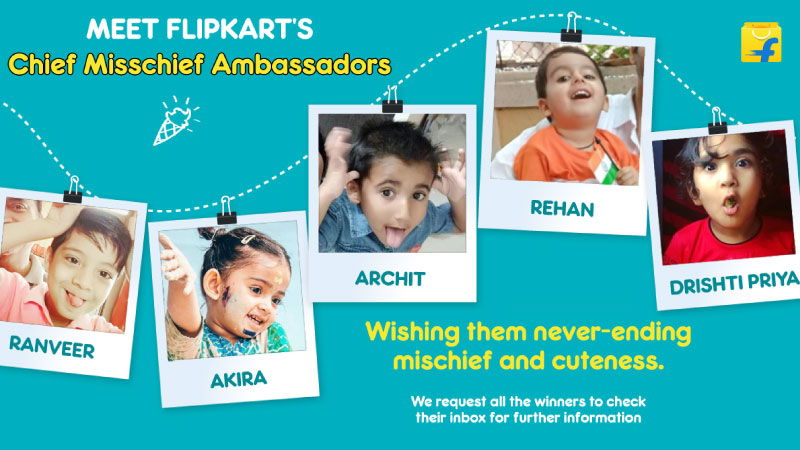 Congratulations winners! Next step, please fill up this form to confirm your contact details, following which our team will get in touch with you.
*Terms and conditions apply
---
10 winners take away ₹1,000!
We've also got 10 contestants who are the lucky winners of Flipkart vouchers worth ₹1,000*.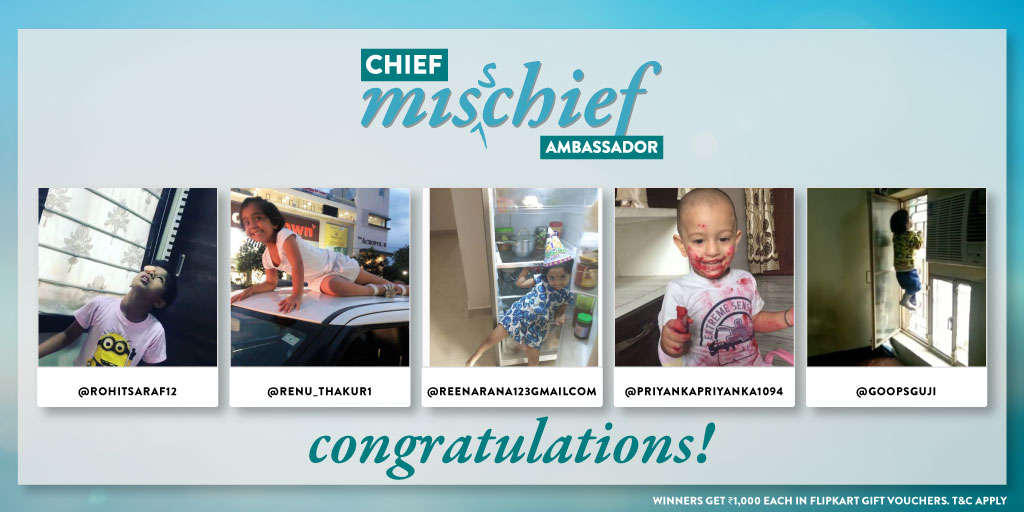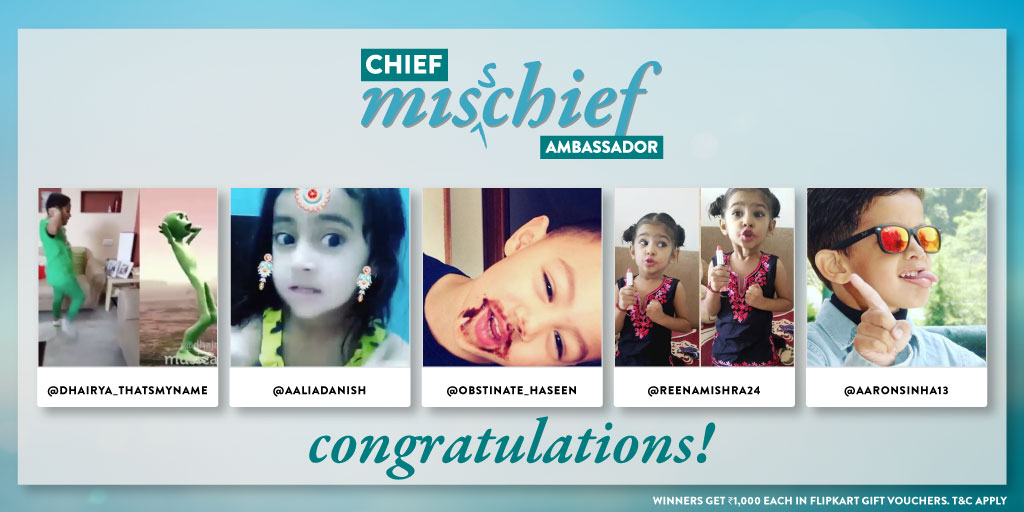 If your mischief-maker is among these 10 winners, please fill this form to claim your prize.
*Terms and conditions apply
---
Tornado! Typhoon! Hurricane! If that's not the weather report but a perfect description of your little one, you're in luck! This summer vacation, Flipkart is looking for a trendsetting, trail-blazing Chief Misschief Ambassador to set the bar way up high and show how it's done.
This is a first-of-a-kind position in the history of India, and we're looking for young (the younger the better) candidates with an exemplary track record of driving their parents up the wall. And we won't just take your word for it. Photographic evidence is mandatory — in the form of a social media post with the hashtag #ChiefMisschiefAmbassador (in case you're wondering, the misspelling is not a misstake).
The winner, or the Chief Misschief Ambassador, stands a chance to be featured on the Flipkart app and website, and will also receive a wardrobe makeover worth ₹5,000! Top 15 entries will get featured on the Flipkart app and website, and receive prizes worth ₹1,000.
Curious? Read on!
This contest is now closed.
---
Flipkart Chief Misschief Ambassador — Eligibility Criteria
To apply on your child's behalf for the coveted position of Flipkart Chief Misschief Ambassador, read the eligibility criteria:
Interested applicants should be residents of India aged between

2 and 10 years

.

The applicant should be a real, living person that bugs the living hell out of other persons. Just so you know, Calvin (from Calvin & Hobbes) applied. So did Junie B Jones. But they were both rejected because they were fictional characters and not residents of India.

You should have a proven track record in

shaitaani, kurumpu, kusruthi, masti, dustumi, tophana

or whatever synonym your parents or grandparents use for 'raising hell' or 'bringing the roof down'. If you have ever had angry neighbors showing up at the door with soaked hair and brandishing a ruptured water balloon, we'll treat that as a Ph D in your chosen (in)discipline.

This is a full-time

wreck-your-home

work-from-home position.

Candidates have the right to pester their parents to participate in the #ChiefMisschiefAmbassador contest (and Flipkart is not responsible for the consequences)!
---
Flipkart Chief Misschief Ambassador – Read this before you apply
Applicants must prove their suitability for the position of Chief Misschief Ambassador by demonstrating their capabilities, which have to be captured in images and posted on social media with the hashtag #ChiefMisschiefAmbassador.
Applicants, please pester and bother your parents until they agree to post a photo or video that demonstrates the full power and potential of your mischief.
This is important, so read it very carefully: Applicants or their parents/guardians must not perform any activities that pose a threat to life (yours or anybody's) or property (personal or public).
No humans or animals may be harmed — either physically or psychologically. And no feelings — personal, cultural, religious, racial, etc. — may be hurt. Doing so will result in your entry being immediately disqualified and you know better than to disappoint your child. We want you to reveal your fun self, not your mean self!
Accompany your post with a description that includes your name, age, and a brief statement about why you want to be appointed as Flipkart's Chief Misschief Ambassador. All entries must be written in English, please.
For legal reasons, all entries must be approved by a responsible parent before they are posted.
---
Here's a step-by-step guide to apply to be Flipkart's Chief Misschief Ambassador:
Eligible candidates are requested to comment using #ChiefMisschiefAmbassador with their entries — a photo/ video/slideshow/Boomerang/Hyperlapse of the honorable candidate showing off his or her talent for mischief.

The contest administrators may ask for proof of eligibility if your entry is selected for a prize. Failing to comply with the requirements may result in disqualification.

All contest entries must abide by the terms and conditions (T&C) posted on this page.

All contest entries must use the hashtag #ChiefMisschiefAmbassador
All contest entries must tag or mention @FlipkartStories and @Flipkart – make sure you are following these accounts!

Submit as many entries as you want! Only one entry per account may be selected for a prize, so show us your best (mis)behavior!

Top 15 entries will be featured on the Flipkart app and website, and receive surprise gifts from Flipkart worth ₹1,000

By participating in this contest, it is assumed that you have read and accepted the contest terms and conditions
---
Also read: Flipsters at work, but #PenguinDads first
---