What if the cost of your favorite smartphone was slashed to a much more affordable rate? A Buyback Guarantee from Flipkart helps you upgrade to your next smartphone with ease, by offering a great price on your existing handset. It's simple, transparent, and guaranteed to provide the best exchange value.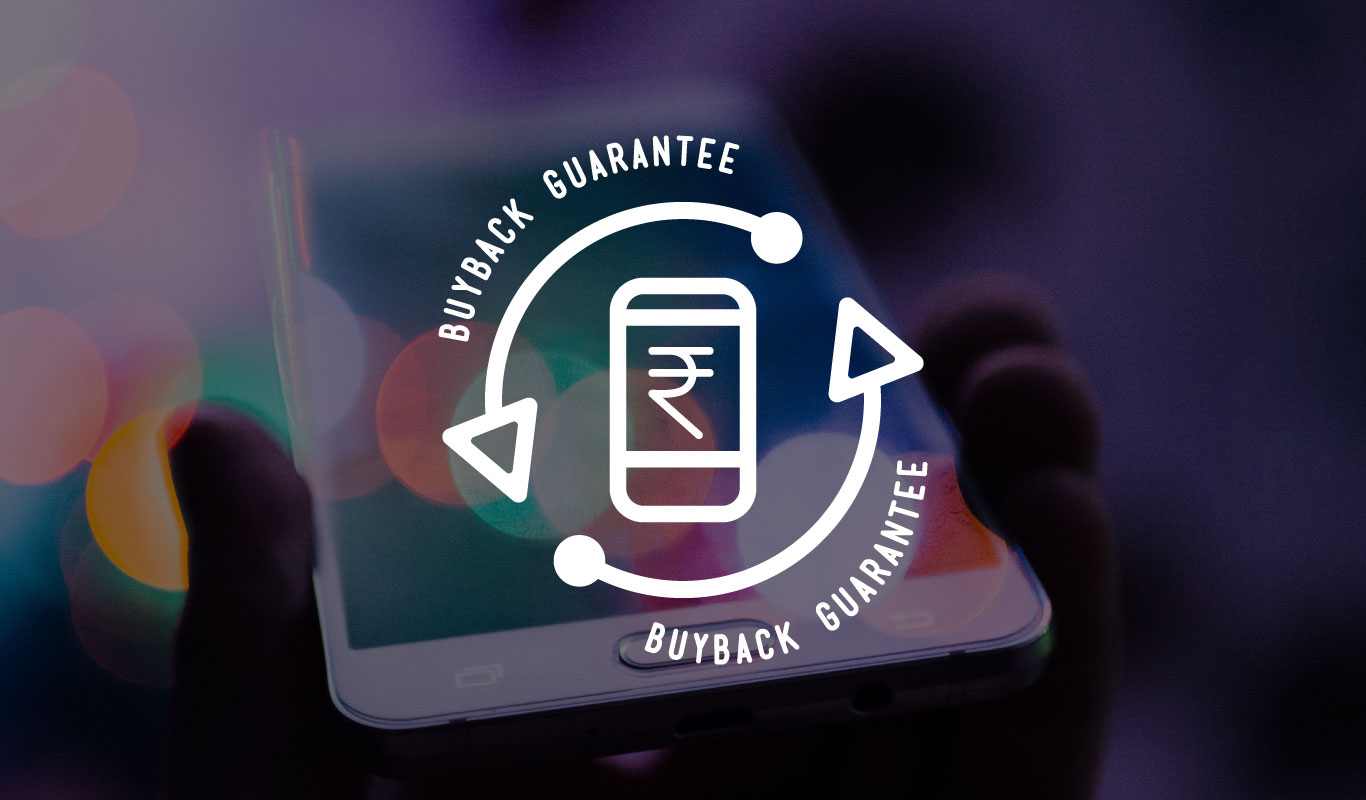 For over five years now, Flipkart has been at the crux of India's e-commerce revolution. More than a hundred million customers have experienced the delight of doorstep delivery through a seamless network of wishmasters. On Flipkart, you're sure to get the best deals and discounts on electronics, appliances, furniture and clothing. Best of all, you'll get to buy a new smartphone for yourself and your loved ones at never-seen-before prices. After all, your smartphone needs a constant upgrade to keep up with you. But, like most of us, if you're hoping for a more profitable way to use your old smartphone, don't worry, the Flipkart Buyback Guarantee has your back. Read on to understand how you can make your brand-new smartphone both affordable and profitable.
No more second thoughts about buying a new smartphone
The biggest concern for smartphone enthusiasts when buying a new model is what to do with their existing device, which is still relatively new and efficient. With buyback guarantee, your existing smartphone will not only be in great hands, but will also help reduce the cost of your new smartphone.
The Buyback Guarantee means that Flipkart provides an assurance to purchase your current smartphone from you at a pre-fixed amount. In addition to giving you the ideal exchange value, Flipkart will make sure you receive a guaranteed price for the same phone, when you buy your next smartphone on Flipkart.
For example, let's take the Samsung On Nxt and the Samsung Galaxy S8. You can avail a buyback guarantee for your On Nxt for a policy price of Rs. 199. This provides an assured value for the device, which is Rs. 6,000. Now, if you wish to buy a Samsung Galaxy S8, you can sell your On Nxt to Flipkart for the value of Rs. 6,000, and reduce the cost of S8 from Rs. 57,900 to Rs. 51,900*!
There is another advantage. You no longer have to worry about the original cost price of your current phone. Continuing with the example of the Samsung Galaxy On Nxt, you can check its current price, which is Rs. 14,900. With Buyback Guarantee and a policy price of Rs. 199, the effective price of the same device becomes as affordable as Rs. 9,099!
Buyback Guarantee ensures your dream smartphone is no longer beyond your reach.
The smartest way to manage your smartphone needs
Every aspect of the Buyback Guarantee is designed to give the customer great value-for-money, and to facilitate their changing smartphone expectations:
Unbelievable exchange value
Buyback Guarantee assures the best exchange value for your smartphone on Flipkart, which is decided beforehand, without any impeding terms and conditions.
Your ticket to staying tech-savvy
You can buy all the new smartphones you want, and explore every new technology first-hand, through your very own device. Buyback Guarantee makes premium handsets more affordable.
Always keep prices in complete control
There are always fluctuations in the price of mobile phones, which could lead to a reduction in the price of your new smartphone. With buyback, its cost is fixed, regardless of the market situation.
Make it as convenient as possible
Buyback Guarantee comes with the added bonus of doorstep pickup, making your entire experience that much more comfortable and easy.
The steps involved in claiming your Buyback Guarantee
Redeeming buyback while purchasing your next smartphone is a simple, 3-step process:
Log on to Flipkart.

Select the smartphone you wish to buy, and exchange your current phone for the best price.

Get an instant discount on your new smartphone, equal to the Buyback Guarantee Value of your current phone.
A couple of clauses to keep in mind
Buyback Guarantee from Flipkart gives you the freedom to switch phones as easily and frequently as you wish. However, make sure you remember 3 important points:
The smartphone you return should have an undamaged screen, and must be in working condition. Also, you must return the original box, charger, and accessories if you wish to claim the full Buyback Guarantee value.

The smartphone on which you want to claim the Buyback Guarantee should not be older than 6 months to 8 months.

The discounted rate is available for your new smartphone only if its price exceeds the cost of your current device.
Planning to go all out with your upgrade? Make sure your purchase is both cutting-edge and cost-effective with the Buyback Guarantee.
*Prices of the smartphones and the policy may vary. Please check on Flipkart for the latest prices