As part of the Flipkart Samarth-NULM partnership, scores of artisans and craftspersons across India are eagerly awaiting The Big Billion Days to showcase their products and ensure sales to support their craft. Take a virtual trip to their hometowns and trace the making of your #ArtFormsOfIndia products from the artisans themselves, and be sure to support them this festive season on Flipkart.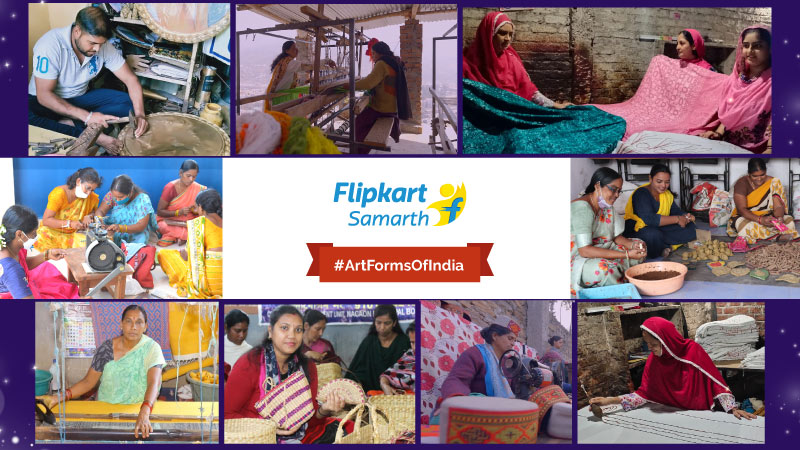 From Warangal, Telangana, to Kullu, Himachal Pradesh, lakhs of artisans have been working through generations to create and preserve India's complex and centuries-old artforms. The Housing and Urban Affairs Ministry's Deendayal Antyodaya Yojana – National Urban Livelihoods Mission (DAY-NULM) enables these artisans and urban poor women in this mission by helping them gain access to emerging market opportunities. In January 2020, NULM joined hands with Flipkart to further empower skilled workers and artisans by bringing them into the e-commerce fold.
Started in July 2019, Flipkart Samarth aims to uplift and embrace India's artisans, weavers and micro-enterprises into e-commerce, giving them access to a pan-India customer base. The program offers cataloging support, training sessions, advertising credits and more, enabling smoother integration and equity to underserved sections.
The NULM-Flipkart Samarth partnership spans 25 states, encouraging artisans from each state to bring unique and traditional products onto a common platform. To know exactly where your product comes from, how it's made, and the people who meticulously craft them, take a look at some of the artisans and their handmade and authentic products under this partnership.
---
Kullvi Topis and mufflers
Kullu, Himachal Pradesh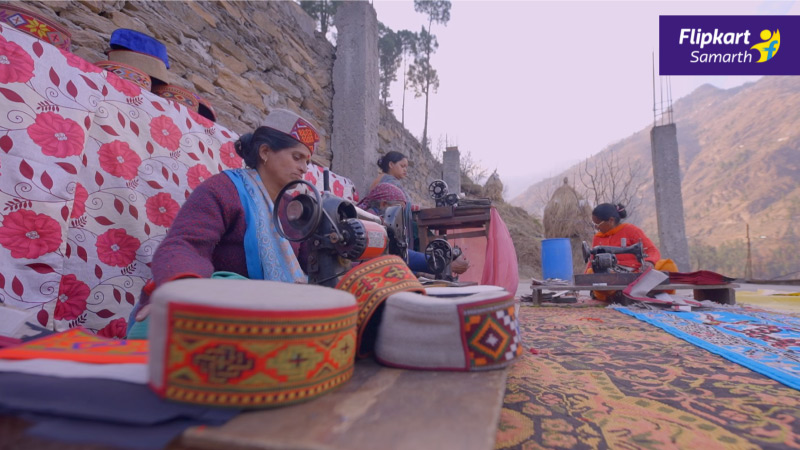 The pride and joy of Kullu's residents, the Kullvi topi is a traditional product of Himachal Pradesh. A round hat with a flat top, the topi can be easily recognized by its colorful embroidery, consisting of many skillfully woven patterns. It is usually woven from local woolen yarn on a small khaddi. The topi is 100% handmade, including the yarn used in making it. Many in the valley wear these caps to keep warm in the chilly Himachal winters, and it is also an inseparable part of the traditional Kullu attire, worn on special occasions like marriages, festivals, religious functions, local events and gatherings.
Meet the makers
More than 20 women's Self Help Groups (SHGs) from the Himalayan Valley of Kullu, Himachal Pradesh, hand-craft the region's famous woolen-wear available on Flipkart. Many of the women create these products straight from their homes or government-provided workstations in the villages. As they find more success through e-commerce, they've had more women join them in making these products.
Watch the video for their story:
Click here to directly support these artisans on Flipkart
---
Warangal Dhurries
Warangal, Telangana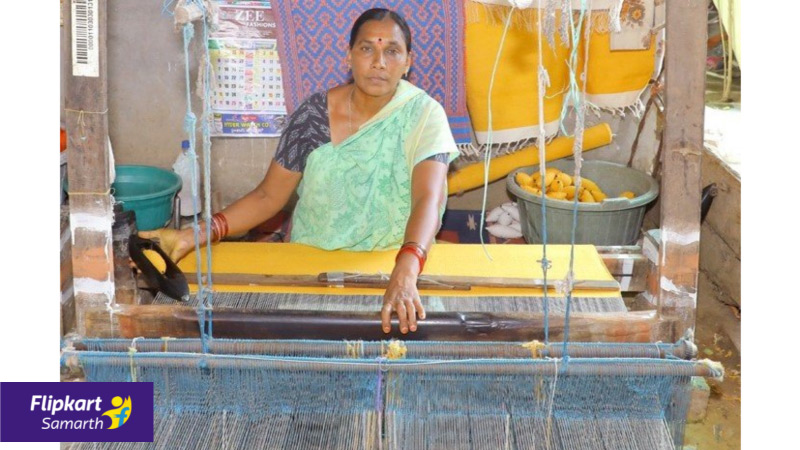 The craft of making Warangal dhurries is an intricate one, which comes with years of hard work in the pit-and-frame looms to transform threads of various colors into resplendent designs. Created exquisitely by hundreds of artisans in Warangal district of Telangana, they are the pride of Telangana's handloom traditions. The minimalist zig-zag designs, durability and versatility make the dhurries popular across the world, with this craft recently receiving a Geographical Indication (GI) certificate tag.
Meet the makers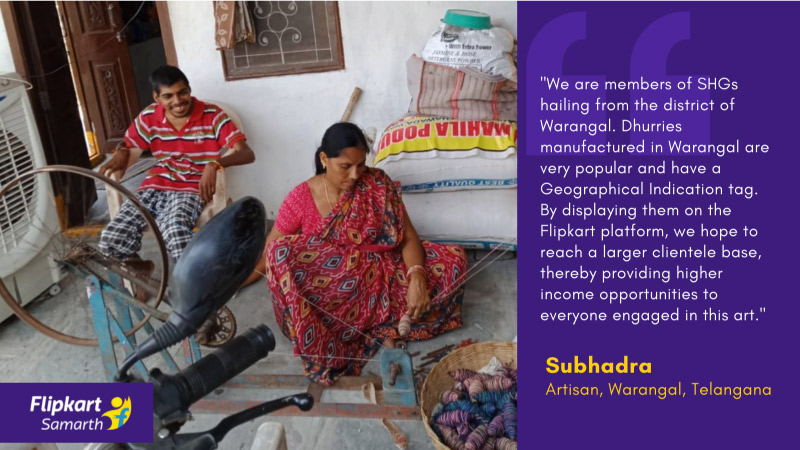 Long-lasting and useful, the dhurries are made using 100% cotton thread by weavers from Warangal. Under the Flipkart Samarth-NULM partnership, the products are manufactured by the Sri Sai Self Help Group in the district.
Click here to directly support these artisans on Flipkart
---
Water Hyacinth Baskets
Nagaon, Assam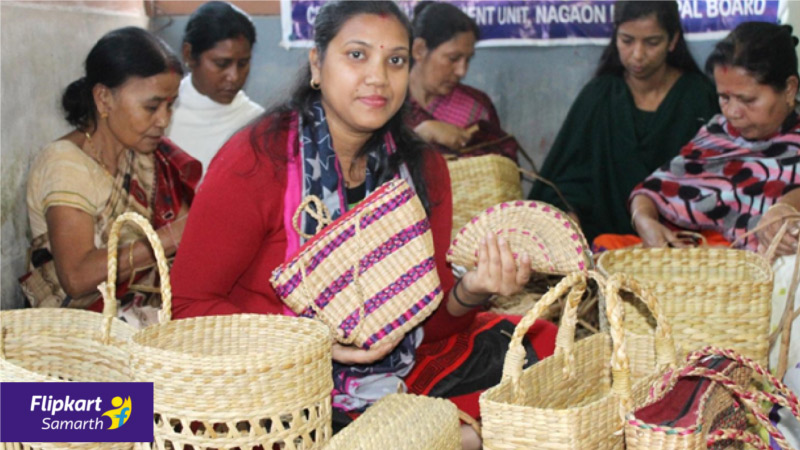 A free floating perennial aquatic plant, with broad glossy leaves, the water hyacinth is one of the fastest growing plants in the world. In Nagaon, Assam, a self help group (SHG) associated with the NULM has found a creative use for it — weaving baskets. The SHG members collect it from the Kolong River, a dead river near their locality. After harvesting the long water hyacinth, the roots and leaves are removed and the stems are kept under the sun for drying. After 5-7 days, the dried stems are collected and stored as bundles in a dry area. Finally, the SHG members weave or make a bag or basket out of them.
Meet the makers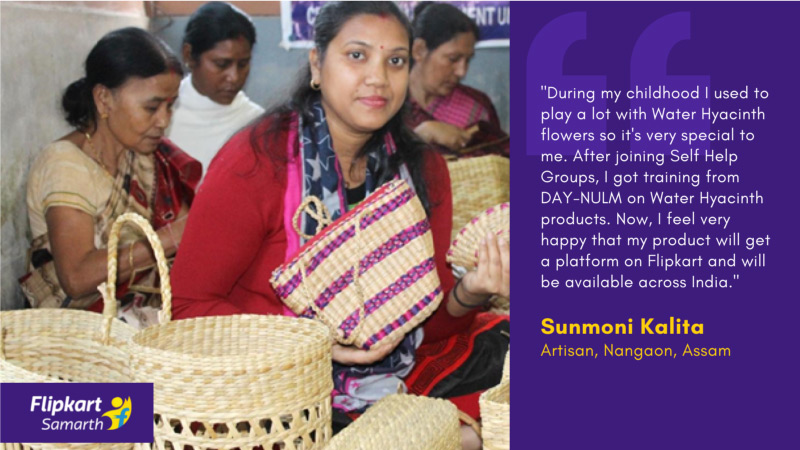 Many women who are part of SHGs are involved in making Water Hyacinth products. In Nagaon town, the Lakhyajyoti SHG members work together to create products like ladies handbags, small purses and buckets.
Click here to directly support these artisans on Flipkart
---
Chamba Brass Plate
Chamba district, Himachal Pradesh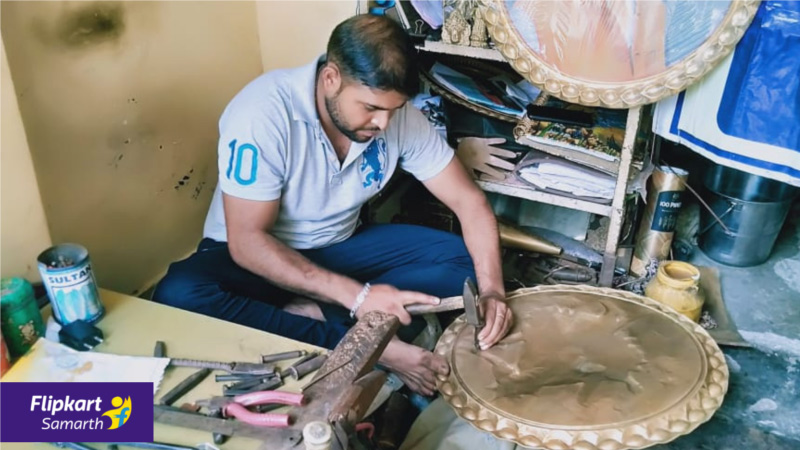 The Chamba district of Himachal Pradesh is known for its legacy of metal casting. The work of making Chambyali thaal goes back to the era of the Chamba princely state. Many temples in the area, including Bharmour and Chamba, are known to have these metal carvings.
The metal plate has various designs and borders, embossed using an age-old technique called Repuouse, where the designs are raised using hammers and other tools. The themes range from traditional Chamba mythological Gods, replicas of sculptures from local temples or pahari miniatures.
Meet the makers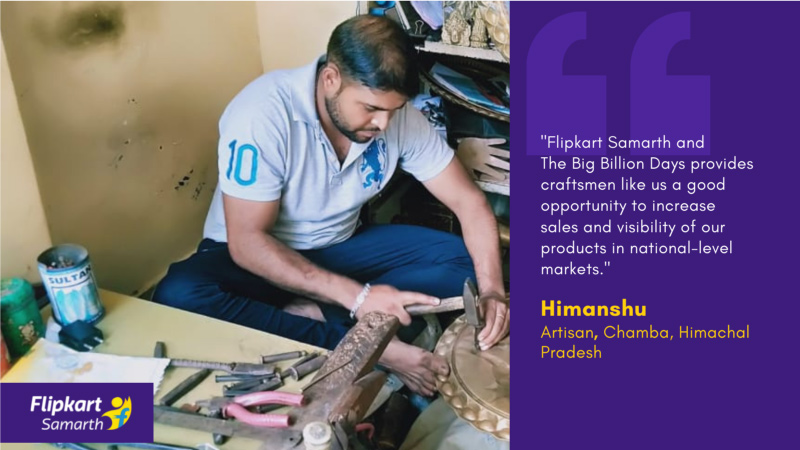 The Chamba metal plate products on Flipkart are made by 5 members of the Kalakriti Self Help Group and have been working on this craft for over 10 years.
Click here to directly support these artisans on Flipkart
---
Bhairavgarh prints
Ujjain, Madhya Pradesh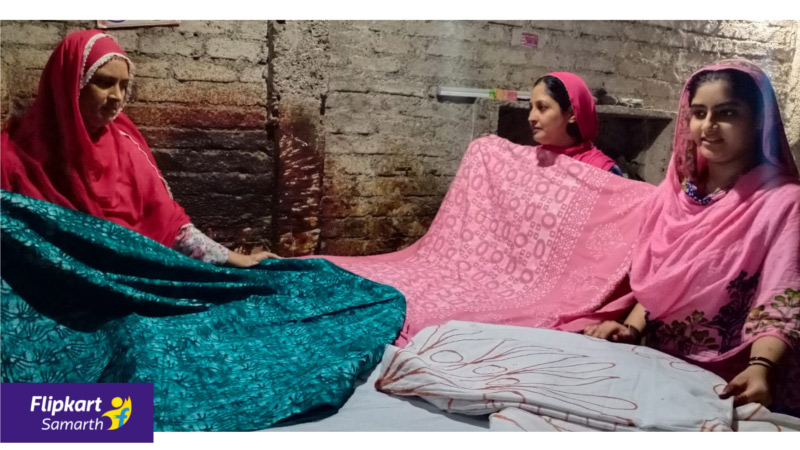 An ancient art originating in the city of Ujjain, the Bhairavgarh print technique is believed to be over 200 years old.
A time-consuming process, the intricate motifs on the Bhairavgarh prints are created using melted wax. Wax is slowly heated over a gas fire until it melts and moved to a sand-covered table where wax patterns are drawn on a cloth with a stylus made by tying coconut husk on a metal rod. The cloth is then dyed to desired colors once the wax dries.
Meet the makers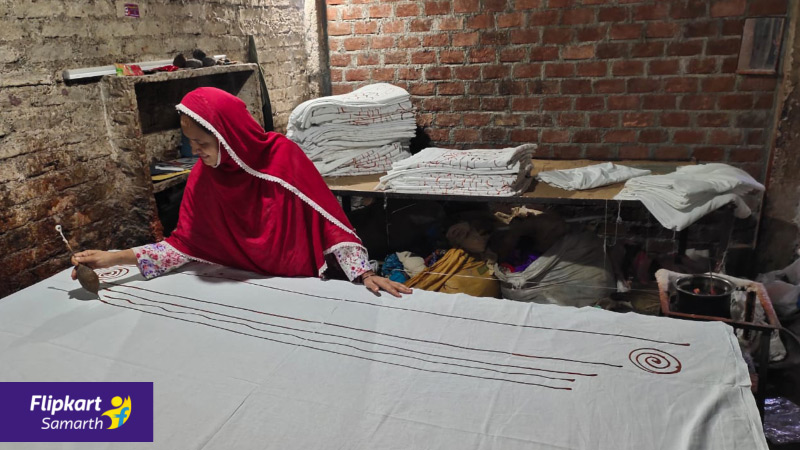 Passed on through generations, the Madni Self Help Group in Ujjain, along with their families, practise this art to earn a livelihood.
Click here to directly support these artisans on Flipkart
---
Silver Filigree
Karimnagar, Telangana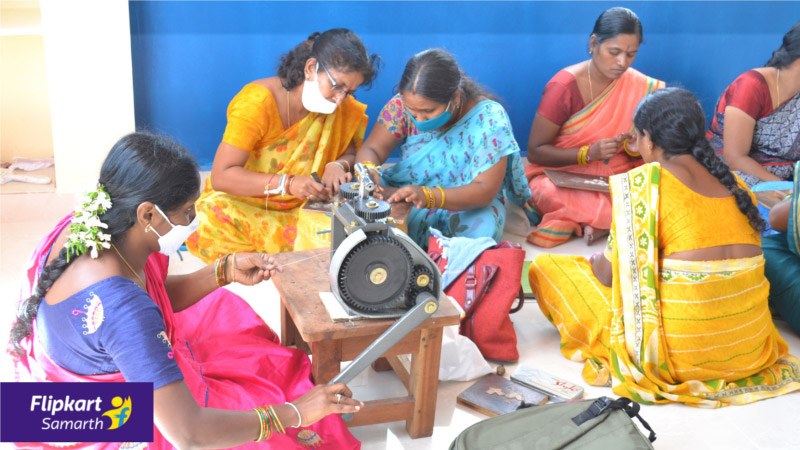 The Karimnagar region of Telangana is home to many highly skilled artists who create detailed and delicate filigree products. Delicate silver threads are twisted in loops in a zig-zag pattern that gives them the unmistakable lace-like appearance. These strips and fine silver are further soldered together in the form of artistic motifs.
Interestingly, the roots of filigree can also be traced back to Italian and French metal work from the 17th to 19th century. Karimnagar Silver Filigree also received the Intellectual Property Rights protection or Geographical Indication (GI) status in 2007.
Meet the makers
These filigree brooches are manufactured by the Chilukuri Balaji Self Help Group and their families in Karimnagar, Telangana. They have been creating these products for years, playing a big part in saving this art from extinction. Passed down through generations, the filigree work represents the artistic as well as cultural pride of Karimnagar district in Telangana. The fine silver work is a task to master, and hence only skilled craftspersons are considered to be adept at this tradition.
---
Ankodi
Ahmedabad, Gujarat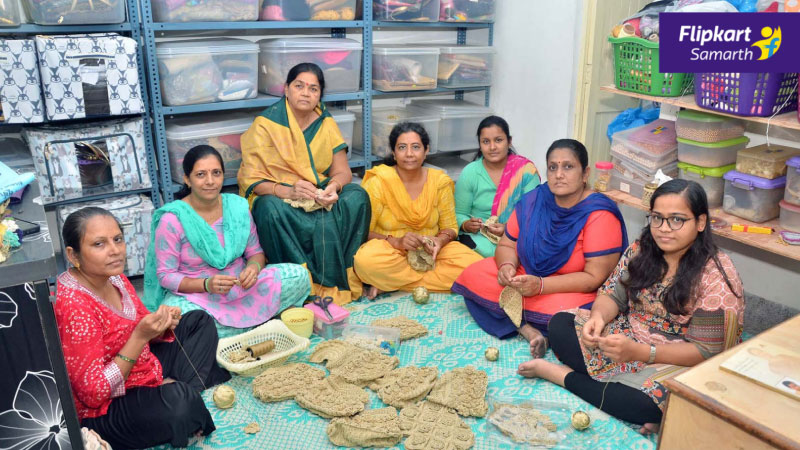 Ankodi, also known as Gunthan Kala, is a form of crocheting that is indigenous to Gujarat. It's a unique craft that makes use of golden threads. Completely handmade, this craft makes use of only one needle to manufacture various items – from hand purses to wallets.
Meet the makers
Highly skilled women artisans associated with Self Help Groups in Ahmedabad have been manufacturing these products since 2001. Selling their products on Flipkart has, they say, brought success and visibility to their craft and better incomes for the artisans, enabling them to dream big for their small businesses.
Bharti Sharda, Master Designer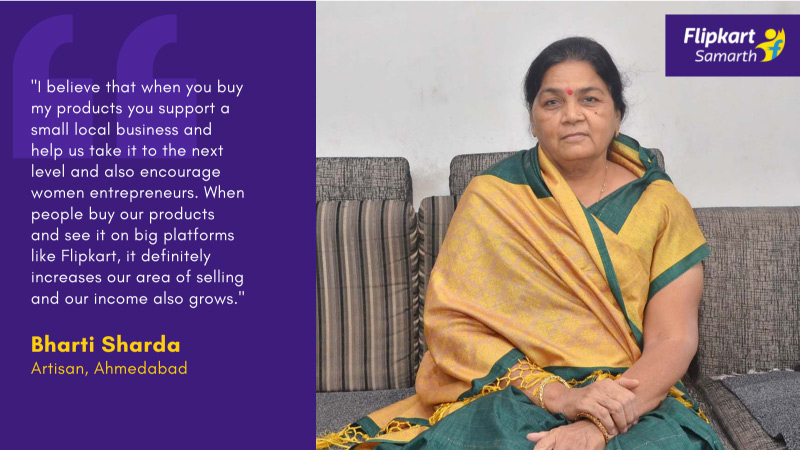 I am very passionate about my work and happy to be a part of Flipkart's The Big Billion Days. I believe that when you buy my products you support small local businesses and help us take it to the next level and also encourage women entrepreneurs. When people buy our product and see it on big platforms like Flipkart, it definitely increases our area of selling and our income also grows.
We all are eagerly waiting for The Big Billion Days and are working hard to make quality products. This is a big opportunity for us and we are expecting huge sales and more visibility with Flipkart Samarth.
Kavita Ben, Artisan
We used to make and sell products in nearby local markets but now also have an opportunity to sell our products on Flipkart and grow. More people will now get to know about our art and talent, creating awareness across the world and giving us a better source of income.
We are happy that our small products are going to live on Flipkart. We expect large-scale sales which will help grow our business.
Sheetal Ben, Artisan
We are small women entrepreneurs at a very grassroots level. With Flipkart Samarth we see our business growing, and our income too. We, as small-scale workers, earn on a daily basis. Now, we've got a good chance to showcase our talent and handmade items on Flipkart. I see a very good chance and opportunity to grow and earn during The Big Billion Days.
Click here to directly support these artisans on Flipkart
---
Bhadrakali Flower Products – Dhoop Sticks
Warangal, Telangana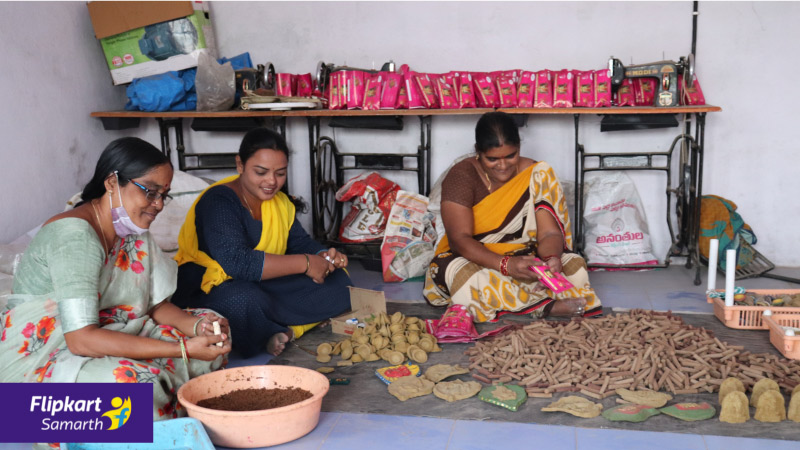 The Bhadrakali Dhoop products are made using powdered rose petals and Luban, an ayurvedic ingredient. These organic dhoop sticks are used in religious ceremonies and meditation.
Meet the makers
This product is manufactured by Adarsha City Level Federation. Over 10 women's Self Help Groups earn their livelihood at this unit.
---
Shashi Mastani Nauvari Patal (Lugada)
Nagpur, Maharashtra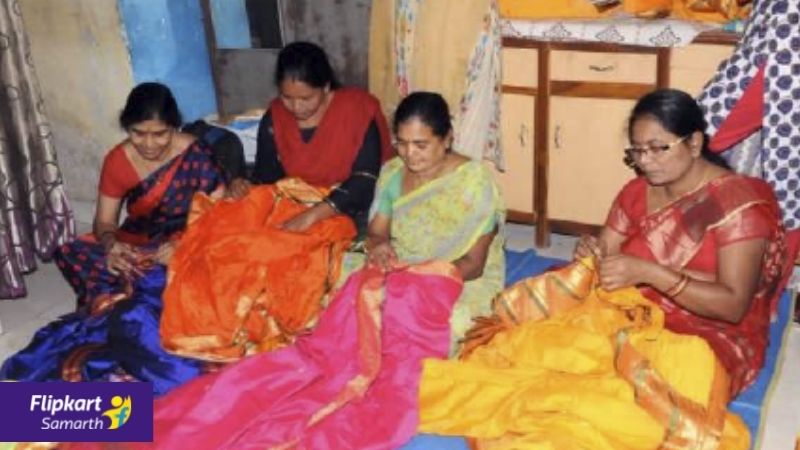 The Nauvari is a nine-yards saree from the state of Maharashtra, and its name is derived from the length of the fabric. Its unique style of draping is one of the hallmarks of this garment and its history is often traced back centuries.
Meet the makers
These Nauvari sarees are crafted by women from the Snehal Mahila Bachat Gat in the city of Nagpur in Maharashtra. Many of them have been supported with capital to start their business by NULM, and the women are now teaching the craft to many others.
---
Also read: With Flipkart Samarth, Punjab's women artisans hope for a post-pandemic business revival