The world had shifted online, but these women artisans had not.' When the pandemic led to a near-complete halt in sales and incomes of Punjab's women artisans, the self-help groups they belonged to turned to e-commerce. With training, multiple benefits, and an introduction to the world of online business, the women are optimistic that their handmade and original designs will receive the recognition they deserve and lead to better lives and days ahead.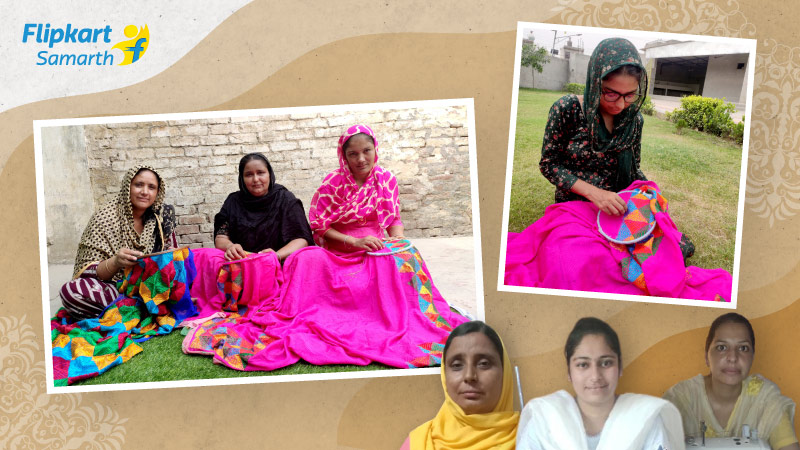 It's a sultry evening in Sangrur, near Punjab's famed city of Patiala, but nothing can dampen the spirits of three hopeful women seated amid kurtas, dupattas and salwar suits embossed with the region's delicate Phulkari embroidery. Chandpreet and her colleagues, artisans from a local Self Help Group (SHG), are heady with excitement about a professional photoshoot of their handmade products that concluded a few days ago.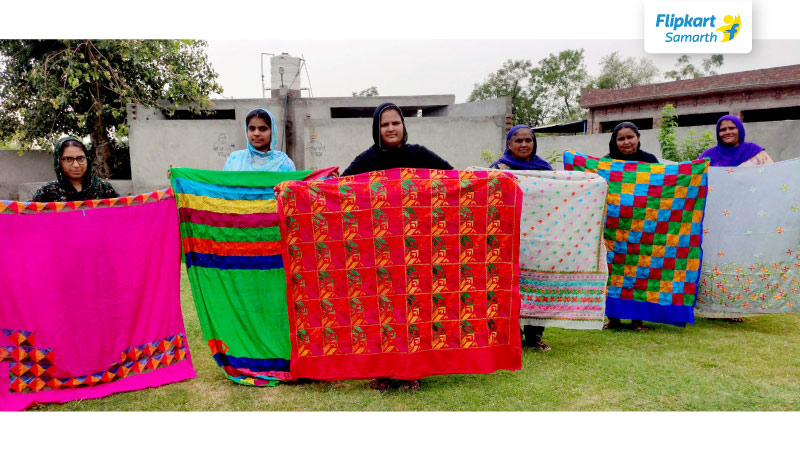 The joy is especially palpable since, just a month ago, their modest regional office wore a look of despair as the pandemic led to a near-complete halt in their sales. As business suffered, so did the income of these women.
The pandemic shift
"We realized during the height of the pandemic and lockdowns that things had changed permanently. The world had shifted online, but these women artisans had not," says Sangeeta Mehra, Deputy General Manager at NABARD, Punjab.
NABARD, or National Bank for Agriculture and Rural Development, which primarily provides support to Farmer Producer Organizations (FPOs), also supports and promotes SHGs, enabling rural women to become financially independent entrepreneurs through skill development training, and exposure visits among other interventions.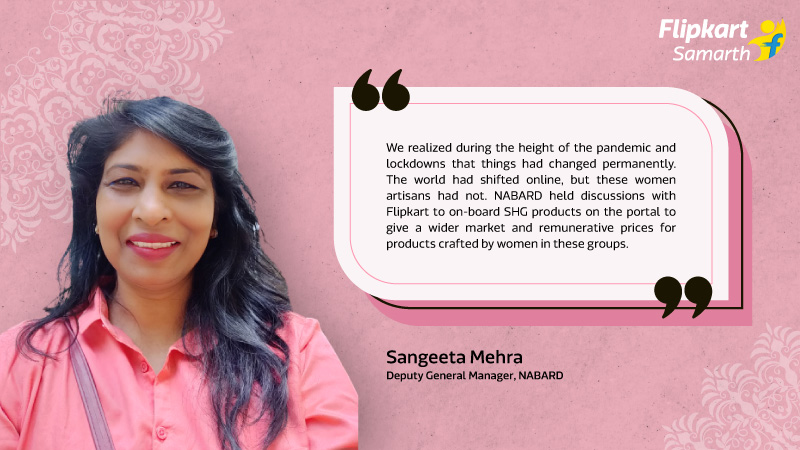 "It was observed that a significant number of consumers had shifted towards online portals to avoid direct contact and to maintain physical distance amid the pandemic," Sangeeta further explains. "That's when we reached out to Flipkart. NABARD held discussions with Flipkart to on-board SHG products on the portal to give a wider market and remunerative prices for products crafted by women in these groups."
Soon, off-farm producer organisations Sangrur Phulkari Producer Company (the group that Chandpreet is a part of) and Abhivyakti Foundation were on-boarded through the Flipkart Samarth program.
Launched in July 2019, Flipkart Samarth aims to embrace underserved sections of the society — artisans, weavers, MSMEs, rural entrepreneurs and more — into the e-commerce fold, enabling them access to a pan-India customer base, multiple benefits, and a regularized source of income.
Now, business is slowly trickling back and the women are hoping for a spike in demand as they list their products on Flipkart.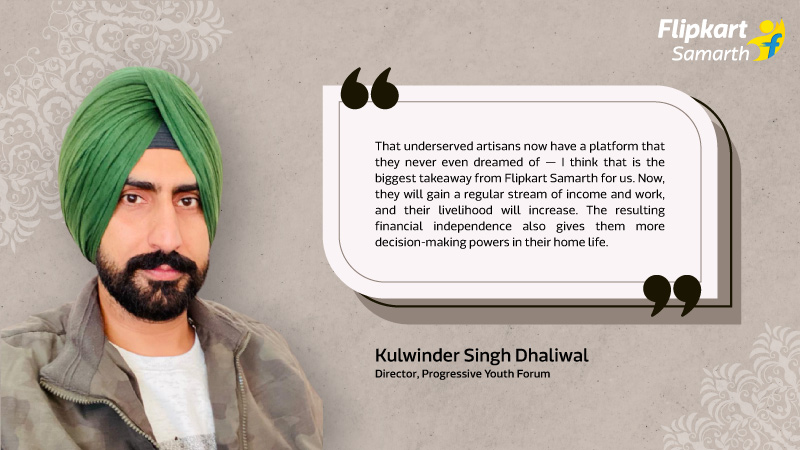 "No matter what happens, there is always a phone in people's hands," observes Kulwinder Singh Dhaliwal, speaking of the boundless opportunities on an e-commerce platform like Flipkart. "And more often than not, that translates to sales." Kulwinder is Director of Progressive Youth Forum, the non-profit organization that works to promote SPCC. SPCC works with 200 women artisans across the state of Punjab, who mostly craft Phulkari products.
According to Amritpal Singh, Regional Director, Abhivyakti Foundation, the pandemic sounded the death knell for SHG-created products and the livelihoods of the women behind it. "Our biggest marketing platforms are usually sponsored exhibitions and fairs across the state and country. Our artisans would travel to various places, set up their stalls, showcase their creations and see ample sales." But COVID-19 has put a stop to all travel. "That entire source of income and marketing platform all but disappeared," he says, estimating that about 70-80% of sales depended on these fairs.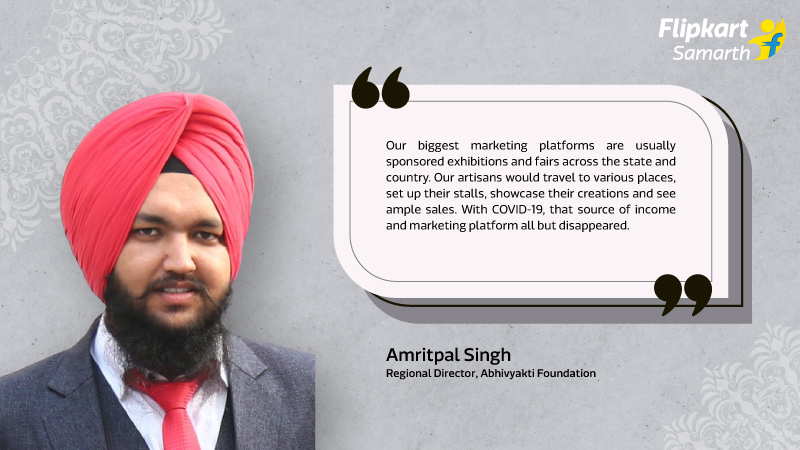 Abhivyakti Foundation, which has a presence across India, works with 250 women artisans across Punjab. Their products include jackets, jute bags and ethnicwear.
Resilience & hope in a new normal
"There has been a lot of interest from the women as they don't get this kind of knowledge otherwise. They have only studied till Class 5 or 6. They are very excited," says Surjit Kaur.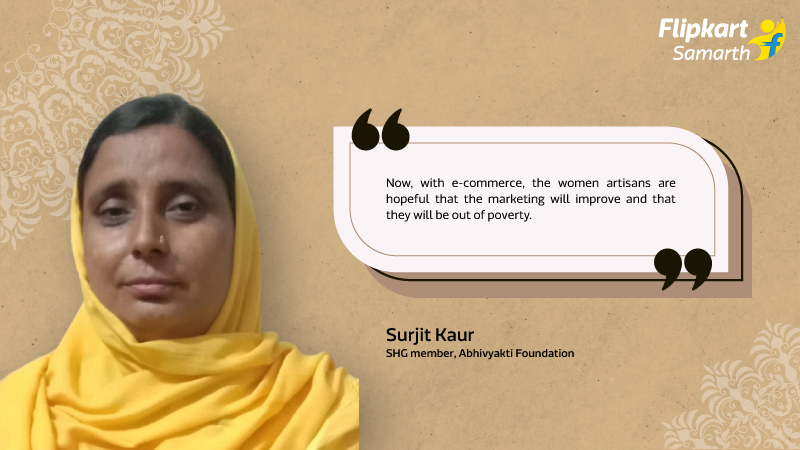 Surjit works with Abhivyakti Foundation's SHGs. She introduces women in need to these groups, teaches them the basics of personal finance — how to open an account, deposit money, save, and more — and guides them to success. Until 2012, Surjit lived a comfortable life, but her husband's death that year forced her to reckon with the unexpected. In her time of need, it was these SHGs that empowered her to save and educate her children. And now, for as long as it takes, she wants to motivate and help women like herself.
"Now they are hopeful that the marketing will improve and that they will be out of poverty," she adds.
At SPCC, Chandpreet started out as an artisan and, after working her way to an M Sc in Fashion Design & Technology at Patiala's Khalsa college, rose to the position of Master Trainer. Her days are busy as she trains over 250 women artisans in traditional Phulkari and Bagh designs. "I train them to stitch, embroider and design, as well as improve the quality of our products," she explains.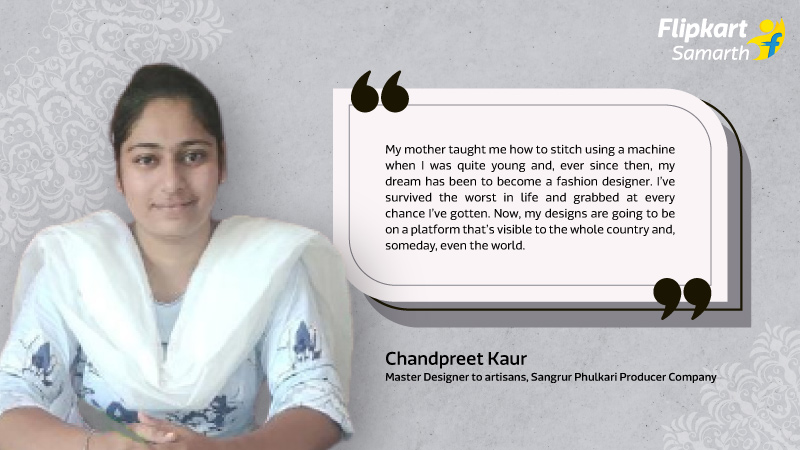 For a few years now, she has posted about their products on social media to garner interest, but the foray into e-commerce is an all-new experience. She's optimistic about the effect it will have on their age-old craft. "Our products are 100% handmade and the designs are all original.
We want our brand to get recognition on a national, and eventually, an international level," she says, adding, "Our happiness will multiply and we'll work even harder."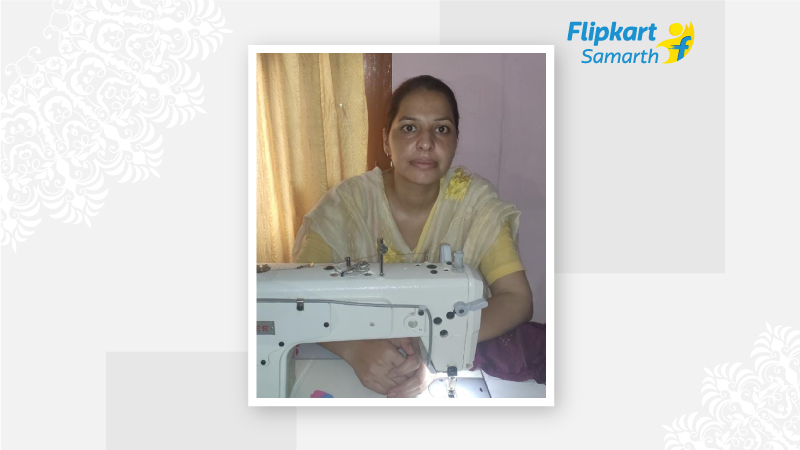 Manpreet Kaur, an artisan who is being trained under her, is quick to agree. "I used to do some stitching off and on earlier," she says. When her family life got particularly difficult, Manpreet sought solace in the SHG and its women who became her support system. "I'm in the midst of a divorce, but coming here and learning the many things that they train you in, and having that purpose, has made me feel much better about things," she adds.
Lately, she's been dreaming about having her creations sold to online customers across India.
From a lake, to a river, to a sea
"A program like Flipkart Samarth enables new entrants to e-commerce a soft-landing," says Sangeeta. "I like to say that it's always easier to go from a lake, to a river, and, finally, to the sea."
When the idea of going online was pitched to the various NGOs, clusters and SHGs, they were apprehensive at first, admits Sangeeta. "I was very honest with them — that there may be pitfalls, they will need to improve on the quality and be comfortable to compete with the bigger brands."
Many of Flipkart Samarth's partners have no prior e-commerce experience and the program, with a multitude of benefits such as a 6-month handholding period, cataloging support, training sessions, advertising credits, free photoshoots, and more, enables smoother integration and equity among sellers on the Flipkart platform.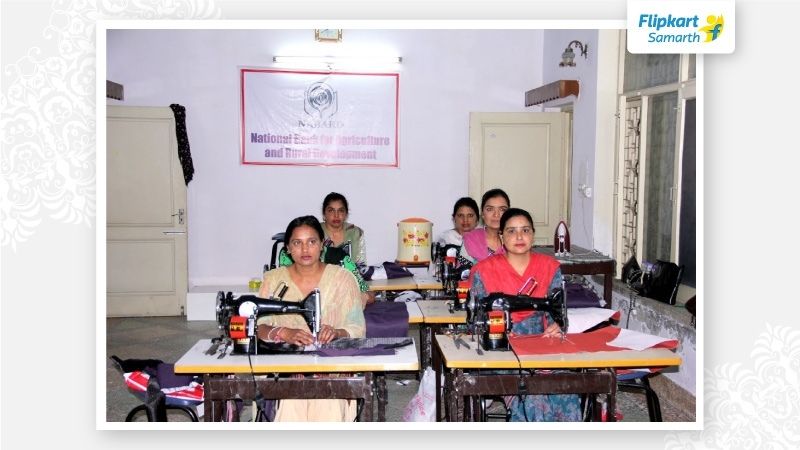 "Flipkart recently concluded a free-of-cost photoshoot for 82 of our products. If we were to hire a professional photographer, it would cost us a large sum that we aren't equipped to put in," Kulwinder points out.
"The 6-month free-of-cost facility is the biggest help in my opinion. Couple that with the photoshoot, training and others — these are a lot of benefits," adds Amrit.
While the benefits enable a smoother start, preparations are afoot at the NGOs' offices to gear up for the many changes they expect as they transition to an online business.
"This is a new, professional way of working for the women," says Amritpal, referring to the days of planning, stock-taking, training and strategizing that the artisans have now been introduced to. "From the number of products to sizes, response to demand — it will be a challenge in the beginning," he adds. While they study the demands and gain more insight as they go along, the teams are focussing on selling dupattas and unstitched suits.
The artisans are also planning for the different demands and likes of a customer base outside of the state. "Until now, it was the kind of designs that worked with the audience in Punjab. Now, we're preparing to adapt to various tastes and incorporating newer designs to cater to a larger audience," explains Chandpreet.
New platforms, new dreams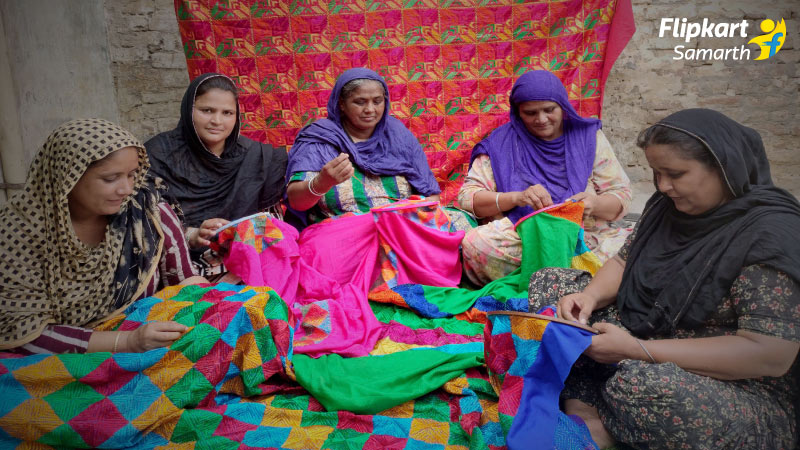 Flipkart Samarth supports 700,000 livelihoods and counting across the country. Our efforts have focussed on empowering underserved communities, helping them earn a sustainable income while also giving our customers access to authentic, local, handmade, and heritage-rich products from traditional markets.
For many artisan-led businesses in India, a lack of access to marketing platforms poses a major hurdle. And the platforms they have are often bound by physical distances. With Flipkart Samarth, artisans gain access to a platform of over 350 million customers from all parts of India, among other benefits.
"That underserved artisans now have a platform that they never even dreamed of — I think that is the biggest takeaway from Flipkart Samarth for us," says Kulwinder. "Now, they will gain a regular stream of income and work, and their livelihood will increase. The resulting financial independence also gives them more decision-making powers in their home life."
While Sangeeta is optimistic that e-commerce will help the women increase their income, she is even more hopeful that knowledge of the nuances of online business will set them on their own path to entrepreneurship.
"My home life was never easy," reflects Chandpreet. "My mother taught me how to stitch using a machine when I was quite young and, ever since then, my dream has been to become a fashion designer. I've survived the worst in life and grabbed at every chance I've gotten. Now, my designs are going to be on a platform that's visible to the whole country and, someday, even the world."
---
Note: You can find products made by artisans from the Abhivyakti Foundation under the brand name Srija on Flipkart. Products made by artisans of SPCC are listed under the brand name Kaseeda Arts. Shop from these stores on Flipkart to support the women artisans behind these creations.