Flipkart's first order management system was inspired by the ingenious methods of one man. Meet Ambur Iyyappa, Flipkart's first employee and a veritable Human ERP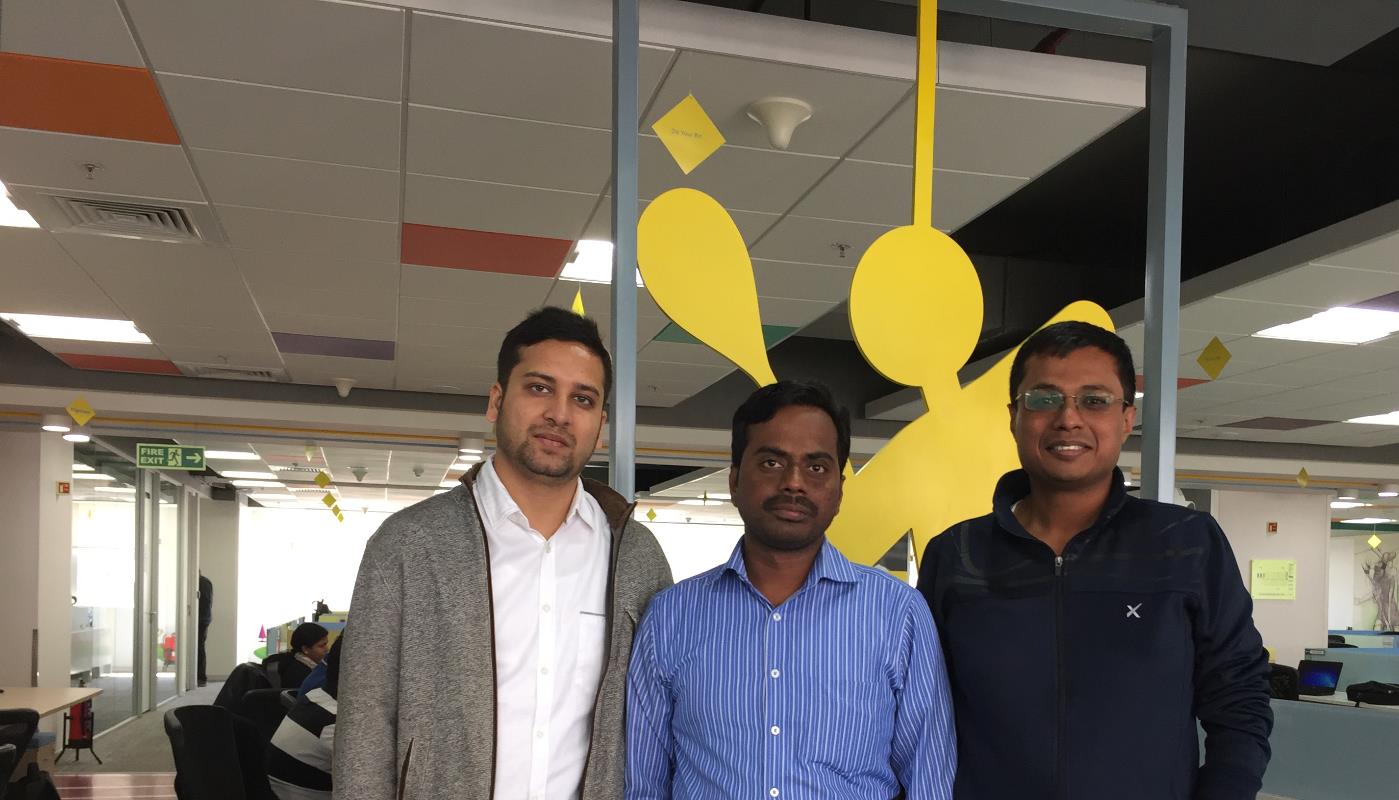 If Ambur Iyyappa had not lost his job in 2009, he probably would not have been a dollar multimillionaire today. And if Flipkart had not offered a job to Ambur Iyyappa on that fateful day in 2009, the company's fortunes may have been quite different.
For both the man and the startup, that simple twist of fate became a tipping point.
Sachin Bansal and Binny Bansal, who founded Flipkart in 2007 and began running the path-breaking online bookstore out of its first office in Bengaluru, delivered their first online order in October of that year to V V K Chandra, a customer in Mahabubnagar. Since that historic sale, the volume of orders began to grow. A time came when the fledgling startup, growing exponentially, handled about a hundred orders a day. Sachin and Binny realized that they could use a helping hand. They put the word out.
A delivery boy with First Flight Couriers, a logistics company with offices in Bengaluru that partnered with Flipkart, informed the duo about one of his colleagues who was recently out of a job.
"I had been with First Flight Couriers for about four years," recalls Iyyappa, who was then working as a Key Account Relationship Manager with the firm's branch in Madiwala, Bengaluru. A native of Ambur, a town in Tamil Nadu's Vellore district famous for its biriyani, he had worked with the automotive manufacturer Ashok Leyland in Hosur, about 50 km from Bengaluru, and later trained at Hindustan Motors. As he wanted to further his education to improve his prospects, he approached his employers for a few months of leave to study for a diploma course. His bosses dithered. Iyyappa was told that his position could not be kept open for three months. In his absence, if someone else was found to replace him, the vacancy would be filled.
Iyyappa risked four years of job security for a three-month stint at self-improvement. It proved costly. When he returned after completing his diploma, he found that he was out of a job. His former colleague, who was acquainted with Sachin and Binny, recommended Iyyappa to the founders of the new startup.

The first Flipkart employee
"We were not looking for much," admits Sachin. "All we wanted was a person who could speak some English and use a computer."
"He was out of a job and had no prospects," adds Binny, who hired Iyyappa. "He came at a very low salary of about Rs 8,000."
Almost immediately, Flipkart's first full-time employee made his presence felt. "For the first two or three days, I was very confused," he recalls, explaining that the new job was a big shift from his previous one. "We were working with about 10-12 big publishers in Bangalore and shipping something like 100 orders a day."
Not only did Iyyappa confront these challenges, he took great delight in doing so.
In the early days of Flipkart, Binny handled operations while Sachin managed the technology side of the business. They didn't bargain for any more time on their hands after bringing on board their first full-time employee. However, the weeks that followed were a revelation. In Iyyappa, they had found more than just a helping hand. He was destined to become the engine of the business, the lodestar that would dictate the company's trajectory in years to come.
"Within the first week, he knew everything about everything we were doing," remembers Sachin, adding that Iyyappa had a photographic memory of every business incident that transpired under his watch. "We did not have an order management system at the time. Iyyappa was our order management system. He remembered every status, every order."
"After a month of Iyyappa joining, we gave a referral bonus of about Rs 5,000 to the First Flight person," remembers Binny. "We were so happy with him!"
@binnybansal @FlipkartStories @Flipkart We at CX call him walking encyclopedia for Flipkart, the go-to-man for anything u need to know!

— Sharad Agarwal (@ag_sharad) January 11, 2016
No pain, no gain
Modest and unassuming, Iyyappa underplays the effort he put in. "Sachin and Binny were my role models. They would teach me the work sitting right there. We handled everything among the three of us," Iyyappa remembers, adding that the founders also helped with the packing and labeling. "Those days, it was all manual. The technology came later."
With a phenomenal memory for details, Iyyappa rattles off every step of the old, manual order management process as if it was happening right before his eyes. "We had a JIT (Just In Time) procurement model. We divided the work among ourselves. Once we got the orders, we entered them manually into [Microsoft] Excel, entered the quantity and MRP, where to procure it, then took printouts, gave it to the packer who would go to suppliers…"
Listening to him, it is hard to fathom how one man could contain so much information in his cerebellum, process and retrieve it at will, and invent processes to tackle problems that appeared impossible to manage, leave alone surmount.
"When Iyyappa came in, he intuitively took away my workload," says Binny. "He took up almost 80 per cent of my professional load within a couple of weeks. This freed up my time to add more selection, to automate order processing, to grow the business."
Taking over the reins of customer service came naturally to Iyyappa. Soon, his mobile phone number was listed as Flipkart's de facto customer support hotline. According to Sachin, Iyyappa was the go-to guy for all day-to-day operations. From taking customer calls and calling up vendors to coordinating and following up, he never dropped the ball.
"We never kept inventory during those days," Sachin remembers. "Every day, as orders came in, we would send our pick-up boys to pick up books from our vendors, return to the office and pack the orders."
Iyyappa's prolific memory came to his aid as he devised ingenious ways of coordinating with the delivery boys to ensure that customers were kept delighted. If a delivery boy reported that one vendor did not stock a book that a customer wanted, Iyyappa would lose no time in calling up another vendor who had the book in stock and arranging it to be delivered to the customer. Then he'd promptly call another delivery boy who was on that route and ask him to collect and deliver the book.
"In 2009, we started to sell books from international publishers and the loads would arrive at odd hours," recalls Iyyappa. "We had to extend our night shifts, come in on weekends, and pack the books ourselves so that they would be delivered on time."

Method in the madness
Hard work, he says, is a virtue that he saw mirrored in the habits of Flipkart's founders. "Some days when I showed up at the office at 8 AM, Binny would be there before me," says Iyyappa. "I found this inspiring."
Iyyappa's on-the-go inventiveness built immense levels of efficiency into Flipkart's manual processes. Delivery boys left at 9 or 10 in the morning and reached the pick-up location by noon. Iyyappa calculated that there were orders between 10 AM and 1 PM that these boys could pick up on their way.
He also found a simple solution to another seemingly enormous problem. In the normal routine, delivery boys first came from their homes to the office, picked up a printed sheet containing the details of the day's orders to be delivered, and then went to a delivery location close to where they stayed. This resulted in a lot of wasted time that was considered unavoidable. Not to Iyyappa. He worked out a reliable system by ensuring that the pick-up boy took a printout at 10 AM from a cyber-cafe close to his house. At 1 PM, he was to take another printout at another cyber-cafe to get an updated delivery schedule.
"Iyyappa used to manage all of this manually," Sachin says. "There was no computerized system. He used to create these sheets and email them to the boys. He had taught them how to login to an email id and check the latest status."
It was a proto-version of a manual, partly analog order management system, if a completely jugaad one. Iyyappa had conceived the entire process and it ran straight from his head.
"It was delightful to watch," recalls Sachin. "A customer could call and request an expedited delivery and he would use his process to ensure that it happened."
There were also lighter moments, Sachin adds, that made it a joy to work with him. Iyyappa never allowed his broken English to be an impediment to his efficiency. When Flipkart had listed the comic book The Adventures of Tintin in America, the orders poured in. Over the phone with vendors, Iyyappa would refer to the book as Advantages of Tintin in America. The vendor, of course, would get it right.
"There were so many other book titles that he used to randomly mispronounce and the vendor used to understand and still send the right thing!" Sachin recalls, laughing.
A human ERP
"He was our human ERP until we reached a thousand orders a day," says Binny. "Iyyappa would know exactly which books were pending to be bought, which customers were waiting for delivery, etc. When a customer called, he would know exactly what was happening with his or her order without looking at the systems. He had also found an effective way of pasting all this order information into Gmail and using that as an ERP/Servicing search engine for orders!"
"Slowly, we started to focus on inventory," says Iyyappa. "If a certain book was selling more units, we started procuring more units. It was not an inventory model as such; it was mostly based on memory."
As the business scaled, Iyyappa scaled equally well, observes Sachin. He could take an immense amount of pressure and he was systematic and methodical about it. However, one daunting problem confronted the founders. They had grown so dependent on Iyyappa's tacit order management system. Short of cloning it, there seemed no way to replicate its efficiency.
"Our current order management/ inventory management systems are an inspiration and continuation of our previous order management and inventory management systems that Binny and I wrote," Sachin says. "And the order management and inventory management systems that Binny and I wrote were basically made to replace Iyyappa! We were trying to understand what Iyyappa did on a day-to-day basis."
"Once the orders became too many for human beings to manage, we had to build a system that could handle it," says Binny. "That system was basically to automate a lot of what Iyyappa did through his own faculties. Iyyappa became a super-user of that system. He knew exactly how the system worked, what were its problems, and how to get out of a stuck situation."
I call him a human ERP. A lot of code I wrote in the early days was bout automating his processes. https://t.co/eomAlFWxDh

— binnybansal (@binnybansal) January 11, 2016
The man, the machine…
A curious thing was happening at Flipkart. A computer program was being written that was inspired by and modeled on the machinations of a human.
"Our first Product Requirements Document (PRD) was basically inspired by what Iyyappa did every day," says Sachin. "For example, we'd say this is how Iyyappa coordinates with employees – so we'd write a program to automate it. We were getting a machine to do what Iyyappa was doing. And it was hard catching up with him!"
Order management could be automated, but customer support still depended on Ambur Iyyappa's magic touch.
"He takes a genuine pleasure in addressing customer feedback," observes Sachin. "What Iyyappa did at that time, no one can do it if you don't really enjoy your work. In a larger organization like First Flight, there are set processes to follow that might have constrained him. In our organization – a small startup – Iyyappa found an open field. He had a free hand to do everything he thought he could do. He didn't have to take approval from anyone. He just went ahead and improvised."
"He's a self-starter," says Binny. "He would understand what needed to be done and he'd find his own way of optimizing issues and finding solutions."
Driven and determined, Ambur Iyyappa never lost sight of his personal goals. Despite his punishing work schedule, he made time to study. Along the way, he got a BBA degree by correspondence and went on to do his post-graduation. "Then I joined an M.Sc.- IT course but discontinued it," says Iyyappa.
"When he told us he wanted to do higher education we were fine with it," Sachin recalls. "But he achieved it without quitting. He couldn't just leave Flipkart."
"He's one of the most hard-working guys I know. And he's super-sharp," says Binny about Iyyappa.
Sachin concurs. "Extremely hard-working. Honest. Straightforward. To the point," he adds.

Ambur Iyyappa's pursuit of glory
As Flipkart's fortunes grew, so did Iyyappa's rewards.
"Our business was doubling every quarter at that time," says Binny. "We were also doubling Iyyappa's salary every quarter. In a year, his salary almost grew by 10 times!"
Today, the Flipkart stock that Iyyappa owns is valued at millions of dollars.
"In the history of Flipkart, at various points of time, people have joined because of whom Flipkart's trajectory has changed in a material way," observes Binny. "Iyyappa was the first of them."
Those distinctions, however, sit lightly on Iyyappa. From a modest start, he has grown to become an Associate Director at Flipkart, managing an area that is close to his heart: Customer Experience.
"One thing that has not changed since day one about Flipkart is our customer focus," Iyyappa says. "Though the business has grown, we continue to be an extremely customer-focused company."
Ambur Iyyappa's personality seems tailored for the work he does: a patient ear, an even temperament, and a positivism and eagerness to find solutions to even the most pressing problems. In fact, so committed is he to putting the customer first that he relishes resolving even the most negative customer feedback.
"I handle escalations," he says, describing his job with disarming simplicity. "Every complaint that is escalated is addressed."
"Customer focus was always our number one priority and value," says Binny. "Ambur Iyyappa embodies our focus on customers. Solving problems related to customer experience keeps him going."
It keeps Flipkart going, too.