Within the upcoming festive season and The Big Billion Days 2022 lies an opportunity for Flipkart to bring the benefits of e-commerce to a larger customer base in the country. First-time customers from tier-2 and tier-3 towns and cities can experience a simple and intuitive e-commerce experience and fulfill their shopping needs. To meet their growing demands, eKart, Flipkart's tech-enabled pan-India supply chain and one of India's leading logistics service providers, has evolved over the last year, expanding infrastructure and upgrading with the latest technology in the business. In this Q&A, Hemant Badri, Senior Vice President and Head, eKart, shares key insights behind driving supply chain success in a uniquely Indian ecosystem.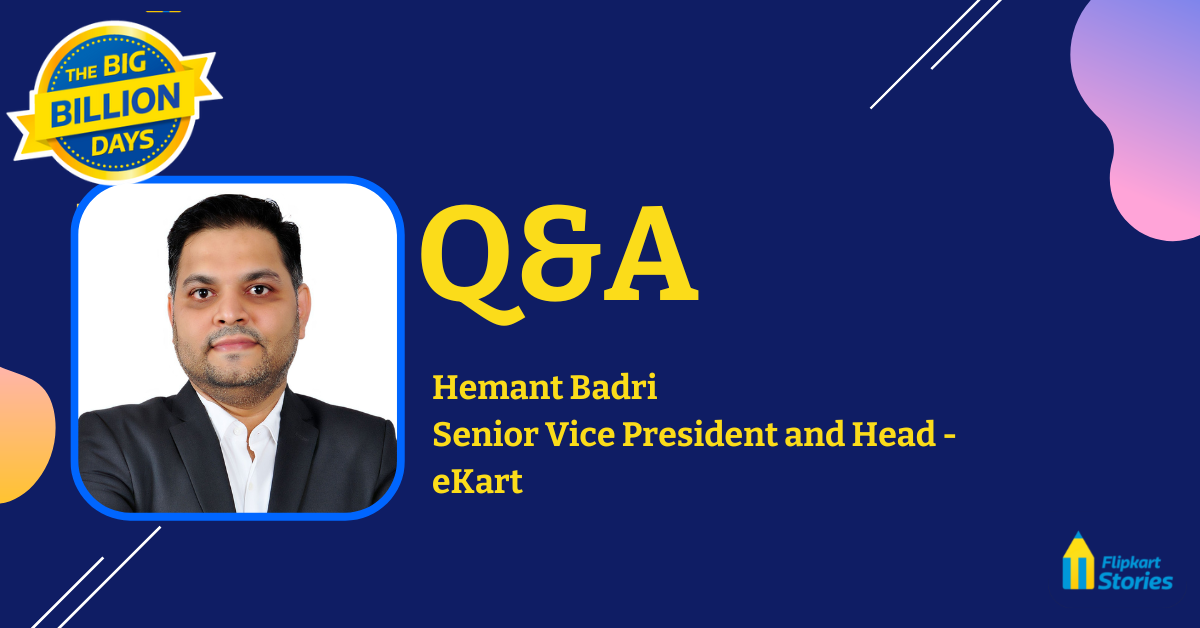 With the externalization of its service offerings and new brand identity, eKart Logistics, Flipkart's tech-enabled pan-India supply chain, is prepped to deliver on our customer promise to our existing customers and a whole new set of customers from tier 2+ cities and towns across the country. How has technology and innovation enabled eKart to evolve with the growing needs of Indian consumers? What does it take to keep eKart functioning seamlessly to ensure a delightful customer experience?
In this Q&A, Hemant Badri, Senior Vice President, eKart, shares his insights and reveals how our inclusive and tech-enabled supply chain will play a key role in The Big Billion Days (TBBD) 2022.
Excerpts from a Q&A:
What's new and exciting about this year's TBBD?
I think this year, it's a very special festive season for Flipkart and our country. I say this because, after two years of enduring a global pandemic, people have begun to venture out of their homes, live life, and express themselves like before. So this time our customers will really be looking forward to shopping during TBBD. To meet their needs, we are coming out with exciting selections, really exciting offers, and our goal is to delight them. The entire Flipkart ecosystem has been preparing for the last few months to make it an experience like never before.
In the vast ecosystem of Indian e-commerce, how do you ensure that there is seamless delivery to customers across the country?
It's very important to understand that the supply chain is key to our customers having access to and benefiting from e-commerce. It's important to understand how we run that supply chain every day.
Great execution is at the center of every supply chain success, and eKart's preparation for the festive season started months before TBBD. Through the year we have continued to expand our supply chain capacity, both in first and last-mile delivery. We have onboarded hundreds of last mile delivery hubs across the country and have established one of our largest fulfillment centers in Haringhata, West Bengal, which alone will process one million shipments a day. We have also rolled out Open Box Delivery for high value items such as mobiles and electronics. With this customer focussed initiative, we want to further build on the trust from our customers.
TBBD 2022 is also going to weave in sustainability efforts, with most of the shipments being processed in sustainable supply chain facilities and delivered through a fleet of thousands of electric vehicles (EVs) across the country.
We have focused on expanding our reach in tier 2+ cities so that we may reach every possible PIN code in the country and completely ready ourselves to meet our customers' needs. We have partnered with two lakh kirana partners across the country who will deliver a million shipments every day. Our kirana partners know their locales very well and they can bring a personal connect to our customers' shopping experience. In our expansion process, we have also created more than two lakh direct and indirect employment opportunities and we are seeing the positive impact of inclusion and diversity through our supply chain.
Today, our workforce has over ten thousand women working and over a thousand people with disabilities. During this festive season, we are focused on creating an incredible experience not only for our customers, but also for our employees by prioritizing their wellness.
Could you tell us more about the role played by technology and innovation in the supply chain?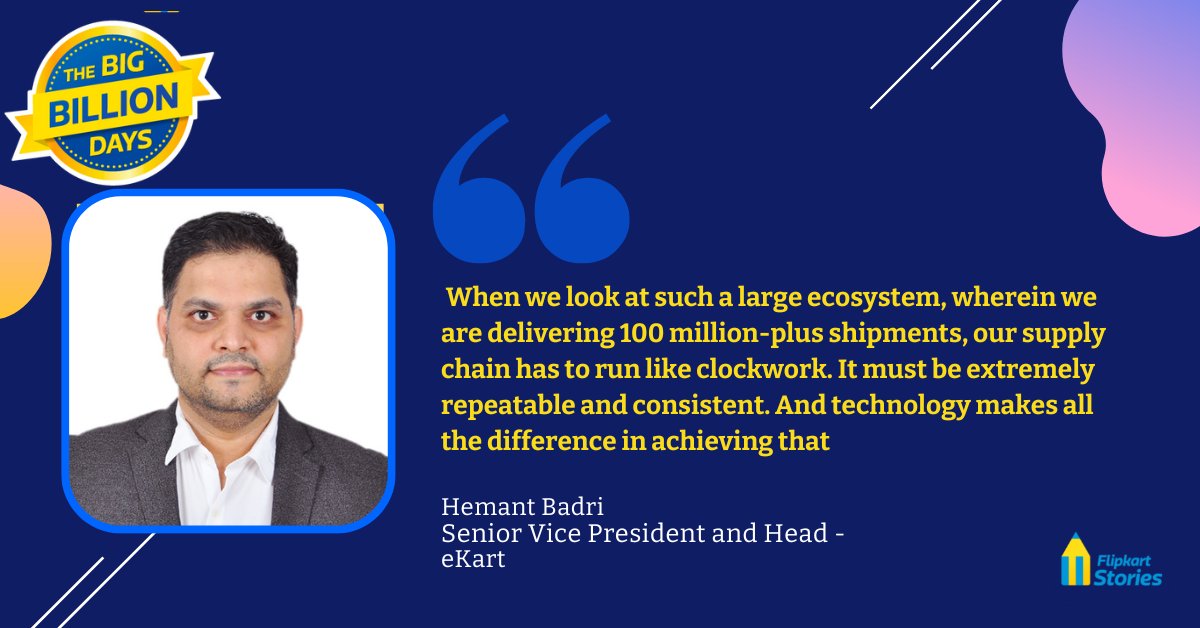 eKart is a technology-led supply chain. And this year, we have upgraded our tech on many fronts to meet Indian shoppers' needs. Whether we are talking about Flipkart's automated guided vehicles, or robot packing, we are creating differentiated solutions at all levels. So it's about developing a very unique supply chain powered by technology, primed to meet the unique demands within India's e-commerce ecosystem. And when we look at such a large ecosystem, wherein we are delivering 100 million-plus shipments, it has to run like clockwork. Our supply chain must be extremely repeatable and consistent. And technology makes all the difference in achieving that.
Today, over 100 million shipments are delivered monthly by Flipkart. How is this going to be scaled up in the future?
It's a very exciting time in India with digital penetration going up in the country. Through our supply chain expansion, and many new features on the Flipkart app, we are looking at bringing e-commerce to the next 200 million consumers and the festive season provides the perfect opportunity to do that. This year, our supply chain will play a key role in bridging the gap between India and Bharat.
Read more Q&As on Flipkart Stories and browse relevant news coverage in our Newsroom section