Flipkart recently announced the rollout of platform upgrades and tech solutions to ensure that customers from metros, as well as tier 2+ cities and towns, can enjoy a revamped shopping experience on the Flipkart app. Through several new technology-led features, Flipkart aims to bridge the accessibility gap between customers in India and Bharat. In this Q&A, Bharath Ram, Senior Vice President - User Activation and Retention, shares insights into the inclusive technology set to redefine the shopping experience for Flipkart customers.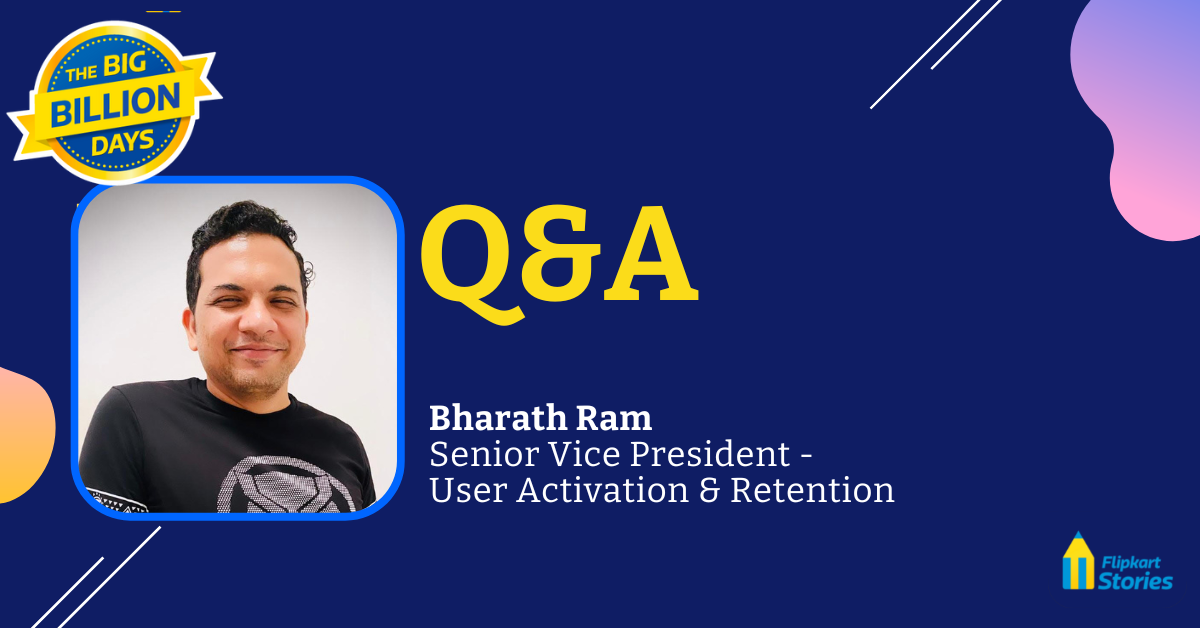 The Big Billion Days and the upcoming festive season in India offer an opportunity to serve millions of new customers every year. At Flipkart, we work months in advance to understand our customers' needs and leverage tech solutions to democratize e-commerce for Indian shoppers. From engaging with new consumers to the solutions we build around language, voice and more to ensure that consumers from remote areas of the country have access to and can benefit from e-commerce ー technology plays a key role behind each of our India-centric innovations.
Flipkart has recently introduced platform upgrades and features to make the user journey for customers, especially shoppers from metros and tier 2+ cities and towns, more engaging, enabling them to experience e-commerce like never before. These innovations, founded on our Customer First ethos, are designed to address the evolving needs of Indian shoppers.
#FlipkartNews: @Flipkart promises to deliver festive cheer through a revamped app experience; Onboards lakhs of sellers, kiranas, MSMEs & best of brands ahead of #TheBigBillionDays 2022
– 9th edition of flagship event from Sept. 23 – 30, 2022
Read more: https://t.co/xuXCQgvlVf pic.twitter.com/kcrCzjDscZ

— Flipkart Stories (@FlipkartStories) September 13, 2022
In a conversation with Flipkart Stories, Bharath Ram, Senior Vice President – User Activation and Retention shares insights into the inclusive technology powering Flipkart and our customers this festive season.
Excerpts from a Q&A:
Congratulations on the launch of the immersive new experience on the Flipkart app! How will these tech solutions enhance the e-commerce experience for our customers?
India is one of the most diverse countries in the world with different languages, cultures and people. While we are one nation, a closer view will tell you that India is distinct from Bharat. The first 100 million online customers came from the metros and the next 500 million will come from tier-2 cities and beyond. As a homegrown marketplace, a lot of our innovation lies in essentially making the app work seamlessly for a very diverse country.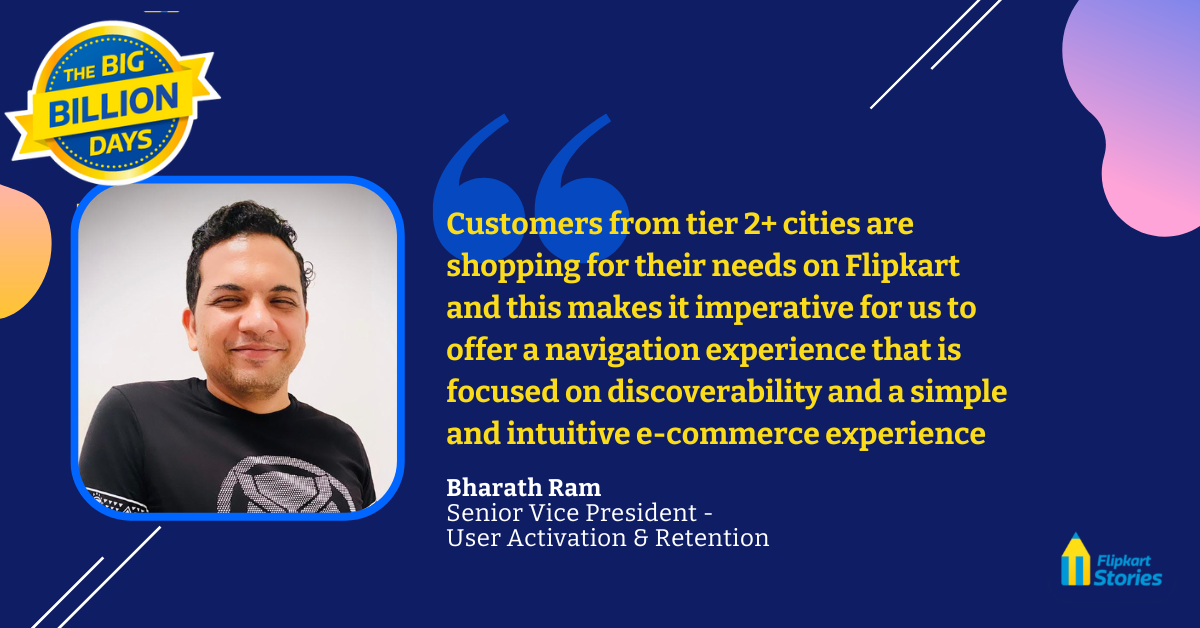 Today, e-commerce customers in India are a heterogeneous group having varied income levels, digital literacy, and access to devices such as smartphones. Customers from tier 2+ cities are shopping for their needs on Flipkart and this makes it imperative for us to offer a navigation experience that is focused on discoverability and a simple and intuitive e-commerce experience. They are very different from users in metro cities who grew with the internet, laptops, smart devices and eased into the smartphone era. The way they think and approach the shopping journey is fundamentally different. So we have a responsibility to cater to a diverse India and usher customers from tier 2 and tier 3 into our e-commerce ecosystem and help them benefit using our technology.
To solve this, we implemented a two-pronged approach. We focused on innovation to meet differing needs, and evolving the way our customers use the Flipkart app. With this vision, we introduced several capabilities and incremental design changes to make our customers' experience on the platform seamless. These additions and updates will play a crucial role in fulfilling our customers' needs, which have evolved significantly over the last few years with the pandemic fast-tracking e-commerce adoption.
Could you tell us a little bit about the new tech solutions?
This year, during The Big Billion Days, our customers will experience an improved and enhanced experience on the Flipkart mobile app. The completely revamped experience is created to delight shoppers by focusing on visual design, ease-of-navigation, easy discoverability of deals and products, and an immersive and interactive experience with influencers and celebrities.
Visual design revamp: The design revamp enhances the browsing and shopping experience by reducing visual clutter and distractions so that users can focus on the products. The redesigned homepage allows frequent grocery shoppers to easily access all grocery products from the top of the homepage. It also optimizes the space so that users can view more content without scrolling. New widgets and sections on the homepage, allow shoppers to easily discover relevant deals and product recommendations.
Image Search: Shoppers want to find out what their favorite celebrity wore recently and buy similar, trending products. Image Search makes that happen with ease. Users just need to select the picture of the celebrity from the gallery or take a picture of their friend to find and purchase similar products on Flipkart. For categories like fashion, lifestyle, jewelry, and beauty products, this way of searching can add a lot of convenience for shoppers who may find it easier to image search than write descriptive queries, and image search helps them discover what is difficult to express by typing.
Similarly, for the Beauty category, we have introduced Virtual Try-On. The presence of product visualization is an important factor in enhancing a customer's online shopping experience, especially in the Beauty category.
Live Commerce: Live commerce enables users to discover new products and learn about them in detail through influencer-led interactive video content on Flipkart. There's a strong demand for engaging, live video content for multiple use cases like new phone launches, make-up tutorials, and curated fashion looks. Shoppers especially enjoy features like 'Chat & Buy', which allow them to bargain just like they do when they shop at their local shops. Live commerce emits trust through a pool of influencers — they present, try on, and review the products from the wide selection available on Flipkart.
Brand Mall Mode: Shoppers looking for branded products and a more premium shopping experience can now switch the experience to the Brand Mall. The Brand Mall mode helps give a premium experience for shoppers and an easy way to discover quality products from famous brands at great prices. On the other hand, it offers greater visibility for premium brands. The regular mode will continue to offer incredible value and deals for shoppers looking for affordable selection. This has been introduced as an assisted shopping experience on the app with a premium user interface to enable customers through easy discovery and navigation of premium branded products. While this mode primarily attracts users from metros, it's also aspirational for customers in tier-2 and tier-3 towns in our country. This mode will help these customers prospect what a high-end premium brand looks like. And the festive season provides the perfect opportunity.
With these new features, the consumer can get on the app to choose a unique experience for premium brands, and another for value products. Features like Image Search were developed keeping modern shoppers in mind. It's not just about predicting how our consumers' behaviors evolve over time. It's also about how we can help them get to their destination in the easiest way possible on their shopping journey.
What led to the decision behind including Grocery as a separate category on the home page?
Grocery is one of the fastest-growing segments in e-commerce today and it is a category where people purchase frequently. We want to make grocery shopping faster, easier, and as smooth as possible for our customers. So when our Grocery customers want to shop, we don't want them to think twice about it. They can get on the Flipkart app and the Grocery tab is available right on the home page. The new Grocery tab will be visible for users in 10,000 pin codes across 1,800 cities serviceable by Flipkart Grocery.
Read more Q&As on Flipkart Stories and browse relevant news coverage in our Newsroom section