When microbiology graduate Sristi Mishra moved to Mumbai after getting married, she found an interest in jewelry making while watching YouTube videos. Soon she picked it up as a hobby and decided to earn from it. That's when she signed up as a #Sellfmade Flipkart seller. Read her inspiring story.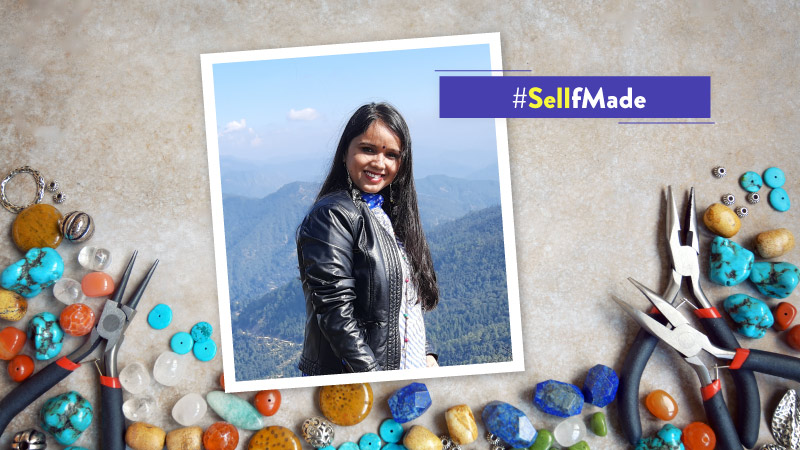 My name is Sristi Mishra. I am from Dehradun and I run a successful online business. I have a postgraduate degree in Microbiology and before I started my business, I was working in a laboratory. When I got married, I moved to Mumbai. One day, when I was enjoying a few YouTube videos, I wondered if I could learn to make jewelry. I found the videos I needed, and taught myself to make jewelry as a hobby.
I make earrings and bangles. I make use of many raw materials while designing. I picked it up fairly quickly and I became quite good at it. Then one day, while I was browsing through some jewelry selling at the mall, I saw designs like mine among them. And I observed that the other customers there were very keen on those designs. That's when I decided to sell the jewelry I was making online. I started the company JBNFashionGallery and partnered with Flipkart in 2017.
I was never interested in selling my jewelry at a store or a shop in my locality. I was already aware of the wide customer base an online enterprise brings to a business owner. Besides, if you're selling online, there's less to be worried about as compared to running a business offline. I am running mine from the comfort of my home. Today everything is digital and everyone shops online. Another thing I learned was that when you're running a successful online business, you can study customer data and keep up with trends.
Flipkart helps me a lot with my business. They monitor your progress and come back to you with data to help you grow your business. In my case, I needed to expand the variety of jewelry I was listing online, and they helped me identify which other categories I could be listing in too.
When I started the business, I invested ₹5,000. Now I earn ₹10,000 every month. My last Big Billion Days sale was a nice experience. I am thinking of adding more categories in women's accessories such as handbags, purses, wallets, etc. My family is very supportive. They are proud as I am the first one in the family to run a business.
As told to Jishnu Murali
Want to read more stories like Sristi's? Click here.