A mother's dream is to see her children happy and successful. Flipkart seller Shibaji Sarkar's mother has the same dream. With his mom cheering him on, Shibaji showed India his creative side and built a brand that echoes his style. Read all about his inspiring journey as a #Sellfmade Flipkart seller.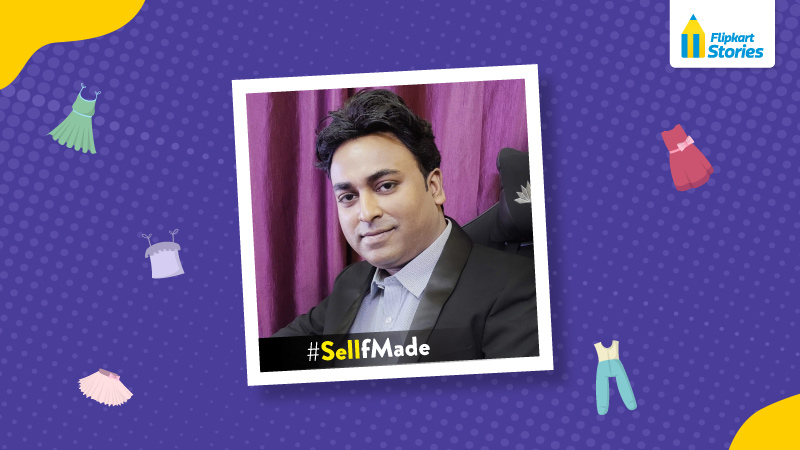 My name is Shibaji Sarkar. I am the proud owner of KaarigariDzine, a brand selling kidswear on Flipkart. I graduated as a fashion designer and worked with a private firm for several years. My employers were selling my designs under their brand name and I wanted to change that. So before long, I became a Flipkart seller.
It was when I learned about Flipkart that I wanted to start my own business. I figured this would help me take a pulse on trends among consumers and see the designs that worked. This was an opportunity for me to be as creative as I can be with my designs, and really give them a unique identity. I wanted my style of creativity to become a brand and Flipkart has really stepped up as the perfect platform for that.
Flipkart has been an immense presence in my business growth. My account manager at Flipkart is an incredible pillar of support. From helping me plan my targets to keeping me updated on the latest selling strategies and tools like Flipkart Ads that I can use to make my brand bigger than ever ー I always have a helping hand at Flipkart! Flipkart also helped me with flexi-loans and supported me during my initial days as an entrepreneur. When I started selling on Flipkart, my designs were appreciated by customers and I got a lot of sales. I started as a Bronze Seller. Today, I am a Silver Seller and I owe it all to my account manager!
I started my business with three to four sewing machines. Initially, I used to get five to ten orders daily, and today, I get 1500 to 2000 orders every day! I am the sole manufacturer and designer of my products. I work on improving the designs on my apparel as well. Today I have an independent business and I don't have to rely on a monthly salary. I feel very proud that I support many families with my business. Each and every member of my staff works on designs. They think of it as their own business. In private jobs, this never happens.
In 2019, during The Big Billion Days sale, there was a peak in our numbers. We were getting around 5,000 orders every day and we had to work day and night to meet those demands. It was a tough experience but we absolutely loved seeing the overwhelming demand for our designs. Year 2020 was not as great owing to the pandemic and we were still adjusting to the new normal. But this year, we are prepared and raring to go! I am launching new designs and I've made sure to stock up on inventory. I will make sure that my products are always in stock. I also make sure to invest in Flipkart Ads during the sale. This year we are expecting 7,000 – 8,000 orders daily. I have arranged all the materials needed beforehand and today I have 77 machines running. The videos and informative articles on Flipkart Marketplace have also helped me a lot to increase my knowledge about online selling.
My family loves that I'm shaping my own success now, and my mother has helped me a lot. She is my pillar of success, the support that I receive from her is immeasurable. I got a lot of financial support to start my business from my family. Now it is also my mother's dream to make our brand the No.1 apparel brand in India. The both of us can't wait to see how well we do in The Big Billion Days 2021! We are excited and looking forward to it.
As told to Jishnu Murali with additional inputs from Rahul Gupta Roy.