The modern Indian woman: uncompromising, quality-conscious, aware. Running her own business, running the house, running a company — she's always on the move. Saving on time and money, she's taken to the Internet when it comes to shopping, but what makes her choose Flipkart time and again? We spoke to the highest spenders from Indian metros who've found a friend in Flipkart to get the answer, and bring you a slice of their inspiring lives.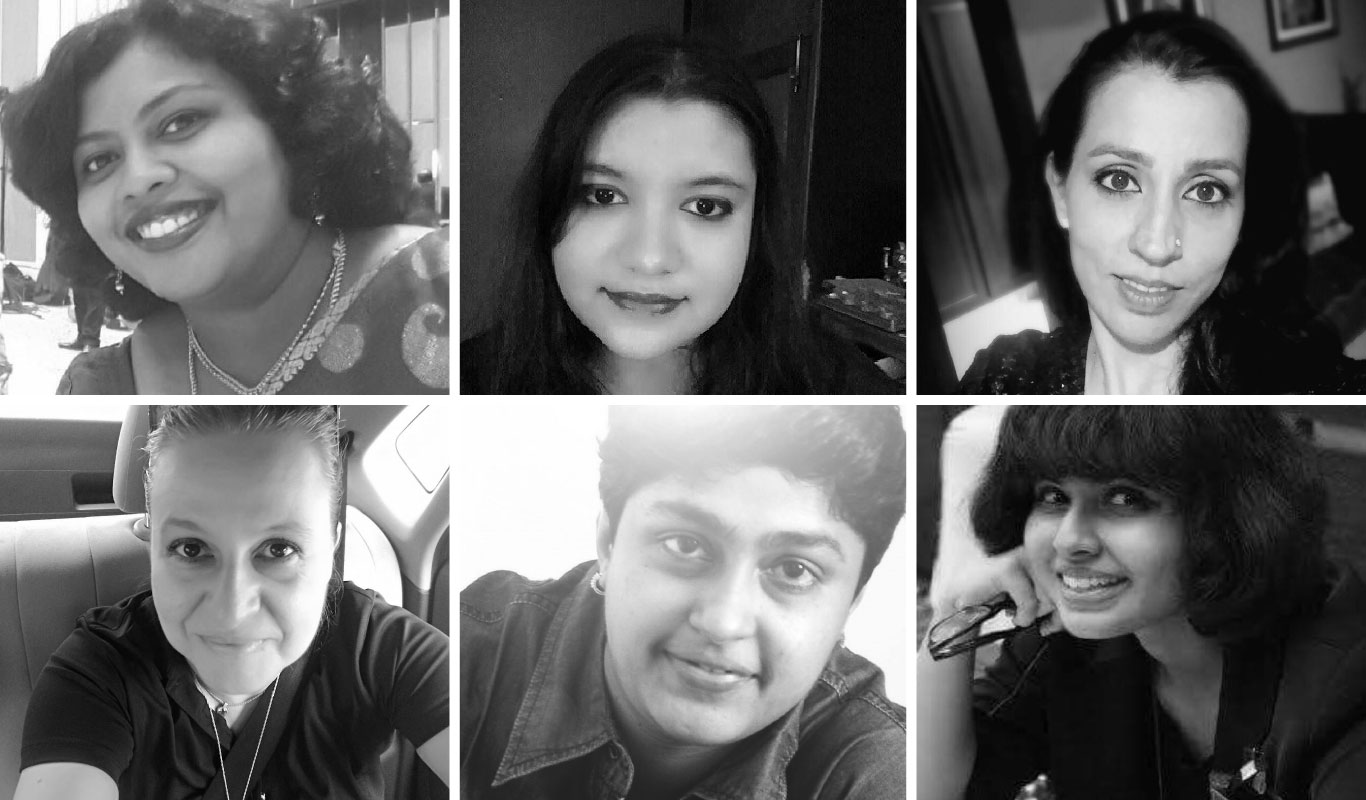 In the last decade, businesses, brands and advertisers across the globe have observed a trend that we have only just begun to see in our country — Indian women are outspending men when it comes to e-shopping for themselves, their home and their family. Surprised? There's more. Indian women are, in fact, more tech-savvy, spend more time on smartphones, and are more judicious online shoppers than their male counterparts. Watching out for deals and discounts is one thing; women are also credited with being more aware, more careful and more quality conscious. So when it comes to Flipkart's highest spenders ever — Indian women from metros such as Delhi, Mumbai, Bengaluru, Chennai, Hyderabad and more — the burning question we want answered is 'Why Flipkart'? We spoke to Flipkart's loyal women shoppers and found that these Indian women dispel stereotypes. From homemakers to entrepreneurs, from students to women who break the glass ceiling in corporate sectors, from 18-year-olds to 40-year-olds, these high spenders are spread across demographics with one thing in common — they've chosen Flipkart to fulfill their wishes. Find out why.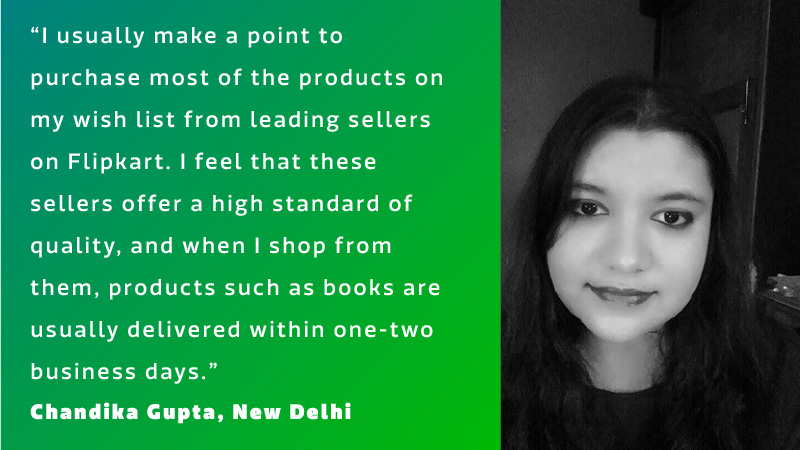 Her first date with Flipkart
When her first order from Flipkart arrived, Ankita Misra, an 18-year-old student from Mumbai, was deliriously happy. In her hands were brand new books — comic books and graphic novels that her neighborhood bookstores didn't stock. "My best friend and I are voracious readers," she tells us. "We read all kinds of books, including comic books, but often most of them, especially the imported editions, aren't available in local bookstores." One such futile search for a comic left Ankita exasperated, and prompted her best friend to recommend Flipkart to her.
"Flipkart had in stock many books that weren't available in physical stories, plus it offered me some great deals too!" says Ankita. Thus began her four-year relationship with Flipkart, which has progressed steadily from dolls to deals. Now she regularly buys collector's editions of Barbie dolls and crime and mystery movie DVDs.
Deals are also what cinched the relationship that Mugdha Mulgaonkar started with Flipkart more than five years ago. This Mumbai-based entrepreneur's relationship with Flipkart took root when her elder brother introduced her to the site. Managing director of her own BPO in Mumbai, Mugdha has bought products across categories from Flipkart — be it office equipment, electronics or apparel.
"My elder brother began shopping with Flipkart before I did," she says. "He is a techie, and was the one who recommended that I try Flipkart as well." Ask her about her first purchase and she says she doesn't remember. However, there's one thing she recalls very clearly: "I wanted to go ahead with Flipkart because it offered me a better deal."
In Delhi, student Chandika Gupta first came across Flipkart via an advertisement. A book lover, Chandika surmised that Flipkart could very well be the quickest way to buy books. She shares, "In my city, quite a few of the bookstores that I'd loved to frequent had shut down." In the months that followed, Chandika shopped contentedly on Flipkart and found herself opening the door to book deliveries galore.
The story of Dhanashri, a homemaker from Mumbai, follows a similar trajectory. When her brother noticed how frustrated she became trying to find good books for her children, he told her to look up Flipkart. "Being the mother of young kids, I was constantly on the lookout for good books. Unfortunately, many of them weren't available in bookstores. Upon my brother's recommendation, my journey with Flipkart started with buying books, and for the next two years, all I ordered from Flipkart were books, books and more books! Flipkart was the best thing that happened to me back then," she says with a grin.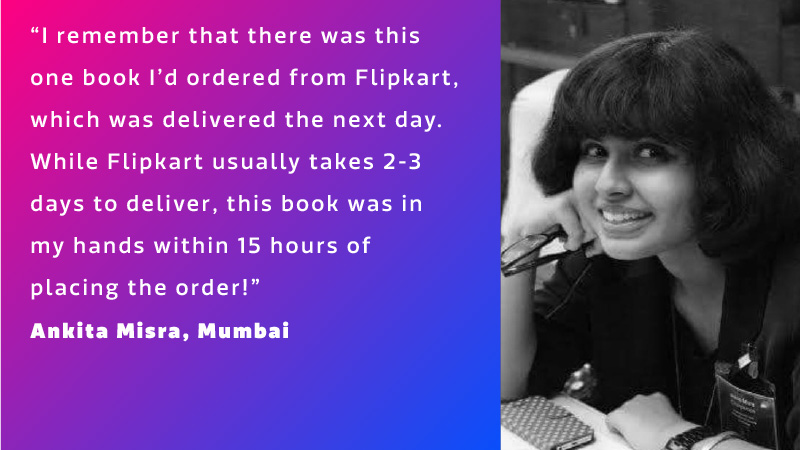 And then she clicked Buy Now
Have you heard that time-honored adage: men simplify, women complicate? Well, it's time to put that thought where it belongs — into the rubbish bin. Why? Because simplicity is exactly what draws modern Indian women to Flipkart.
Bengaluru-based homemaker Ayesha Rehman reveals that her experience with Flipkart was everything she didn't expect. "It was so uncomplicated! Flipkart kept things simple, and I found it easy to search for the relevant products and place my order," she says. Though she was impressed, she knew that the test would be Flipkart's service and delivery, and treading lightly, she placed her first order. What was it? "Shoes," she reveals, adding, "Though that particular pair was available in other stores too, I felt that I should order it from Flipkart and see how it delivers." Flipkart passed Ayesha's test, delivering her order on time and in mint condition, and that forged her relationship with the online shopping site for years to come.
If keeping it simple is what got Flipkart Ayesha's vote, it was sheer convenience that found Flipkart a friend in Tulika Das, a research analyst from Gurugram. Leading a hectic life that keeps her constantly on the move, she loves that she can order a product whenever and wherever on Flipkart, and that the site makes it possible for her to avoid crowds — and browse for as long as she wants, without the bother of salespersons hovering around her. Despite initial doubts about whether what she saw on the screen would be what she would receive, she placed her first order. "And that's especially true of fragrances," she says, for it was a perfume she ordered her first time from Flipkart. She reminisces that Flipkart put her fears to rest and says, "It was a good experience. Firstly, the MRP that Flipkart quoted on the perfume I wanted to buy was less than the market price. Secondly, Flipkart took such less time to deliver the product! I had my purchase in my hands the very next day after placing the order."
While Tulika's trust in Flipkart paid off, the site made a favorable impression on Meenakshi Yadav when she discovered that a book she wanted to buy was available in India only with Flipkart. "I was searching for this book online, since I hadn't been able to find it anywhere else," she says. And the first result that popped up for the book online was Flipkart. Before Flipkart came into her life, this New Delhi-based homemaker would buy the not-so-readily-available books from the US, where her mother used to stay in those days, but soon found "how heavy they are to carry and bring home to India". She states with a smile, "Flipkart was a boon for me — it was lovely to know I could now purchase all the books I wanted… and not have to carry their bulky weight too!"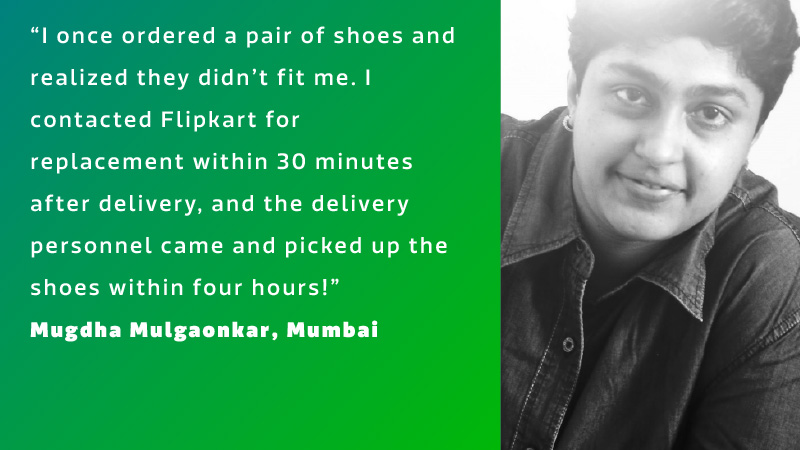 Flipkart won her heart
Ask Dhanashri what she liked about Flipkart the first time, and pat comes the answer, "Flipkart had in stock products that weren't available elsewhere." Though back then she had no experience with shopping online, she was attracted to the deals that Flipkart was offering. She adds, "At that time, Flipkart was the only e-commerce site. Yet what it was selling and the price it was selling at was not bad at all."
If you're anything like these Indian women, you've definitely spent hours shopping, visiting one store after another in search for that perfect purchase? How about doing the same thing without moving an inch from the couch? Ankita Misra recalls that when she logged on to Flipkart to purchase the first time, she ended up shopping for hours. "I had a gala time browsing the categories and categories of books that Flipkart had. Even books that I had assumed I wouldn't like, but which belonged to a genre I preferred, piqued my interest."
The zeal of discovering new books defines her as a shopper, and exactly why she likes Flipkart. Ankita, who shops with Flipkart "at least once every three weeks", says, "I keep going back to Flipkart and discovering new books."
For Meenakshi Yadav, a stay-at-home mother of two, it was Flipkart's cash-on-delivery facility that won her over. "Flipkart's CoD scheme meant that I could pay after I had my order in my hands. And since CoD was applicable on all products, it was a good thing. Moreover, it works if one is hesitant to pay online owing to security fears."
As an entrepreneur, Mugdha Mulgaonkar knows a good deal when she sees one. While a good deal made her approach Flipkart, it was the experience that kept her loyal. "It was an early, hassle-free delivery," she says with a big smile. "And what I ordered is exactly what was delivered to me."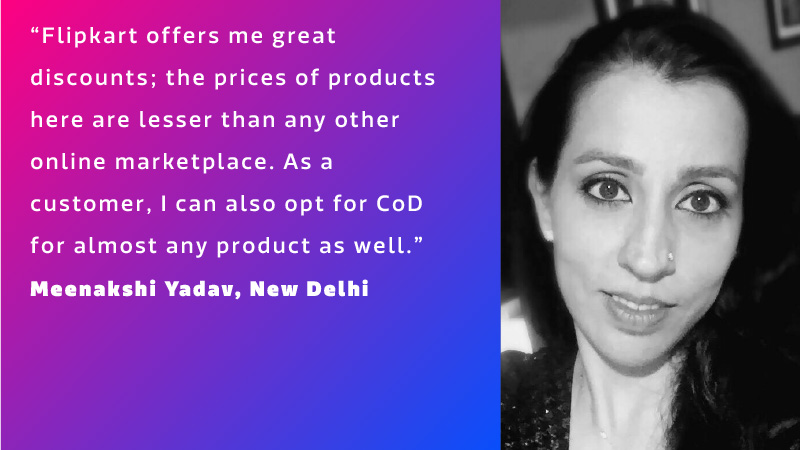 What do Indian women want?
While Flipkart may have made a good impression the first time around, it is consistency and improvement that checks off the requirements of these tough critics. For Anisha Chelliah, a 34-year-old homemaker from Chennai, the enhancement of Flipkart's delivery speed and search filters is paramount. "Sometimes, my order is delivered in a day itself, and I love it! In addition, when I'm searching for a product on Flipkart, I find that the recommendations and search results are more relevant than before. It makes the buying process easier," she says.
Flipkart's fast delivery eased Chandika Gupta's apprehensions when she shopped online for the first time a few years ago. She reveals how she would receive her purchases within one or two days after placing the order. "It was the first time in India that an e-commerce portal delivered products so quickly, and even allowed customers to track their orders," she says.
Chandika also likes the fact that as a Flipkart customer, she can have a product delivered according to her convenience. "If I'm not available at the shipping address or if I don't have the money, I can request the delivery boy to come the next day, and he obliges. No other e-commerce portal allows me to do that. Their delivery boys just show up whenever."
Chandika's opinions about Flipkart's fast delivery service find resonance with other Flipkart customers too. Meenakshi Yadav reveals that the quickest delivery she's received till date has been in a span of one and half days. "I feel that Flipkart delivers within good time; it always delivers on the dot. It doesn't matter whether it's a CoD or an online payment."
Mugdha Mulgaonkar also swears by Flipkart's timely delivery. "I'd ordered a Motorola smartphone once, which was delivered to me the next day itself," she says. "It was a pleasant surprise for me because at the time of placing the order, Flipkart had specified the estimated delivery time as 4-5 working days."
Getting an unexpectedly fast delivery is something that Ankita Misra has also experienced as a Flipkart customer. She says, "I remember that there was this one book I'd ordered from Flipkart, which was delivered the next day. While Flipkart usually takes 2-3 days to deliver, this book was in my hands within 15 hours of placing the order!"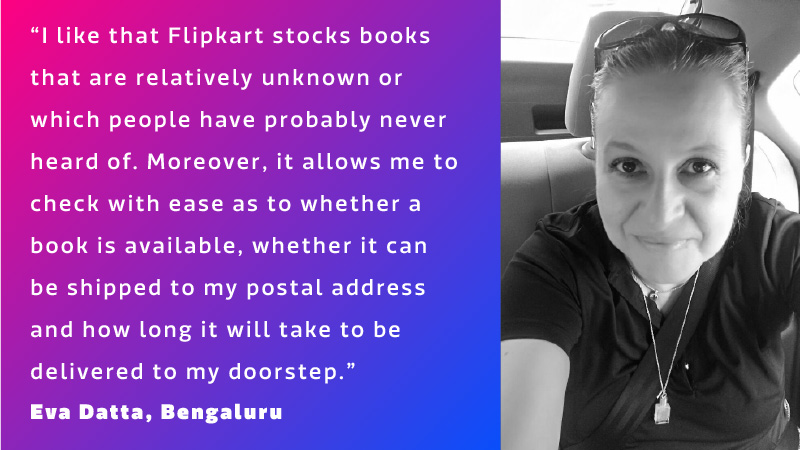 She's hard to please, and that's what we love about her!
Getting what you ordered is one thing; having to return it is quite another. Being careful, aware and punctilious shoppers, Indian women from metros have had occasion to experience Flipkart's product cancellations and returns policy and found renewed vigor in shopping online.
Ayesha Rehman, who has been a regular customer for the past three years, likes the promptness of action Flipkart shows when it comes to returns and replacements. "Sometimes, I've ordered shoes and apparel, and discovered that they don't fit or the product color does not match what's shown on the website, or is not the color that I had expected," she explains. "In such cases, I've either opted for return or replacement, and Flipkart has often done the pick-up the same day and credited me the full refund in my Flipkart Wallet [now PhonePe]."
Like Ayesha, Mugdha Mulgaonkar too experiences peace of mind every time she shops on Flipkart and doffs her hat to Flipkart's easy returns and refunds policy. She says, "I once ordered a pair of shoes and realized they didn't fit me. I contacted Flipkart for replacement within 30 minutes after delivery, and the delivery personnel came and picked up the shoes within four hours! Unfortunately, shoes of a bigger size were out of stock, and so Flipkart refunded the amount paid." Apart from the shoes, she's returned only one product till date to Flipkart — a smartphone, which was replaced without delay.
For Ankita Misra, Flipkart's returns and refunds process has always been delightfully smooth. To date, she has returned products a few times. She says, "I initiated returns and replacement for a variety of reasons: sometimes the fit, color or style wasn't what I'd expected, or the product was damaged, or I'd ordered one thing and gotten something else. But Flipkart was very efficient about the thing. Why, in case of the collectible Barbie doll, I'd ordered the 2015 edition and Flipkart had sent me the 2014 one. However, Flipkart replaced the product with the 2015 one at the same MRP as of the 2014 version."
In Gurugram, Tulika Das checks each online purchase with an eagle eye, and states that she's never had much reason to return or get a product replaced from Flipkart. She shares, "In all my years of shopping with Flipkart, it has always given me products that are the best in quality. What I see on screen and placed an order for, is exactly what Flipkart has always delivered to me. I've probably initiated returns or replacement twice or thrice, but every time, Flipkart has been very prompt and done the process without any hassle."
Her trust in Flipkart is what makes J Sunita, a homemaker from Hyderabad, a frequent buyer. Sunita, for whom "getting a quality product is more important than getting a good deal," is so satisfied with her purchases from Flipkart that she's never opted to raise a Return or Replacement request. "My husband and I prefer to shop from Flipkart, especially if it's a high-end product we're looking to buy, because we're sure it will be original and unused. Moreover, Flipkart always shows us all the details of a product, its features and specs, its best price, along with its reviews and ratings, which helps us to make an informed buying decision," she adds.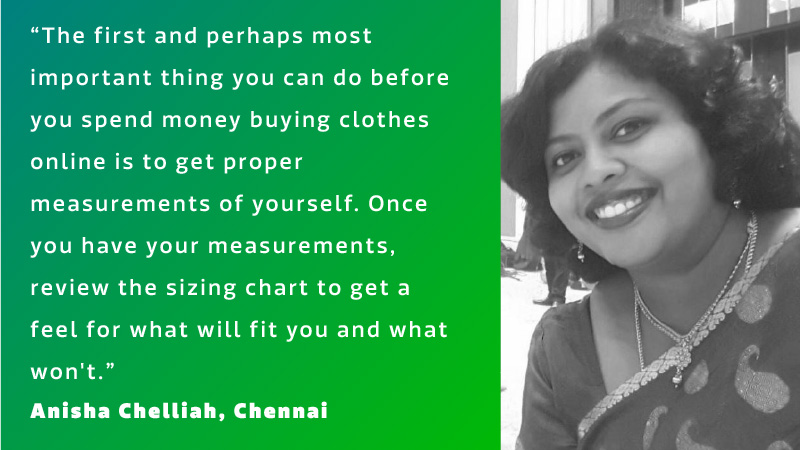 In Flipkart she trusts
In the beginning, when a friend recommended Flipkart as a "trustworthy e-commerce site" to Anisha Chelliah, she was skeptical about shopping online. "It was only after I began shopping from Flipkart that I gradually realized how correct my friend was," she says. Over the years, there's one thing that keeps Anisha coming back to Flipkart: it meets her high quality standards. "I've never received any fake, used or damaged products," she says. She adds that she also likes that shopping for apparel and accessories on Flipkart gets her great style at good prices.
The confident shopper that she is, she is also very eloquent with her advice for those who worry that their clothes and shoes just won't fit and that they've wasted their money: "The first, and perhaps most important thing you can do before you spend money buying clothes online is to get proper measurements of yourself. Once you have your measurements, review the sizing chart to get a feel for what will fit you and what won't." The bottom line, Anisha says, is that customers should be clear about what and which size they want to buy. "Once you're sure of these two things, you're sorted. Recently, I bought inner vests for my children from Flipkart, and it fit them perfectly."
Shopping on Flipkart at least three to four times a month is a common occurrence in Eva Datta's house. A 48-year-old homemaker from Bengaluru, Eva shops for her husband and two children, and places a lot of importance on the price of products. She says, "I buy products from Flipkart across a variety of categories, from rare and expensive books to imported toys. Perhaps the most expensive thing I've purchased is a TV priced at ₹40,000. For me, getting a good deal on products is the most important, and looking for the best price is what I always do as a Flipkart customer."
Ask J Sunita about how confident she is when it comes to shopping on Flipkart, and she says, "I'm a very confident shopper and trust Flipkart wholeheartedly. Otherwise, why would I be shopping on Flipkart so often?" She wastes no time giving Flipkart a 10/10 rating, and reveals that she's shopped on Flipkart at least 30-40 times in the past year. "Recently, I've even bought some gym essentials."
For those of us who aren't sure of what we want, these Indian women do set a shining example. New Delhi resident Meenakshi Yadav is one such Indian woman who knows her mind. She knows that quality of a product is essential to her, while its price takes second place. "If a product has even a minor flaw, then I would choose not to keep it. In that sense, Flipkart has always delivered a 10/10 on quality whenever I've bought from it — which is every two weeks or so!"
Meenakshi Yadav is not alone in her opinion. Mugdha Mulgaonkar also gives a 10/10 rating to Flipkart for the quality of the products it sells. "I believe that if a product is not of a satisfactory quality, it won't last long. Therefore, even if a good-quality product is costing more, I still go ahead and place the order for it." She adds with a flourish, "I usually do all my online shopping from Flipkart. I log on to Flipkart at least once a day; I shop for the deals that interest me, and even if I don't buy, I at least check out the products and add them to my wish list. I've shopped probably 350 times on Flipkart to date."
Passionate about quality and, of course, getting the best deal, these Indian women from our busiest metros redefine what online shopping in India means. Whether it is household electronics or tech, the latest in fashion and accessories or the best books for the kids, they're high spenders and the toughest critics rolled into one. These confident frequent shoppers go online to fulfill each wish — no matter how big or small, and though they may forgive but do not forget. And in Flipkart's recent milestone of having 100 million registered customers, these women feature proudly and prominently.
Are you a woman shopper on Flipkart and have a story worth sharing? Leave a comment below.
---
Customer data analysis by Pushpendu Kumar
Read more Flipkart customer stories