By integrating people with disabilities into its workforce with its novel Ekartians with Different Abilities (eDAB) program, eKart has not just created an empowering workplace culture. It has sent an emphatic message to the world. Meet the differently abled Wishmasters at eKart.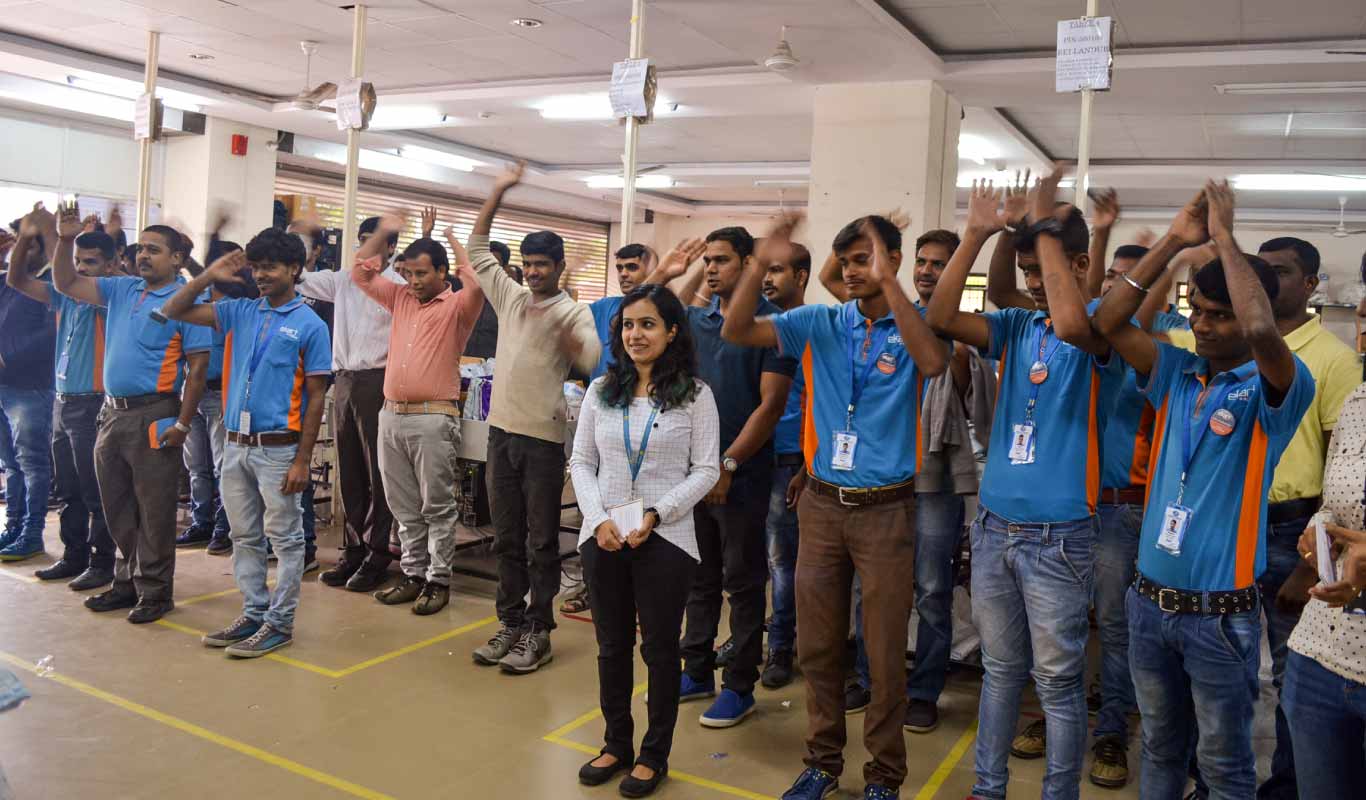 In the heart of Bengaluru's HSR Layout suburb, the eKart delivery hub bustles with an unusual energy. Inside, sounds of popping bubble wraps, rustling cardboard boxes and the shuffle of delivery personnel marching attest to this. But in this vivid scene, a conversation takes place in silence. It is a discussion among Nandeesha C, Abhijeeth and Ningaraju from the eDAB team — eKart's differently abled Wishmasters. Despite their challenges, these Ekartians with Different Abilities (eDAB) run their last-mile duties with clockwork precision. But how did they end up working with eKart? Therein lies a tale.
---
https://www.facebook.com/flipkart.stories/videos/839057449589378/
---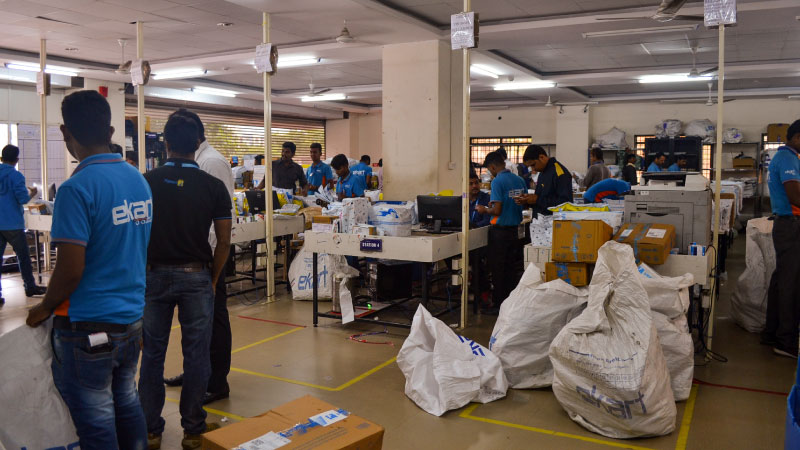 eKart, one of the largest supply chain organizations in India, serves over 24,000 PIN codes across the country. eKart is an e-commerce pioneer, leading the way with many firsts to its credit in the supply chain space, enabling speed and efficiency in a business weighed down by legacy processes. For eKart, however, innovation was not limited to the business of logistics. In the last few years, eKart has been at the forefront of building and empowering its workforce in a unique way. In early 2016, one such vision came to life when eKart launched Project EVA, an initiative to employ and enable equal opportunities for women in the workplace. The recent hiring of differently abled Wishmasters takes this vision further.
"We wanted to explore alternative delivery models and it was during a vendor interaction that we got the idea of hiring differently abled people for the role of Wishmasters. We had a hunch that there will be some hidden talent in there," says Snigdha Majumder, Director of Supply Chain Design & Strategy at Flipkart.
With a view to provide sustainable professional and economic growth opportunities to People with Disabilities (PWDs), the Design Team at eKart came up with the idea of hiring differently abled Wishmasters with speech and hearing impairment. "We started contacting hiring agencies and Non-Government Organizations (NGOs) and finally found what we were looking for. We partnered with Sarthak Educational Trust in Delhi and Mumbai, and with Samarthanam Trust for the Disabled in Bengaluru. Both these NGOs had done tremendous work with people with disability and understood their emotional quotient and technical expertise," says Aashima Jain, Senior Specialist-Process Design at Flipkart and Project Lead of the eDAB initiative.
Starting the eDAB journey, one step at a time
eKart launched a three-month pilot to test the waters. The team knew that they were recruiting a sensitive workforce for a customer-facing role and wanted to ensure that everything went smoothly. Representatives from the partner NGOs worked closely with the hub teams to understand the processes, roles, responsibilities and expectations of Wishmasters.
With the support of the two NGOs, the project took off and 15 differently abled Wishmasters were inducted into the workforce across six eKart hubs in three major cities — Delhi, Mumbai and Bengaluru. The eDAB (Ekartians with Different Abilities) team had begun their journey.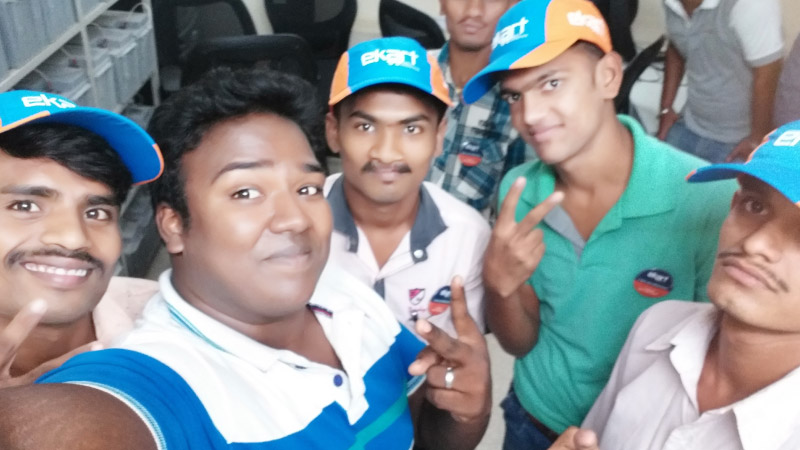 In the HSR hub at Bengaluru, Nandeesha hurries through his work routine for the day. After the daily morning huddle, he moves to the sorting desk and starts organizing his deliveries. Smartly dressed in a well-fitting blue eKart t-shirt, the Wishmaster turns to Balachander K, the HSR hub-incharge, to convey something in sign language. "He [Nandeesha] is very enthusiastic. I'm mostly caught up between briefing sessions for other Wishmasters, and from the corner of my eye, I'd see him waving his hands and gesturing something in sign language," humors Balachander. The hub manager has been with eKart for the last three years and has witnessed how eKart has evolved through the years. "This is a major step for us. We never imagined that they [the differently abled Wishmasters] could blend in so well," says Balachander.
Nandeesha is one of the three differently abled Wishmasters at the HSR hub, and has hearing and speech challenges. Approach him and he greets you with a warm smile and hand gestures, and signalling his eDAB team members, Ningaraju and Abhijeeth, to join the conversation. Like Nandeesha, these two Wishmasters are also challenged in speech and hearing. Watching the trio, one might wonder how they came to be employed at eKart. For these gifted Wishmasters, this was an opportunity of a lifetime, and they were giving it everything.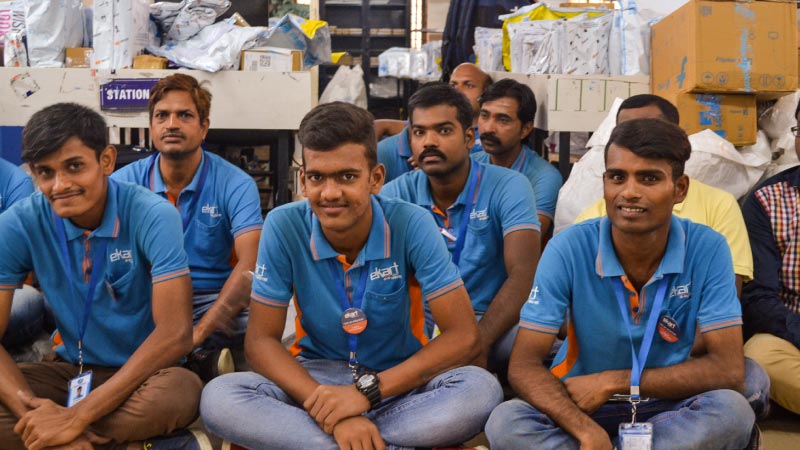 In the Naraina hub located at South West Delhi, Mahfooz Ali walks in after his last set of deliveries for the day. Mahfooz is one of four differently abled Wishmasters who were hired in eKart's Delhi zone. "I do my deliveries on foot, mostly to houses close to the hub. So far I've got a 100% CSAT [Customer Satisfaction Score] on my deliveries!" exclaims the young employee of eKart, as a colleague interprets his gestures.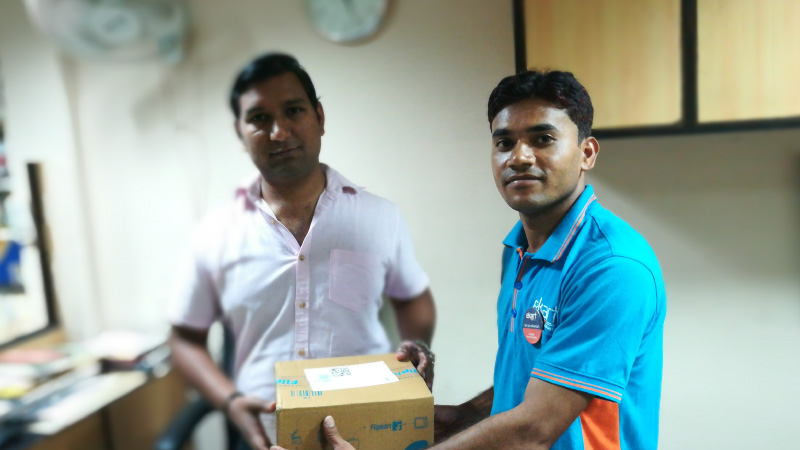 Mahfooz was one of the earliest Wishmasters to join the eDAB project and has grown pretty famous on his delivery beat. "I do 18-20 deliveries every day. There are some regular customers who know me very well," he gestures, as Salauddin, his friend from the eDAB team, nods in agreement.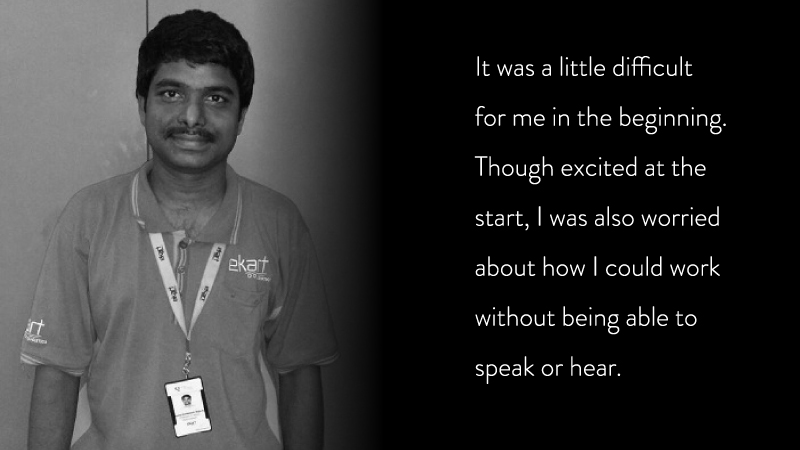 Cut to Mumbai. At the Andheri East eKart hub, Venkatesh Bompelly shares his story about his experience in the eDAB team. This differently abled Wishmaster is still getting used to the new life. "It was a little difficult for me in the beginning. Though excited at the start, I was also worried about how I could work without being able to speak or hear," he signals with his hands. Unlike his counterparts in other locations, Venkatesh had a good reason for being worried. He was the only eDAB member in his hub, but his fears were soon put to rest as eKart team ensured that the trainer in the hub understands basic sign language to help him whenever needed. "Now I'm well versed with my duties here and my trainer is always around to help me," he says. Venkatesh adds that the fellow Wishmasters are extremely supportive and friendly.
eKart's differently abled Wishmasters find strength in silence
"When the project started, our first task was to train the eDABs team members. They needed to build skills to communicate seamlessly with the customers and ensure that they deliver exceptional customer service," says Aashima Jain. To help the new members hit the ground running, eKart devised a novel approach. The first few steps included sensitization sessions, special classroom training and on-job training with the help of sign language interpreters.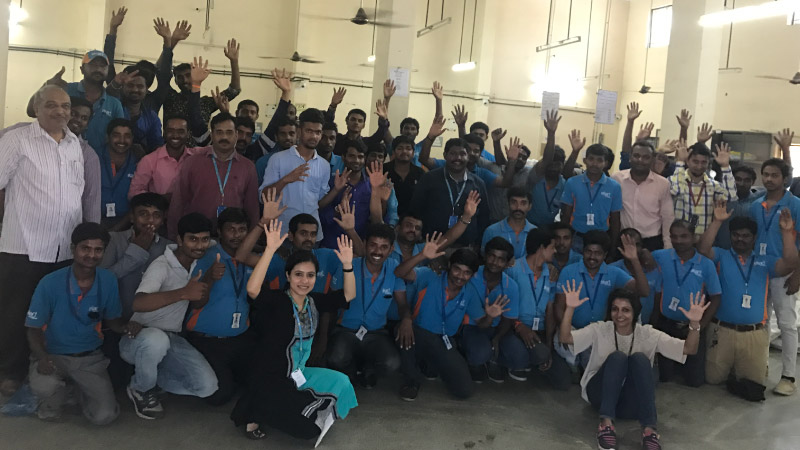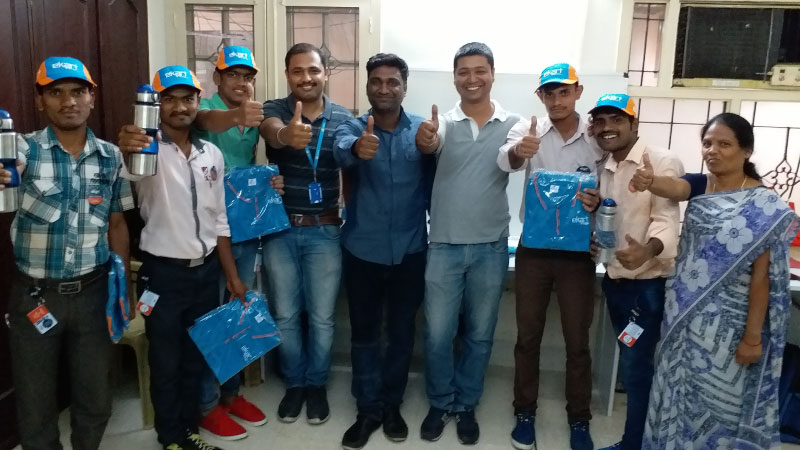 "As for communicating with customers, special badges and flashcards were designed for the eDAB Wishmasters that let customers become aware of their disability. For their safety, emergency ("SOS") features were enabled on their smartphones and an emergency number was printed behind the flash cards. Using these tools of communication, the eDAB team set forth on their new journey as eKart Wishmasters," recalls Priyanka Deb, Assistant Manager of Customer Experience Strategy Design from the Supply Chain at Flipkart.
While the journey for the eDAB team has been an exciting one, how did it translate to customer experience? On a Monday morning, Deepti Prakash, a resident of HSR Layout in Bengaluru, opened her door to a surprise larger than her much-awaited order from Myntra. She was taken aback when she realized that the delivery boy from eKart couldn't hear or speak — it was Nandeesha. "I am very happy to come across such an initiative that promotes equality. I hope more companies take this as an example," she says thoughtfully.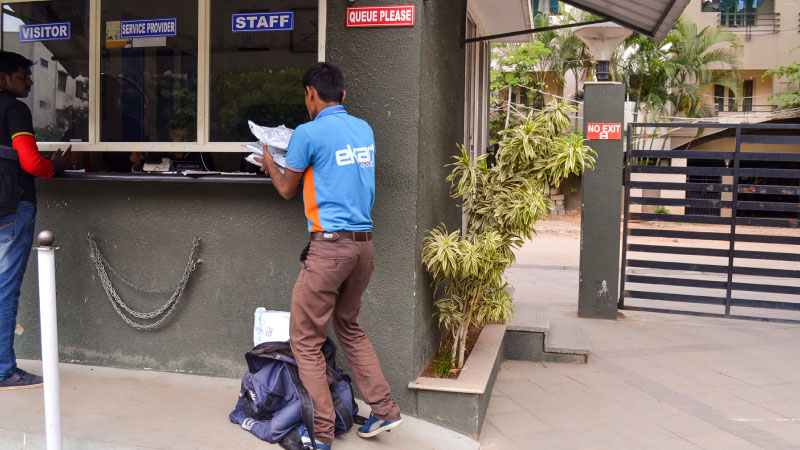 Through such invaluable, on ground experiences, these eDAB Wishmasters are gathering the confidence to boldly step out, face everyday challenges and find dignity in the work they do. Abhijeeth fondly recalls, "When I got my first salary from eKart, I was very happy and felt proud of myself. My parents are relieved that I have gained a place in the society, today." For these differently abled Wishmasters, the job at eKart was a stepping stone into the world of possibilities and a big change to their personal lives.
"Working at eKart has helped me achieve a good quality of livelihood. Earlier I used to get anxious when I had to interact with people. But all that has changed now. I've never been so confident in my life. All thanks to this opportunity," emphasises Nandeesha.
In eKart, the eDAB team might be separated by a label, but there is nothing that makes them different from the other Wishmasters. Today, the new recruits are well-known in their hub for their friendly nature and professionalism. Apart from their routine work on the field, these differently abled Wishmasters assist other team members within the operations and shipment processing work. "No hurdle seems too big for them! It is both motivating and moving to learn about the inspiring lives of the differently abled Wishmasters," adds Aashima. 
The journey of a thousand miles begins with a single step
"The silent stories from these eKart hubs have been an eye opener for eKart. What started off as a small project with 15 differently abled Wishmasters has today become the benchmark for similar initiatives across eKart facilities in the country", says Satyam Chaudhary, Senior Director, End to End Design.
"Today, with the success of the eDAB initiative, building an inclusive work environment has become one of the top priorities for us at eKart. eKart soon plans to scale the eDAB project by hiring differently abled Wishmasters in other facilities," says Shalabh Shrivastava, Senior Director at eKart.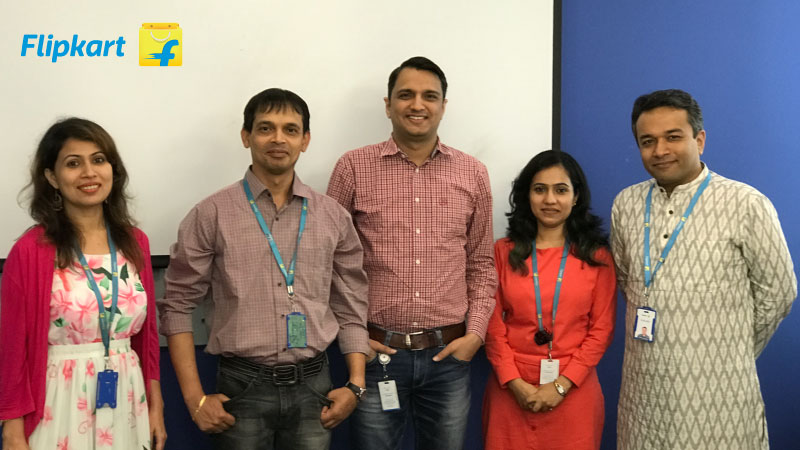 "For us, the eDAB initiative is about eKart being an equal opportunity employer. I believe the first barrier to break is the one in our complicated minds. We need to recognize the stigma around the differently abled community has much to do with the society's mindset. It is the mental attitudes that are more of a barrier than the physical ones," says Rohit Sharma, Vice President at Flipkart and Head of eKart.
---
As of August 2017, eKart has hired 15 differently abled Wishmasters across three prime Flipkart locations across India. Every day, these Wishmasters travel on foot to deliver an average of 25 packages to eKart customers. In the last three months, the eDAB project has averaged a Customer Satisfaction Score of over 90% — a testimony to the hidden abilities of these special employees at eKart.
---
Photographs: By special arrangement