The partnership between Flipkart and Garvi Gurjari has brought scores of Gujarat's artisans into the e-commerce fold, helping them gain access to a pan-India market. Thanks to the state's centuries-old tradition of arts and crafts, their repertoire of products are awe-inspiring in their intricacy and craftsmanship. Take a closer look at the selection of products curated by them for this #TheBigBillionDays under the #ArtFormsOfIndia initiative.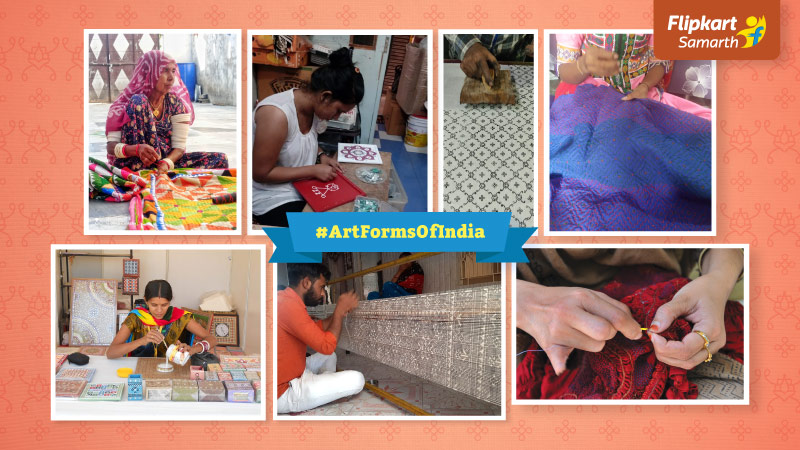 Gujarat's rich tradition of arts and crafts means that its artisans are in a league of their own when it comes to the intricacy and craftsmanship of their products. The many artisanal communities of Gujarat are masterful practitioners of embroidery, cloth printing, weaving, pottery, tribal art, beadwork and more! 
The Gujarat State Handloom & Handicrafts Development Corporation Ltd., (GSHHDC) is an undertaking by the state government of Gujarat which aims to identify, revive, develop and promote these artforms and artisanal products. In 2020, Flipkart signed a Memorandum of Understanding (MoU) with the GSHHDC to bring the products sold under its Garvi Gurjari chain of stores to the e-commerce fold. 
The initiative is one of the many partnerships undertaken by Flipkart Samarth, a program that aims to uplift and embrace India's artisans, weavers, micro-enterprises into e-commerce, giving them access to a pan-India customer base. The program offers cataloging support, training sessions, advertising credits and more, enabling smoother integration and equity to underserved sections.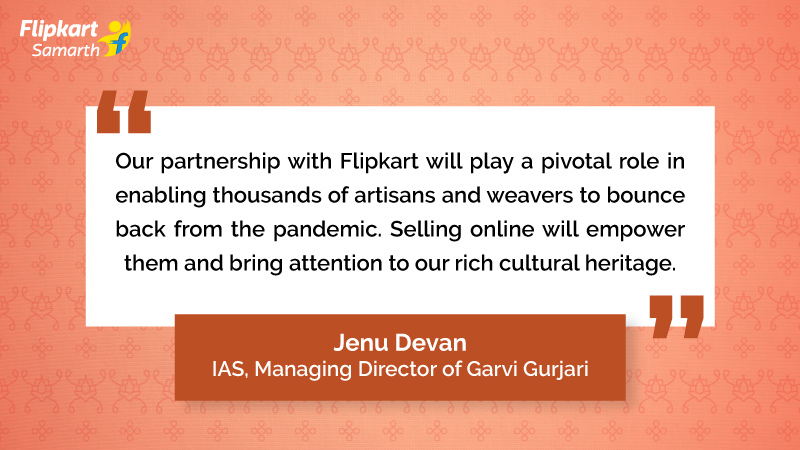 "Our partnership with Flipkart will play a pivotal role in enabling thousands of artisans and weavers to bounce back from the pandemic. Selling online will empower them and bring attention to our rich cultural heritage," says Jenu Devan, IAS, Managing Director of Garvi Gurjari.
Here's a closer look at where exactly your products come from, how they're made and the people who meticulously craft them.
---
Mud & Mirror Work Wall Hanging
A specialty of the Kutch region in Gujarat, Mud Mirror work, or Lippan Kaam as it is locally known, is used to decorate the walls of Bhungas, the traditional mud huts that are home to the local communities. The artisans use a mixture of white clay and dung as binding agents to lay a thick foundation for the walls, on which intricate designs are made freehand — depicting  peacocks, camels, elephants, mango trees, symbolic temples, and other daily activities of life in Kutch. After this, embroidery mirrors are fixed using adhesive. These mirrors are available in various shapes and sizes.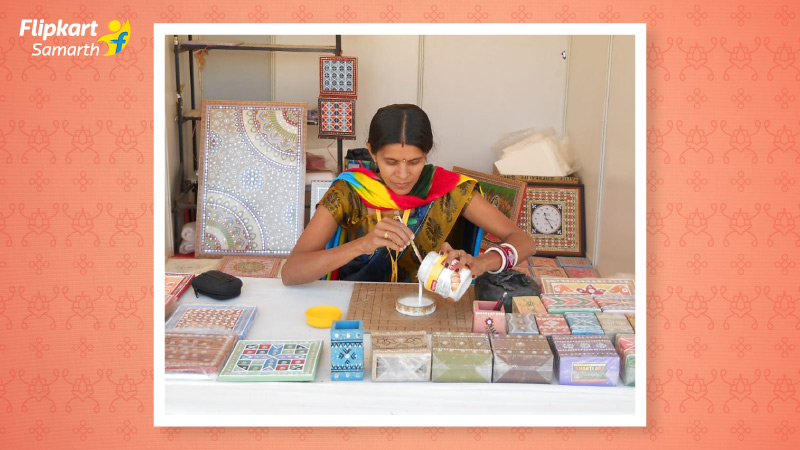 Meet the makers:
The legacy of clay work is linked to the oldest settlements unearthed in Kutch, in the districts around Ludiya, Gorewali, Banni and Baniari. Practiced by the Rabari community, in their day-to-day life, mud mirror work with its intricately detailed, sculpted patterns gives the local homes a distinguished identity with a touch of tradition.
The sale of this product will help preserve the traditional value of this ancient craft and thus support the livelihood of the artisans! 
Click here to directly support their work. 
---
Multicolour Embroidered Toran
An auspicious frame of cloth, an embroidered Toran (Door Panel) is said to invite abundance and happiness to a home. These door panels are highly stylized works of art — embellished with vivid colors, hand embroidery and mirror work that are sure to leave an impression on any visitor! 
Meet the makers:
Gujarat has various communities that are highly skilled at embroidery. Created by women artisans, the sale of this product provides a helping hand to them by improving their livelihood. 
Click here to purchase this product and support them! 
---
Handmade Sadeli Work Multipurpose Decorative Wooden Box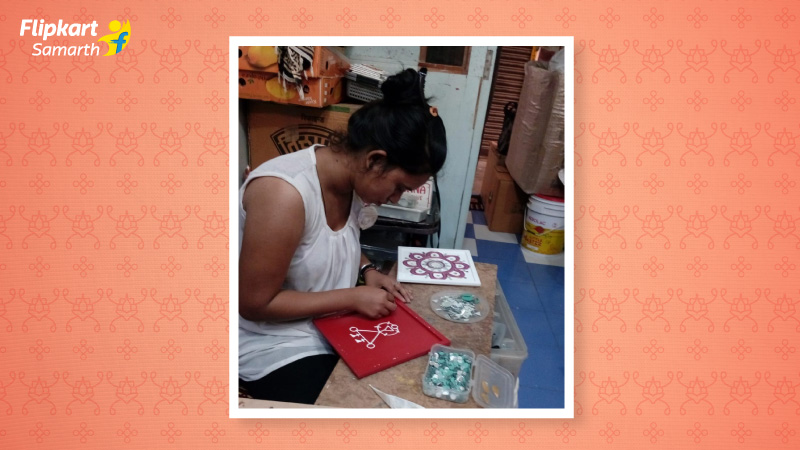 A craft native to Surat in Gujarat, Sadeli is a highly skilled technique that involves the fabrication of geometric patterns on wood. The art form is traditionally used to decorate furniture, doors and windows. Sadeli is also used to embellish photo frames, jewellery boxes and containers. Prime Minister Narendra Modi gifted Ivanka Trump a wooden box made of Sadeli craft on her visit to Global Entrepreneurship Summit (GES) in Hyderabad.
Meet the makers:
It goes without saying that Sadeli craftsmen have to be highly skilled carpenters. It is a patient and precise craft because it involves cutting wood pieces and other materials and gluing them together in patterns that form intricate colours, shapes, and dimensions. This particular item is handcrafted by a family that runs a Sadeli workshop in Surat — the Petigara family.  
The sales of this product will help to preserve this craft and provide greater opportunities for the emerging artisans of Sadeli and increase their opportunities for employment. 
Click here to purchase it and support them! 
---
Handmade Leather Diary Cover
Leather Craft in Gujarat is an old and proud tradition– one that employs indigenous processes of tanning that makes use of locally available shrubs and tree parts. A timeless craft, it has grown to combine traditional methods of design with modern functionalities. These products are vibrant and rich in character, distinguished by their bright colours, perforated patterns, cutworks, layering, embellishments and ornamentation. A symbol of elegance, these graceful products are sure to be a beautiful addition to your accessory collection! 
Meet the makers:
The indigenous community of Meghwals are prime producers of leather work in the Kutch district of Gujarat. Its production is a combined effort between men and women. The men fashion the product from the leather while the women embellish it with mirrors and bead work. Originally, the craft was used to make saddles for elephants and horses, sword sheaths and accessories for war. Today, it is used to make beautiful bags and shoes with colourful tassels and embellishments. 
Each purchase counts for the maker who handcrafts it for you! 
Click here to support these artisans. 
---
Ikat Silk Stoles and Dupattas
Ikat is a textile art where patterns are created by resist dyeing cotton and/or silk yarn before they are woven. The weaving and dyeing technique has prominent roots in parts of India.
An integral part of the festive and wedding trousseau, the designs to be woven are plotted on the graph and the same is shaped on the warp yarns by first tying followed by yarn resist dyeing technique. Weaving these predesigned vertical yarns involves a dexterous process and is an intricate art in itself.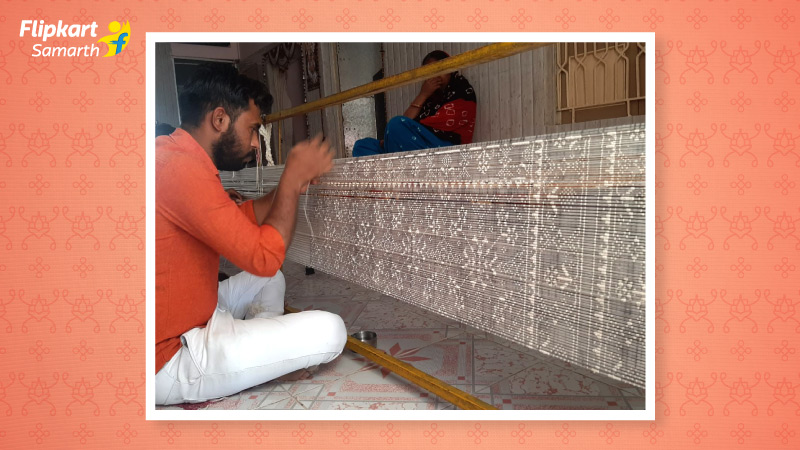 Meet the makers:
A royal craft of Gujarat, Ikat is practiced by various weavers in the state. Each purchase counts for the maker who handcrafts it for you! 
Click here to purchase this product and support them. 
---
Ajrakh Style Dupattas and Patchwork Quilt
Derived from the Arabic word Azrakh, meaning Indigo, Ajrakh is a style of resist printing and mordant dyeing mainly practiced by the Khatri community. Naturally dyed and hand-block printed, this style is an amalgamation of fine Islamic geometric and floral patterns which are pleasing to the eye and comforting to the skin. It involves 14 to 16 arduous steps in printing and dyeing to develop the elegant resist-dyed textiles using natural dyes. The three products on offer are fantastic examples of the craft. The purple silk dupatta brings together Ajrakh with Bandhani – the swirling and twirling tie and dye of craft of Gujarat to create a tempting wardrobe concoction that is hard to resist. The cotton patchwork quilt is a beautiful fabric collage of vibrant colorful pieces patched together.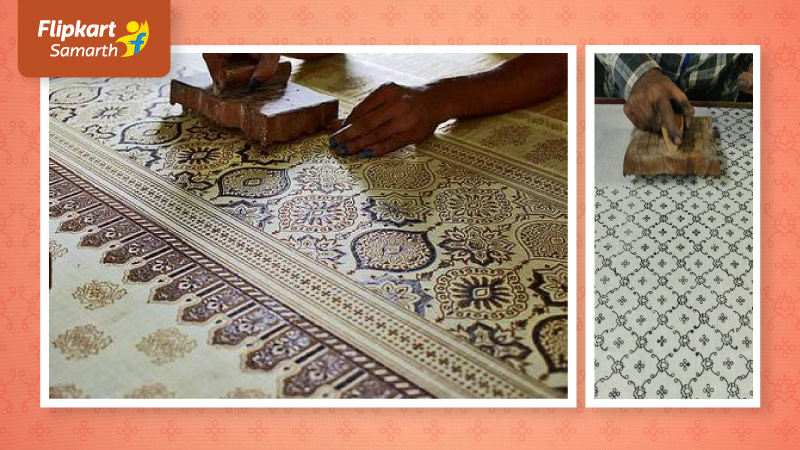 Meet the makers
Native to the Ajrakhpur and Dhamadka in the Kutch Region of Gujarat, this craft is practiced by cattle herders living a life of nomadic tribes in the remote areas of the Banni grassland. The sales of this product helps the artisans to stay in their hometowns, helping them avoid the ordeal of migrating in search of better employment opportunities.
---
Multicolour Cotton Khambelo Quilt
The roots of these two styles Khambelo and Khudi Tebha can be traced to the traditional practice of recycling old clothes where in the simple running stitch was used to join pieces of fabric that still had some life left in them. These signature quilts combine distinctive patch work with Kambiro and Khudi tebha hand work.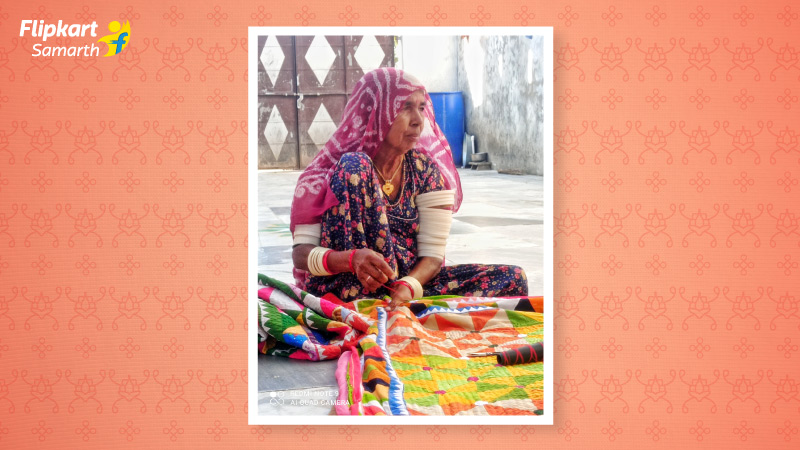 Meet the makers:
Craftswomen of the Haleputra and Marvada communities embroider these styles on household items. Haleputra craftswomen have gone a step further by incorporating skilled handwork into their designs. 
Click here to purchase these products and support their livelihoods!