For generations, communities in Andhra Pradesh have painstakingly kept alive the ancient Indian tradition of handloom weaving. An intricate process, these garments take days to produce. Additionally, the weavers face multiple challenges in selling their products and earning a sustainable living. In late 2020, APCO, the apex body for weaver societies, joined hands with Flipkart Samarth to bring the state's handloom products into the e-commerce fold. Now, not only do the weavers have access to a pan-India customer base and better incomes, they're also learning to incorporate market insights to design and create products that cater to this audience.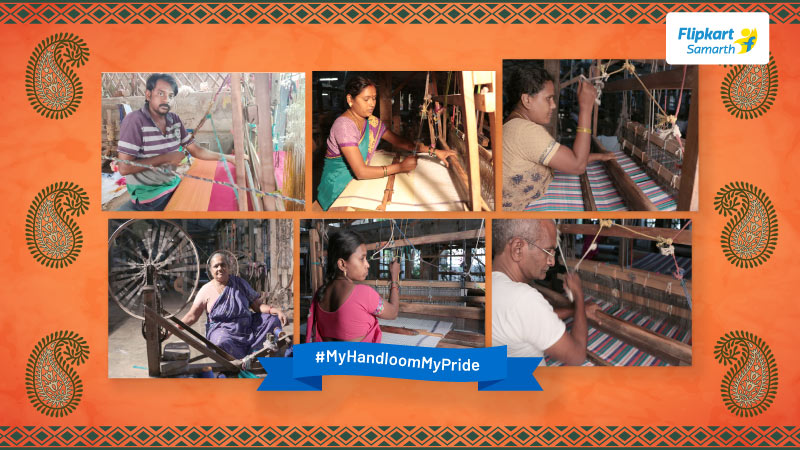 As a young boy growing up in Andhra Pradesh's Guntur district, Bobba Balaji spent much of his holidays in rapt attention, observing his family members work the handlooms with rhythmic precision as they turned simple dyed cotton yarn into exquisite Mangalgiri sarees.
"I never wasted my holidays," he recalls now. At 30, Mr. Balaji has been practicing the art of weaving for 15 years and counting. "It's in my blood," he says, adding, "My ancestors were also weavers. I'm passionate about this craft and, as I grew up, I turned this passion into a profession."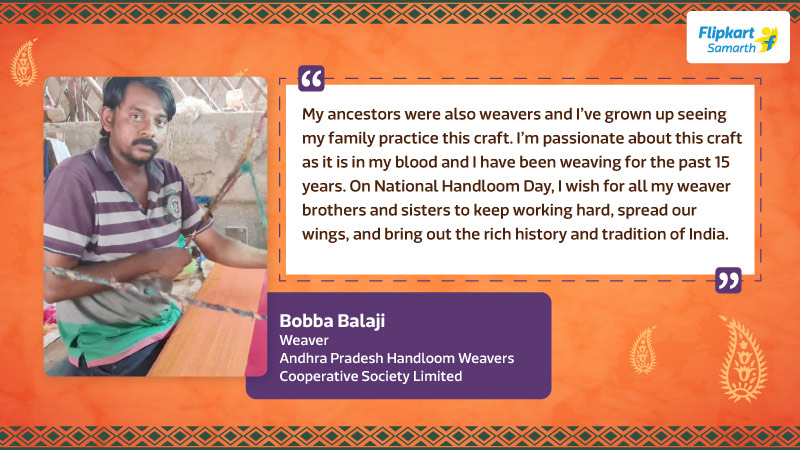 From the fine warps and wefts of the Mangalgiri cotton from Guntur district to the intricately woven Jamdani sarees of Uppada, the coastal state has a rich handloom history, preserved by numerous and resilient weavers like Mr. Balaji. His is among the many families in the state who, for centuries, have kept the art of handloom weaving alive by passing it down the generations and painstakingly upholding the ancient Indian tradition.
In 1976, the Andhra Pradesh State Handloom Weavers Cooperative Society Ltd. (APCO) was founded to provide marketing support to such weaver communities. Today, APCO supports over 950 weavers' co-operative societies affiliated with it across 159 branches, covering even the remotest villages in the state.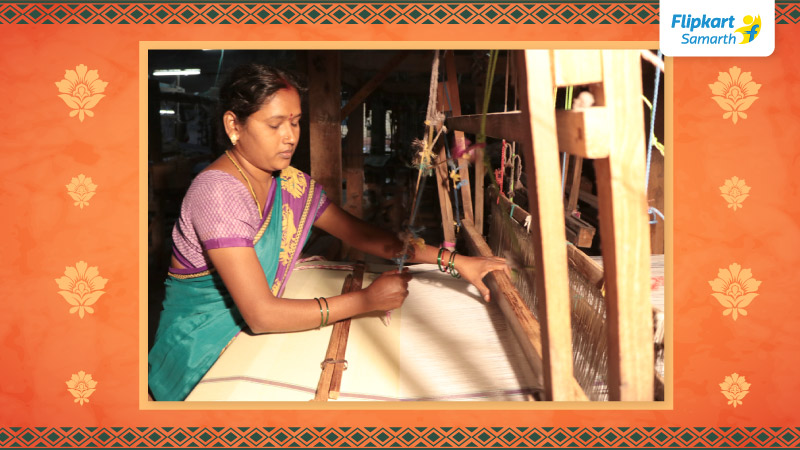 In late 2020, in the midst of the pandemic, APCO joined hands with the Flipkart Samarth Program. "We partnered with Flipkart Samarth and took the handloom crafts of our weavers online to gain insight into market-driven designs and varieties, thereby increasing the earnings and assuring employment to the weaver community,"  explains L Ramesh Babu, General Manager, Marketing at APCO. 
Launched in July 2019, Flipkart Samarth aims to embrace underserved sections of the society — weavers, artisans, MSMEs, rural entrepreneurs and more — into the e-commerce fold, enabling them access to a pan-India customer base, multiple benefits and a regularized source of income.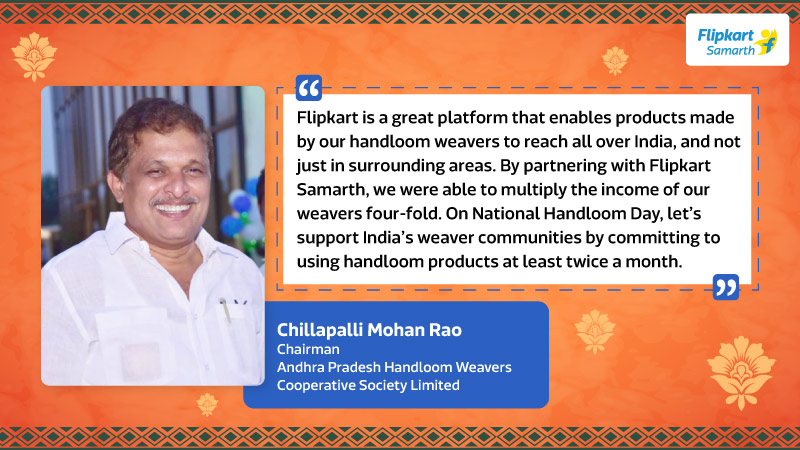 "The subsidies provided by the government, along with the support of APCO and the marketing and visibility on Flipkart can together help uplift and enable weavers to earn better incomes," says Chillapalli Mohan Rao, Chairman, APCO. 
Since their enrollment, APCO has brought a rich collection of handloom products for Flipkart customers to choose from. The heritage-rich and authentic selection of cotton sarees, including Venkatagiri, Mangalagiri, Madhavaram, Chirala, Dharmavaram, Uppada and Rajahmundry, among others, have seen good traction with customers. These saree are world-renowned, with some even earning a Geographical Indication tag.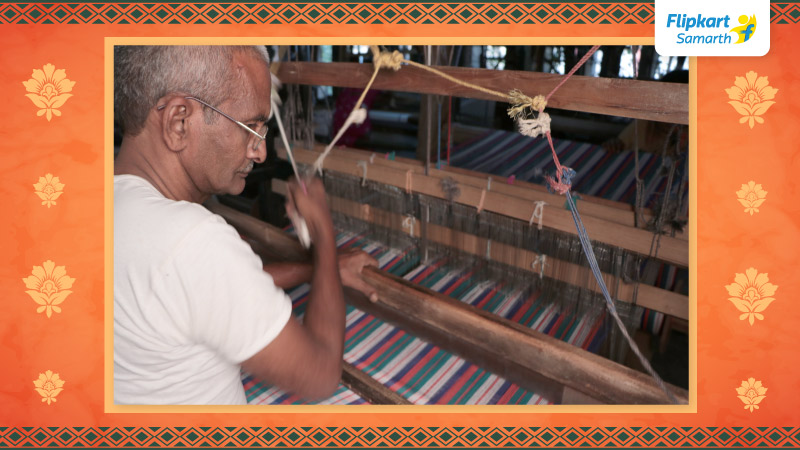 "Flipkart is a great platform that enables products made by our handloom weavers to reach all over India, and not just in surrounding areas. By partnering with Flipkart Samarth, we were able to multiply the income of our weavers four-fold," reveals Mr. Rao.
Among other benefits extended to Flipkart Samarth partners, cataloging support, training sessions, 6-month 0% commision, and advertising credits enable smoother transition for first-time e-commerce users. The program empowers underserved communities by helping them earn a sustainable income while also giving Flipkart customers access to authentic, local, handmade and heritage-rich products from traditional markets. The program supports 750,000 livelihoods and counting across the country.
Weaving a success story
The weaving process for the minimalist and light Mangalgiri saree is an elaborate one. From the pre-loom process to the final product, it requires the unique expertise of multiple weavers and artisans to come together to craft the elegant garment.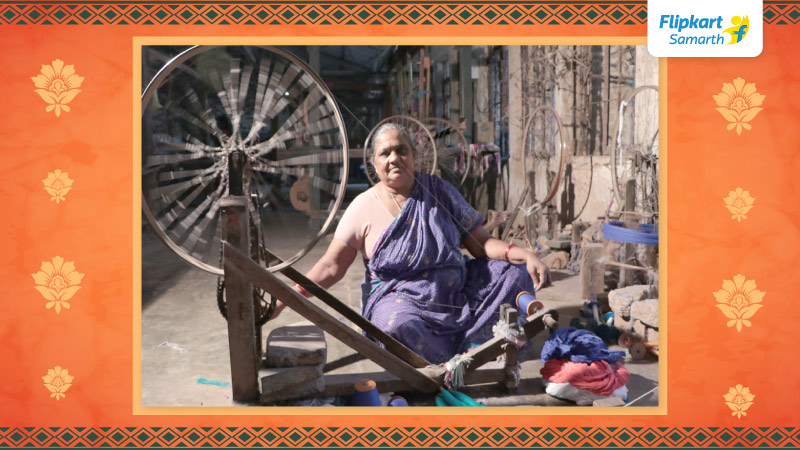 "It takes a couple of days to complete one saree," explains Mr. Balaji. "We weave the cotton silk Mangalgiri sarees with Kanchi borders. Our artisans add different designs like elephants and peacocks on the borders by hand, and finish the saree with jacquard work on the pallu."
"Earlier, we had very few select customers and the sales of our products were restricted to few nearby locations," he adds, talking also of the collective challenges faced by weaver communities in the country.
"Our products were sold exclusively in our offline stores, which restricted our sales," echoes Mr. Babu.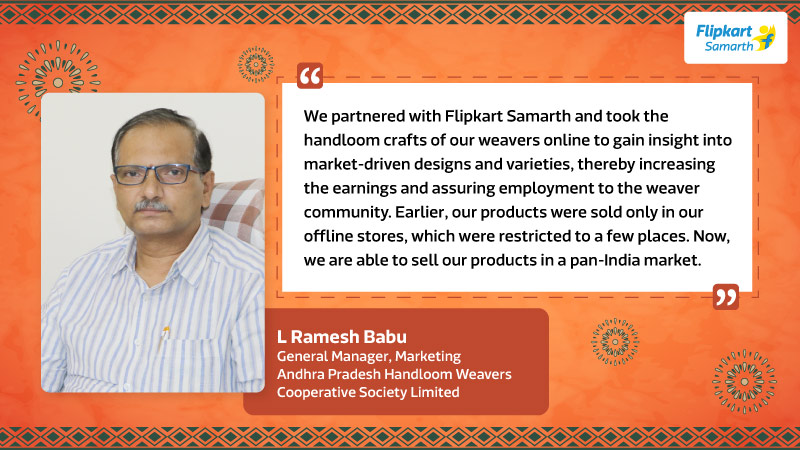 Now, e-commerce has opened up a pan-India customer base, enabling the weaver community to preserve a century old tradition while incorporating modern market-driven designs to cater to such an audience.
"With e-commerce, not only do our customers come from across India, we also get new ideas to design our products depending on our customers' expectations. Our original designs and handloom products reach people across the country," observes Mr. Balaji, adding, "Especially during the pandemic situation, e-commerce helped us sell our products online and earn our livelihood."
For now, the weavers are excitedly preparing for the National Handloom Day celebrations on August 7, 2021 — a day instituted by the Government of India to celebrate the rich cultural history of the sector and to promote handmade and handwoven products.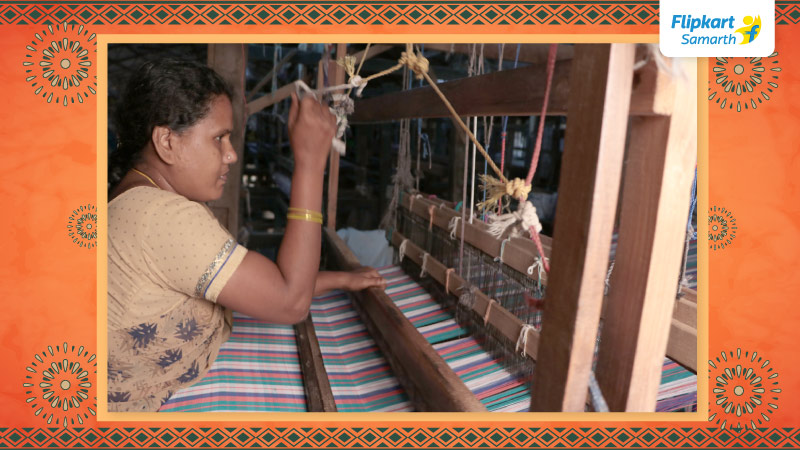 "On National Handloom Day, let's support India's weaver communities by committing to using handloom products at least twice a month," stresses Mr. Rao, looking towards the increased awareness that this day will bring to the state's weavers.
For Mr. Balaji, the day is all about shining the much-deserved spotlight on the works of his community. "I wish for all my weaver brothers and sisters to keep working hard, spread our wings, and bring out the rich history and tradition of India," he says.
Click here to shop for handloom products crafted by weavers from APCO.