Simple, convenient, and natural, Flipkart's voice assistant makes online shopping easier than ever before. Using it, you can shop for essentials easily and quickly—just like you would when talking to your neighborhood shopkeeper! Thanks to an intuitive AI platform that detects your every command, you can start shopping simply by conversing in Hindi, English or even an intuitive mix of the two. Read on to know how to use this innovative feature.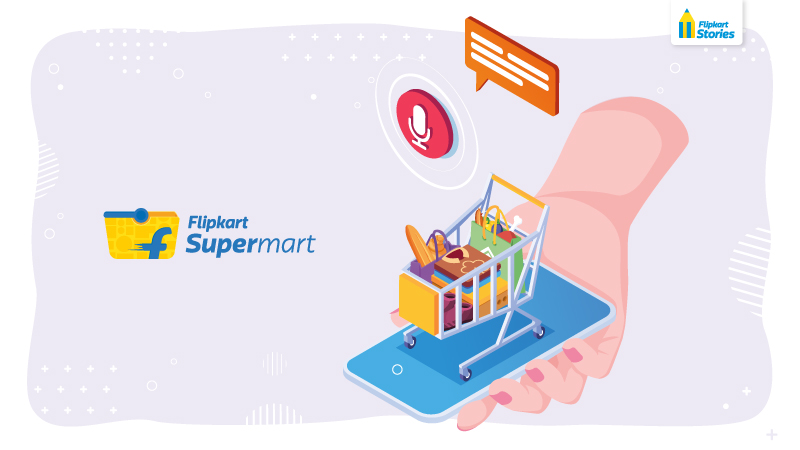 With Flipkart's new voice assistant and search feature, you can shop for groceries on the app with easy voice commands. Imagine going to your neighborhood supermarket and asking for "1kg of onions." Easy, right? With the new voice assistant capability, you can converse and shop naturally on the Flipkart app too. Just visit the Grocery section and talk to the voice assistant, which has been specifically designed to detect your language and command. 
To begin, speak in English, Hindi or even in a mix of the two to say things like "Kellogg's Chocos", "healthy cooking oil", or "Mujhe atta chahiye," and watch as the voice assistant gives you options, offers product details and even helps you place your order. Since it understands local dialects, variations, colloquial terms, and even mixed language commands, you can talk as naturally as you do in real life. 
Watch these videos in English and Hindi to learn more.
---
English: 
Hindi:
---
To know how to fill your grocery cart with multiple essentials easily and efficiently, here is a simple guide to using the latest voice assistant feature.
Step 1: Visit the Grocery section on the Flipkart App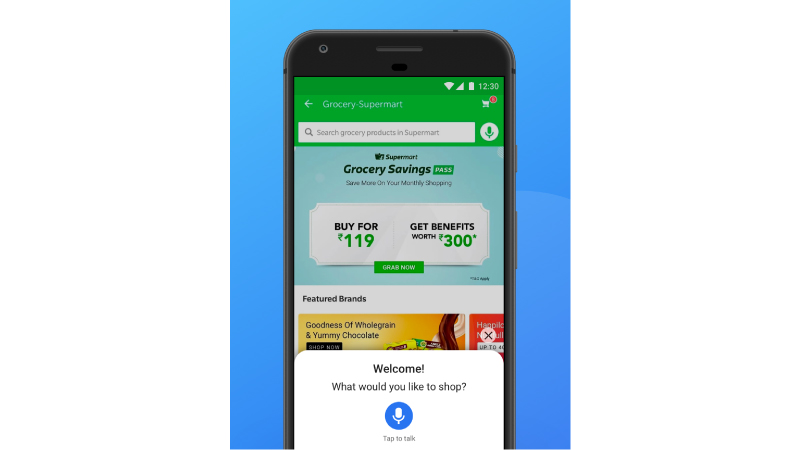 To go to the Grocery or Supermart section, open the Flipkart app on your phone. Once you open the Flipkart app, select "Grocery/राशन" to get started. At the moment, voice assistance is available to Android users, but it will gradually be at the service of iOS users and on the website too.
Step 2: Talk to search for the items you want
To use the voice assistant feature, tap on the microphone symbol at the side of the search bar. The voice assistant will welcome you to the Supermart and you can now start shopping. To view groceries, tap on the microphone button to activate voice assistant, and tell the assistant what you'd like to see or buy.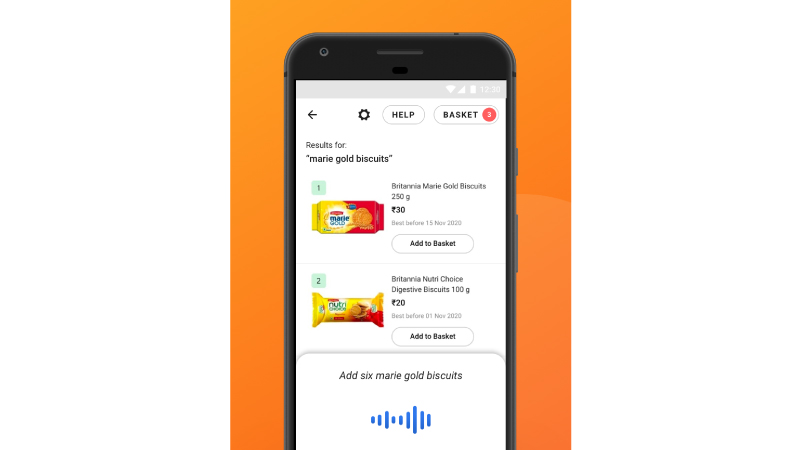 If you have something specific in mind, you can give commands such as:
"I want 1kg of Tata salt" or "Show me Dettol liquid handwash". On doing so, the voice assistant will show you different options. For instance, you could choose between various types of salt or various quantities of handwash. 
If you are unsure of what you want to buy, you can scan various grocery categories. To do this, you can ask to view a category by saying "Packaged food" or "Show me snacks and beverages" or "Household care items". 
In the mood for something sweet? You can even say something like "mujhe meetha khaane ka mann ho raha hai" (I feel like eating something sweet) and watch as it throws up some suggestions for your cravings!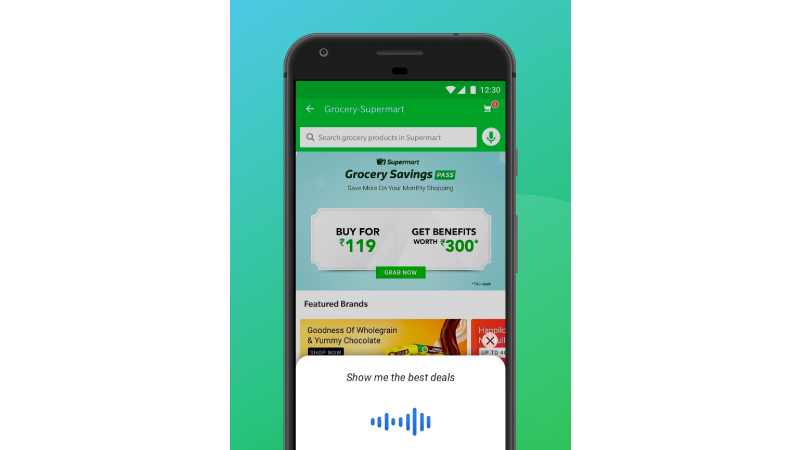 Tip: Ask for the latest offers. To discover the most affordable brands and items, use phrases like "1 rupee deals" or "latest offers". 
Step 3: Tell voice assistant to add items to your basket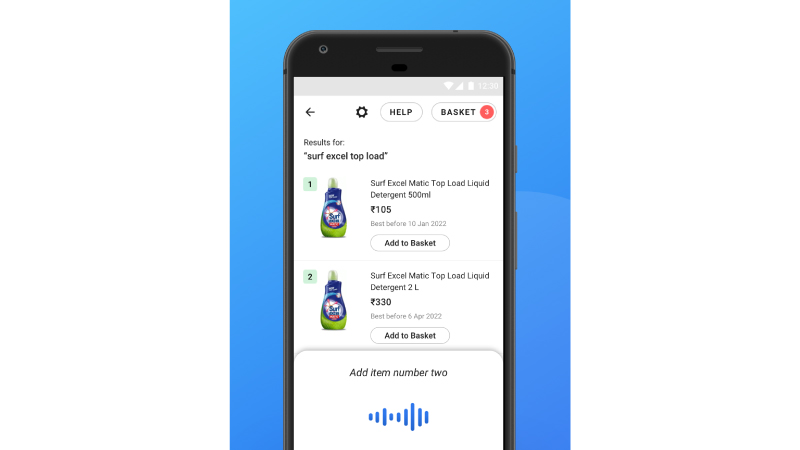 Consider that you ask for "breakfast cereal". On doing so, you will see a list of products with a number beside each item. To add an item to your basket you can say something like, "add option one to my basket" or "add option three to my basket". You can even click the 'Add to basket' button.
Want more than one of the same item? If you're buying Marie Gold biscuits for example, try something like: "add six Marie Gold biscuits".
To view all the items in your basket, tap the microphone and give a command like: "show me my basket" or "open my basket". 
Step 4: Shop for more groceries
While you are viewing items in your basket, you can continue to shop with voice assistant. Simply tap on the microphone button and give a command!
---
Step 5: Complete your order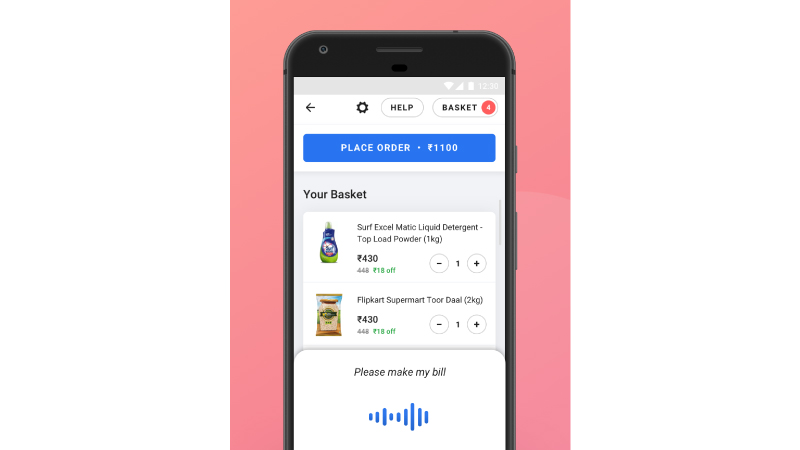 When you are done shopping, click on the 'Place Order' button or give the voice assistant a command such as "Place my order" or "Checkout now" or "Make my bill". You can then view your order summary and proceed to payment.
Flipkart's voice assistant feature makes grocery shopping hassle-free, even allowing you to track your order or cancel it with a simple command. So, the next time you want to purchase groceries, simply pick up your smartphone, open the Flipkart app, and place your order with the handy voice assistant!
---
Also read: Flipkart SuperCoins: Everything you need to know about the multi-brand reward ecosystem