Men and women who are seldom in the spotlight, but work day and night — they are the supporting pillars that make workdays at Flipkart a hundred times smoother. Flipsters spent the afternoon of November 18 expressing their gratitude to the heroes behind the scenes — Flipkart's support staff. As part of Flipkart's Month Of Giving, they switched roles to serve Flipkart support staff a sumptuous special Oota (Kannadiga festive lunch)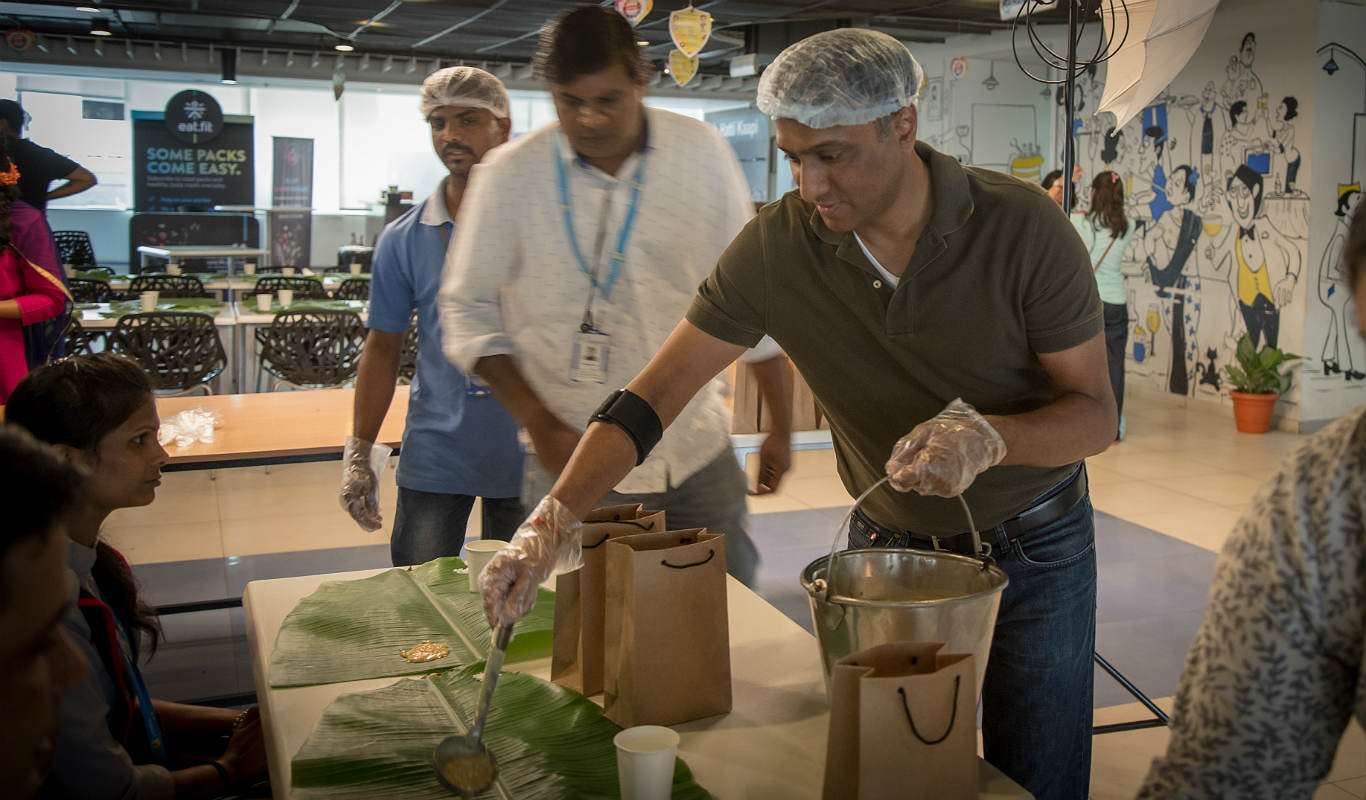 Celebrating the unsung heroes — Flipkart's support staff — who work round the clock to make Flipsters' workplaces comfortable and presentable, with a special 'Oota'.
---
Every morning, when thousands of Flipsters stream into their offices, they are greeted by a sparkling clean and neat office — a stark contrast to the marker-stained desks and coffee-cup-littered war zone they had left behind the night before. Through the day, toilets are scrubbed clean, water bottles filled, steaming cups of tea served, and healthy meals laid out. And behind this everyday magic are the unsung heroes — the support staff — who work round the clock to make Flipsters' workplaces comfortable and presentable.
It's the Month Of Giving at @Flipkart & the tables have turned. Flipsters & leaders serve a hearty & delicious #SpecialOota (Kannadiga lunch) to the support staff at Flipkart offices in Bengaluru. Look out for more photos & updates #FlipkartCares #FlipkartBIG10 pic.twitter.com/8jCKk5dUG8

— Flipkart Stories (@FlipkartStories) November 18, 2017
On the weekend of November 18, Flipsters turned the tables, quite literally, when they urged the support staff to take the afternoon off. It was all about expressing our gratitude to the men and women behind the scenes.
Across offices in Bengaluru, Flipkart arranged a Special Oota — a traditional Kannadiga festive lunch — for its support staff. A delicious vegetarian spread was served on plantain leaves. On the menu were lip-smacking favorites including bisi bele bath, holige and other Kannadiga delicacies.
To honor the support staff, Flipkart CEO Kalyan Krishnamurthy addressed the special guests, handed over gifts and, armed with a ladle, went ahead and served them lunch. Scores of other Flipsters joined him in serving the staff —  it was a small way of saying a big thank you.
"The food was really good. I have been working with Flipkart for three years and I have learnt a lot," says Meena, a support staff in charge of facilities.   
Other members pitched in too, commenting about the day's events and what they felt about working for Flipkart.
"I hail from Odisha and I love working for Flipkart and the food was absolutely delicious," said Jagdish, a security personnel.
Flipsters jumped at the chance to express their gratitude to the support staff and take part in serving at the Oota.
"I had a really great time. It gave me an opportunity to serve all the folks who've been serving us all this while and it feels great to return the favour," says Flipster Dinesh, who took time off on a weekend to serve the support staff at the Oota. 
Take a look at all the action, fun and heartwarming moments at the Flipkart support staff Oota.
---
---
---
---
---
---
---
---
---
---
---
---
---
---
---
Read more: Flipkart Cares — Rallying Flipsters towards social change