When 18-year-old Mohit decided to start a small business, he realized that it would take a lot more than just determination to get things up and running. Without funds, experience, or a team, his entrepreneurial dreams seemed just a little out of reach. But fortune favors the bold, and Mohit knew that e-commerce was the right platform to take his cosmetics business from Surat to customers across India. Today, this relentless young entrepreneur has a small business that's earning a revenue of crores with Flipkart. Here's his incredible story.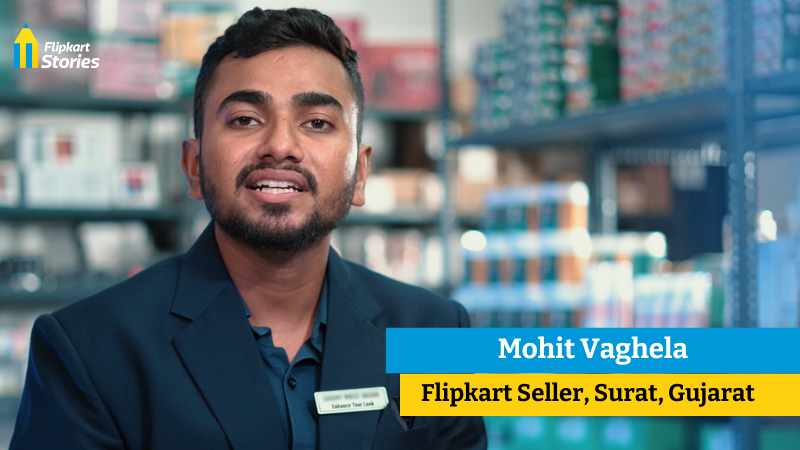 Surat, the Diamond City of India, is a place where business reigns supreme. It's no wonder then that here, the entrepreneurship bug bites young, and even children dream of one day becoming businessmen and businesswomen who uplift their families and communities. One such dreamer who calls Surat home is Mohit Vaghela.
At a time when most of his friends would have had their eye on having fun, starting college, and getting ready for the job market, Mohit had his heart set on starting a small business. While India is home to a mushrooming community of entrepreneurs, it's not every day that you hear about a college student starting a brand of his own. Mohit knew that at 18 years of age and with no funds, he had no realistic chances of making a small business succeed. Or could he?
If the online marketplace was really as good as he had heard, all Mohit needed was a product to start selling to consumers across India. That's how Estrelo, Mohit's brand of cosmetic products ranging from lipsticks and foundation creams to beard oil and eyeshadow, was born in Surat, Gujarat.
For entrepreneurs like Mohit, e-commerce proves to be a springboard to success. With advice from Flipkart's account managers, Mohit used the wisdom to build a successful small business. A handful of orders became a hundred, and then a thousand, and soon, Mohit's business expanded into new segments.
For Mohit, expansion meant welcoming new employees into his business family, and his 4-person all-women team couldn't be happier to learn the art! Hear from Mohit on how he built his small business in his own words.
A student with an entrepreneur's heart
It's been 4 years now that I have been selling on Flipkart. I deal with cosmetic products and my brand's name is Estrelo. Truth be told, when I started selling online, I was just 18 and pursuing my studies at college.
Right from the start, I had it at the back of my mind that I would do business and wouldn't take up a regular job. However, I did not have sufficient funding to back me. Most of all, I was still very young. At that time, I realized that I had just one option with me, that is, to start selling online.
Excelling at e-commerce the Flipkart way
Very soon, I came to learn about e-commerce on Flipkart. I registered on Flipkart and found that to be very easy. After registering, Flipkart's seller support team assisted me greatly, and I made listings for my products. I then got my first order, which was worth ₹60.
Today, I receive around 700–800 orders every day. During special events, the demand increases tremendously, and we get around 2,000 orders per day. To date, I have made sales worth ₹10 crore. In the last year itself, Estrelo sold products worth ₹5 crore.
I have not received the kind of service I get on Flipkart anywhere else. Moreover, Flipkart's delivery  and supply chain network is very strong. With the help of Flipkart, we, working here in Surat, are selling all over the country!
Building a community while growing a business
In the beginning, I was alone, and ran my small business single-handedly. Then, as I expanded the business, I hired more people. Today, I have a lot of employees with me. However, my employees are not just employees to me but like my real family, and we enjoy a bond of togetherness.
My entire family is very proud of my achievements. When other people's children were going to college, I had already set up my entire business! With the help of Flipkart, I intend to take my business to the next level. I feel very confident today, and my message to other sellers is to partner with Flipkart and take your business and life forward!
---
To read more stories of #SellfMade Flipkart sellers like Mohit Vaghela, click here.