The bestselling author declares that he set out to write books that are popular, not to win the Booker Prize. Read the Ken Follett interview, in which he speaks out to Flipkart about writing, reading, his favorite authors and influences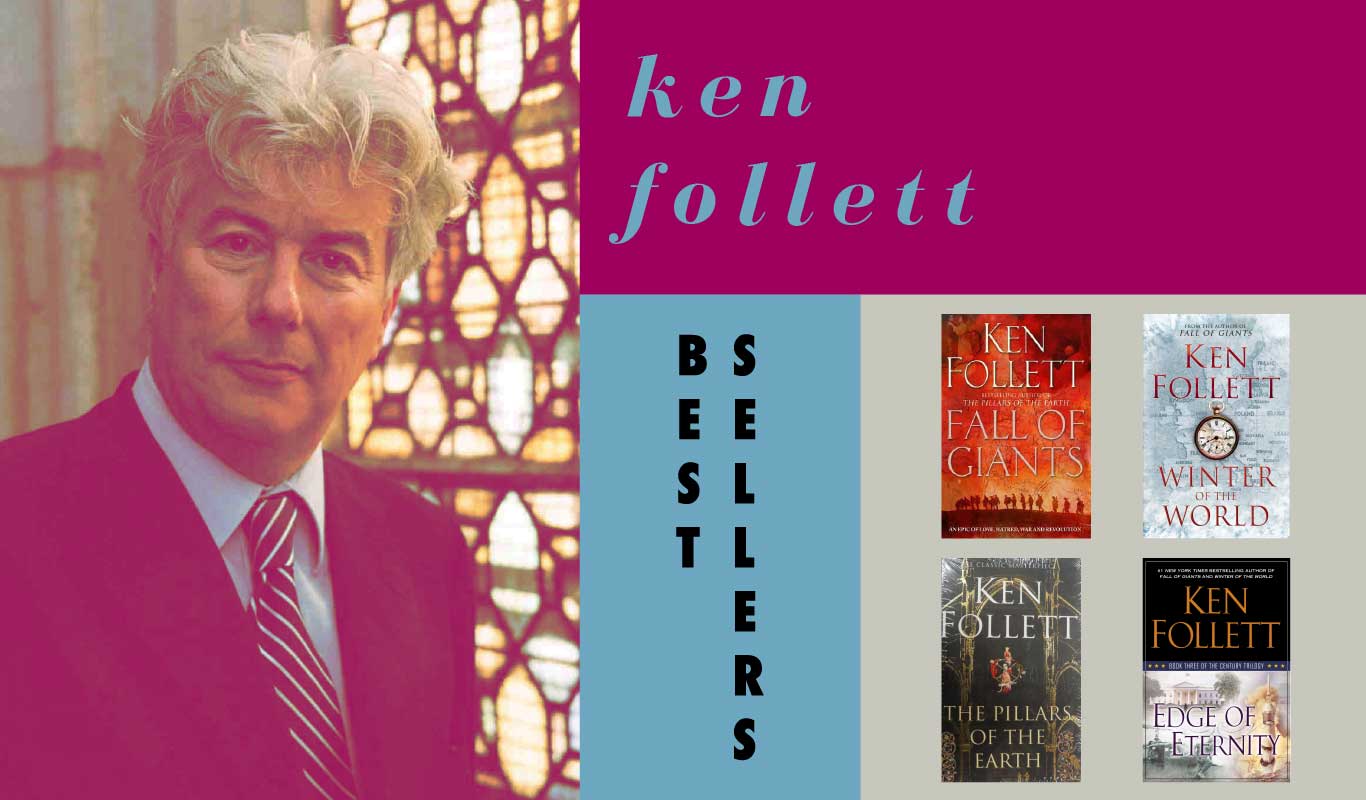 I started reading Ken Follett when I was in college and since then I haven't stopped reading him. There is this urgency in his writing – the thrills and the chills, the twists and the turns – right from reading Paper Money to Triple, to experiencing Night over Water with the passengers of a cruise, to wanting to be free along with the protagonist in A Place Called Freedom, Ken Follett manages to make his characters immerse in readers' minds and hearts as well.
Read this interview with Ken Follett by Flipkart's book expert Vivek Tejuja.
The switch from Thrillers to Historical Fiction… how did that come about?
I felt that there was a great popular novel waiting to be written and this was right after I had written a couple of thrillers. I was 36 when I wrote The Pillars of the Earth and honestly I did not want to be stuck in any one genre. I wanted to explore and saw no reason not to switch to historical fiction. More so, I wanted to write a popular novel and not a literary novel – not one that wins a Booker Prize. I wanted to write something historical and popular, like the Gone with the Wind. It was something I wanted to try and it worked well.
How did the idea germinate for Fall of Giants?
Well I had just finished writing World Without End and wanted to write another historical novel. The 20th century is full of violence and unprecedented idealism at the same time. It is about the growth of democracy, high ideas of feminism, and terrible slaughter – from Mao's regime in China to the Nazi rule in Hitler's wake. I wanted to capture all of that and that's when Fall of Giants began. It could not be contained in one book, therefore a trilogy.
While reading the book, the one character that struck and stayed with me was Maud. How did she come about? Did someone inspire you in particular while etching her character?
Maud is not really one individual. She is upper class and respectable and there were many like her in those times fighting against women suffrage. Have I known anyone like her in person? Hmm… I have come across idealistic women and may be they left a huge impact on my mind to write about Maud.
Is there a plan waiting to write a book on India?
No plan as such to write on India though I wouldn't rule it out completely. It's just that there are extraordinary good Indian writers and I would hesitate to go up against them.
Is there going to be some part in the trilogy that covers India?
(Laughs) I possibly cannot cover everything that happened, you know. The Independence of India and the Partition were great stories – the truth that took place. The entire book is a great story – not just my story.
I am sure it is, going by what I have read. So how did writing come to you?
I was at university. I remember and had applied for my job as a trainee reporter. I was interested in politics and it's strange that I never covered politics (guffaws). You do what they ask you to. There is a murder at the docks and you have to cover it. No questions asked.
Who have been your literary influences?
Literature always played a crucial role in my life. Right from childhood – starting from Enid Blyton – her Famous Five and Secret Seven to my actual real book-reading that started when I was twelve with Ian Fleming – the creator of James Bond. What an experience it was reading his books! What a thrill! I wanted to give my readers the same thrill I felt when I read his books. The readers should just say, "Lucky me! I have got a great book to read."
Don't you think the publishing industry has gone through a drastic change in the past couple of years? What are your views on this?
I only now wish I can live up to 250 years to read all the good books that are in stores today. I have hardly touched any Russian Literature. There is a world of literature which I have not touched. But you know we should be so lucky that we live in a treasure house such as today's time with reference to reading and the literature that is churned.
That's so true. I have been meaning to read so much and yet cannot. Tell me how important is research to a novel and do you enjoy it?
Like most writers I enjoy the research as it eases my writing and most answers come from there. I know what I am looking for – the telling details. The one instance in the book that makes you feel and addresses the situation without bringing it up again. For instance, in the book there is a scene of the mines – during the explosion (a pit disaster) and the workers come to know that the breathing apparatus is missing, which then led to the regularization of coal mines. One such incident is enough and for that you sure do need research.
How difficult it is for you to blend history with fiction?
My rule is I should never violate history while writing. All historical characters do and behave and talk exactly the way they have in the past in my books. It's the fictional characters who add on to that – as by standers or in the scene. For example, in the book when Gregori watches Lenin come back after his exile, there is no conversation between the two, because that didn't happen. I maintain history the way it is in my books.
How long did it take you to write the Century Trilogy?
It took me around two and a half years to write it. Six months alone for the planning and a year for the first draft. After that it was a breeze.
Why not a novel about the Tudors?
Mainly because it has been done to death. Besides what it is not about – is the ordinary people which I like writing about. I like writing about people's everyday lives and how that transforms the entire book.
Your favorite novels?
Oh, there are plenty of them! There is Great Expectations which I have read and re-read and enjoyed it enormously. The James Bond book Live and Let Die is another favorite, whose first line goes, "There are moments of great leisure in a spy's life", which I wish I had written. Silence of the Lambs is another favorite. What a thriller! I love The Mill On The Floss and Edith Wharton's The House of Mirth as well.
How important is success or failure to Ken Follett?
Of course, I want my books to be successful. It is very important to me.
---
Read the Century Trilogy by Ken Follett.
Browse for more Ken Follett books on Flipkart