The Flipkart Windows 10 app takes online shopping experience to the next level. The Universal Windows app offers a richer, seamless experience across Windows 10 devices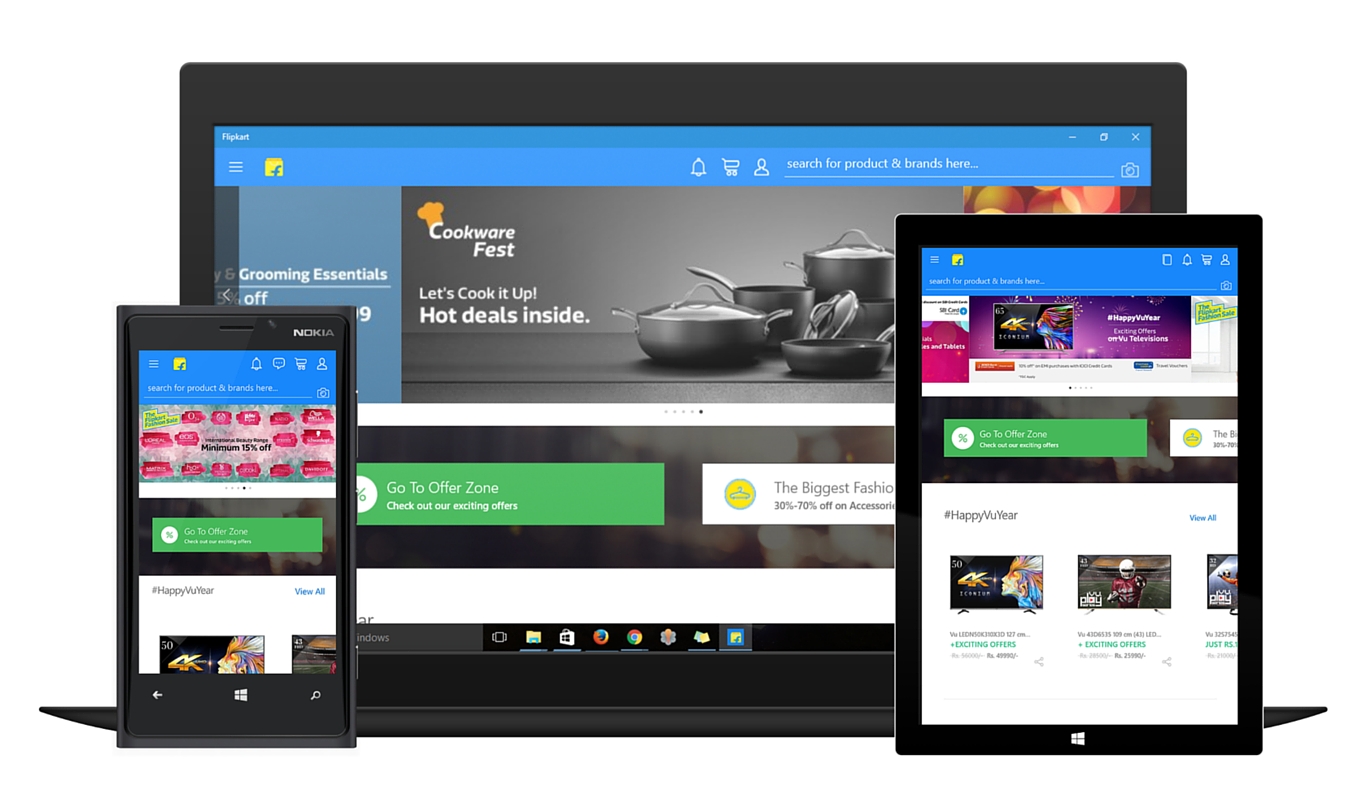 Flipkart launches for Windows 10, takes the online shopping experience to the next level
– The Universal Windows app offers a richer, seamless experience across Windows 10 devices –
Bengaluru, January 14, 2016: In yet another move to disrupt the traditional shopping landscape in India, Flipkart, India's leading online marketplace, is now available for Windows 10. Available to consumers across all Windows 10 platforms (mobiles, tablets, desktops), the new universal Windows app is a reflection of the company's focus to redefine online shopping.
Building on Flipkart and Microsoft's constant efforts to make technology adapt to consumers and deliver an enhanced end user experience, Flipkart's new universal Windows app will offer consumers a seamless app experience across all form factors. The new universal app will offer a more personalized app interface with features such as customized shopping recommendations, merchandising and notifications, and interactive guided search. Additionally, consumers will also be able to avail all the 'App-only' offers right from the app.
The Flipkart app for Windows 10 has been developed specially for hybrid devices (touch and non-touch) and optimized for use of different inputs such as touch, keyboard, trackpad and mouse. Another ground-breaking addition is that the Flipkart app for Windows 10 is one of the first apps to introduce the product tabs feature, enabling consumers to open tabs in the background to view products later as well as compare different products for a faster browsing experience. Users can also access the "Image search" feature to find visually similar items when shopping.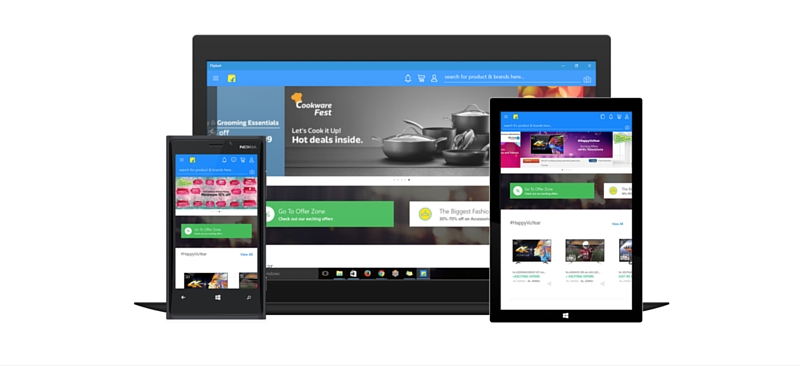 Commenting on the launch, Amar Nagaram, Director, Mobile Engineering, Flipkart, said, "At Flipkart, we strive to innovate and re-invent the customer experience at every touch-point. Over the last few months, we have been working on the Windows 10 platform to create richer and more personalized experience for our consumers. We have been working towards creating a seamless experience similar to that of an app and Windows 10 surely provides opportunities to introduce innovative features."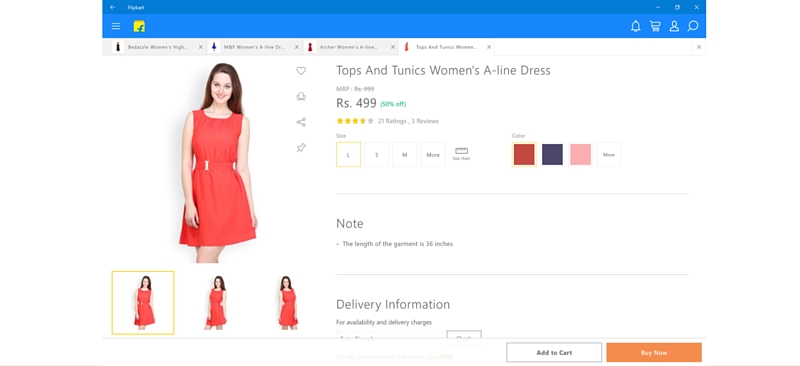 "The Flipkart app for Windows 10 has been designed to offer a seamless and consistent experience across various form factors. By virtue of an online store being available 24×7, consumers will be able to pick up their selection and shopping process from where they left off across their range of Windows devices. Apart from the added convenience and enhanced experience, consumers will also get access to app-only offers and in-app notifications that will keep them updated on the latest deals and discounts. The new app integrates beautifully with the Windows 10 interface and we're confident that our consumers will love the Flipkart experience," said, Harish Vaidyanathan, Director of Independent Software Vendor Programs at Microsoft.
—
Users with Windows 10 OS can download the app (link here) and share their experience on Twitter @flipkart_tech or write to flipkart-win10@flipkart.com.
—
ABOUT FLIPKART
Flipkart is India's largest e-commerce marketplace with over 60% market share in mobile commerce. With a registered customer base of 50 million, Flipkart offers more than 30 million products across 70+ categories including Books, Media, Consumer Electronics, Furniture and Lifestyle.
Flipkart is known for its path-breaking services like Cash on Delivery, experience zones and a 30-day replacement policy. Flipkart was the pioneer in offering services like In-a-Day Guarantee (50 cities) and Same-Day-Guarantee (13 cities) at scale. With 80,000 registered sellers, Flipkart has redefined the way brands and MSME's do business online.
Launched in October 2007, Flipkart has become the preferred online marketplace for leading Indian and international brands and is valued at $15.2 billion today.  Over 75% of Flipkart's traffic come via the mobile device and with industry leading introductions like Ping, Image search, and Flipkart Lite, Flipkart has revolutionized digital shopping in India. Clocking over 10 million daily visits, Flipkart's technology has enabled it to deliver 8 million shipments per month.
ABOUT MICROSOFT INDIA
Founded in 1975, Microsoft (Nasdaq "MSFT") Microsoft is the leading platform and productivity company for the mobile-first, cloud-first world, and its mission is to empower every person and every organization on the planet to achieve more. Microsoft set up its India operations in 1990. Today, Microsoft entities in India have over 7000 employees engaged in sales and marketing, research and development, and customer services and support across ten Indian cities – Ahmedabad, Bangalore, Chennai, Delhi, Gurgaon, Hyderabad, Kochi, Kolkata, Mumbai and Pune.