Does shopping for home appliances seem tedious? We understand you completely! There are so many bases to cover — you want the best price and the best specs, coupled with the features you'd use the most. You also want to ensure that your fridge, TV or washing machine matches your tastes and fits in your space. That's quite a laundry list, isn't it? If you find yourself running from one mall to another, measuring tape in hand, it's time to give yourself a break. Read how these customers shopped smart and stress-free using Perfect Buy — the Flipkart shopping experience that makes it so convenient to shop for home appliances online that you'll never even think of walking into a mall again!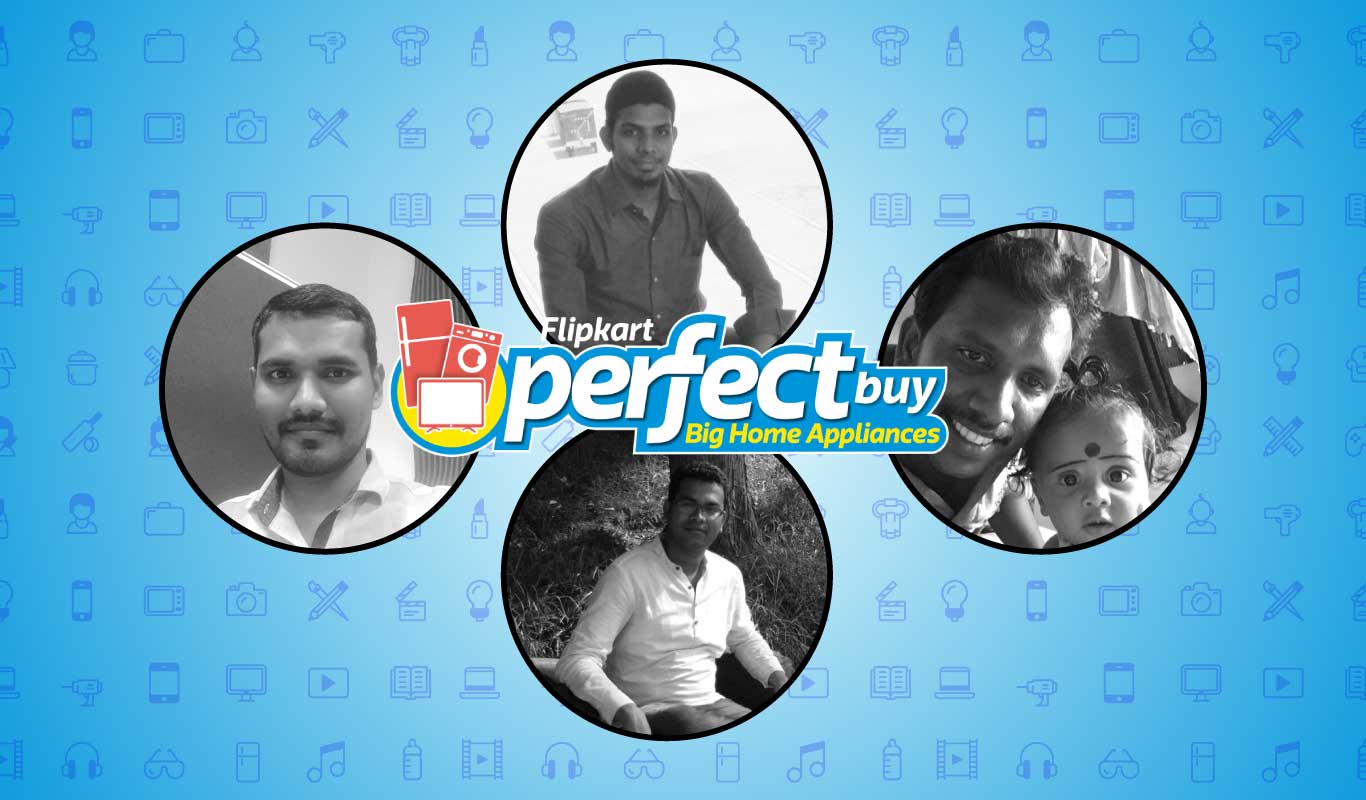 Has an online shopping platform never equaled the experience of shopping at a physical retail store? Wait until you try the Perfect Buy store on Flipkart. With a range of interactive features and immersive experiences, it is arguably better than shopping at a retail store. Don't take our word for it. Read more about what customers like you say after experiencing the power of Perfect Buy.
---
Have you ever gone online, browsed lists after lists of TVs, and found one that fits right in your budget, fantasized about having it placed in that perfect corner of the living room, and then, promptly, closed the tab without hitting 'buy'?
You're not alone. For a lot of shoppers across India, clicking 'buy' on a TV, fridge, washing machine, or smart TV is a process beset with doubt and second guesses. Questions like "How do I find the type of TV that I'm looking for?", "Is this brand really known for its TV technology?", "Which models are the latest ones?", are common. If not that, it is about whether the product you've chosen will fit in with your decor and space.
These were exactly the questions that led a Flipkart team to drive deep user research to understand customer pains and tailor-fit a retail experience that was not just more convenient but even more informative than an offline one.
"Our research, which focused on the pain points of customers, led us to some interesting findings," says Sandeep Karwa, Senior Director — Large Appliances. "We learned that in this category in the offline space, the customer was at the mercy of the offline promoters of the products. While this is true for a category such as Mobiles too, in Big Home appliances it is more prominent since an offline store has the space only for a limited number of brands and hence an offline promoter tries to push from the available ones only. This is to say that the customers weren't getting the right guidance to buy the right product. We wanted to transfer the decision of what to buy to the customer instead of the promoter."
"Honestly, while all our research data helped us understand the larger buying picture, the real customer voice that resonated with me was when I personally went and met our buyers during our product deliveries and installation drive," says Chandni Gaglani, Head of Content & UI Experience for Flipkart Large Appliances. "This made me go back to the boardroom and re-look at our content strategy. We realized that the user didn't need to be bogged down by tech jargon while buying an appliance. It was important to ensure that we were having meaningful conversations with our customers across their buying journey. Each touch point was designed to talk to a user's need, and each content asset was designed not only to hand-hold a user through the common challenges of buying an appliance, but also to build trust at a deeper level with our buyers."
The secret ingredient, Chandni points out, was having genuine, meaningful conversations with customers. "Conversation is king," she adds, "and content is just something to talk about!"
The result? A more intuitive browsing and buying experience. Flipkart created an e-store that, despite the sheer volume of options, guides a customer to just the right product.
---
Watch the Experience Video!
"The idea was to allay the user's anxiety while buying an appliance online," says Chandni, quoting research that suggests that the most pressing question on a consumer's mind while buying online is 'What happens once I click on buy now?'
She elaborates, quoting examples of the kind of questions that the team encountered in the midst of their research.
"How will the delivery work out? Can I schedule my delivery slot? Who will do my installation and when? Hence, the video assumes a consumer take on how the experience rolls out once you click on buy now. How does Flipkart make sure that the product travels the shortest distance, reaches you damage-free, and also ensures a smooth demo by an authorized technician to make your product ready to use — all of this from the comfort of your couch!"
---
Say goodbye to your worries with Flipkart's Perfect Buy Store
"I have always had a great experience with Flipkart. First, I bought a small item. Then, I felt a tad more confident and ordered a mobile phone. This paved the way for an LED TV and finally, a microwave," says Tajinder Baarna, a 28-year-old customer from Jalandhar. The more Tajinder shopped on Flipkart, the more comfortable he became, and each positive experience reinforced his trust. But Flipkart was learning from Tajinder too. One way it made his shopping experience stress-free was through the Perfect Buy Store.
"Before we launched the Perfect Buy store, we tried to understand two things: On an offline platform, what does a salesman explain about a product to a customer. And what are the questions that customers are asking while buying these products. Our goal was to marry these two factors," says Arindam Mukherjee, Senior Director -User Experience & Growth, adding that Flipkart's product innovations were benchmarked against global market leaders.
In a nutshell, the Perfect Buy Store is your one-stop shopping destination for big appliances. This experience-driven store allows you to discover, shortlist, analyze and buy high-value appliances with just a few swipes and taps. It offers all the tools, tips and nifty insights you need in one place.
Don't like reading? Watch and listen!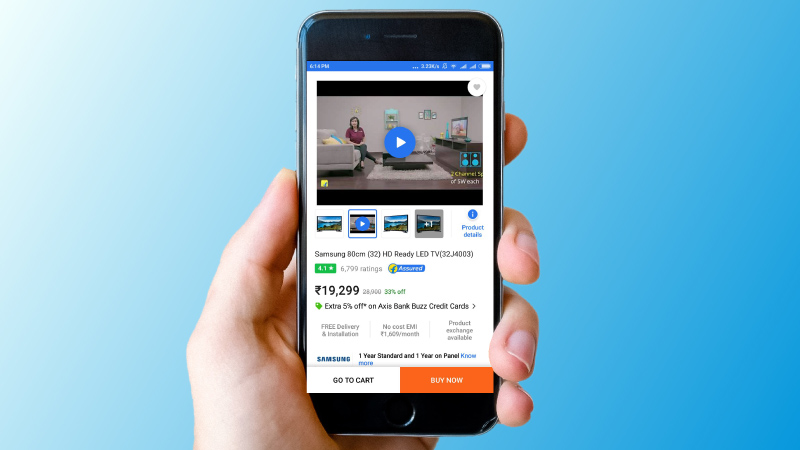 If reading is not your thing, there's a helpful video that you can watch. It takes you through the technical specifications of the appliance that you're interested in — without the jargon.
"Think of it as your gadget-geek friend telling you what a TV can do, or the helpful sales assistant at a store. The added advantage is that you don't have to brave the traffic and step out of your home," says Chandni.
"I really liked the video explaining the features. After I saw the video, I understood the specifications of the product clearly and became surer of my purchase decision," shares Aadil Qureshi, a 22-year-old from Nandyal, Andhra Pradesh, who purchased a washing machine.
"But, I have to say, I would be a little more appreciative if the videos were available in Hindi as well," he is quick to add.
"I felt reassured about my purchase decision after seeing this video," chimes in Ambuj. "One of the videos explained the nitty-gritty to me, such as details about the TV's panel. It was simple to understand too," pipes in Rohit G, a customer from Bengaluru who recently purchased a television.
Experience Videos answer your questions even before you ask
A new feature introduced in the Perfect Buy store is the Experience Video. Signed-in users can enjoy this feature while browsing the Flipkart desktop site and the mobile app. The videos offer an end-to-end experience for the shopper, walking you through the features of the store to help you get familiar with them.
For example, do you worry that your TV might get damaged in transit, or if the delivery will take place on time? Watch the video to address your concerns about shipping, delivery and installation.
"I saw the seller information and the replacement and returns policy clearly listed. This made me feel more comfortable about shopping for a big appliance online. I knew that if anything were to go wrong, I wouldn't be left in the lurch," Tajinder adds.
Hitesh Raval, another online shopper, shares a similar sentiment. "I bought a Haier refrigerator, and my shopping experience was smooth. I was comfortable shopping for a large appliance online, as I have done it in the past as well."
Get information at your fingertips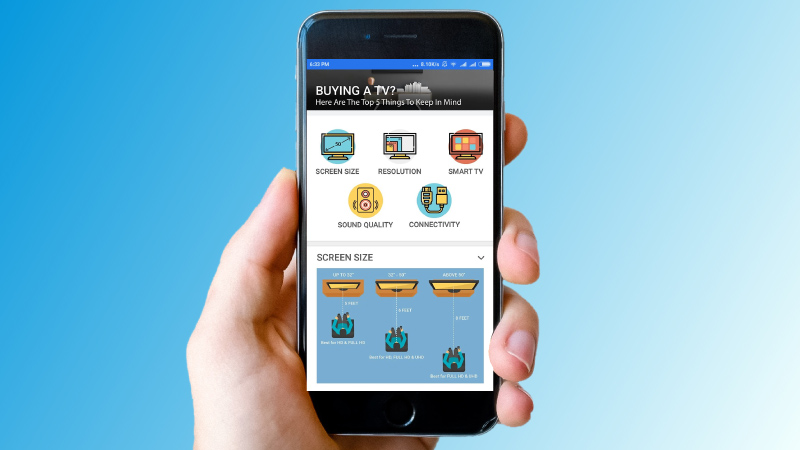 Apart from seller information, Flipkart's Perfect Buy Store offers rich product descriptions to give you comprehensive information with no blank spaces to fill. It gives you an in-depth look at all the specifications and key features — and spotlights the technology that makes the appliance a perfect buy. More importantly, it tells you how these features benefit you.
"Each category is different when it comes to buying behavior. For example, fashion is a category that largely shows impulse buying behavior. For large appliances, however, it is research-based, so our platform needed to cater to that," says Arindam.
"Rather than the heavy tech jargon that brands have been using for years, we decided to reflect the living room discussions that customers have along their buying journey," says Sandeep. "This makes the pre-purchase experience completely intuitive."
For instance, rather than describe a washing machine by its capacity — for example, 6 kg — the product finder in the Perfect Buy store phrases the question in a way that the customer can immediately relate to — for example, what is your family size? The correlation, which works in the background, matches the user's input with an appliance suited for his or her family size.
Consider this: reading about an In-built Content Discovery Engine may not mean much to you. But, if someone were to tell you that your TV could discover and curate trending digital content for you, you're sure to get excited. This is a rich product description, which adds context to the features of your chosen appliance with images and feature videos, and tells you how they come in handy.
"I found out about the Perfect Buy Store when I was browsing the app during Diwali. I like the fact that it gives you enough information about the product so that you're completely aware of the features of the appliance," says Ambuj Kumar from Bengaluru.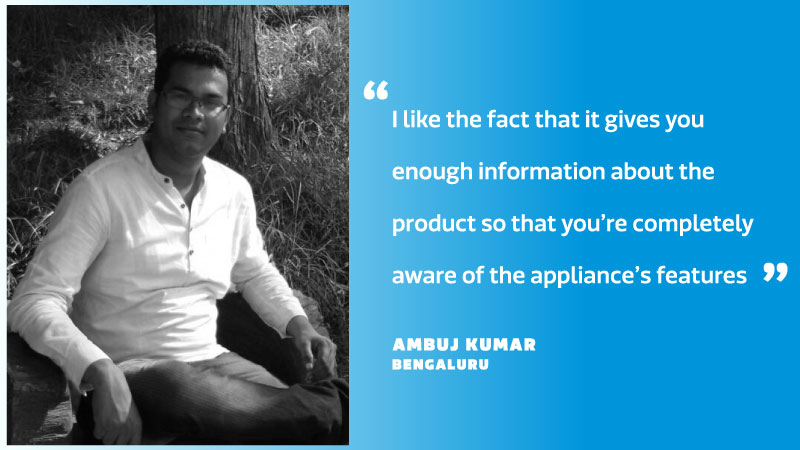 Not sure which model to pick? Compare the specs
What would you do if you walked into a store and wanted to check out three different TV models? You'd compare them, spec by spec, of course. The Perfect Buy store experience allows you to do just that, but without a pushy salesperson making recommendations. You can select up to three similar appliances — TVs, washing machines, etc — and compare the specifications, features and price. This feature is available for Flipkart customers shopping on the desktop site and mobile app.
How to use this feature: Tap on 'Add to Compare' below any model that interests you, and see it side by side with two other similar models. In addition to technical specs, the Compare feature also gives you comparative details of estimated delivery time, as well as financing options like No Cost EMI, Exchange offers, etc. When you zero in on your preferred model, just click on 'Buy Now' to move it to your shopping cart.
It's all about personalization
While reading descriptions or watching a video addresses the needs of those shoppers who already have a shortlist of products, what about those who don't?
Rather than scrolling across the app where your swipes don't end, you can answer questions to discover the right product for you in minutes! Flipkart's visual modules will help shortlist results that match your needs.
Pick the size of your room and the seating position, and it will help you pick a TV that's of the right size. The Perfect Buy experience talks to buyers in the language that they understand, allowing them to filter down options by 'brand' and 'type' besides more intuitive filters like 'family size'.
"We wanted to do away with jargon and make the buying decision simpler for the customer. So we replicated the conversation that one would have in their living room before buying an appliance. For example, instead of a 6.2kg or 7.5kg washing machine, we asked questions like 'How many times a week do you wash clothes?' 'What is your family size?'. And then we helped zero on in the perfect product for the customer," says Sandeep.
To complete the end-to-end experience, the Perfect Buy Store also gives you a handy buying guide and complete information on when the product will be delivered and installed. If you're an eager beaver like most of us, you'll be happy to know that you might get your delivery as soon as the next day! Moreover, for those who want to pick a delivery slot, there is a provision to choose a time slot too.
"I made a big purchase during the Big Billion Days Sale so I could get my hands on an excellent deal. Although I didn't schedule my delivery, SMS updates about the date and time by which I'll get my delivery were really very helpful," adds Rohit.
A complete shopping experience = happy shoppers!
Avinash Vadyekar, a 28-year-old customer from Bilaspur, attests to the wonderful experience he has enjoyed while shopping on the Perfect Buy Store.
"I didn't have the time to search for products extensively, so I did all my research on Flipkart itself. I searched for latest models for my impending refrigerator purchase, studied the features and read through the reviews. Apart from this, I even watched the videos to be doubly sure," he adds with a chuckle. "I had already ordered and returned products to Flipkart a bunch of times, so the payment process was completely hassle-free. Moreover, I had given my home address for delivery, so I chose the option of picking a time slot just to make things a little more convenient."
Avinash signs off with nothing but praise. "I've always seen giant Flipkart delivery vehicles when I'm out and about, and hoardings too — so I had no doubt that they'll deliver on their promise."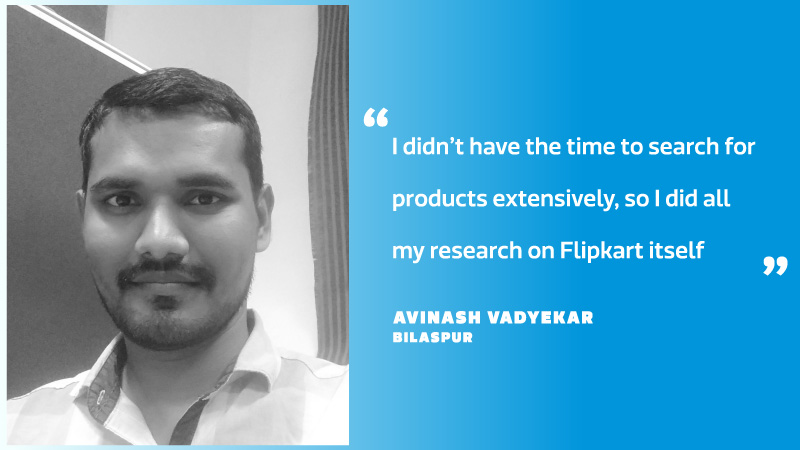 "When it comes to electronics, Flipkart is a great place to shop from," says Jayavel Raghavan, a resident of Tamil Nadu. Tajinder agrees, adding that the prices sweeten the deal. "For me, first, it's the great price that Flipkart offers. Second, is the excellent delivery service."
Don't take our word for it — get feedback from certified buyers
We know our customers are discerning and detail-oriented, and we value their input. The Perfect Buy shopping experience banks on the feedback of happy customers to create an informative and insightful shopping experience for you. Interested shoppers and certified buyers can interact, ask questions, and answer them, too. Exactly as you would do if you wanted to buy an appliance at a retail store. You can browse feedback and reviews from other buyers to get deeper insights on the products of your interest. Additionally, as a certified buyer, you can share feedback on four different parameters.
As a certified buyer, you are the expert. Not only can you view reviews and ratings, you can also upload images and videos of the products that you have purchased to help other shoppers make better buying decisions. This feature is currently available to Android app users only.
What's new in the Perfect Buy Store?
What's next in the pipeline for customers?
"We want to help users get rid of their older appliances, a move that will give them value for their things as well. We do have an exchange policy as of now, but we want to expand on it," says Arindam.
"Another thing we will focus on is, since large appliances have a long purchase cycle, how do we ensure that a customer is engaged? Can we recommend better? We'd like to make sure that it is made clear to the users our convenience and affordability policies to keep them coming back and help them make the right decision," he adds.
"While our pre-purchase innovations have aimed at changing the way a user does research before buying large appliances, the post-purchase leg will now focus on creating product disruptions to enhance after-sale propositions and repeat engagements," says Chandni.
---
ALSO READ:
Discover how Flipkart's Perfect Buy makes shopping for large appliances convenient
Experience first-hand what the Perfect Buy Store has to offer. Click here for a walk-through
Read more Flipkart customer insight stories