Flipkart Pay Later is a revolutionary customer-focused initiative from Flipkart to make shopping convenient and worry-free. While Flipkart's Debit Card EMI & No Cost EMI, and Buyback Guarantee make shopping affordable, Pay Later makes online shopping easy and convenient for you. Loyal Flipkart customers have been shortlisted to enjoy this service, and the list of eligible customers is growing month on month. How does Flipkart Pay Later work? It's all about your convenience — pick your product, check out quickly and seamlessly without having to scramble for payment details or OTPs, receive the product, experience it and, you pay next month for all your products in one go. Simple? You bet! Want to know more? Here's everything you need to know about Flipkart Pay Later.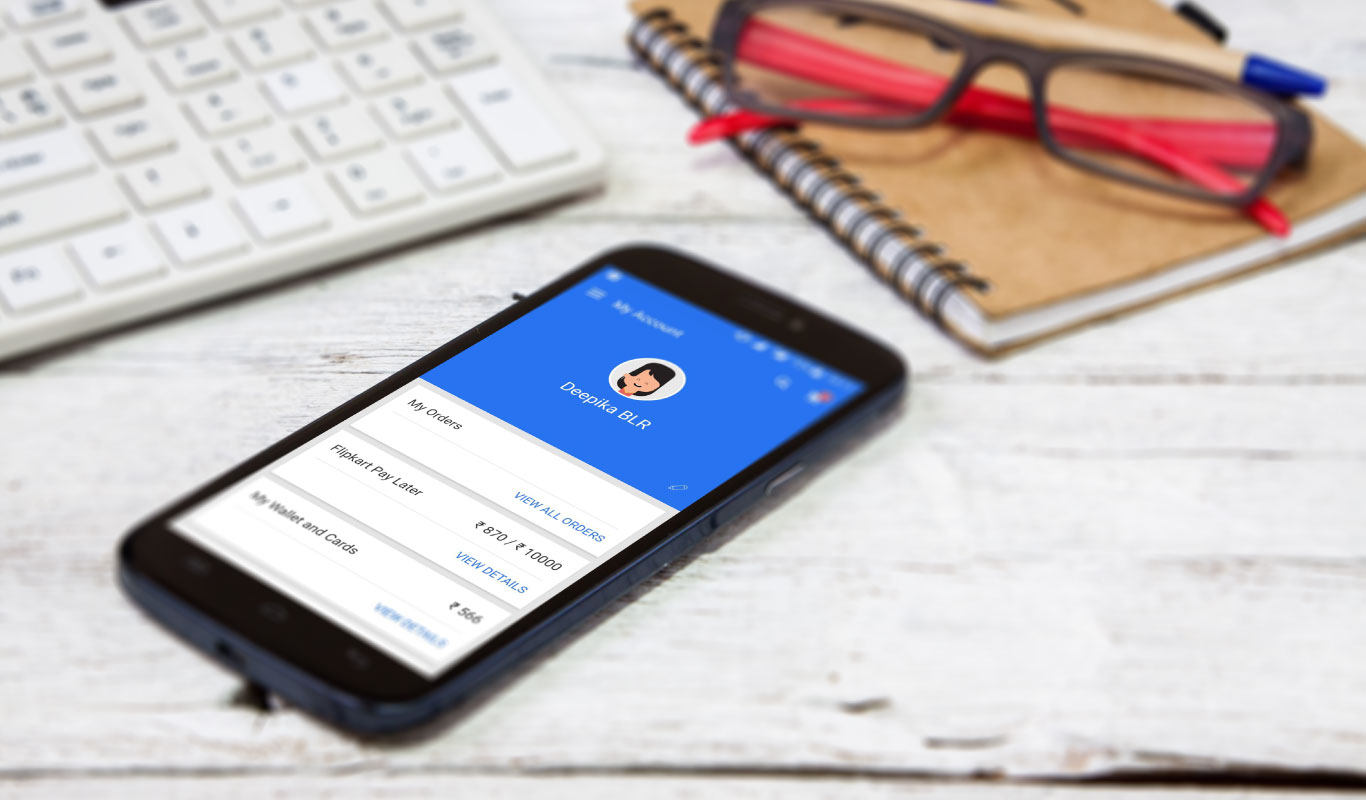 No matter which part of India you live in, you're sure to have a neighborhood grocery store that delivers products to your home and keeps track of your transactions in a register. You clear your dues when you have the time, and so the system goes. It works on trust and loyalty. After introducing Indian shoppers to Cash on Delivery, No Cost EMI and Buyback Guarantee, Flipkart brings another path-breaking customer-focused innovation — Flipkart Pay Later.
What is Flipkart Pay Later?
Flipkart Pay Later is a customer-centric innovation from Flipkart that's focused on affordability and convenience while shopping online. Pay Later offers you credit of upto Rs 1 Lakh to shop all your favorites on Flipkart through the month. Convenience here means getting a single bill for all your purchases, quick one-click checkout and paying your bill at the end of the month or in EMIs over 12 months.
And here's the best part — you can pay for your products after you've experienced them.
What's in it for you?
Using Flipkart Pay Later as a payment option gives you access to three key features:
Credit line: You can avail credit upto Rs 1 Lakh, shop on Flipkart, experience your products and then pay for them next month or in 12 Months over EMIs, at your convenience.

Instant buy: You can buy products literally with the click of a button, without having to key in multiple details during the checkout process.
Bunch up payments: You can shop for multiple transactions in one go and pay later for all of them at once.
Who can use the Flipkart Pay Later payment option?
Are you someone who's not fond of scrambling for cash while a Flipkart Wishmaster waits at your door? Don't have the time to key in 2-factor authentication codes while using your debit or credit cards for payment? Flipkart Pay Later is tailor-made for you. It makes the shopping experience convenient and oh-so-simple! Make your purchase, receive your delivery, and use the product. Then, you can come around to making the payment next month.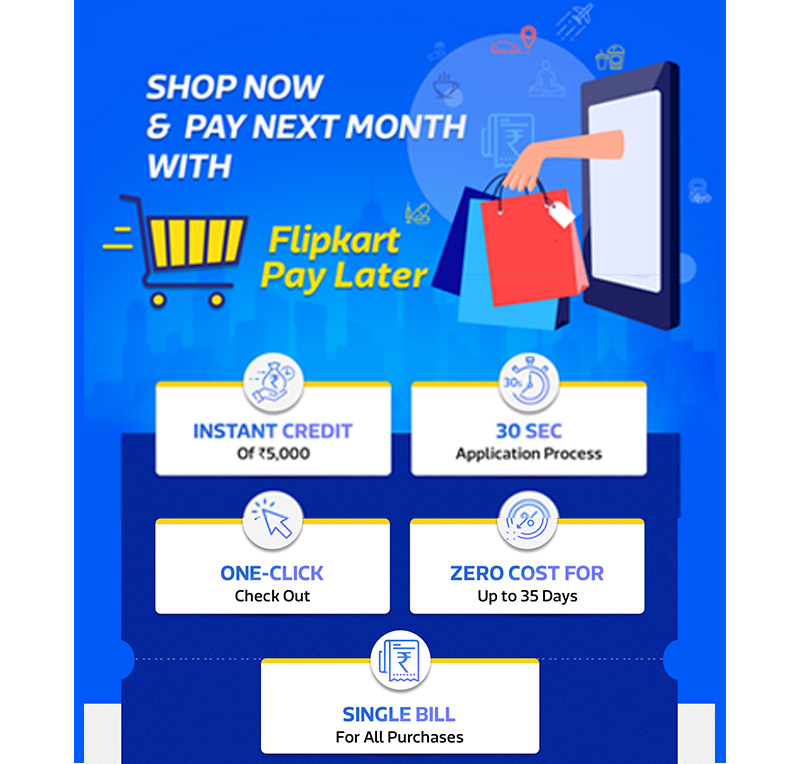 Irrespective of whether you have multiple cards or none, Flipkart Pay Later is a convenient shopping alternative.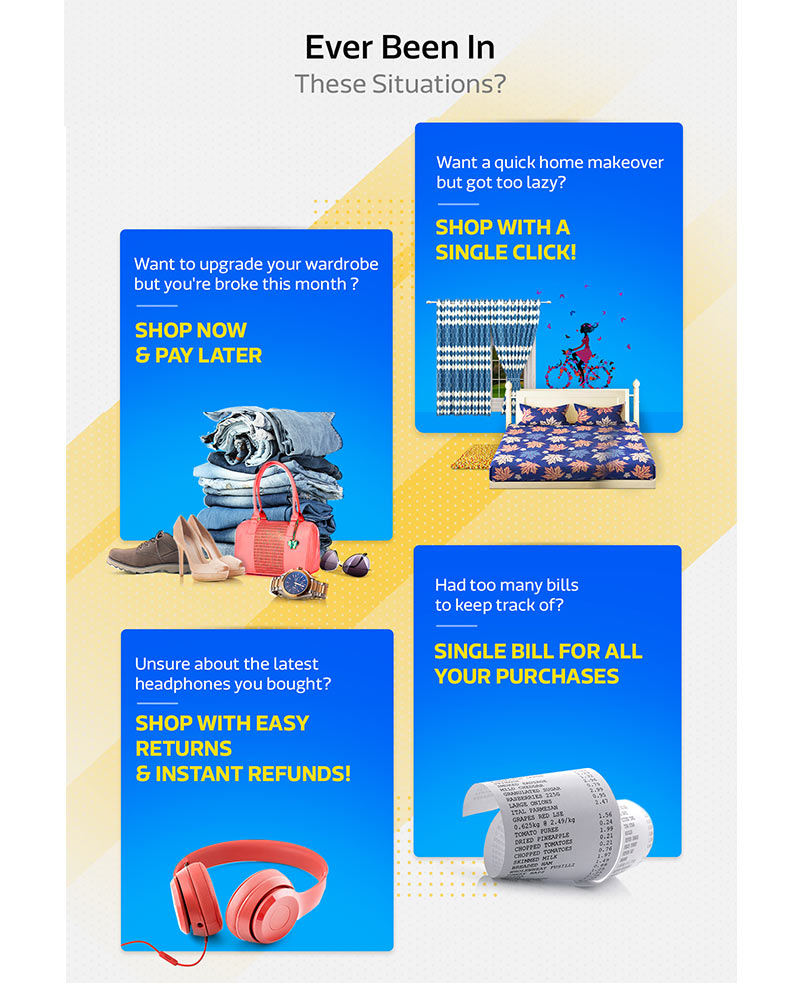 Are you eligible for Flipkart Pay Later?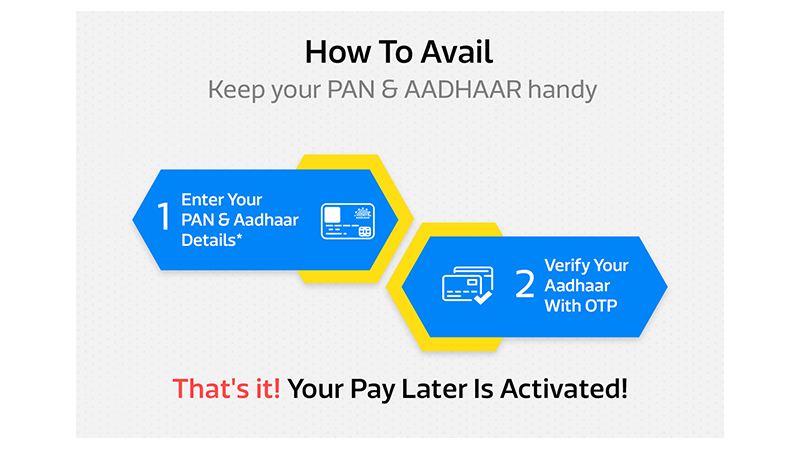 You can apply for Flipkart Pay Later in just 30 seconds! All you have to do to apply is enter your PAN and Aadhaar details, verify your documents, wait for 30 seconds and start shopping using Flipkart Pay later!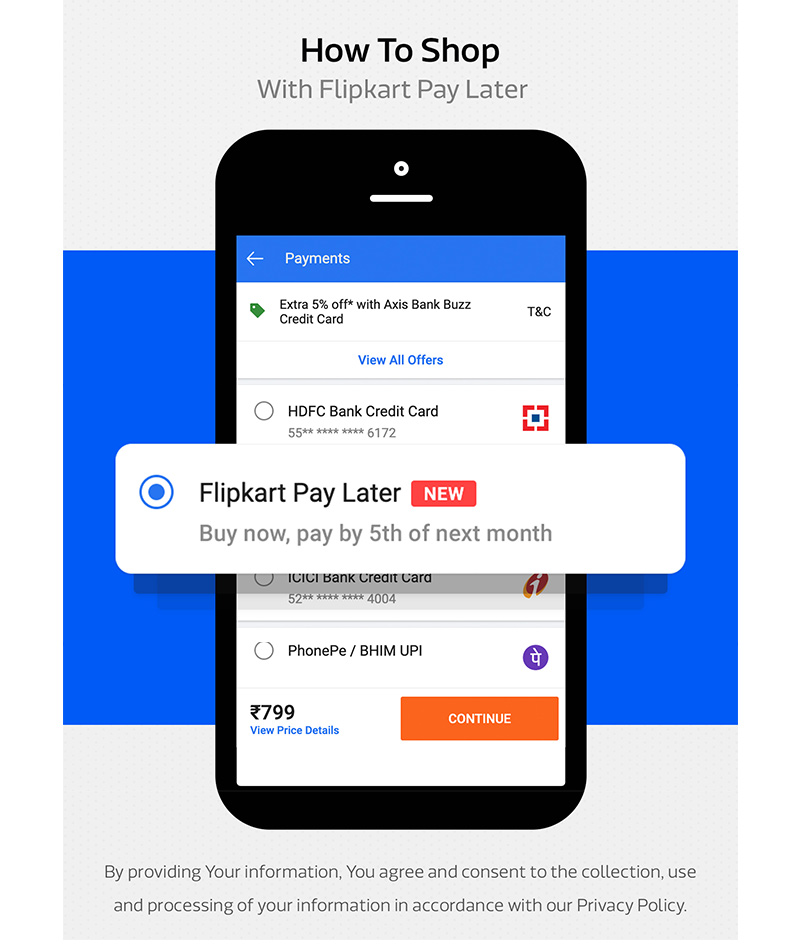 With Flipkart Pay Later, it's benefits galore!
When you use the Flipkart Pay Later option, here's what you stand to gain.
Pay when you are ready: You have the option to make your payment at the end of the month, just as you would settle a standing account with your neighborhood grocer. By default, the payment due date is the 5th of the next month or in 12 Months over EMIs. Of course, you can always clear the due amount whenever you have the time, the money and a good internet connection.
Try, then buy: Instead of paying for the product upfront, you have the option to receive the product, try it out and then make the payment.
Club transactions: Did you buy a car mobile charger, a wallet and a pair of sunglasses from Flipkart in one month? No problem. When you opt for this payment option, you can conveniently make the payment for all three orders in one go.
Speedy payment: When you make your payment, you don't have to go through several steps to complete the payment. Enjoy one-click payment on the transaction.
Always there for you: When you choose Flipkart Pay Later as your payment option, you can be assured of near-100% success rate.
Better benefits, with added convenience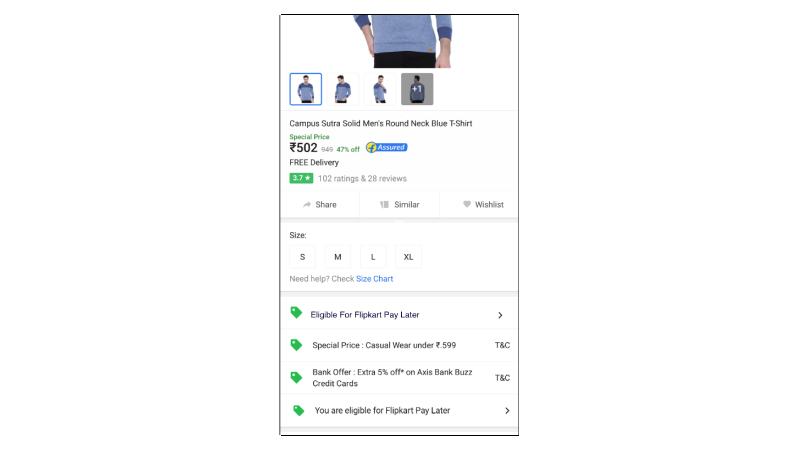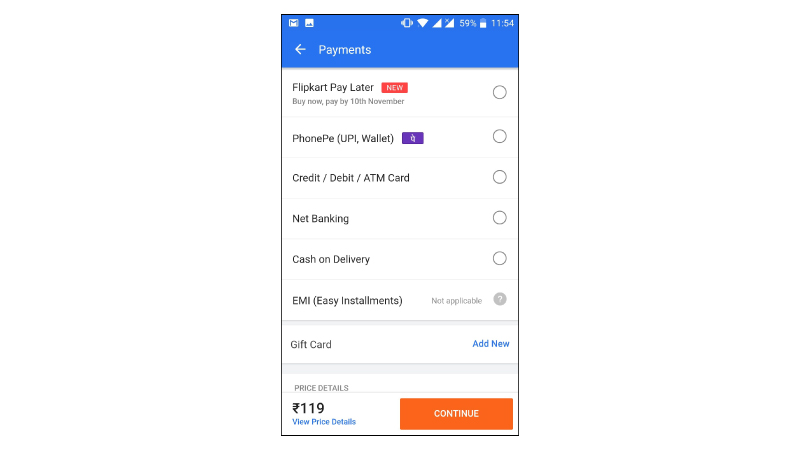 Flipkart Pay Later is a cashless, paperless facility and you don't have to shell out any maintenance charges to keep it up and running. Take a look at how using this payment option is simple, yet bursting with benefits.
It offers instant refund when you cancel your order or return a product.
Zero interest fees or account maintenance fees make Flipkart Pay Later a more attractive financing option compared to credit cards. You can repay using any mode of online payment, including credit cards.
Things to remember while using Flipkart Pay Later
While the Flipkart Pay Later option gives you access to a plethora of benefits that make shopping on Flipkart more rewarding, here are a few things to keep in mind. Remember that you cannot make partial repayment to clear your balance. Neither can you pay an excess amount — this facility is not a wallet where you can park excess money. If you have an outstanding amount, you will be notified that you must pay the full amount to clear your dues and continue enjoying the benefit of Flipkart Pay Later. This payment option is currently available on the mobile App and the mobile site, and will be extended to the desktop site very soon.
How to pay back?
Here's a quick step-by-step guide:
1. Check your Flipkart Pay Later statement where your due date will be visible.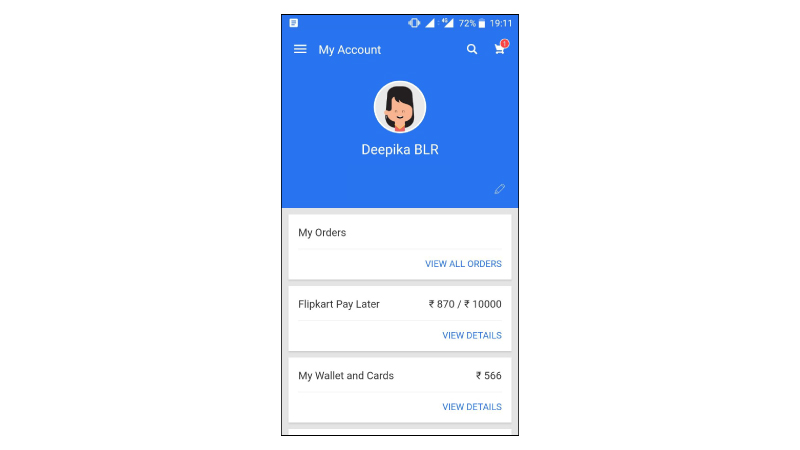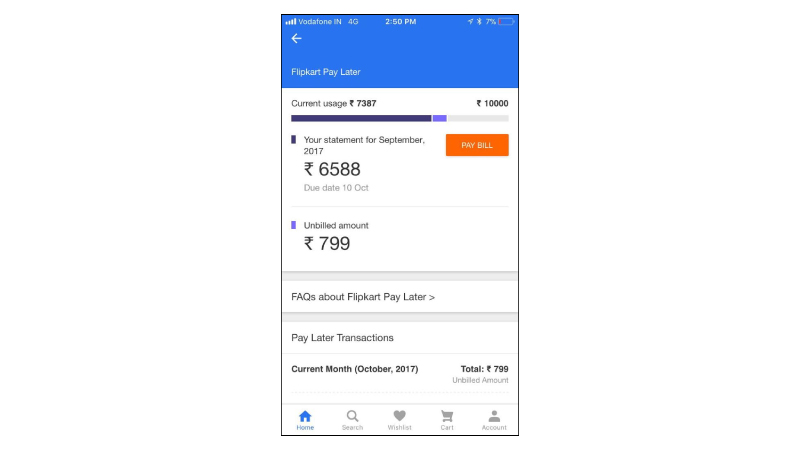 2. Click on Pay Bill.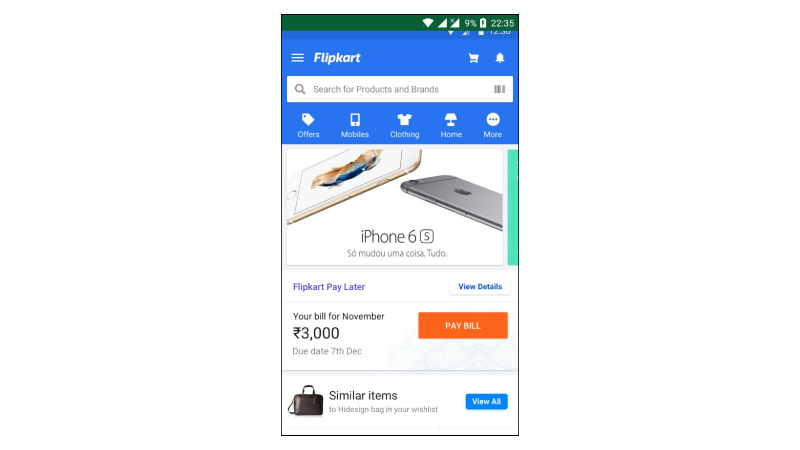 3. Choose mode of payment.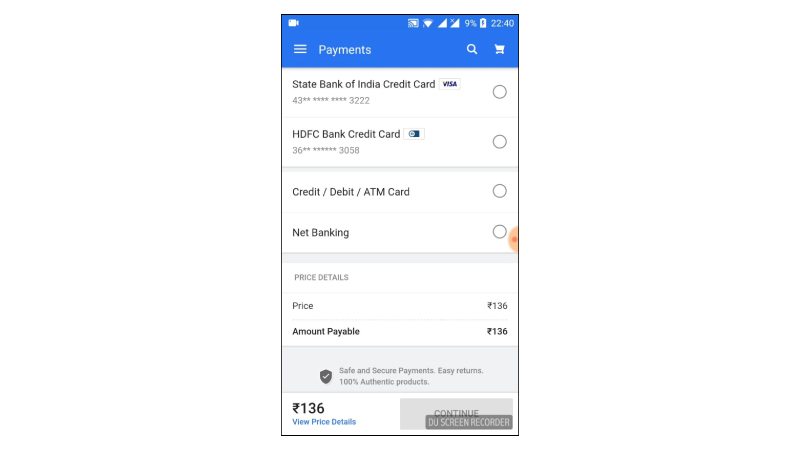 4. And that's it! You're done.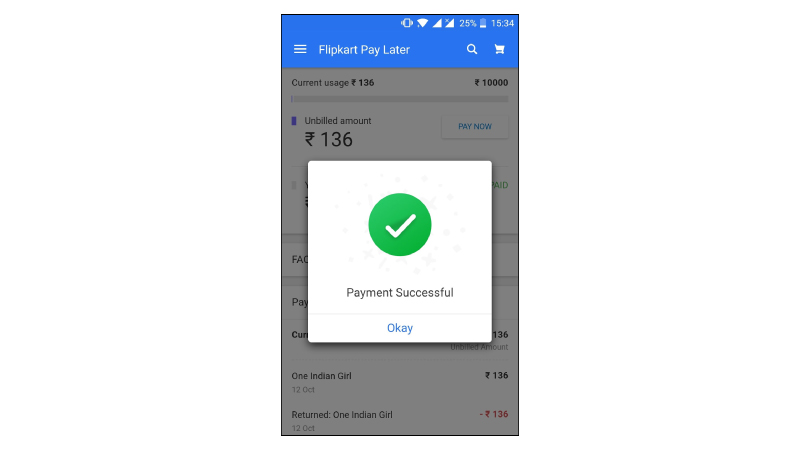 And don't worry about forgetting. Flipkart will send you gentle reminders via SMS, email and push notifications to help you clear your dues on time. What's more, you can also avail the benefits of Pay Later while shopping on Myntra.
So, whether it is a brand new smartphone, the latest trends, or a set of pans for the kitchen — no matter what you want to buy from Flipkart — you can shop conveniently with Flipkart Pay Later! Apply now!