Chetan Bhagat, best-selling author, has turned entrepreneur with the launch of LI5E, the world's first intelligent lifestyle wearable. He speaks to Flipkart Stories about his giant leap into the Internet of Things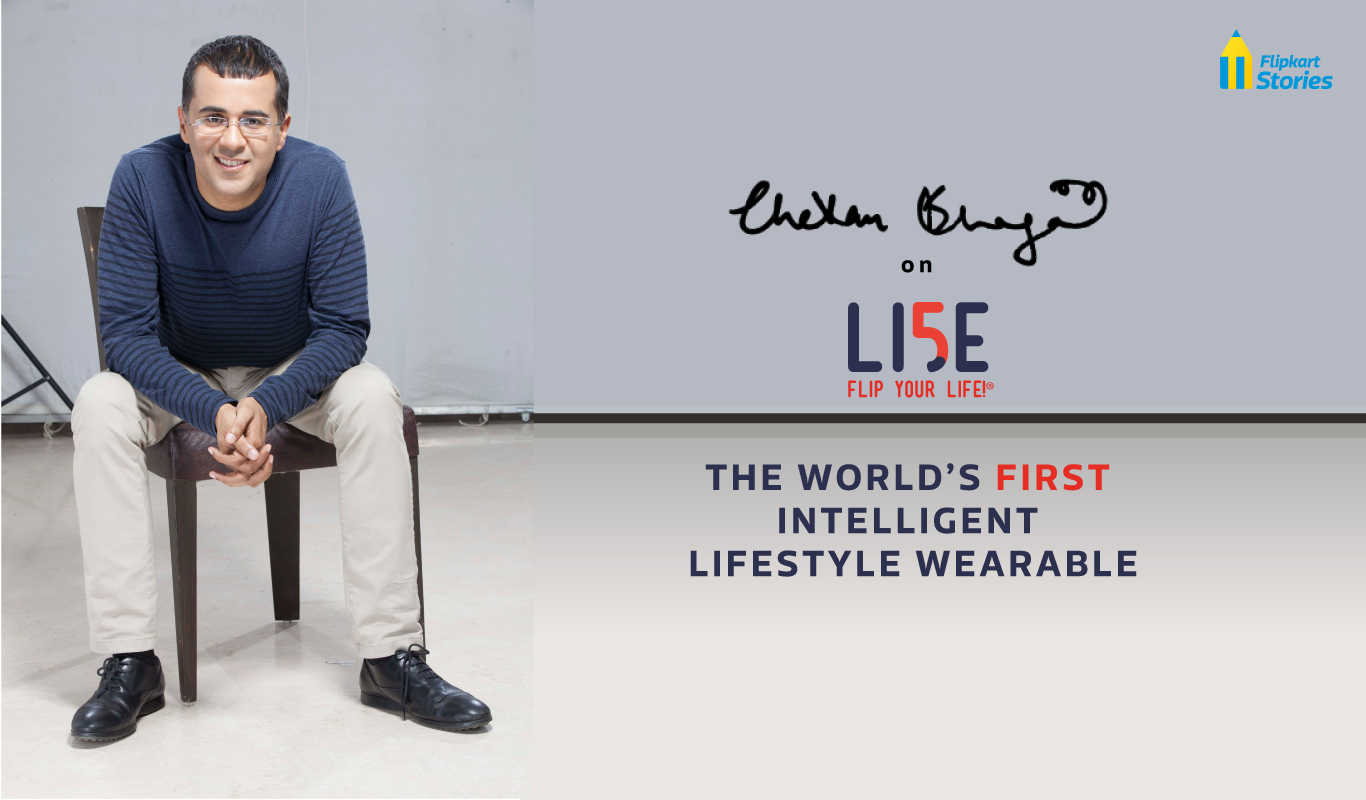 Best-selling author Chetan Bhagat has taken a giant entrepreneurial leap by officially launching his own electronics brand on Flipkart. Flipkart Stories spoke to the writer for an interview on his new venture, brand vision, and the first product to be launched on Flipkart — LI5E, the world's first intelligent lifestyle wearable.
Excerpts from Chetan Bhagat's interview with Flipkart Stories Deputy Editor Madhu Karuthedath:
Flipkart Stories: From writing books to launching your own electronics brand… is Chetan Bhagat putting down the pen and taking the entrepreneurial route?
Chetan Bhagat: No, never! I understand that this comes as a surprise, but the idea of starting something in the electronics and devices space has been in my mind for a while now. Electronics, especially IoT and smart devices, is an area that has deeply interested me. While the smart devices have been there in the industry for a while, it's only now that people, especially in India, are seeing value in investing in them.
So, what is the first product that we'll be seeing from your new venture? Does it have anything to do with books?
I'm keeping books away from this business (laughs). The first launch is an interesting one. It's a smartband named LI5E — that's 'L-I-F-E' with number 5 in place of 'F' and I guarantee that the world has not seen anything like this before. It will be the world's first intelligent lifestyle wearable and has been created to continuously monitor the user's vitals and provide real-time feedback. Why the emphasis on number 5? The device is capable of tracking 20 odd aspects that impact our everyday life and the user can select and custom-configure the device to deep-track any 5 aspects he or she needs to track.
Thanks. We need to build a culture of innovation in the country. Thought will do my bit.The watch works really well. https://t.co/rBDyQB8Bzn

— Chetan Bhagat (@chetan_bhagat) April 1, 2016
But how does this make the LI5E smartband different from other health tracking smart devices?
LI5E is an entirely new concept, even within the smart-health device space. The highlight is its ability to study emotions through our vital stats, identify irregularities and recommend ways to correct it. Considering the amount of stress the present generation goes though, this becomes very useful. The device also learns continuously. For instance, if the device senses a drop in blood pressure, it will notify the user and suggest ways to normalize it. It will then record the action you have taken and uses that data to refine next instance. There is no other device that uses emotional intelligence and vital stats as a base for improving health and well being. Also, unlike other smartbands, LI5E has minimal dependence on a mobile or desktop app, which means the user spends less time syncing and tracking data.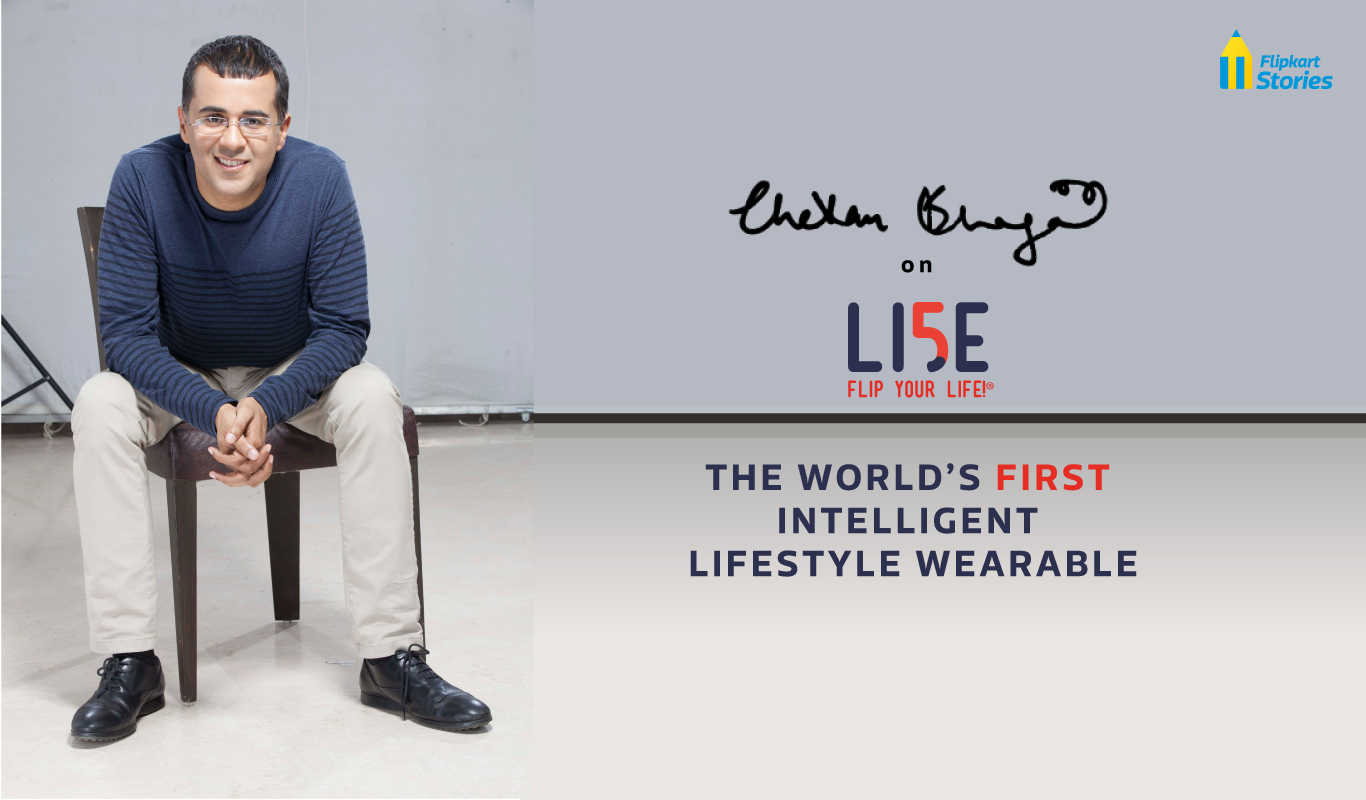 Is this a self-funded initiative or are you blessed by angels?
A bit of both… My pockets are not that deep as you think! The team had presented the idea for LI5E about a year back for some financial aid. Some loved it and some didn't, but at the end of it we got much more than we anticipated. I won't be able to name the VCs, but we have been able to raise about $20 million for research and the first batch of production.
Sounds interesting. But what makes you so sure that people will buy this?
My marketing team has been on this for almost a year. The product has been developed after some intense research around what people are looking for in a smartband. The tech team has worked closely with behavioral experts to understand realistic wellness issues and engineer them into LI5E.
What else can we expect from the Chetan Bhagat brand this year?
We are taking a completely fresh approach to future product releases. It will be designed by the people, for the people. The plan is to crowd-source ideas and develop devices based on these inputs, along with our own research insights. This approach ensures that there are no assumptions behind building the next gadget and that we create a robust product.
Read more about LI5E – the world's first intelligent lifestyle wearable
https://stories.flipkart.com/flipkart-chetan-bhagat-li5e/
Contribute your idea to Chetan Bhagat's new line of products.
Take part in the #CBFlipLi5E contest on Twitter and Facebook starting at 12 noon today and stake your chance at winning Flipkart Electronic Gift Vouchers! For more details, follow Flipkart Stories on Facebook and Twitter