The new Check-out Giving feature on the Flipkart app allows customers to complete their shopping experience by adding a nominal donation towards supporting COVID-19 relief efforts in India. In addition to contributing Flipkart SuperCoins and Myntra Insider Points, customers have more options to help India battle the pandemic.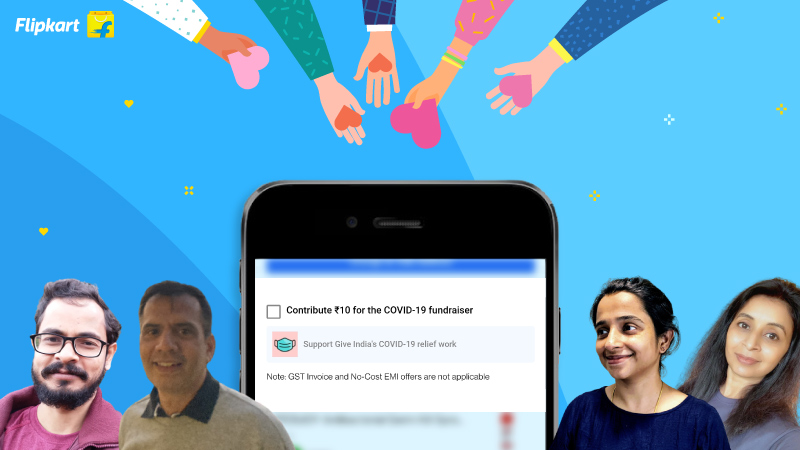 At the Flipkart Group, we're constantly innovating to leverage our platform strengths for doing good and bolster the culture of giving. Customers can now use the Check-Out Giving feature on the Flipkart shopping app to make nominal donations towards supporting relief efforts to battle the surge of the COVID-19 pandemic in India.
Our customers have been ever-ready to extend their support to those in need, and in challenging times like these, we want to enable them to help in the simplest ways possible. Shoppers on Flipkart can now add a nominal amount (INR 10) towards donation while checking out, making it simple and easy to contribute to creating a positive impact.
At present, the check-out donations are directed towards COVID-19 care efforts through our on-ground partner GiveIndia. As we move forward, this feature will enable customers to contribute towards more causes and communities.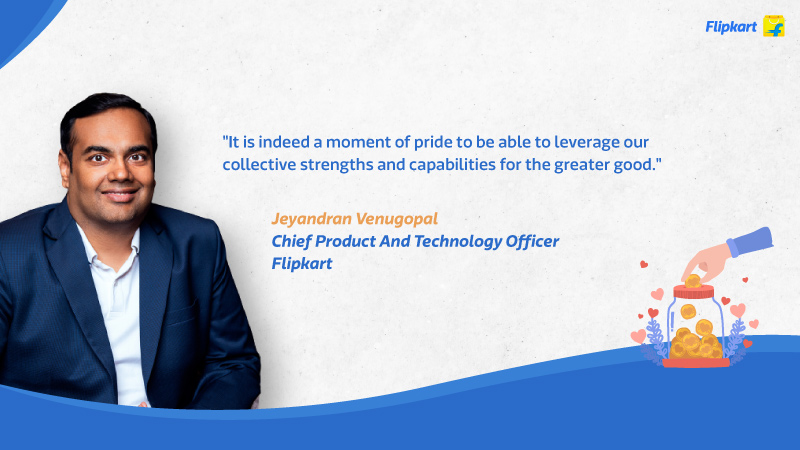 "In these times of crisis, every single effort towards COVID relief is key to strengthening our defense against the pandemic," said Jeyandran Venugopal, Chief Product and Technology Officer, Flipkart.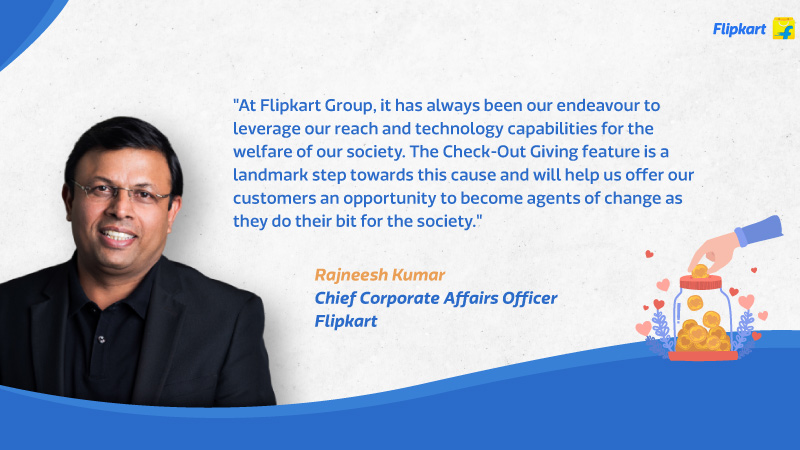 "At Flipkart Group, it has always been our endeavour to leverage our reach and technology capabilities for the welfare of our society," said Rajneesh Kumar, Chief Corporate Affairs Officer, Flipkart. "The Check-Out Giving feature is a landmark step towards this cause and will help us offer our customers an opportunity to become agents of change as they do their bit for the society. Currently, the country is in dire need of COVID care support and this feature will be key to building a larger fraternity of support for the most impacted and vulnerable communities. I congratulate all the teams involved — this feature surely takes us a step closer to bringing the entire ecosystem together in the journey of giving back to the community."
Flipkart customers donate 47+ million 'SuperCoins', raising INR 2.5 crore
In partnership with Give India, Flipkart has enabled any customer to help individuals across the country in this time of need. Millions of customers have been donating their Flipkart Supercoins points (earned as shopping loyalty rewards) on the app, enabling donations of PPE kits, oxygen cylinders, and arrangement of ambulance services. Customers have donated over 47 million Flipkart SuperCoins across the country so far, at a value of almost ₹2.5 crore.
Myntra customers donate over 26 million 'Myntra Insider' Points to raise INR 1 crore
Myntra has enabled customers to contribute generously using their 'Myntra Insider' points to COVID-19 relief efforts, including towards the cost of refilling oxygen cylinders. So far, Myntra customers have donated over 26 million 'Myntra Insider' Points to raise INR 1 crore. Launched in September 2018, 'Myntra Insider' is a unique loyalty program that offers a comprehensive package of tiered benefits and privileges for top Myntra customers.
Amar Nagaram, CEO, Myntra, said, "We are proud to play the role of an enabler, by providing our customers the opportunity to donate their Myntra Insider points for the larger good of the community. We are committed to and are constantly working towards identifying and initiating activities that contribute to the nation's collective efforts of saving lives and fighting the pandemic. We have also extended COVID Relief measures to our employees and partners, and amplified our contributions towards supporting the current healthcare needs of the nation through our partnership with GiveIndia."
The Flipkart Group is also extending support to healthcare heroes and critical patients at COVID-19 centres and hospitals by providing essential medical supplies through its fundraiser campaign with GiveIndia.
[click_to_tweet tweet="You have the power to drive change with a click. Spread the word and #GiveAsYouShop with #CheckoutGiving as you shop on @Flipkart " quote="You have the power to drive change with a click. Spread the word and #GiveAsYouShop " theme="style6″]