When the second wave of the pandemic struck, a volunteer team of Flipsters quickly banded together to ensure that a simple check-out giving feature on the Flipkart app would not only enable customers to donate with ease when they shopped, but also open up a whole new avenue of micro-giving to help those in need across the country. Read how a sense of urgency, an inherent culture of giving and their own personal challenges drove the team to release the feature in record time.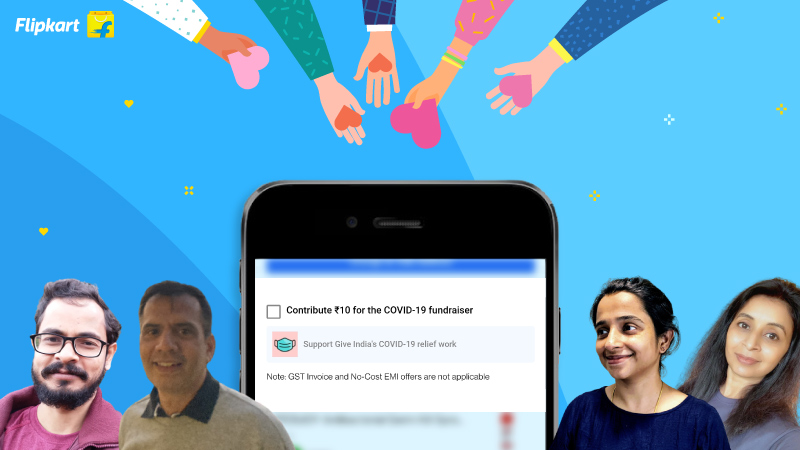 In this story: How a volunteer team, intent on helping fight the second wave, enabled a check-out giving feature on the Flipkart app in record time. 
---
Nothing can quite beat the spirit of a country that bands together to help each other in times of need. The second wave of the COVID-19 pandemic unleashed its worst, affecting millions across India. Amid the widespread and irrevocable devastation it caused, everyday Indians came together — online and on ground — to lend each other a helping hand.
At Flipkart, too, SOS groups and COVID-19 helplines popped up overnight, colleagues reached out to help teammates and strangers alike, and the focus turned to navigating the debilitating second wave.
"We all saw when the second wave started happening and the country was going through a critical phase. Our own employee base was going through severe cases, their families were affected and our capacities were down, " recalls Jeyandran Venugopal, Chief Product and Technology Officer.
In the midst of this, an email called on Flipsters to volunteer to build a feature that would leverage our culture of giving, the strength of our platform and our ecosystem to help communities around us at this critical time.
The mail saw a flurry of replies, with Flipsters, many of whom were fighting their own personal crises as the pandemic affected them and their families, raising their hands to help. Soon, Flipsters from teams across Tech, Program, Product, Design, Customer Support, Last Mile, Legal, Tax, Finance, Marketing, and more, had come together to roll out a check-out giving feature on the Flipkart app.
---
Enjoying this story? Check out the accompanying podcast!
---
Micro giving, macro impact
According to Shweta Chandra, Director at Flipkart, who leads COVID Solves, a pandemic-specific program, check-out giving had been a part of the team's annual plan, but the second wave meant it had to be expedited to execution.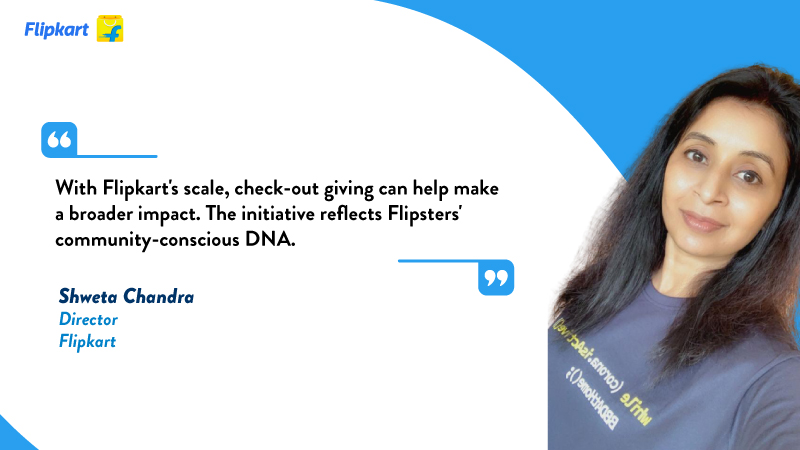 "This meant, we had to bring all the teams together to prioritize, problem solve, build a program plan and also mitigate risks due to change in priorities," she says.
The check-out giving feature, now live on Flipkart, enables customers to make a nominal donation with ease when they shop on the Flipkart platform. The customer contributions of Rs. 10 each go towards COVID-19 care efforts through our on-ground NGO partner GiveIndia.
"While Flipkart had at least three different active donation drives at that point of time, we realized that there was value in cash donations that would directly reach people in need," explains Sumit Grover, Senior Director at Flipkart.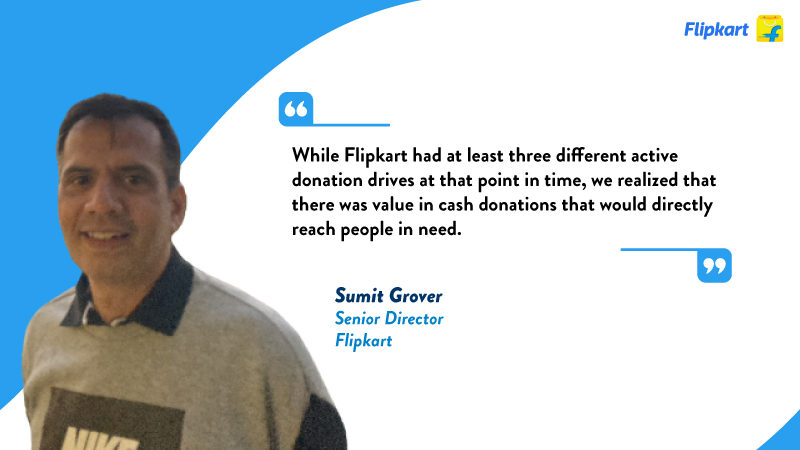 The feature would run alongside drives that would arrange for life-saving supplies like vaccinations, oxygen cylinders and other essentials.
"When you look at India's sustainable development context, our needs as a country are huge," observes Mahesh Pratap Singh, Head, Social Responsibility at Flipkart. "We need to look at ways to use our unique characteristics to an advantage and within that, micro-giving – which includes check-out giving – plays a very important part."
'With scale comes complexity'
The feature may look miniscule at first glance, but there were multiple aspects that needed to be addressed in order to build it in a very short span of time and in a constrained environment.
"We had very little time as we were almost at the peak of the second wave and far too many people were getting impacted," adds Sumit, who himself had just returned to work after recovering from the virus.
Fueled by a sense of urgency and the inherent need to help, teams of volunteers from across Flipkart came together. The problem statements for the teams were manifold — alterations to a sturdy checkout process, accounting changes, payment reconciliations, among others. As the core team continued to uncover nuances, more teams and volunteers got involved, from login services to customer support, app engineering, city logistics, and more.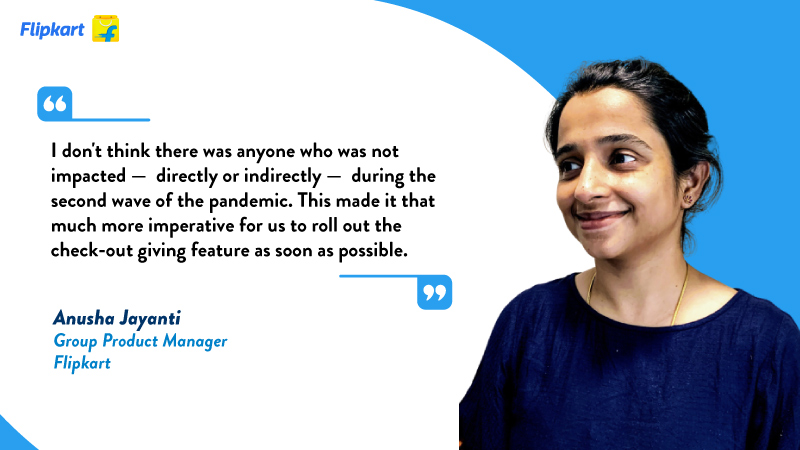 Apart from tech and product considerations, there was also the massive task of enabling this for customers who opt-in during a Cash on Delivery (COD) checkout. This also meant training Flipkart's Wishmasters on collection protocols. Customer support teams too were informed and ready with Q&As and FAQs for customers.
"I don't think there was anyone who was not impacted – directly or indirectly – during the second wave. This made it that much more imperative for all of us to roll it out as soon as possible," says Anusha Jayanti, Group Product Manager at Flipkart. Anusha began leading the giving charter for the product team just after returning from her maternity leave over a year ago.
Despite the challenges, what would have taken months during regular business times, took two-to-three weeks from conception to launch, with the design and product solution coming through in just one working day.
Customer First
"While helping those in need was the key focus, we also needed to ensure that it was a seamless flow for a customer each and every step of the way," stresses Anusha.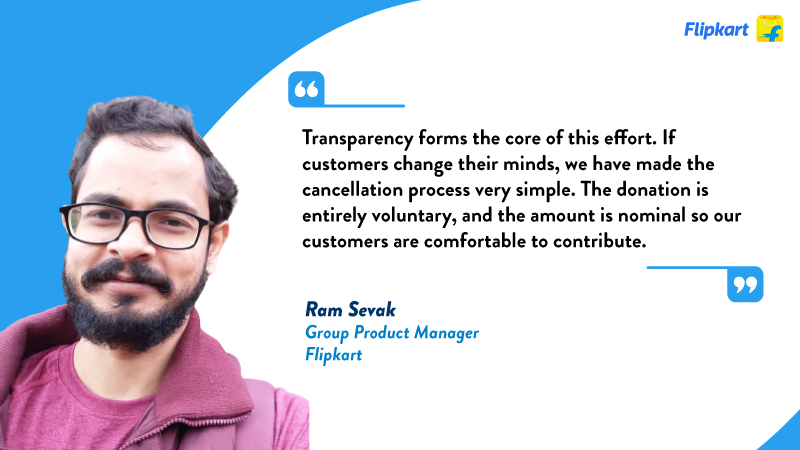 Ram Sevak, Group Product Manager at Flipkart, echoes the thought. "This feature provides people a very simple way to contribute," he explains. "We wanted to enable our customers to donate a nominal amount of Rs. 10 in cash as well, equipping them to help people from the comfort of their homes through a trusted platform and NGO partner."
Ram, who leads Checkout and User Identity products for Flipkart, worked with the volunteer teams to open the feature on all live orders, both prepaid and COD. For a feature like this to work, he insists, trust, choice and transparency are of utmost importance.
"Transparency forms the core of this effort. If customers change their minds, we have made the cancellation process very simple. The donation is entirely voluntary, and the amount is nominal so our customers are comfortable to contribute."
A higher sense of purpose
"Working through tireless days, contributing time and skill outside of their day-to-day jobs towards a cause – that itself is a great example of giving," says Mahesh, explaining a key tenet to the Flipkart culture – that of giving.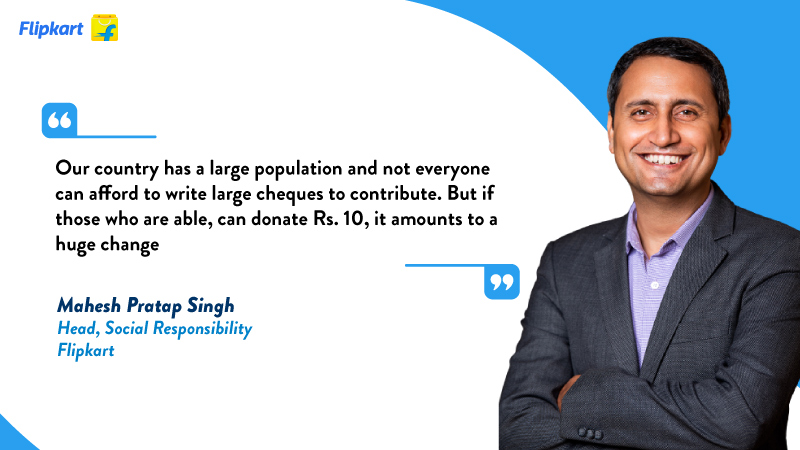 "Our country has a large population and not everyone can afford to write large cheques to contribute. But if those who are able, can donate Rs. 10, it amounts to a huge change," he observes, demonstrating the power of using a platform for greater good.    
"With Flipkart's scale, check-out giving can help make a broader impact. The initiative reflects Flipsters' community-conscious DNA," adds Shweta.
For many in the volunteer team, it was a higher sense of purpose that enabled them to work at a lightning-quick pace during a particularly difficult time. "People were inherently motivated," says Ram, who has been in the product field for over a decade. "The glue factor was the need to help."  
"I myself was impacted by COVID-19 during the time this discussion started," adds Sumit. For the 7-year Flipkart veteran, a sense of responsibility — both from being a flipster and having faced the crisis first-hand — drove him to lead the teams in the right direction. 
"We know that flipsters spirit is to rise up to challenges," says Jeyandran. "The agility with which cross-functional teams have come together to volunteer their time while navigating their own personal crises is truly commendable. It is indeed a moment of pride to be able to leverage our collective strengths and capabilities for the greater good."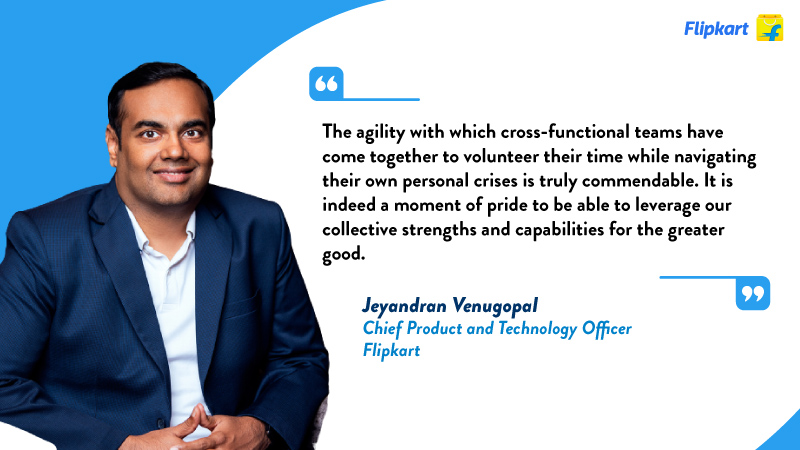 While it's very early days, the team has been enthused by the encouraging response from our customers, who have been ever-ready to extend their support to those in need. The check-out giving success, however, is among many examples of the power of volunteering and culture of giving at Flipkart.
"In the last couple of years, giving has become more broad based, helping us make a bigger impact," explains Mahesh. "We still have a way to go. But when you drive and enable a culture of giving — as we have done at Flipkart – it stays with people wherever they go in life, hopefully continuing the habit in their personal and professional journeys."
---
Also read: Employee and empathy first: From vaccinations to outreach, here's how we're navigating COVID-19 challenges at Flipkart