As more customers come online for a safe, convenient shopping experience, immersive experiences promise to elevate the customer journey from discovery to purchase. In this story, we break down how Flipkart Camera is making an AR-enabled, immersive shopping experience accessible to Flipkart's 350 million customers.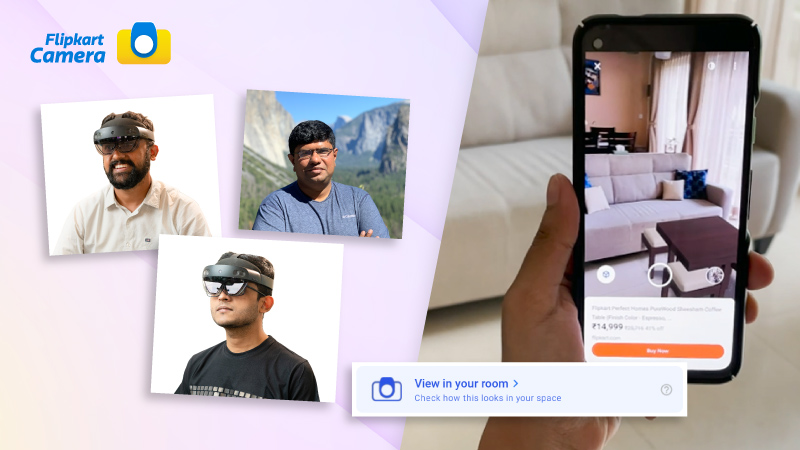 With the market for mixed-reality tech projected to reach nearly $300 million by 2024, enabling customers with a shopping experience that brings them closer to their favorite products is an idea rapidly gaining favor among brands globally. Nine out of ten brands are already using or planning to use AR in their marketing campaigns.
---
On July 21, 2021, Flipkart made a special announcement — Flipkart Camera was now live on the app. The promise? Instead of just imagining a product, customers could experience it from the comfort of their homes, as if it were the real thing. Buying some furniture? Why fiddle with measuring tapes when one can simply tap on "view in your space" and see a true-to-scale replica of the article in your living room? While that may seem simple on the surface, the work that goes into bringing an immersive shopping experience is anything but.
Here VR
It was the year 2016. Pokémon Go had burst out onto the scene, revolutionizing mobile gaming forever. Few could fathom what started out as an April Fools' Day collaboration between Nintendo, Niantic, and Google Maps would become a global phenomenon. At around the same time, Ajay Ponna Venkatesha and Sai Krishna V K were in the midst of executing their own plan to make Augmented Reality accessible in India. The duo, who initially wanted to set up a hardware-focused company to bring Virtual Reality devices to India, eventually decided the real appeal lay in the software and content-creation side of things.
---
Enjoying this story? Check out the accompanying podcast!
---
No assembly required
"The goal was to create a platform that allowed users, especially those that weren't tech-savvy, to create AR and 3D content without writing code, and to also be able to distribute that content all over the web," says Sai, referring to the AR publishing platform that powers Flipkart Camera. The platform was built by Scapic, the startup Sai and Ajay founded.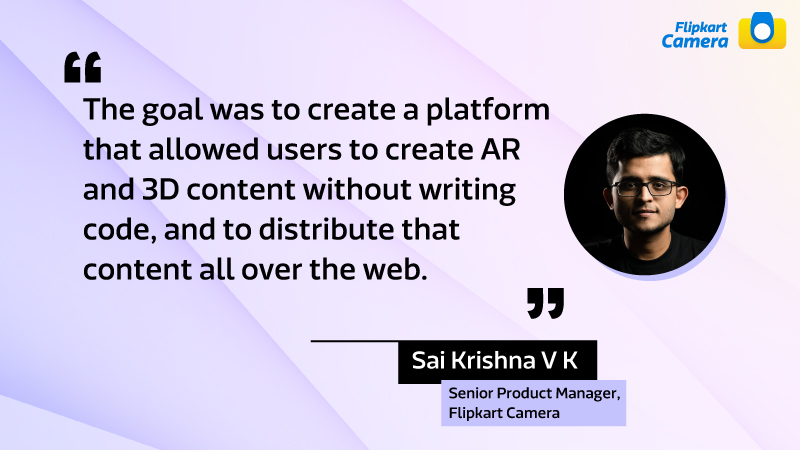 With a view to bring an immersive shopping experience to millions of Indian shoppers, Flipkart acquired Scapic in November 2020, and began to extend the platform's capabilities across a wide range of use cases and to make the technology accessible to the everyday customer.
A vision for India
Sriram V Iyer, Vice President – Product & Technology, was one of the earliest believers in AR as a soon-to-emerge key differentiator for e-commerce across multiple use cases. For him, a great customer experience was always going to be at the core of a reimagined, immersive storefront.
"We were talking to several players in the AR space at the time, but Scapic's implementation came out on top because we had a shared vision, and their tech was more relevant to Flipkart's list of use cases," he recounts.
In the eye of the beholder
"Today with Flipkart Camera, you can place a true-to-scale digital model of the furniture or appliance you want to buy and see how it looks in your own home, and then make a decision," says Sriram. "Until now, the standard practice was to have a silhouette of a 6-foot-tall human next to the article and that involved a lot of guesswork at the customer's end — that's what we wanted to address."
One of the key problems Flipkart Camera intends to solve is creating an immersive experience, at scale. Today, thanks to Augmented Reality SDKs (Software Development Kits) like ARCore by Google and ARKit by Apple, Android and iOS developers are able to create AR experiences using all the sensors and processing hardware a mobile phone comes equipped with.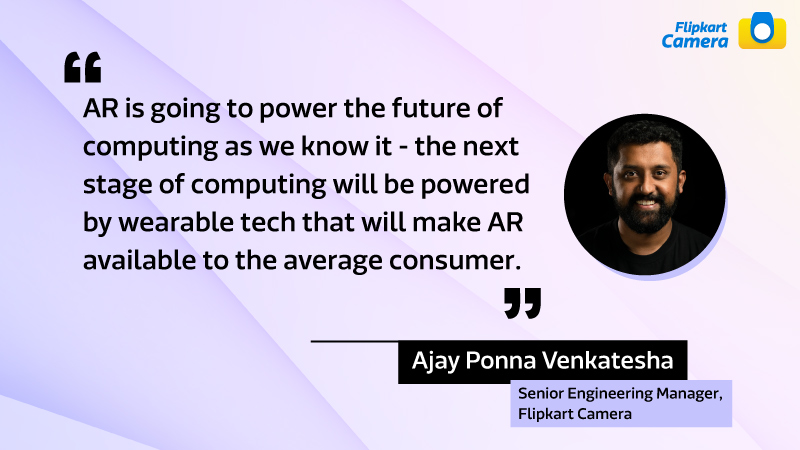 "A good percentage of the top sellers in Furniture and Refrigerators are already AR-enabled, and we plan to expand that coverage very soon going forward," says Ajay, referring to the several thousand products in Flipkart's catalog that can be experienced by users on an AR-capable phone. "As more and more phones start to become AR-capable, the potential use cases are sure to grow exponentially," says Sai.
Reality, Check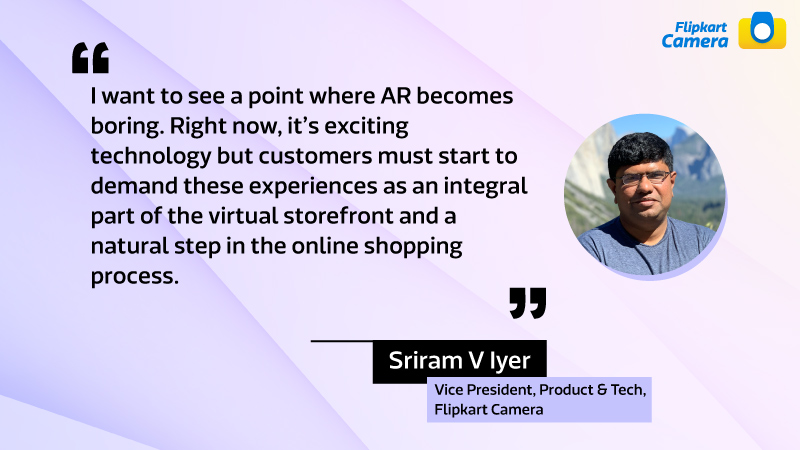 With the number of AR users set to grow to 3.5 Billion by 2022, large-scale adoption of AR powered by mobile phones seems almost inevitable, especially considering the growing push towards an immersive user experience and ever-increasing smartphone penetration. Speaking about his vision for the future, "I want to see a point where AR becomes boring," says Sriram, hopeful about a future where AR is a routine component of the shopping experience and a natural step in the browsing and online shopping process, driven by the intuitiveness of Flipkart Camera.
"AR is going to power the future of computing as we know it — we're still a few years away from not needing a mobile phone to enable the experience, but the next stage of computing will be powered by wearable tech that will make AR available to the average consumer," says Ajay, envisioning a bright future for an AR-powered India.
Curious about Flipkart Camera? Try it out on the Flipkart app!
---
Also read: Putting the vocal in local: How Flipkart's voice assistant is transforming the grocery shopping experience