Join us and Quizmaster #TIL to discover and learn more about Flipkart's latest features. And while you're at it, win electronic gift vouchers worth INR 500 to make your favorite Flipkart purchases!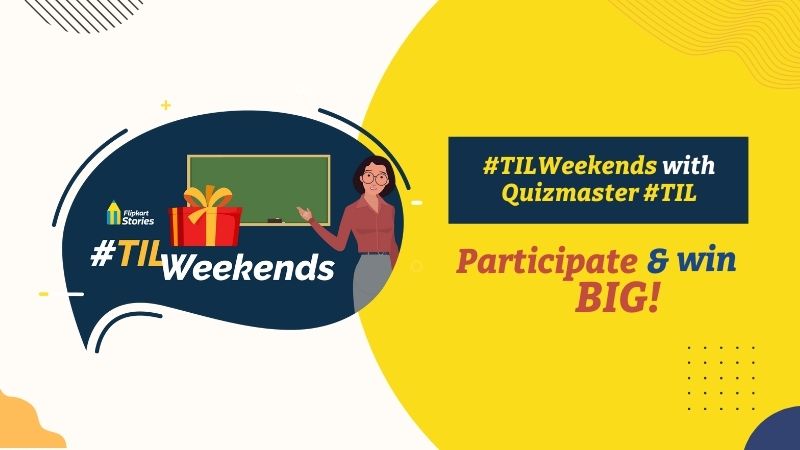 From Flipkart's "Sell Back" feature that enables you to sell your old, unused smartphones, to Flipkart Camera that gives you an AR-enabled edge when it comes to online shopping, Flipkart's innovations are tailor-made for you and your convenience.
The #TILWeekends contest series is designed to bring you closer to these features and discover the ways in which you can use it to make life just a little bit simpler! Our Quizmaster #TIL will guide you through this learning journey. And while you learn more about these features, you also stand a chance to win exciting Flipkart gift vouchers worth INR 500!
So, roll up your sleeves and answer the questions posed by our Quizmaster #TIL every alternate weekend!
Here's are the instructions for you before getting started:
The contest series starts on May 14, 2022 and will take place every alternate weekend
Head to your Facebook, Instagram or Twitter and search for the Flipkart Stories handles to find the questions
There will be two questions (one question each on Saturday and Sunday)
Read the respective article, watch the video or listen to the podcast to find the correct answers
Submit your answers in the comments section of the posts along with the hashtag #TILWeekends
Use #TILWeekends to keep track of the contests
3 winners will be selected on each platform – Facebook, Twitter and Instagram
The last date of submission will be the following Monday at 11 PM IST
The winners will receive Flipkart EGVs worth INR 500
All the best, and make sure you read the Terms and Conditions below before you play!