Wondering what to do with your old smartphone? Flipkart's Sell Back Program is an intuitive solution that enables customers to efficiently sell their old smartphones for a Flipkart Electronic Gift Voucher. The process is quick, easily accessible through the mobile app ecosystem, and ensures that you get the right buy-back value for your used smartphone. What's more, it promotes sustainability by reducing e-waste. Read on to know more.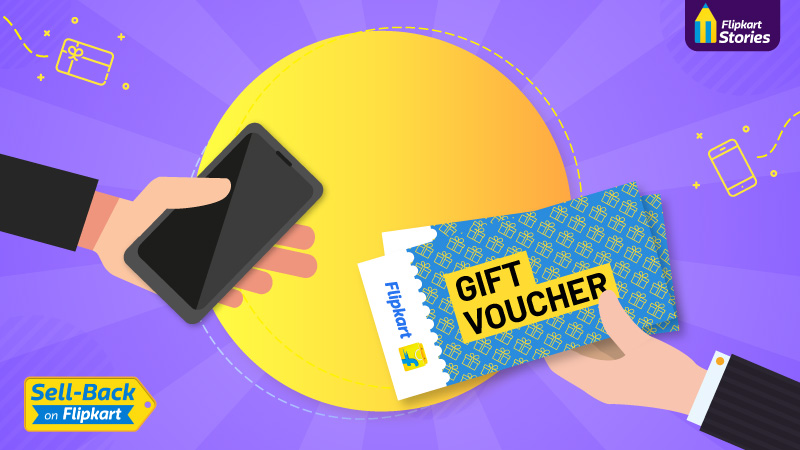 With Flipkart's new Sell Back Program, you can now get the best value for your old and used smartphones.
The new, made-for-India feature on the Flipkart e-commerce platform provides access to a reliable buy-back service that enables you to trade in your old device for a Flipkart Electronic Gift Voucher. The best part? You can even sell back old smartphones that were not purchased on Flipkart.
The initiative, following Flipkart's acquisition of re-commerce company Yaantra, also tackles the escalating issue of e-waste, ensuring that, rather than the landfill, old smartphones can find their way into the refurbished market while contributing towards a circular economy. According to an IDC 2021 report around 100 million smartphones were left unused and idle at home in 2020. The Sell Back program helps create a seamless ecosystem for used-smartphone sellers and value-seeking shoppers alike.
How To Use The Flipkart Sell Back Feature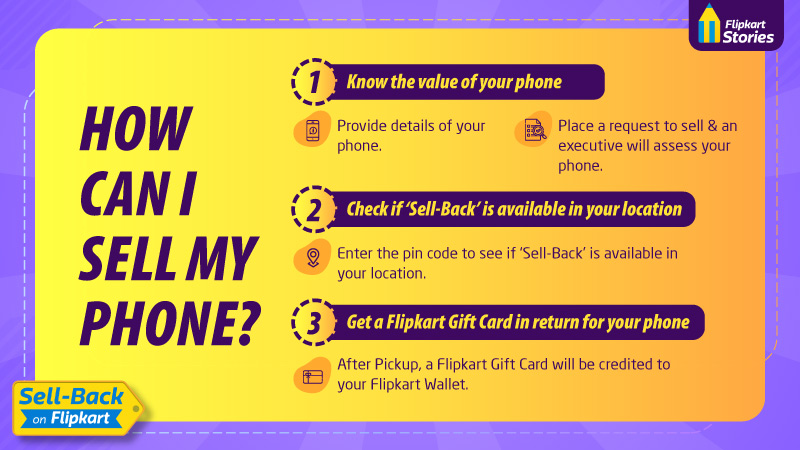 The Sell Back option is easily accessible through the Flipkart app. Users can simply log in and navigate to the bottom bar, marked by a grid of dots. From there on, follow these simple steps.
Step 1: Locate and click on the option called 'Sell-Back'
Step 2: Tap on 'Sell Now'
Step 3: Choose the appropriate smartphone brand and model from the list
Step 4: Enter the device's IMEI number and click on 'Verify'
Step 5: Place a request and wait for an executive to contact you. This is done to assess your mobile and offer you the best value for your phone
Step 6: Verify that your location is eligible for the Sell Back feature
Step 7: Confirm the request and await the pickup of your old smartphone. On completing the process, your Flipkart Wallet will be credited with a Flipkart Electronic Gift Voucher.
The Flipkart Sell Back Benefit
Currently, the Flipkart Sell Back program is active on the app and is available in 1,700 PIN-codes across India, including Delhi, Kolkata, Patna, and many more. On successfully listing your old smartphone for the program, you need only wait 48 hours for the device to get picked up.
Following this, you will get a Flipkart Electronic Gift Voucher of the right buy-back value, up to Rs.15,000. Customers can use these EGVs to shop for products of their choice, across any category on the Flipkart platform.
Accepted Brands
Apple
Honor
Motorola
OPPO
Realme
Samsung
vivo
Xiaomi
Asus
Black Shark
Blackberry
Coolpad
Gionee
Google
HTC
Infinix
Intex
iQOO
itel
Karbonn
Lava
LeEco
Lenovo
LG
LYF
Meizu
Micromax
Mobiistar
Nokia
nubia
OnePlus
Panasonic
POCO
Sony
Tecno
XOLO
Yu
For brands not on this list, you can choose the 'Any other brands' option to check eligibility.
The Sell Back Program Checklist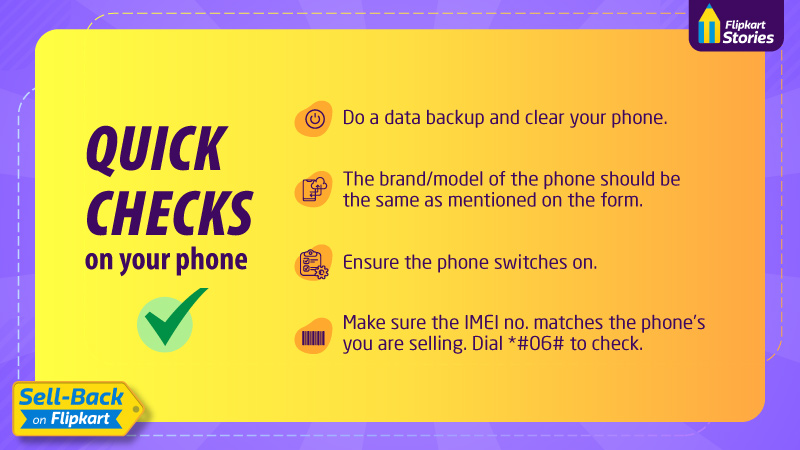 For a hassle-free Sell Back process, perform these checks:
Backup and factory reset your old device
Crosscheck the brand and model when submitting the Sell Back request
Ensure that the old smartphone is in a working condition
Verify the IMEI number and ensure that it is identical to the IMEI number mentioned on the request form
The Flipkart Sell Back program introduces a modern and innovative solution for the unorganized refurbished mobile market. By streamlining the resale process, unused smartphones find their way into the marketplace and into the hands of those looking for affordable technology. On the other hand, you as the seller can minimize your e-waste carbon footprint and continue to shop happily on Flipkart!