Once a rookie at digital commerce, Riyaz Khan is now a seasoned online seller on Flipkart. When the pandemic cast its shadow, shuttering his business just like scores of others, Riyaz saw a ray of light in e-commerce. Investing ₹36,000 to get going, today this #SellfMade Flipkart seller has reached an impressive milestone with an annual revenue of ₹1.5 crore. Read his inspiring story of transformation in the toughest of times.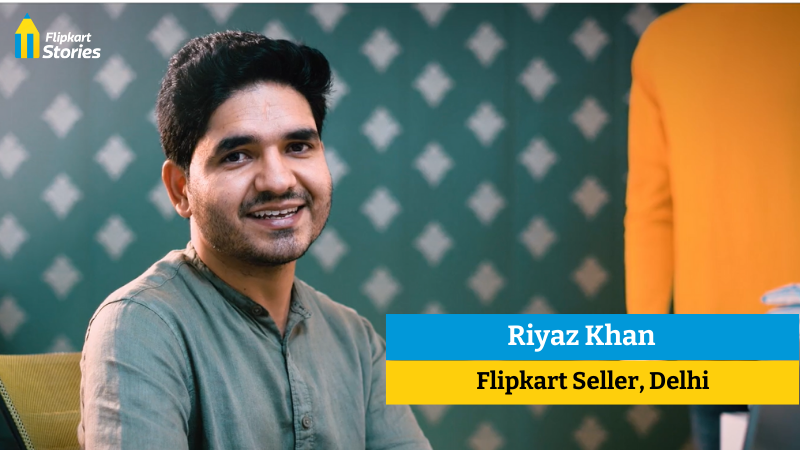 For Riyaz Khan, a Delhi-based manufacturer of men's clothing, becoming an online seller was simply not in the cards. But life has a way of disrupting even the best-laid plans, and the pandemic led him to an uncharted path he had never prepared for.
A Dun & Bradstreet report that studied the impact of COVID-19 on small businesses in India found that 82% of enterprises in the manufacturing sector were negatively affected. Riyaz's company also had no choice but to shut down, leaving the livelihoods of all those connected with it hanging in the balance.
Determined to turn the tide, Riyaz sought counsel far and wide until a friend suggested that he become an online seller with Flipkart. Putting all his doubts aside, he weaved e-commerce into the very fabric of his new clothing line. Soon, his business, Saifi Engineers, went from a 3-member team to one with 25 employees, and Riyaz leveraged digital commerce to pave the way towards unprecedented success, reaching a revenue of ₹1.5 crore.
Here's his story in his own words.
When The Going Got Tough…
Mera naam Riyaz hai, and I'm a Flipkart seller. The name of my firm is Saifi Engineers, and our brand name is T-Hustler. We specialize in men's clothing.
You may have heard the saying, trouble doesn't come with prior notice. Something similar happened in my case as well. During the recent pandemic, when everything came to a standstill, we had to shut down our business. While grappling with the situation, I met a friend, a chartered accountant. He was the one who introduced me to Flipkart.
…This Online Seller Got Going!
However, Flipkart was a new concept for me back then because it was all online. And I didn't know anything about doing business online. Left without options, I decided to take the plunge. Soon, I onboarded myself onto the Flipkart platform. That's when I realized that the online process was actually easy and simple.
What was assuring to me was that the Flipkart executives helped me throughout the process by showing immense support. I learnt a lot on Flipkart's online webinar too.
I was overwhelmed when I finally started my journey towards becoming an online seller. Initially, we were able to produce three rolls of product that came to an investment of ₹36,000. Our products were soon delivered all over India.
Feedback – The Engine Of E-Commerce
As our products reached far and wide, naturally, I started getting feedback. That's when I realized that the prime concern customers had was the issue of sizing. We took this to heart and focused on improving sizing for our clothing line. By improving our model over time, today, we have created a separate standard size for our brand.
What started as a 3-member team comprising my father, elder brother and myself, has now grown tremendously. We have over 25 employees working for us now.
Think Big, Grow Bigger
All this has been possible only due to Flipkart, as it helped my business grow and thrive online. Furthermore, payments on Flipkart are easy and fast-tracked. I never imagined in my wildest dreams that my business, which started with merely ₹36,000, would reach an annual turnover of over ₹1.5 crore today!
I'd like to convey to all my fellow entrepreneurs that if you want to become a successful online seller like me, come and join Flipkart!
To read more stories of #SellfMade Flipkart sellers like Riyaz Khan, click here.