Seeing his grandfather and father work in the family business since his childhood, Mehar Batra too dreamed of making a name in the industry. His first order of business – to expand to the online marketplace. Taking Pyramid Fashions digital with Flipkart, he now services over 100 orders a day! Read to know how he and his team leverage e-commerce to grow.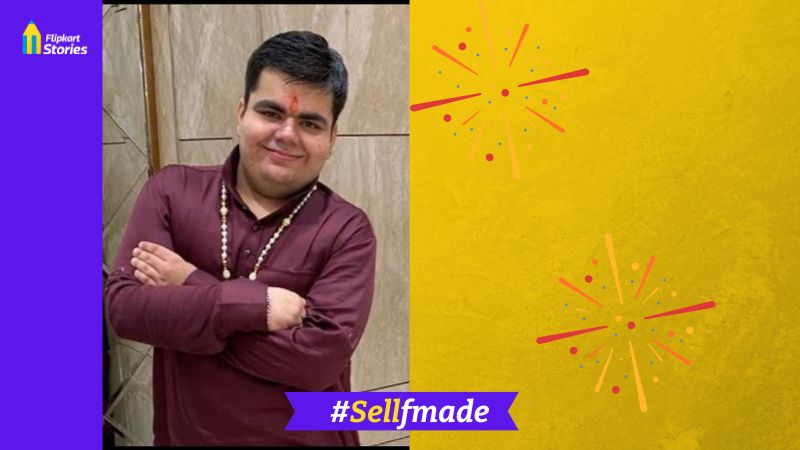 Before Mehar Batra donned the hat of Flipkart seller, he had already laid out plans for his entrepreneurial arc. Full of ideas to leverage market opportunities, he was quick to join the family business, Pyramid Fashions, to make his mark at the age of 27.
Mehar is a third-generation entrepreneur born and raised in Delhi, and the foundations of the business were laid by his grandfather who started manufacturing womenswear for export more than 25 years ago. The business went from a small room with a handful of staff and a few machines to a manufacturing enterprise with multiple showrooms today. This leap is what inspires Mehar to harness new sales opportunities as a Flipkart seller.
His customers were online and that's where he needed to be too, says Mehar. In addition to a pan-India market, Flipkart provides businesses with all the support required to leverage the full force of e-commerce.
Carrying Forward A Legacy
Thinking back, Mehar recalls a pearl of wisdom passed down by his grandfather: building a business is an act of persistent effort – it takes time. Even in the fast-paced environment of modern business, he carries these words with him to get through the trials of entrepreneurship. Watching his father and grandfather put in the time, work and dedication to take their garment business to the next rung of success, it was but natural for Mehar to follow in their footsteps.
He went on to get his BBA in Business Administration and armed himself with the knowledge needed to succeed in a space he was already familiar with. Explaining why he chose to become a Flipkart seller, Mehar says: "People choose Flipkart for its customer service and assurance of quality. So, the first preference is Flipkart for customers who want affordability, easy availability and quality."
A Flipkart seller for just over 1 year, Mehar also believes in the growth potential of the apparel and garment industry. Today, he is backed by an in-house manufacturing enterprise with over 200+ people and over 180 machines. With Flipkart in his corner, he knows that the sky's the limit.
Leveraging A Democratized E-Commerce Platform To The Fullest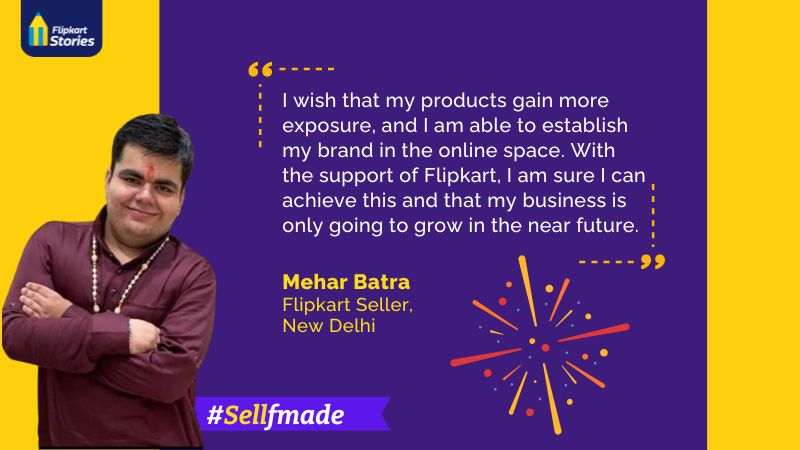 For Mehar, the goal is simple: "For me, coming online was a matter of growth. I want to live a good life, have a good lifestyle and make a name for myself."
While his father and grandfather look after the factory and showrooms, Mehar focuses on online operations. Currently, the Flipkart seller focuses on western and traditional women's apparel, all of which are manufactured in-house. To appeal to the quality-conscious customer, he sources all the fabrics he uses from his uncle in Surat, who helps Mehar ensure excellence from the get-go.
Joining the online platform at the end of 2020, this Flipkart Seller initially experienced a slow start, but now sees orders growing at a rate faster than he imagined. With guidance from Flipkart's account manager on various aspects of sales and promotions, Mehar's business now receives over a 100 orders per day.
"I wish that my products gain more exposure, and I am able to establish my brand in the online space. With the support of Flipkart, I am sure I can achieve this and that my business is only going to grow in the near future," adds Mehar.
While this Flipkart seller is still in the nascent stages of his career, he's quick to realize the potential. Noticing a nearly 2X increase in sales during flagship events, Mehar is gearing up for The Big Billion Days 2022, excited for the next chapter!
To read more such Flipkart seller stories, click here.