In August 2022, Flipkart announced that six startups from India's startup ecosystem have been selected for the Flipkart Leap Ahead program. Offering equity investments and best-in-class mentorship to the selected startups, Flipkart aims to mentor diverse businesses working on solutions to different unique problem statements in order to create a more robust, local entrepreneurial environment. In this Q&A, Ravi Iyer, Senior Vice President and Head, Corporate Development, shares the vision driving the program.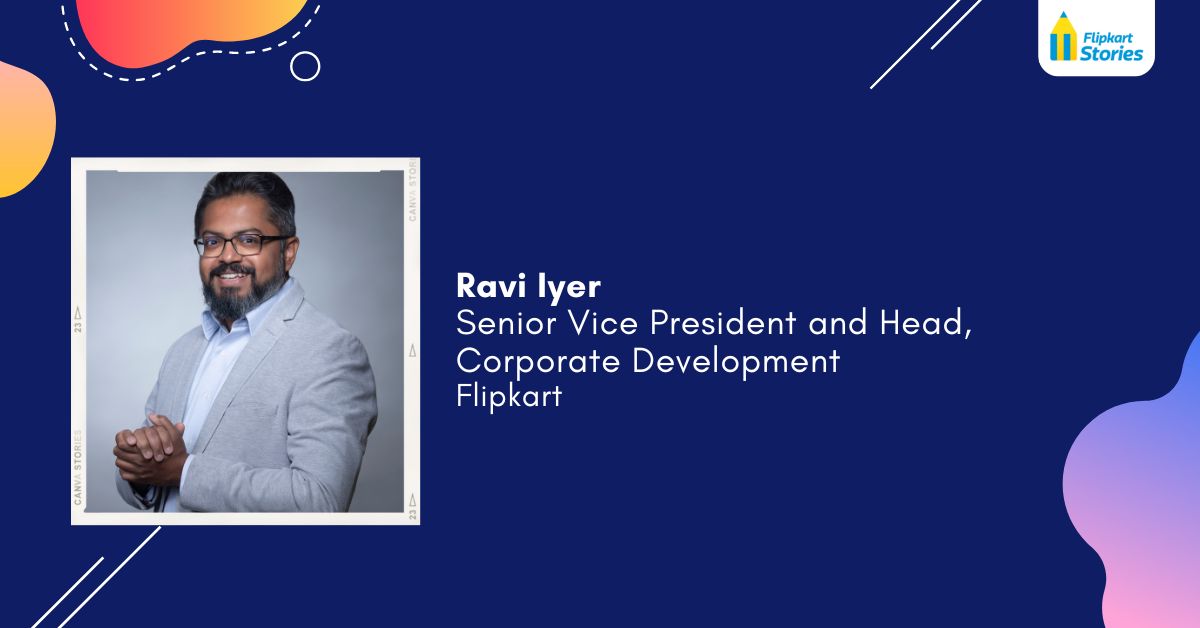 With Flipkart Leap's early success, the program is now evolving to bring relevant offerings that can support startups in the long run. After the successful completion of cohort 1, Flipkart Leap Ahead is one of the two programs under Flipkart Leap, conceptualized to identify early-stage startups in India's startup ecosystem and provide them with guidance to grow and scale through structured mentorship and funding. On August 18, 2022, Flipkart announced that this dedicated track for early-stage startups has selected six final startups with a unique vision to be part of the 16-week mentorship program, based on their business model, product and founding teams.
#FlipkartNews: Flipkart Ventures signs up to invest in 6 early-stage startups through the #FlipkartLeapAhead program
● The 6 startups will receive an equity investment upto $500k from @Flipkart and undergo a 16-week mentorship program
Read more: https://t.co/F2kQ0HO4Pl

— Flipkart Stories (@FlipkartStories) August 18, 2022
With the vision to strengthen India's startup ecosystem and build a community of local entrepreneurs, Flipkart Leap is all set to welcome the six new startups with even more compelling offerings and programs that are tailored to suit the needs of startups in different stages of their growth. As Flipkart explores the potential in India's startup ecosystem, Ravi Iyer, Senior Vice President and Head, Corporate Development, shares insights into the program and its future outlook.
Excerpts from a Q&A:
What is the vision and driving force behind Flipkart Leap?
In a heterogeneous country such as India, it is important to have a nuanced understanding of the customer base to build solutions that cater to them. At Flipkart, we have garnered a deep understanding of our over 400 million customers across the country. Over the past several years, we have also evolved and transformed, keeping pace with the evolving digital economy and retail landscape in India, and developed a tech-enabled pan-India supply chain supported by a large footprint of infrastructure and cutting-edge intelligence, and these capabilities can help the startups scale their vision through Flipkart Leap Ahead.
Furthering our commitment to fostering India's entrepreneur ecosystem, with Flipkart Leap Ahead we want to support startups to build their businesses and build relevant solutions to solve complex problems in the consumer internet and technology ecosystem. Through this endeavor, we strive to be a catalyst in the growing startup community by continuing to expand our program each year and presenting growth opportunities to emerging entrepreneurs.
How were the six startups selected for cohort 2?
The startups were selected after a rigorous selection process that involved multiple rounds of evaluation based on objective criteria, by a board of cross-functional leaders at Flipkart and the Flipkart Ventures team. The six startups are building capabilities across a wide array of solutions, each catering to a unique problem statement and the present needs of consumers and sellers online. This includes a metaverse with virtual stores, robotic supply chain solutions, blockchain-based insurtech solutions, AI-powered fashion cataloging, data analytics-powered business optimization, data-based freight intelligence, and more that can help elevate customer and seller experiences.
How will Flipkart Leap Ahead empower these startups in their growth journey?
Startups at this stage face challenges on many fronts and need guidance and marketing know-how. They can benefit immensely from the support and mentorship of established companies. Accelerator programs like Flipkart Leap are crucial at this stage. These programs assist in driving the innovation journey by nurturing emerging entrepreneurs in addition to offering best-in-class mentorship, technological infrastructure, and access to investors.
Startups are now being widely recognized as important engines for growth and creating jobs. Through innovation and scalable technology, they can generate impactful solutions, and thereby act as vehicles for socio-economic development and transformation. At Flipkart, we recognize this potential in India's startup ecosystem, and what we are offering these startups is an equity investment of up to $500k and the opportunity to undergo our well-curated mentorship program.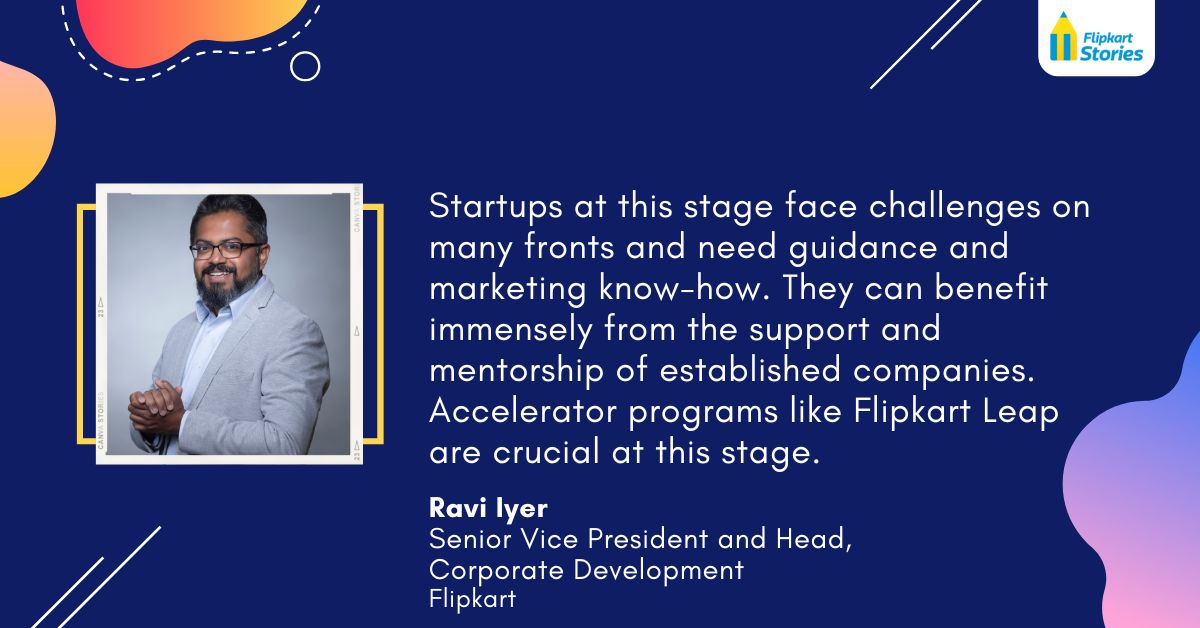 How will Flipkart mentor these startups to grow and scale to meet increasing consumer demands?
The comprehensive selection process ensured that we identified the right businesses that can be mentored and helped to develop their ideas further. This exhaustive process also ensures that the selected startups would be able to derive maximum value from the program and grow their business. Accompanied by the equity investment from Flipkart Ventures, these startups can scale their ideas and build disruptive innovations and great products for the whole ecosystem that solve unique challenges in India's e-commerce ecosystem.
While Flipkart leaders will play a pivotal role in shaping the growth journey of these startups, the mentorship program will be delivered through a customized curriculum, which has been designed by Bain & Company. This includes regular mentor connect sessions with experienced Flipkart leaders across various functions including business, product, technology, and finance.
Read more Q&As on Flipkart Stories