Flipkart, through its partnership with Canopy, empowers its supply chain to advance global forest conservation. By adopting sustainable forest-derived materials strategies, Flipkart is taking an active role toward saving the planet's ancient and endangered forests. Read on to know the details of this policy and how Flipkart is changing tomorrow, today.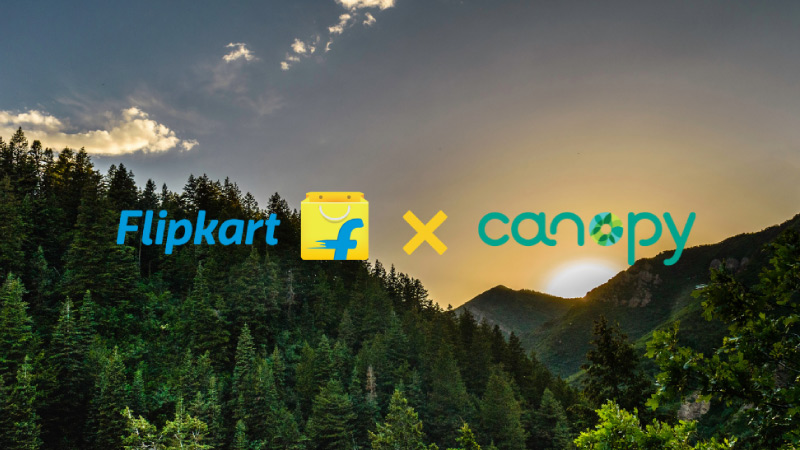 Protection and preservation of the global forest ecosystem is the undisputed need of the hour with unprecedented climate change impacts being seen across the world. 
Through a Sustainable Forest-Derived Materials (FDM) Sourcing partnership with Canopy, the award-winning environmental not-for-profit organization, Flipkart is answering a resounding cry for change by becoming a proactive force for the better. Sustainable FDM Sourcing is a step in that direction and involves finding alternative solutions to products made from wood pulp and ensuring sourcing of raw materials only from certified responsibly managed forests. 
By signing on for Canopy's flagship initiatives, Pack4Good and CanopyStyle, we are striving to take the next step on creating a responsible value chain for the Flipkart Group.  As we continue to find opportunities to reduce our environmental impact across the supply chain, including a 100% single-use plastic elimination in our own supply chain and a commitment to transition towards 100% electric mobility by 2030, we know our work is far from done. With this partnership we hope to fulfil  one simple goal – to conserve and protect endangered and ancient forests in India, and the world. 
The Canopy Benefit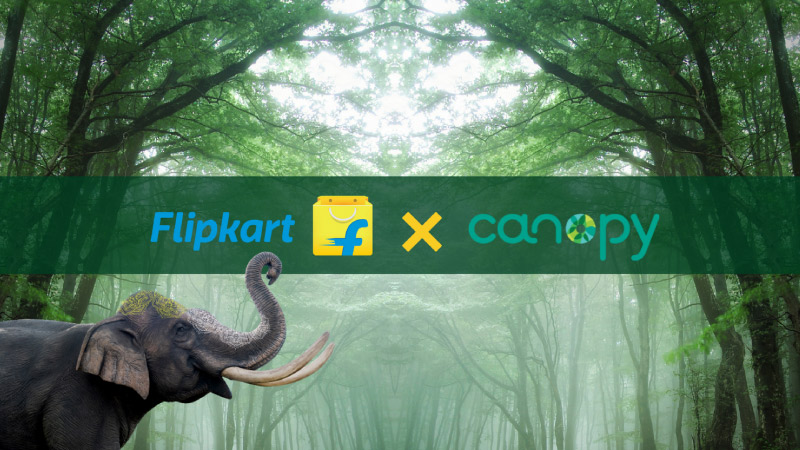 Canopy's expertise and guidance provides a deep-rooted understanding of evolving forestry sourcing practices. This collaboration enables us to work with our sourcing partners and sellers to guide them on sustainable choices for packaging and Man-Made Cellulosic Fibers (MMCF) such as rayon/viscose, lyocell, and modal. 
Aligning Objectives with sustainable FDM Sourcing
With the overarching objective of becoming more responsible in our sourcing practices, we are hoping to continue to practice our 5R Circularity policy of Reduce|Reuse|Recycle|Refurbish|Regenerate. Outlined below is a 3-year roadmap highlighting the focus areas of our collaboration with Canopy.
Develop an approach wherein sourcing of all paper, packaging, and man-made cellulosic fibers will not harm ancient and endangered forests.
Work on collaborative and visionary solutions that protect remaining ancient and endangered forests in India and Canopy's global Landscapes of Hope.
Support procurement and processing practices that benefit both society and the environment, as a whole.
Innovate next-gen solutions with Canopy to explore alternative fiber sources to reduce environmental impact.
Institute circular solutions for packaging to reduce the footprint of the paper and packaging used.
Reduce the GHG footprint by actively supporting conservation of high carbon stock forest areas and encourage suppliers to avoid harvesting in those areas.
Drive conversations requesting suppliers to acknowledge and support the rights of indigenous and rural communities legal to their territories, land, and resources. Necessary efforts will also be made to obtain their consent before new logging rights are allocated or plantations are developed.
Targeted Change, For the Better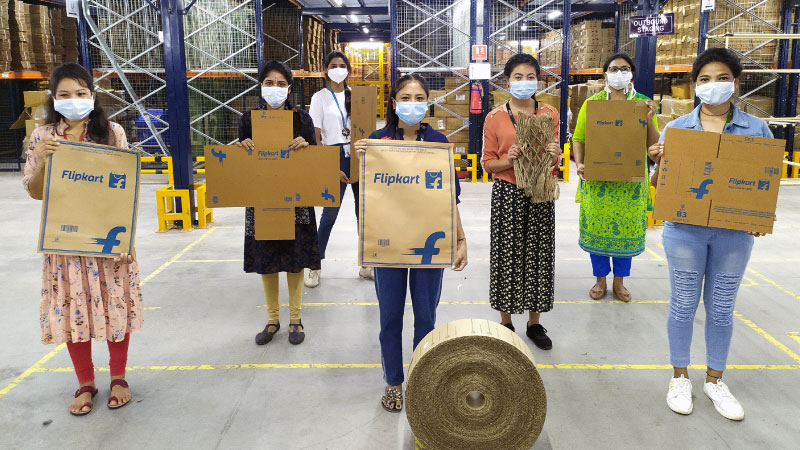 As of 2021, we delivered on our public commitment to shift over to a plastic-free packaging in our own supply chain. We achieved the milestone of 100% elimination of single-use plastic in packaging used across all our fulfilment centers in India. Building on the momentum of this victory, we have doubled down with revised targets to include sustainable FDM sourcing within the packaging and MMCF sectors.
Overhauled packaging objectives
Over the next 3 years, along with existing efforts on phasing out Single-use Plastics (SUPs), Flipkart will focus on using recycled materials in packaging. We will explore solutions to reduce the use of corrugated paper and paperboard, reduce and reuse packaging materials, and implement circular solutions.
Flipkart will work with Canopy on next-gen solutions from Indian providers and give preference to packaging with high recycled content targeting an average of 80% of overall recycled content in papers and packaging within 3 years.
We will source packaging and paper from alternative materials such as wheat straw or other agricultural residues. We will also support commercial scale production of paper, pulp, and packaging from alternative fiber sources.
Fabric sourcing targets
Flipkart's in-house brands will strive to utilize fabric sources that reduce environmental and social impacts, with a focus on agricultural residues and recycled fibers.
In 2022, we will institute a preference for purchasing man-made cellulosic products that include a minimum of 50% of these innovative fiber sources. Further, the goal is to develop a 2025 procurement target for these closed-loop solutions based on viscose fiber innovation.
Flipkart's Eco-first milestones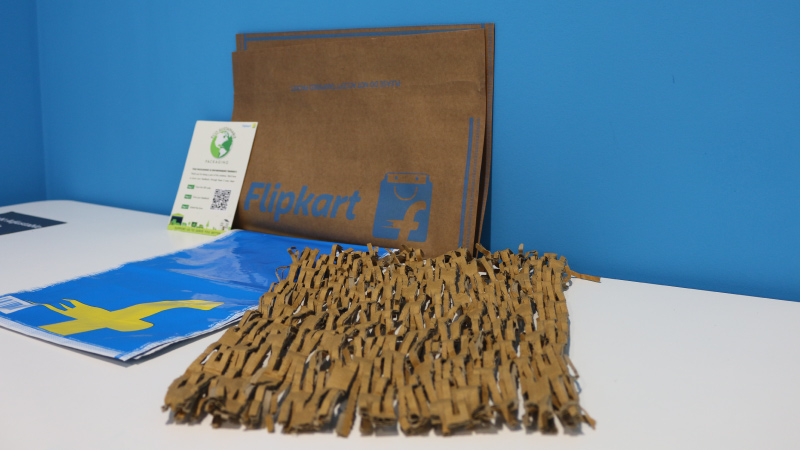 Plastic-free packaging is now a reality in over 70 Flipkart facilities, and an intelligent shift to sustainable, affordable and scalable alternatives is what made this possible. These include paper shreds, replacing bubble wraps with the far-friendlier carton waste shredded material and 2 ply rolls, replacing poly pouches with recycled paper bags, and more. In instances where SUPs simply can't be avoided, we have ensured that an equivalent quantity of SUPs are fully recycled through the trusted network of recyclers. 
Through all these efforts, Flipkart is in full compliance with EPR regulations, driving innovation toward conservation. With the implementation of 'Ecommerce ready packaging', we were able to ship around 15% of products without the secondary layer of packaging. The core objective here is to reduce its very demand by working with brands to ship products in the original packaging. Naturally, all suppliers are encouraged to adopt sustainable measures with recycled and alternative materials.
Sustainable Brands
Flipkart's latest fashion line is another step toward sustainable fashion. It utilizes GRS (Global Recycled Standard) certified fabrics and with FSC (Forest Stewardship Council) certified tags. The polybags used also contain 50% RCS (Recycled claim substance) material. 
Myntra is also a part of the change, joining hands with LENZING™ ECOVERO™. This brand derives fiber from certified renewable wood sources using an eco-responsible production process. It meets high environmental standards and offers a special variety of viscose-fiber, which has been awarded the EU Ecolabel. This invaluable certification is given only to products and services that meet extremely stringent requirements of sustainability. Myntra has also introduced 'FSC MIX brand paper hang tags' and saves 288 fully grown trees per year. 
Sustainable FDM sourcing is a critical step toward sustainability and this policy will successfully aid the Flipkart mission. With Canopy's backing, we will continue to transform supply chains to life-affirming value chains and stand tall as a protector of the planet's forests. 
Read more – FlipkartxCanopy Responsible Forestry Sourced Products Policy