As a member of the Climate Group's global electric mobility initiative EV100, Flipkart is committing to transition its 100% last-mile delivery fleet to Electric Vehicles by 2030 and influencing service providers to install staff charging near its 1400+ last-mile hubs in line with India's 2030 Electric Mobility Ambition. The Flipkart Group's drive towards electric mobility, which began with pilots in Indian cities in 2019, is now a major sustainability initiative and a pioneering step for India. Read more to know how far we've come in our commitment to creating a sustainable, equitable and inclusive e-commerce ecosystem.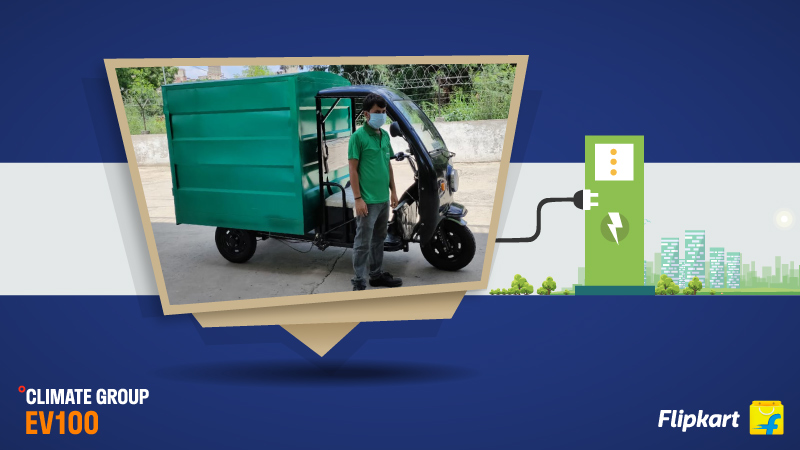 In 2020, a year after pledging to expand its fleet of electric vehicles in its last-mile operations, Flipkart announced that it will transition 100% of its logistics fleet to electric vehicles by 2030, demonstrating a commitment to long-term sustainability across its e-commerce value chain. Not only did this conscientious decision make Flipkart the first e-commerce organization in India to introduce electric mobility for deliveries at scale, it became the first e-commerce marketplace in India to join The Climate Group's EV100 initiative. EV100, a global electric mobility initiative by The Climate Group, brings together forward-looking organizations committed to accelerating the transition to electric vehicles (EVs) and making electric mobility the status quo by 2030.
---
Like the story? Listen to the accompanying podcast here: 
---
To deploy this commitment to long-term sustainability on ground, Flipkart is continuing to execute a phased integration of electric vehicles into its fleet, influencing service providers to install staff charging near its 1400+ last-mile hubs, conducting awareness programs, and incentivizing delivery executives towards the use of electric vehicles as a viable mobility solution.
Just 2 years on, Flipkart is well on its way to a 100% transition to electric mobility (and in line with India's 2030 Electric Mobility Ambition). As of 2022, Flipkart's delivery fleet has 3600+ EVs and counting, a 40% increase from 2021.
Today, even Flipkart's outsourced delivery hubs function on a last mile fleet that's made up of 85% electric vehicles. Our grocery supply chain consists of over 1000 electric vehicles, delivering joy sustainably to our customers across the country. In 2022, during the festive season, over 2,000 electric 2-wheeler delivered more than 1 lakh customer orders a day across India – not a small feat as the delivery rate is at par with internal combustion engine (ICE) vehicles. The Flipkart Group and its vast ecosystem across India is committed to build on this progress and ensure a sustainable, equitable and inclusive e-commerce ecosystem.
Here's a look at the progress we've made so far:

Flipkart is an electric mobility trendsetter in India
The Flipkart Group started its transition to fleet electrification in 2018 and has been instrumental in creating the widespread demand for electric vehicles in fleet logistics. As an early adopter of electric mobility in India, Flipkart was the first in the industry to initiate this journey, beginning with eBikes and followed by eVans in 2019, witnessing impressive performance results during the EV pilot programs. Flipkart has currently deployed EVs in Delhi, Hyderabad, Jaipur, and Bhubaneswar and we are expanding our EV fleet in Pune, Mumbai, Bengaluru, Kolkata, and Lucknow. Flipkart has already set up the necessary charging infrastructure at chosen hubs to deploy EVs at large scale and ensure seamless operations.
"As a homegrown company, we always pride ourselves in making e-commerce more inclusive, progressive and impactful for all our stakeholders, which also includes communities and the planet," said Flipkart Group CEO Kalyan Krishnamurthy. "Our commitment to the Climate Group's EV100 initiative ties in with this larger vision of environmental sustainability and allows us to learn from the most forward-thinking global perspectives as part of the EV100 ecosystem. With our scale and reach, we believe we can play a significant role in not just fast tracking the adoption of electric vehicles but also making clean mobility mainstream by working closely with key stakeholders within the ecosystem."
Delighted to announce that @Flipkart is the first e-commerce marketplace in India to commit to transition 100% of our fleet to electric vehicles by 2030 joining the #EV100 global initiative with @ClimateGroup. This will play a significant role in making clean mobility mainstream pic.twitter.com/QJ7C2YxIeA

— Kalyan Krishnamurthy (@_Kalyan_K) August 25, 2020
Electrification of the logistics fleet is a key part of Flipkart's larger sustainability goal and the EV100 commitment is in line with efforts to build a greener logistics fleet.
"The e-commerce sector is uniquely positioned to propel the shift towards a sustainable, inclusive and equitable ecosystem with a critical role to play in India's ambition to transition to a more sustainable economy," said Rajneesh Kumar, Chief Corporate Affairs Officer, Flipkart Group. "The transition to electric vehicles for last mile deliveries, and eventually the first and middle mile as well, is a step in that direction. We are very happy and pleased to be leading the EV transition in India, where we have been able to bring together all stakeholders in the EV ecosystem to create shared value for everyone."
Over the past 2 years, Flipkart has worked towards creating a wide network of ecosystem partners across charging providers, regulators, policy makers, skill development agencies, aggregators and OEMs to work on various areas. These include designing and the manufacturing of EVs optimized for e-commerce while supporting market demand for EVs to emerge as a mainstream mobility solution.
Divya Sharma, India Executive Director, Climate Group, said, "The Climate Group is thrilled to see Flipkart signing up to EV100 and step up to lead the adoption of electric vehicles in the e-commerce sector in India. Flipkart will play a significant role in fostering innovation in technology and exchanging knowledge on e-mobility within our global network of committed businesses. To help make swift emissions cuts and improve air quality for the long-term, we urge more Indian companies to follow suit, sending a powerful signal of support to policymakers wishing to see a faster roll-out of EVs."
Flipkart's Electric Mobility Journey
Flipkart's pioneering efforts in electric mobility journey began with pilots in Indian cities, first with eBikes and subsequently with electric vans or eVans. Having initially started out as a three-month pilot project in Mumbai, the success of Flipkart's eBike experiment brought to light the ecological impact of the initiative. In June 2019, the electric mobility initiative was expanded to Delhi and Hyderabad. In 2020, Flipkart has expanded operations to Delhi, Hyderabad, Jaipur, Bhubaneswar, Pune, Mumbai, Bangalore, Kolkata, and Lucknow.with an augmented fleet.
As the first e-commerce player in India to join the globally recognized EV100 initiative, Flipkart is uniquely placed to further EV100's goal of catalyzing corporate leadership for Electric Vehicles uptake in India.
Flipkart is focused on fostering sustainable practices across its business and value chain, driving several initiatives towards a vision of sustainable growth. Flipkart has committed to reducing single-use plastic packaging in its supply chain and has already achieved a 51% reduction in consumption of plastic packaging. Flipkart is also the only e-commerce company to have an industry-first EPR authorization where we have committed to collecting back the entire weight of the packaging that we use.
Flipkart has also been focused on resource efficiency within its operations by increasing the use of renewable energy for its power needs and introducing projects to increase the overall energy productivity, as well as encouraging zero liquid discharge of wastewater in its warehouses. Its strategic facilities have received an ISO 14001 certification, a crucial benchmark for the preparedness to prevent environmental pollution in the workplace. Flipkart's data centre in Hyderabad runs largely on renewable energy and many of its large warehouse projects are being constructed in line with IGBC's Green Building Guidelines.
---
ALSO READ
Flipkart pilots electric vehicles in its fleet