The Flipkart Foundation was launched in 2022 to continue the Flipkart Group's grass-roots level initiatives for underserved sections of society. As it activates on-ground operations across various states of the country, the Foundation has collaborated with multiple NGOs that are doing impactful work. From supporting children with disabilities to empowering women from underserved communities, these initiatives are transforming the lives of thousands of people in India. Here's a look at the fruitful collaborations that have brought life-changing moments for many.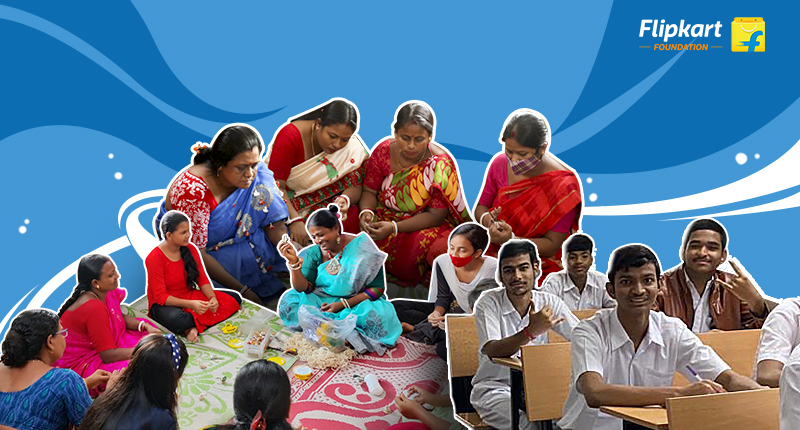 At Flipkart, the drive to give back to society and empower individuals is at the heart of our Corporate Social Responsibility initiatives. In order to institutionalize these efforts to 'Build India Together,' Flipkart established the Flipkart Foundation in 2022 with a vision to facilitate an inclusive, equitable, empowered and sustainable society in India.
---
Watch to know more about the Flipkart Foundation:
---
Over the past year, as part of its ongoing efforts to bring about grassroots-level change, the Flipkart Foundation in partnership with Give Foundation teamed up with five credible Non-Governmental Organizations (NGOs) across the states of West Bengal, Haryana, Uttar Pradesh, Telangana and Andhra Pradesh. Our NGO partners Ashray Akruti, Shramik Bharti, MUKTI, Deepalaya and Aarti for Girls are recognized for paving the way towards sustainable change for the underprivileged sections of society.
With Ashray Akruti, the future is inclusive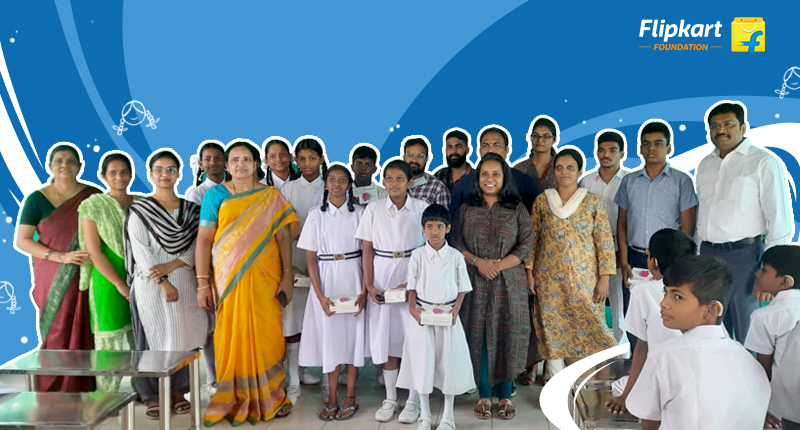 Started in 1996, Ashray Akruti focuses on the needs of children with disabilities from marginalized communities. Ever since their inception, the organization has enabled over 250 hearing-impaired children to join mainstream colleges, schools and universities.
In 2022, the Flipkart Foundation collaborated with the NGO to provide hearing aids to students from Ashray Akruti's Srinagar Colony branch in Hyderabad, Telangana, along with access to Speech Therapy and Auditory Training for 3 months. In the course of the intervention, participants showed significant progress and are now better equipped to navigate their day-to-day communication.
"We received support through the Flipkart Foundation in partnership with Give. The donation of 9 hearing aids to the special children of Ashray Akruti really made a huge difference," says Anuda Nandam, Programs Manager at Ashray Akruti. "The students were very happy to receive the hearing aids from the Flipkart team. It will help them to improve in speech and academics."
Access and opportunity: Harshavardhini's story
Harshavardhini's father, a security guard, is the only earning member of the family while her mother takes care of their home. She is one of many students at Ashray Akruti who received the hearing aid. Having migrated to Hyderabad for better opportunities, Harshavardhini's diagnosis had proved challenging for the family.
At school, which fell short of resources for children with disabilities, Harshavardhini often had a difficult time staying on track. When her parents learned about Ashray Akruti's work for children with disabilities, they pursued the opportunity. Today, Harshavardhini is adapting to a life where better accessibility is opening up opportunities every day.
A natural Way of Farming with Shramik Bharti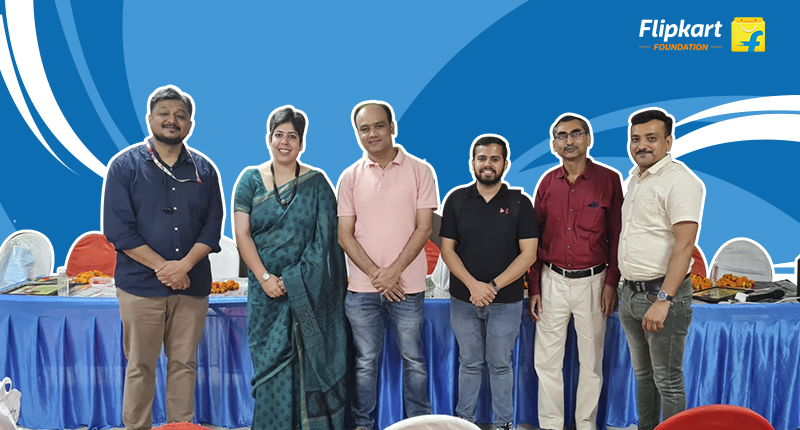 Shramik Bharti started operations in Uttar Pradesh and Punjab in 1986, and has since been working proactively with rural and urban underserved sections of society. Since 2015, they have been involved in shifting farmers from traditional agricultural practices to natural farming methods. To date, the not-for-profit organization has successfully enabled at least 5,000 farmers to adopt natural farming.
Closely aligned with the Flipkart Foundation's core value of creating livelihood opportunities for the underserved, the Foundation reached out to Shramik Bharti for a collaboration. The outcome was "The Safe Food Fest and Exhibition", a three-day event held in Vrindavan Colony, Lucknow, where natural produce from over 1,000 farmers, mostly women, from rural and marginal communities was showcased for sale.
"The event was successful. It helped natural farmers (organized under Farmer Producer Organizations) to connect with urban consumers and showcase their ethically grown safe food to a variety of people comprising homemakers, leaders, politicians, bureaucrats, social workers, businesspersons, among others" says program coordinator Neelmani Gupta. "Awareness sessions by food, agriculture and natural farming experts also created awareness about safe food in urban communities."
Planting seeds of growth – Ram Kumari's story
In 2016, Ram Kumari, a resident of Chhabba Nivada village in Shivrajpur, Kanpur, attended a training workshop hosted by the noted agriculturist Subash Palekar. This was her introduction to natural farming, a method of cultivating crops with no use of chemical or organic manure. Following this, Ram Kumari and her husband started growing Rambhog, a premium rice variety, on a small piece of land. This proved to be the break they needed!
Today, Ram Kumari is part of Ekta Nature Farming Producer Company Limited, where 600 women farmers aggregate, process and sell natural farming produce. Her crop produce was successfully exhibited and sold during the three-day fest hosted by Shramik Bharti and the Flipkart Foundation.
At MUKTI, going green equals empowering the underserved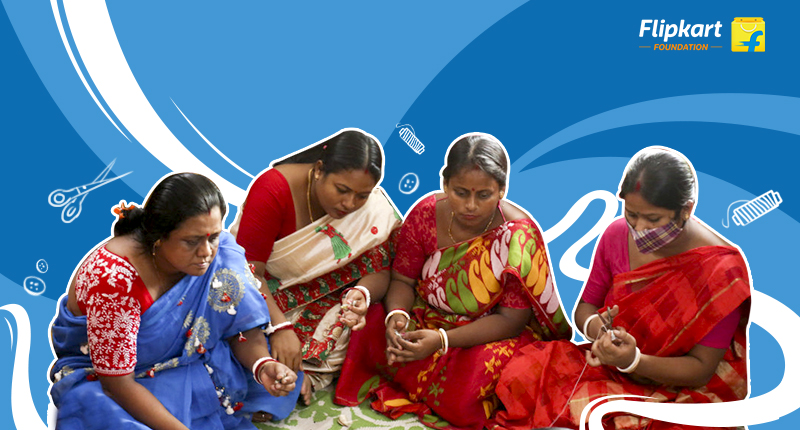 Active since 2003, MUKTI is a socio-economic enterprise working mainly in the delta region of Sundarbans and 10 other districts in West Bengal.
The Flipkart Foundation joined hands with MUKTI to enable women from marginalized communities to make a sustainable living through their jute products. "Hasthshilp – Let's Go Green with MUKTI & Flipkart Foundation" was launched by the NGO in July 2022 at Jatragachi, New Town, Kolkata, during which 24 women were trained in jute doll-making and sandal-making processes. Widely available in West Bengal and eco-friendly in nature, jute also enables them to contribute to a sustainable planet.
"We at Mukti find this as a great opportunity and honor to partner with the Flipkart
Foundation, and hope that this will bring the desired change to the lives of
a number of deprived women, especially those who are either working as domestic help, are homemakers, or are facing financial constraints. The initiative will boost them to be self-reliant and will make them able to support their family," observes Ankita Kothiyal, Lead CSR, MUKTI.
Self-reliance, above all – Jhuma's story
When her child fell severely ill, Jhuma realized that she couldn't rely on her husband's unstable income alone. Looking for a way to become self-sufficient, Jhuma, from New Town, Kolkata, came across MUKTI through a neighbor's recommendation. The Hasthshilp program organized by the NGO and the Flipkart Foundation enabled her to learn the craft of jute doll-making. She sold 16 dolls at the fair, enough to inspire her to pursue a career in this craft. Now, Jhuma plans to start her new business with MUKTI by her side.
Building new dreams with Deepalaya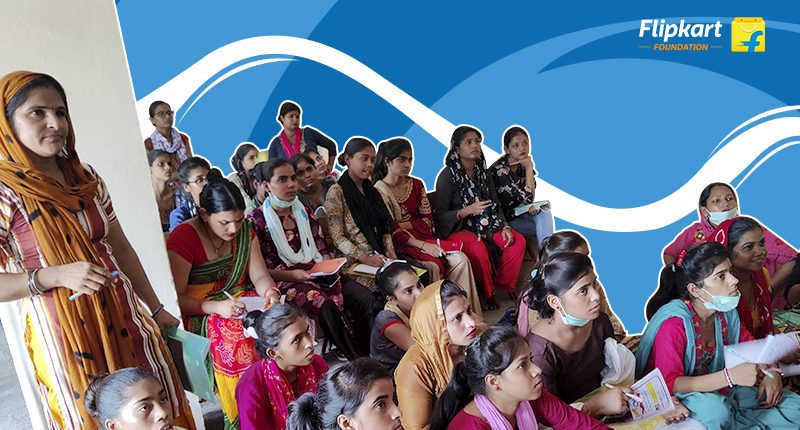 Established in 1979, the non-profit organization Deepalaya started by focusing on empowering underprivileged children through education. Today, the organization has expanded to include women, youth and children with disabilities from underserved communities.
The Flipkart Foundation collaborated with the NGO to enable women from marginalized communities in Gurugram, Haryana to learn the vocation of soap-making. About 50 women from Sohna village, Gurugram were chosen for the program. At the end of the program, women were teamed together to form Self Help Groups (SHGs) entrusted with imparting skills to other women in the community.
"This training program broadens the scope for women's empowerment through skill development," says Jyoti, Officer, Resource Mobilization, Deepalaya. "During the entire week's workshop, women got an opportunity to learn herbal soap-making. One student, Rani from Sohna, formed an SHG with 10 members and will soon start their own business. They are doing regular practice and making herbal soaps at home."
In Haryana, Kajal welcomes fresh opportunities and success
For Kajal, a 23-year-old mother of two from Sohna village, the soap-making program came at a critical moment. Her husband, a salesperson, is the sole breadwinner of their family of 6, which includes his parents. To support them, Kajal gave the workshop a try. With her newly acquired skill, Kajal now makes about 20 soaps a day, selling them to people in her neighborhood. She dreams of opening her own small business with the skills she has acquired.
Towards a healthy future with Aarti for Girls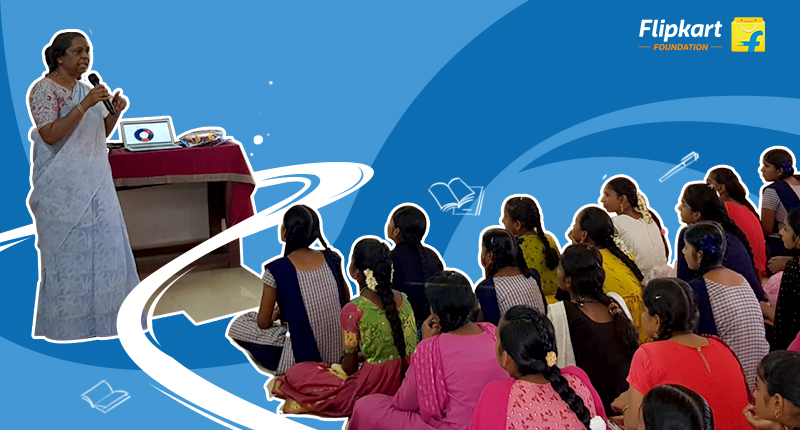 Based in Andhra Pradesh, Vijay Foundation Trust (Association), popularly known as Aarti for Girls, houses girl children who were abandoned, and actively serves the needs of women and girl children from underprivileged communities in the state.
The Flipkart Foundation joined hands with the NGO to help create awareness around menstrual hygiene. The program – Providing Awareness on Menstrual Hygiene Management (MHM) – was hosted at Aarti English Medium School in Kadapa, where rural women and girls were surveyed.
The pre-awareness survey found that many rural women found it hard to discuss menstruation-related issues with their families and loved ones, and lacked knowledge on good menstrual hygiene. The program, facilitated by Dr. T Vindhya, MD and President of Obstetrics and Gynecologists Society of Hyderabad, shed light on menstruation hygiene for women. During the post-awareness survey conducted after a month, participants spoke of a deeper understanding and awareness around the topic.
"Dr. Vindhya highlighted the importance of menstrual hygiene. She explained the myths and taboos associated with menstruation, due to which many girls drop out of school," observed Sunilkanth Rachamadugu, Consultant, Aarti for Girls.
Busting stereotypes around menstruation
From being restricted from attending school to touching food items, Nirmala (name changed), an 18-year-old, faced severe inconvenience due to societal taboos and misconceptions around menstruation – like many others in her community, Nirmala and her mother believed menstruation to be a curse.
The awareness program enabled Nirmala and her mother to see through the many myths surrounding menstruation and they say they've gained a wealth of knowledge.
To empower the underprivileged and build a better India, the Flipkart Foundation creates strong, high impact initiatives. Collaborations with various NGOs, which work tirelessly on the ground, ensure that the Foundation creates maximum at-scale impact and drives inclusive social development.
---
Read more stories from Flipkart here.