With his wife, mother, brother and father pitching in, Sanjay Jaiswal's Delhi-based enterprise is truly a family business. But before it all began, this Flipkart Seller was working in the private sector. When his income wasn't enough to support his family, he decided to try his hand at e-commerce. In no time, his fortunes changed. From taking the bus to travel to buying a car of his own, Sanjay's own life blossomed just like his business did, thanks to pan-India reach with e-commerce. Read to know how his success story began right at home!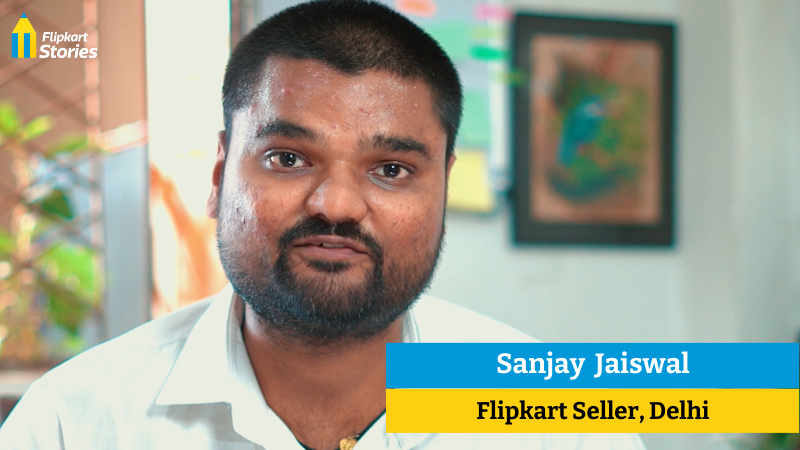 Family owned businesses contribute around 79% to India's GDP, as per reports, and the country has the third-largest number of such enterprises in the world. In fact, studies suggest that more than half of all Indian MSMEs have one or more family members working together. The concept of a family business is so entrenched in India's culture and spirit of enterprise that it was a no-brainer for Sanjay Jaiswal to turn towards it in his darkest hour.
A resident of Delhi, Sanjay didn't always dream of entrepreneurship. But when a salary of ₹12,000 barely made ends meet in the nation's capital, he knew it was time to act. On learning that anyone could register and sell on Flipkart, Sanjay had a light bulb moment.
His first step was to get his family involved.
With a one-for-all and all-for-one mantra, the Jaiswal family business of selling footwear online began right from their residence. With his wife, mother and sister packing orders, his father lending a hand when he could, and his brother handling listings, cataloging and order receipts online, Sanjay's family business Cloysbur was up and running in the blink of an eye.
And the family's excitement knew no bounds. "All I wanted to do in life is have my own business, but I had no knowledge of how to start," says Sanjay's younger brother. "When bhai told me that he's starting a business, I was elated! I was so happy that we can operate it from home itself and our products are delivered pan India!"
It is this reach, flexibility, and ease of getting started that helps small family businesses like Sanjay's to achieve a shared dream – of growth and a better life. According to the Small Industries Development Bank of India (SIDBI) study, 88% of MSMEs from the 1500+ surveyed rely on third-party platforms to sell online. Another report by Bain & Company and Accel reveals that at least 10% of the 65 million+ MSMEs in India are active sellers and buyers on online marketplaces.
Regional family-run businesses in India are aiming to grow out of their home turfs and create a national presence. Lack of infrastructure, know-how and investments were once roadblocks on the path to success. But no longer. By adopting e-commerce to capture a larger audience and grow their customer base, such enterprises have a shot.
Sanjay Jaiswal's tale is a classic story of how a family business leveraged digital commerce to grow beyond its own backyard and go national. Read his story in his own words.
The Spark That Started It All
I am Sanjay, and I hail from Delhi. I am a Flipkart seller dealing in footwear products under my own brand, Cloysbur. Ours is a family business that we run and operate right from our home.
Before starting this business, I was working in the private sector and my job paid me merely ₹12,000 to ₹13,000 a month. However, these earnings were too meager for an entire family to lead a comfortable life in a city like Delhi.
While I always knew that Flipkart is an e-commerce platform where one can buy products, what was new to me was that you could also sell your products here. When I heard about the selling option on Flipkart, I registered on the platform with the help of Seller Support.
Initially, I listed just one single product. On the second and third day, I actually saw orders being registered online! Slowly and steadily, I started adding more products for sale. This resulted in further growth of orders.
A Family Business In The Truest Sense!
Each member of my family contributes towards my online business. My younger brother, who holds a degree in mechanical engineering, is helping me by operating the backend.
My mother, wife, and younger sister assist me in packing the orders. My father, who is a driver by profession, also lends a helping hand whenever he has time and days off.
Finding A Strong Financial Footing
With a great platform like Flipkart, I see customer demand for our products from all across the country. Our delivery partners are shipping these products to every part of India. Due to this, I am certain of achieving my next target: getting 700-800 orders in the days to come!
Earlier, I used to go to the office by bus. When I started this business, I bought a bike and started commuting with that. Today, if I have to go anywhere, I travel by my own car. With all my heart, I want to say thanks to Flipkart!
---
To read more stories of #SellfMade Flipkart sellers like Sanjay Jaiswal, click here.