When Ashish Saini took his business online, he started with 10 daily orders. Today, this Flipkart seller dispatches over 10,000 orders daily! With his account managers by his side, he's unlocked the secrets to growth and visibility on Flipkart. During The Big Billion Days 2020, his shoe brand Chevit set a new record with revenues crossing crores. This is his story.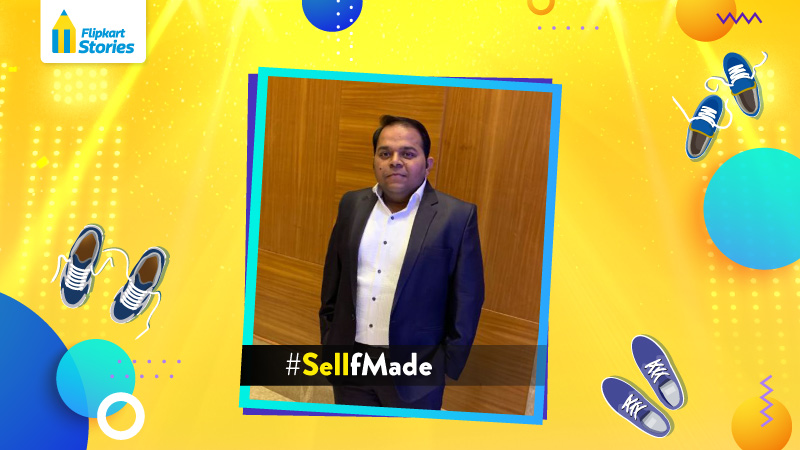 My name is Ashish Saini. I hail from Delhi and before becoming a Flipkart seller, I worked with an MNC. On leaving it, I forayed into the footwear industry and devoted myself to building my company. I sell shoes in the men's casual and sports footwear category under the brand name Chevit.
Since registering as a Flipkart seller, my brand has witnessed accelerated growth. We owe a huge part of our success to our account managers and the Flipkart support team. From increasing sales to growing the variety of shoes we offer, it seems as though we've achieved growth in the blink of an eye since partnering with Flipkart!
Discovering Flipkart, discovering visibility
We started with 10 orders and today we ship over 10,000 orders daily. Looking back, my journey has been nothing short of miraculous! Initially, we felt our way through the e-commerce business with other platforms. But in a few years, my attention focused on being a top-rated Flipkart seller because Flipkart's customer base and traffic numbers are really large. Flipkart also has a very user-friendly app. We registered on Flipkart in 2015-16, but got active on the platform in 2018 and started winning awards from 2019 onwards.
Since becoming a Flipkart seller, I've learnt that decreasing prices is not the way to get orders or gain visibility. You must provide good service to get highlighted. On other platforms, just a price drop may work, but on Flipkart it takes a lot more.
The account managers have been instrumental in helping us unlock visibility on Flipkart. The Big Billion Days sale, with the traffic it generates, has helped us achieve unprecedented growth. Last year, we topped our category and TBBD 2020 was a great boost for my company in terms of sales and visibility. Today, when you look up casual shoes on Flipkart, you'll be able to see Chevit shoes on the first page!
More sales with insights from Flipkart
Sellers like me sometimes don't know how to approach e-commerce and it's the account managers who fill in the gaps, helping us think in terms of projections, sales, quantities, and high-selling dates. As per their inputs, we maintain our inventory, packaging materials, and stock, and even hire staff accordingly. They also analyze market trends, helping us offer products that consumers will likely buy.
Unprecedented growth
As a Flipkart seller, I've seen 10x growth in 2 to 3 years. In 2018, we had 1,500-2,000 orders per day on Flipkart. That rose to 5,000-6,000 orders per day in 2019 and today, we handle 10,000 orders every day. If you count the number of pairs dispatched, since we offer lots of combo deals, that figure would amount to over 40,000 a day.
The Big Billion Days 2020 has been sensational for me as a Flipkart seller. We made more than ₹5 crore in just 7-8 days. Chevit shoes also made it to Flipkart's homepage, where top-selling products are featured.
Back in the day, I'd sit with my employees and pack shoes. I would even create invoices one by one on my own. Today, I have a team of 150 people working in my business. With advice from our account manager, we've diversified and now have different teams for packing, returns, dispatch, invoicing, and so on. With supervisors placed in each department we remain efficient. We strive for great customer reviews and ratings.
In terms of Chevit being business-ready, our approach, especially during The Big Billion Days 2020, was to stock up. We have over 20 lakh pieces of footwear in stock and daily we keep 30,000-40,000 pieces in circulation.
Safety first
We're COVID-ready too! As a Flipkart seller, I wanted no compromises: All members of my staff have to come to work with a face mask. Every 1.5 hours, a designated staff member supervises sanitization on each floor. A timing register helps us keep a log of our sanitization protocols and we disinfect areas before the staff come into work, when they leave for lunch, and when they return home. Our dock area is also sanitized 3 times a day.
During the lockdown, we definitely felt a slump in sales, but as the economy has opened up, and with inputs and projections from Flipkart, we've gone back to witnessing growth, especially for The Big Billion Days sale. That's why my advice to other Flipkart sellers is: Make sure you stock up inventory and listen and learn from your account manager!
On a personal note, my family has been very enthusiastic about Flipkart and The Big Billion Days. I often think back on my life and education. While I graduated with a B.Com (Hons.) from Delhi University, my family also made me do engineering. But neither of those degrees worked for me – only being a Flipkart seller came in use!
---
Also read: #Sellfmade: From 5 orders to 700 orders a day, this woman entrepreneur says Flipkart was the best business decision!