Indian customers consider furniture an investment. To encourage customers to buy with confidence, branded furniture sold on Flipkart is subject to over 35 kinds of durability tests.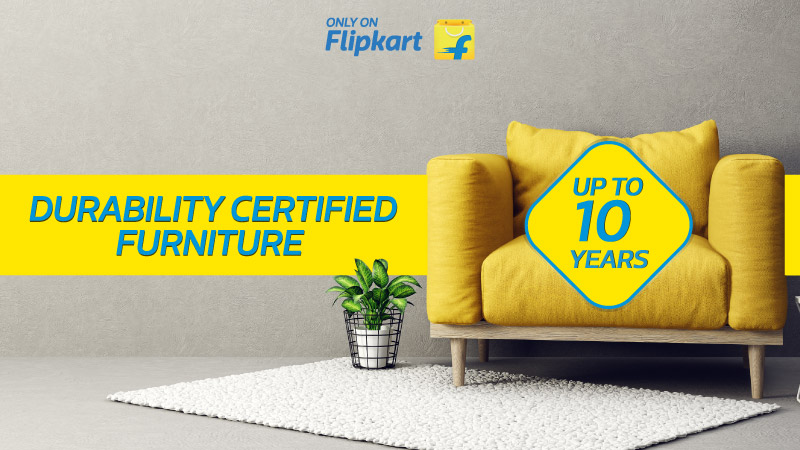 Flipkart, India's largest furniture store, recently announced the launch of Durability Certified furniture as a part of FurniSure, a unique furniture buying experience on its online shopping platform. Durability Certified furniture, according to Flipkart, is aimed at building customer confidence in a market segment where testing for durability is unheard of.
Founded on the insight that for customers in India, buying furniture is very often a lifetime commitment, Flipkart's FurniSure experience intends to help customers overcome their inhibitions around shopping for furniture online. Over 250 furniture selections from various world-renowned brands have been durability certified on the Flipkart online shopping platform.
To qualify as durability certified, furniture featured in the FurniSure store is subjected to rigorous lab tests performed using cutting-edge technology. The testing process is conducted through four NABL (National Accreditation Board for Testing and Calibration Laboratories) accredited testing laboratories.
During the testing phase, every FurniSure product, including chairs, tables and sofas, undergo 35 unique tests for durability. These tests, which comply with international standards, simulate 10 years of normal usage, assuring consumers that the furniture they buy on Flipkart is guaranteed to withstand the roughest use and is meant to last.
Flipkart's research showed that while customers wanted their furniture to be durable, they did not know how to ascertain durability. The durability tests commissioned by Flipkart therefore simulated different ways in which the product could be used in a real-world scenario. Each product that bears the Durability Certified seal of approval is tested for real home usage — for example, chairs, tables and sofas are certified not just for sitting, but also swirling, stretching and many such real-world usage scenarios. Every unit of certified furniture is tested vigorously to support 200 kg on each sitting surface.
A major disruption in the Indian furniture market, the durability certification addresses a critical pain point for furniture customers — quality assurance. It also sets in place a benchmark, not just for testing, but for parameters that need to be tested before investing in furniture.
By end 2018, Flipkart wants 60% of all furniture products in its marketplace to be durability certified.
Learn more: Quality, durability and no second guesses — be Furnisure with Flipkart