There's no other way to say it - buying furniture is a commitment. If you're buying furniture online, you want to be sure that it both fits your space and style, and is durable too. Find out how FurniSure, Flipkart's durability-certified furniture store, helps you shop with confidence.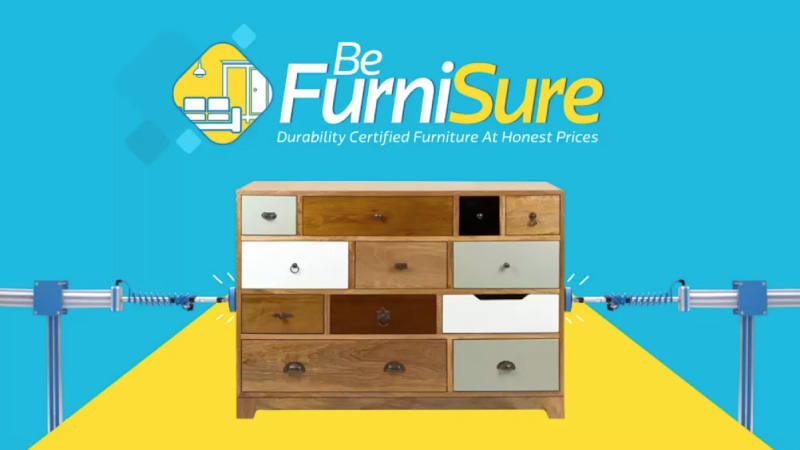 FurniSure, Flipkart's durability-certified furniture store, helps you shop with confidence. Read on to learn how
---
Will that walnut finish table you like actually fit into your cozy kitchen nook? Will that elegant double door wardrobe reach you quick enough to clear out that clutter at home? That sofa you've had on your wishlist for days — is it sturdy enough to withstand all the leaps of joy and masti from your kids? And will you even find a cushy enough wingback couch to sink into at the end of a long, tiring day?
You can shop for furniture on Flipkart easily by choosing from an array of brands, styles, material, shape and size, but it's often difficult to navigate through the numbers, measurements, and really be confident about the durability of the furniture you're investing in.
To answer your inner critic and silence your doubting Thomas, FurniSure, Flipkart's durability-certified furniture store, makes online furniture shopping tension-free. A one-of-a-kind durability certification, FurniSure is the first in India's booming online furniture market, helping make furniture shopping more convenient and putting all your doubts to rest so you can go ahead and buy furniture online with confidence.
The largest selections, assured quality, in-a-week free delivery, realistic product imagery and accurate descriptions — when you shop from the FurniSure store on Flipkart, you no longer have to feel like you're buying furniture with a blindfold on. You get all the information you need upfront, so you can get an accurate understanding of the product before making a decision. Combined with swift installation within 72 hours, after-sales service and over 20,000 products rated 4 stars and above, now you can bet on peace of mind.
FurniSure makes sure that your furniture is built to last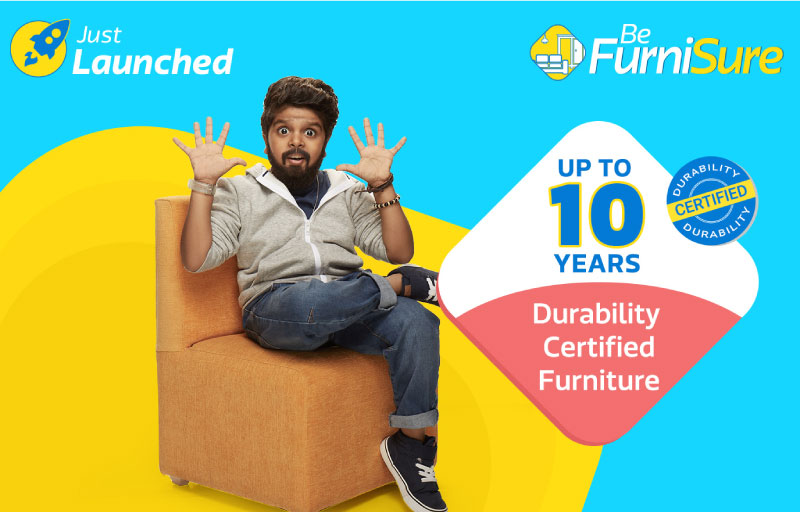 At the core of FurniSure is a durability certification that will put to bed any apprehensions that you have about a product's quality. Testing centers affiliated with the National Accreditation Board for Testing and Calibration Laboratories leave no stone unturned when it comes to rigorously testing furniture as per International European Standards for strength and longevity. Each product that bears the Durability Certified seal of approval offers durability of up to 10 years. So, when you see a Durability Certified product, you know that it is made from high-strength materials with superior craftsmanship.
Over 250 pieces of furniture, including beds, sofas, TV units and wardrobes from top-sellers, including Flipkart's own Perfect Homes, have been Durability Certified.
A promise you can count on

Products bearing the FurniSure certificate are ones that you can trust completely. For instance, sofas are subjected to an intensive vertical static load test, ensuring it is tested for 1.5 times the load threshold. Similarly, Flipkart puts beds through 80,000 cycles of testing. If you're guilty of slamming doors shut, fret not, for wardrobe doors are tested similarly, checking the durability of pivots even at a 130˚ angle. In a nutshell, the testing process mimics 10 years of regular use and expected wear and tear, and awards certification on the basis of how each piece of furniture performs.
---
WATCH THE VIDEO: A closer look at the FurniSure testing process
---
What's FurniSure without delivery & installation at lightning speed?
A seven-day delivery period on all Flipkart Assured products in select cities, along with installation within 72 hours — with Flipkart's four dedicated furniture warehouses, you can rest assured that you'll have your item of choice swiftly delivered to your doorstep. You can also select a slot for installation as per your schedule.
A range of choices like no other
With over 50,000 products on offer, Flipkart is India's largest furniture store, both online and offline. As an unique partner for major importers and manufacturers such as Valtos, Peps, Glenco and Nubliss, you get the best pick of global trends with over 600 unique designs. Flipkart is also home to the largest retailer, Hometown, and the largest manufacturer, Spacewood. And if solid wood furniture is what you're looking for, you'll be spoilt for choice — new designs are launched every single month! What's more, Flipkart's in-house brand, Perfect Homes, covers all your furniture needs — be it beds, sofas, recliners, TV units, storage units, dining sets, shoe racks, coffee tables or even mattresses.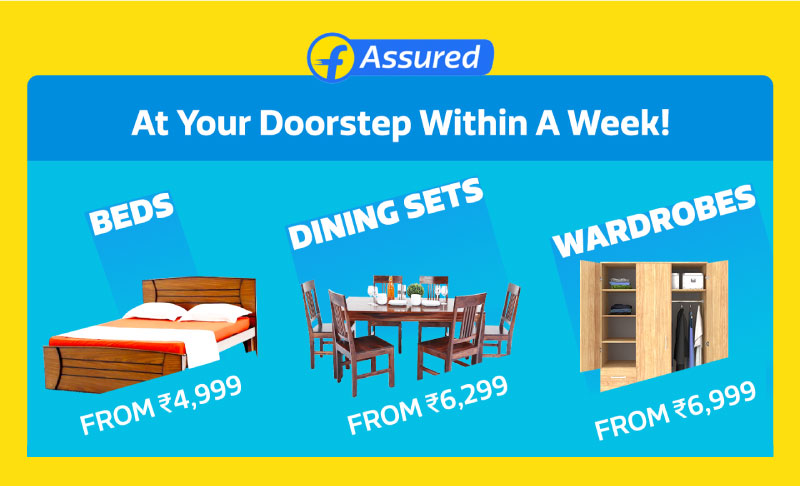 FurniSure goes the extra mile
Want to examine the grain of wood on the headboard of a bed or the upholstery on a sofa? FurniSure allows you to get up-close and personal with products by listing high-quality images for maximized detail. Accompanying this are images that give you a realistic idea of the scale of the furniture item, as well as its key features that make it sturdy.
For example, when you shop for a bed, you can see how barrel nut joints offer better support than mini fix joints, or what the exact height of the bed will be. In conjunction with accurate information on the source of the wood, cleaning instructions and design, you know exactly what you're signing up for.
Specification Assured adds value to the FurniSure promise
FurniSure's Specification Assured feature offers product specifications that are accurate to the last detail and decimal. Now, when you buy furniture on Flipkart, you can plan for exactly how it fits in your home.
With FurniSure, what you see is what you get. Rest assured, it's easy, secure and convenient to shop at India's largest furniture store with over 1 million happy customers .So go ahead, commit to that long-term relationship, it's going to be worth it!
To explore the FurniSure store and curate the interiors for your home, click here.
---
ALSO READ