Read this article in
मराठी
With its investment in G.O.A.T Brand Labs, Flipkart Ventures is backing next-generation innovations, and building and strengthening an ecosystem with world-class founders and ideas. Ravi Iyer, Senior Vice President and Head, Corporate Development, retraces Flipkart's corporate development journey with a view of the road ahead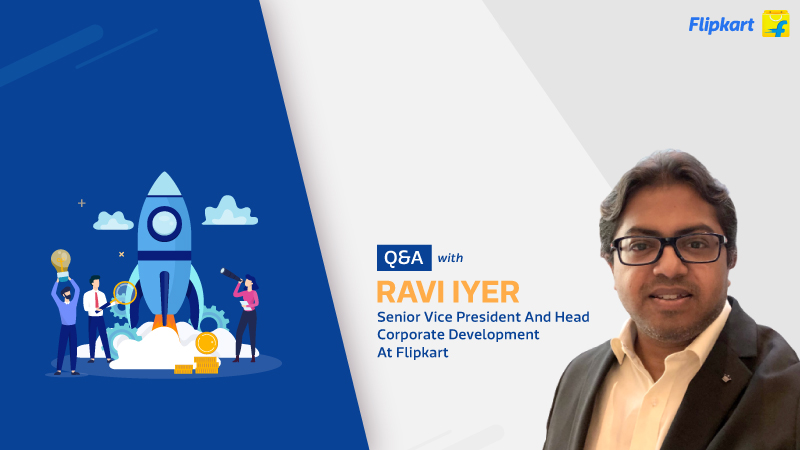 Over most of the past decade, Flipkart has been an active investor in the ecosystem and has a current portfolio of minority investments in more than 12 companies, which include startups such as Ninjacart, Shadowfax and Blackbuck, as well as established corporate entities such as ABFRL and Arvind. Flipkart has also undertaken several marquee M&A transactions such as Myntra, Walmart India, PhonePe, and Cleartrip, as well as cutting-edge technology companies such as Upstream, Liv.ai and Scapic. Over the last 12 months, despite the restrictions imposed by the COVID-19 pandemic, Flipkart has continued its rapid pace of investment partnerships with over 9 investments / acquisitions/ partnerships..
Flipkart Ventures, the investment arm of Flipkart which was first announced in 2019, is a $100 million fund founded on a vision to back early-stage startups in India and thereby help support the ecosystem to build innovative solutions for the next wave of internet users. The intent behind Flipkart Ventures is to accelerate the innovation curve of these startups, especially those that show potential to solve real-world issues through disruptive technologies.
With its first investment in G.O.A.T Brand Labs, led by former Flipkart Fashion Group Head Rishi Vasudev, Flipkart Ventures is focused on identifying opportunities and building new partnerships that benefit the ecosystem at large with the vision of backing next-generation innovations, and building and strengthening an ecosystem with world-class founders and ideas.
Ravi Iyer, Senior Vice President and Head, Corporate Development & Strategic Partnerships at Flipkart, retraces the journey that has culminated in Flipkart Ventures' first investment, while explaining how his team is uniquely positioned to leverage the deep understanding and expertise of building and scaling digital business in India to help entrepreneurs in their journey.
Excerpts from a Q&A:
---
Can you share the philosophy of corporate development at Flipkart?
Our evolution as a homegrown startup has been accelerated by our ability to be agile in partnering with the ecosystem. Over the years, we have sharpened our focus to ensure alignment with Flipkart's long-term strategic vision.
We approach partnerships based on 3 key vectors:
(i) Categories: How the partnership enables scaling up our key categories (Fashion, Grocery, Beauty, Wholesale);
(ii) Capability: How the partnership complements and strengthen our technology and supply chain capabilities;
(iii) New Areas: How the partnership can widen our offerings to continue to delight our consumers.
We have continued to execute actively on this mandate with a razor-sharp focus on alignment with the vectors outlined.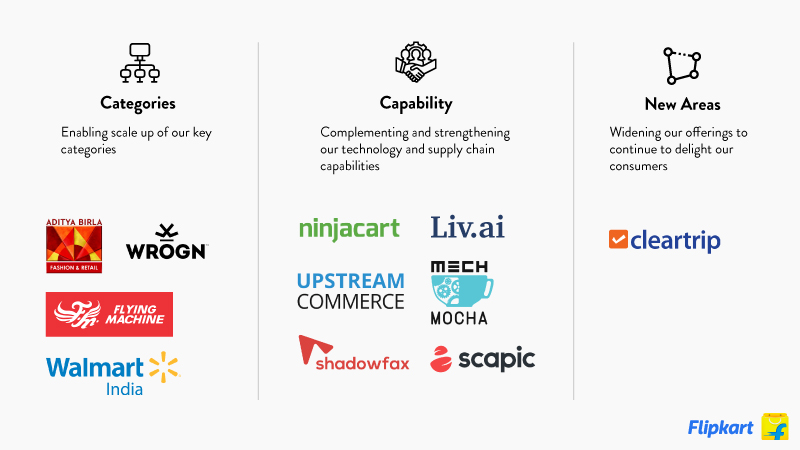 Can you share the vision behind corporate development at Flipkart and how Flipkart Ventures came about?
Over the last seven years or so, Flipkart has invested in some of the most innovative startups in India. Our Investment team, which has a deep understanding of the digital business landscape in the country, manages multiple initiatives focused on partnering with startups end-to-end throughout their lifecycle — right from Seed, Series A to providing a nurturing ecosystem for growth.
These initiatives include investments and acquisitions in key businesses that present opportunities to help the growth of Flipkart's business, as well as strategic partnerships that are beneficial to partners. Our Brand Accelerator is focused on accelerating the growth of D2C brands by equipping them with the necessary tools.
Flipkart has been a partner of choice across our inorganic initiatives. Flipkart's own journey from a homegrown startup and entrepreneurial culture offers an exciting platform for founders to continue scaling up their growth journey.
Flipkart Ventures is the crystallization of our corporate development journey. This is a $100M early stage fund established with the aim of investing in innovative startups that are disrupting the digital ecosystem. The founding philosophy of Flipkart Ventures is to help digital startups that are committed to building scalable solutions.
Owing to the first wave of the COVID-19 pandemic in early 2020, operations were put on hold. As we navigate through the pandemic crisis, Flipkart Ventures has resumed operations with renewed focus and commitment.
Please tell us more about the role played by the Investments team at Flipkart.
The Investments team within Flipkart comprises professionals with decades of experience in the investments ecosystem and is passionate about nurturing partnerships and helping startups in their growth journey. The team actively drives end-to-end execution of the investment strategy, and engages deeply with business and technology functions to understand areas where inorganic initiatives would accelerate the charter. It also drives the entire process, from landscaping for the right opportunity fit, capability evaluation, negotiation and structuring to execution. In addition, this team drives periodic monitoring of investments to ensure adherence to the investment thesis.
What is the long-term objective of Flipkart Ventures?
Flipkart Ventures is founded with a vision to back early-stage startups in India and thereby help support the ecosystem to build innovative solutions for the next wave of internet users. Our investments target budding companies working in the diverse digital innovation space, and the objective is to build and strengthen an ecosystem with world-class founders and ideas. Flipkart Ventures aims to invest in startups that have the potential to address emerging business and consumer requirements leveraging the power of technology.
What are some of the capital challenges in the startup ecosystem that Flipkart Ventures aims to address?
Most Indian startups begin their journey by bootstrapping. Bank loans, angel investments, venture capital and crowdfunding are some of the fundamental challenges in the startup ecosystem. Flipkart Ventures aims to foster a conducive financial environment where innovation can flourish and new-age companies with prospects can grow to heightened scale.
How different is Flipkart Ventures from established organisations that have an investment fund to engage with early-stage startups?
We are uniquely positioned to leverage the deep understanding and expertise gained from our own rich experience in building and scaling digital business in India to help entrepreneurs in their journey. The close association offers startups mentorship access to leaders who have scaled billion-dollar businesses, consultations from domain experts, and workshops to achieve superlative growth. Flipkart Ventures will be managed by a separate dedicated team of experienced investment professionals to ensure a tailor-made approach suitable for early-stage investments.
What sets Flipkart Ventures apart from accelerator programs such as Flipkart LEAP?
While Flipkart LEAP offers a playbook on how to grow, scale, and navigate challenges, Flipkart Ventures financially enables the digital startups to bring their brilliant ideas to fruition. Both the initiatives complement each other and add impetus to the shared purpose of boosting innovative technologies.
What will be your average investment size and what stage of startups are you particularly focusing on?
The investment will be dependent on the requirement and potential of the startup. Our sweet spot would be between $1 million – $3 million, which can go up depending on the requirement and potential of the startup. We will provide Series A and B funding to startups, in addition to expert advice and mentorship.
---
Write to ventures@flipkart.com