Naren Ravula, Vice President and Head of Product Strategy and Deployment at Flipkart, tells us about the newly launched startup accelerator program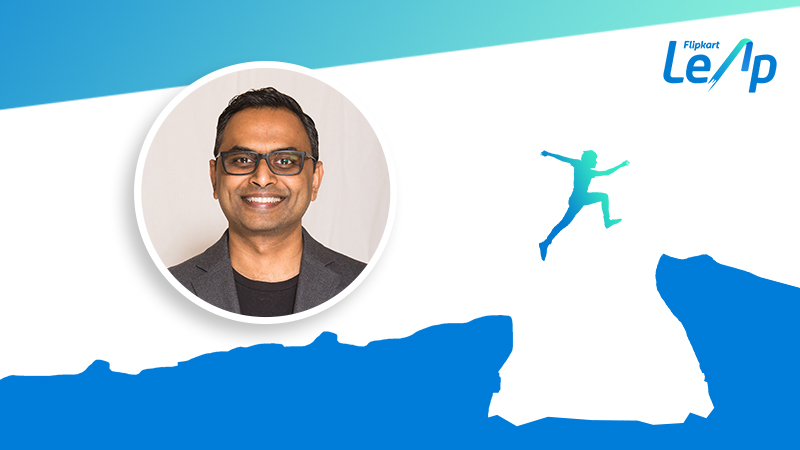 Flipkart's storied journey from startup to unicorn is one that is equally admired and envied. With a view to strengthening India's startup ecosystem and building a community of local entrepreneurs, Flipkart announced the launch of Flipkart Leap, an industry-best accelerator program, on August 10.
Flipkart Leap provides a unique opportunity for startups to learn from the most successful consumer internet company in India. This program is a platform to partner with an industry leader and learn from its experience while staying ahead of the innovation curve and scaling a business quickly to its full potential.
---
Want to know more about Flipkart Leap? Check out the accompanying podcast!
---
The four-month-long program, curated in partnership with Zinnov, aims to help startups create world-class products and innovative solutions that are market-ready, and help them be a part of a robust startup ecosystem. Startups handpicked through Flipkart Leap will gain access to Flipkart's top-notch technical and business mentorship, tools, framework, technology, and business support services. Selected startups will win an equity-free grant of $25,000, and will further see an opportunity for a possible funding from Flipkart.
Steering the Flipkart Leap program is Naren Ravula, Vice President & Head of Product Strategy and Deployment, who is responsible for shepherding innovation within the Flipkart commerce companies (Flipkart & Myntra) and the broader ecosystem. In his previous role at Flipkart, Naren led the Corporate Strategy team, which worked closely with business and technology leaders to strengthen company strategy, planning, and strategy deployment.
Excerpts from a Q&A.
---
What challenges do startups in India face?
India has the third-largest startup ecosystem in the world that is growing at 12% annually. However, startups in India face multiple challenges ranging from hiring and managing teams, dealing with customers, to developing a marketing strategy. Many Indian founders, in particular, have a strong technical background and lack deep business knowledge. In early stages, many startups are bootstrapped. Other conditions like the digital divide, obstacles in taking products to market, low customer willingness to pay, and complex regulatory environment continue to stymie the ecosystem.
The ongoing pandemic crisis has hit startups hard. Many Indian startups have run out of funds and resources after their businesses took a hit due to the lockdown. Some are staring at scaling down or shutting down their businesses.
What does India's startup ecosystem expect of an accelerator program like Flipkart Leap?
Flipkart Leap comes at an opportune time for the Indian startup ecosystem. India currently has one of the largest startup ecosystems in the world. We have become a hotbed for startups, owing to technological advances, government support and a vibrant private sector that seeks to engage in open innovation. An accelerator program like Flipkart Leap plays an important role in shaping early entrants to the industry and enables them to solve the dynamic needs of Indian businesses and consumers, both. We try to take some of the friction out of creating successful businesses.
What comes next after the call for entries?
Interested startups can apply online at the Flipkart Leap website. The applications will be evaluated via a three-stage screening process. Shortlisted applicants will be invited for a final pitch session with the Flipkart leadership. The final selection will be based on the strength of the business idea/plan, team capabilities and relevance to the focus areas.
Flipkart Leap will identify business-to-customer (B2C) and business-to-business (B2B) startups and help them scale through an intensive 16-week virtual program. Throughout the program, Flipkart's leadership from Business, Operations, Product and Technology will mentor the selected startups and share best practices. In addition, they will benefit from masterclass sessions hosted by industry experts.
Our goal is to help participating startups to improve their odds of success through relevant training, guidance and support. After the completion of a 16-week program, the startups will showcase their model on demo day to investors, corporates and other ecosystem players. The program will also open doors to a possible funding from Flipkart.
What kind of ideas are most likely to catch your eye?
We have our eye out for startups with a working prototype and strong early adoption, those that possess an innovative and scalable idea coupled with a great team known for execution excellence. We are seeking to mentor startups that solve some of the most pressing issues that impact our society in the present time, across sectors like fintech, agritech, edtech, medtech and healthtech, insuretech, retail, software-as-a-service and more.
We have identified five themes to shortlist relevant high-potential startups. These include Design & Make for India, Innovation in Digital Commerce, Technologies to Empower the Retail Ecosystem, Supply Chain Management & Logistics and Enabling Relevant Deep Tech applications. These themes have been identified to tap into the most innovative solutions in the Technology and Consumer Internet space, uniquely built for Indian consumers.
The focus is on bringing digitization and tech advancement in these thematic areas, including any startups that will be working on disruptive solutions that have the potential to transform the landscape of e-commerce in the next five years.
What benefits can startup founders expect to derive from the experience?
The accelerator experience is akin to an immersive education, where a period of intense, focused attention provides company founders an opportunity to learn at a rapid pace. Learning-by-doing is vital to scaling ventures, and accelerator programs expedite that process by compressing years worth of learning in a capsule form into a period of a few months.
Through this program, startups will learn to understand their customer's needs and how to apply relevant frameworks for their business. They will gain access to tools, platforms, investors, financial grants, technology support, and business advisory services as well as a chance to work with Flipkart and its partners.
Our masterclass modules will also include sessions with other successful entrepreneurs, VCs, and business and technology leaders who are eager to share their experience with our cohort members.
---
If you are a startup raring to go, submit your application at the Flipkart Leap website