In a country where debit card users are significantly higher than credit card users, it is quite limiting to only be able to shop on EMI using the latter. Recognizing this gap last year, Flipkart partnered with leading Indian banks to introduce Debit Card EMIs, an innovation that lets shoppers pay in instalments without a credit card. One of Flipkart's ingenious Payments innovations, Debit Card EMIs have been a boon for many. Here's a snapshot of Flipkart customers who've reaped the benefit first-hand.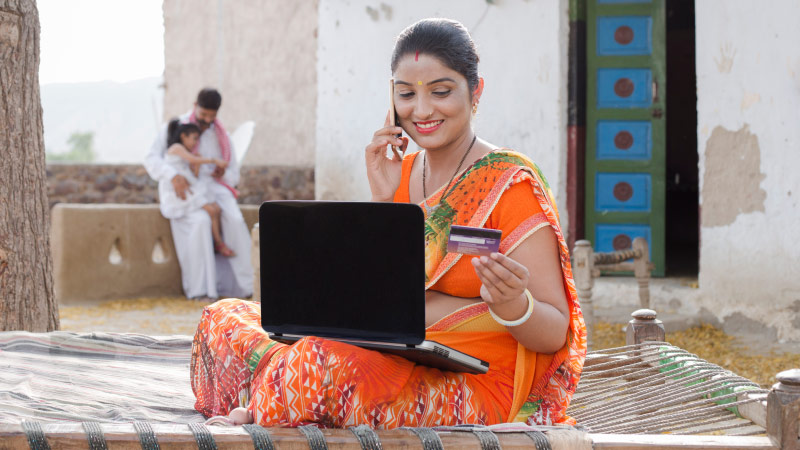 For the 36.9 million credit card users in India as of February 2018, the number of debit card holders is a whopping 855.4 million! It's evident that while pockets of India are using credit cards, by and large, debit cards still rule the roost whether you're buying a washing machine, an expensive handbag or a chair to complete your reading nook. That's why in 2017, Flipkart partnered with leading Indian Banks to introduce Debit Card EMIs.
EMIs take the stress out of the equation. By allowing you to pay a small amount each month, they serve as the easiest way to strike items off your wishlist without waiting endlessly before you can shop. To help you shop smarter, Flipkart introduced Debit Card EMIs last year, arming you with the convenience of EMI payments at low interest rates, all without having to take on the responsibility of a credit card.
A year hence, Indian shoppers have taken to this unique payment innovation like fish to water. Here's an account of how customers have wielded this payment option to satiate their appetite for online shopping.
With Debit Card EMIs, everyone is a winner!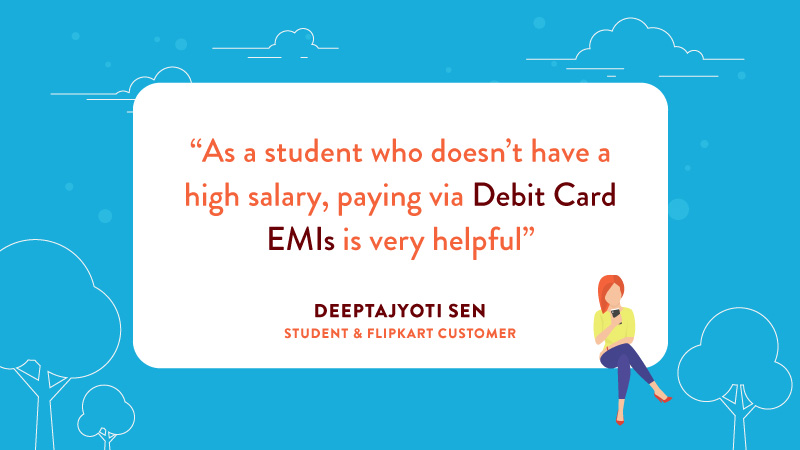 The idea behind introducing Debit Card EMIs was to bring affordable shopping to just about anyone. And it has made economical shopping a reality, whether you're a student or family man. Consider Deeptajyoti Sen for instance. A student, Deeptajyoti recently purchased a laptop from Flipkart using this payment option. "As a student who doesn't have a high salary, paying via Debit Card EMIs is very helpful. Since the EMI amount is debited automatically, it is convenient too," he says. "What I find thoughtful is that you're notified before the debit will take place, so you can add funds to your account if need be," he adds.
For Jordan Sangma, who purchased a phone for himself recently, the experience was equally pleasant. "Because I have a family, investing in a phone using a lump sum payment is far from ideal. It makes a serious dent in my bank account! But by paying through Debit Card EMIs, it has been easy on my savings and hasn't impacted it much," he shares.
The most convenient and hassle-free way to shop is here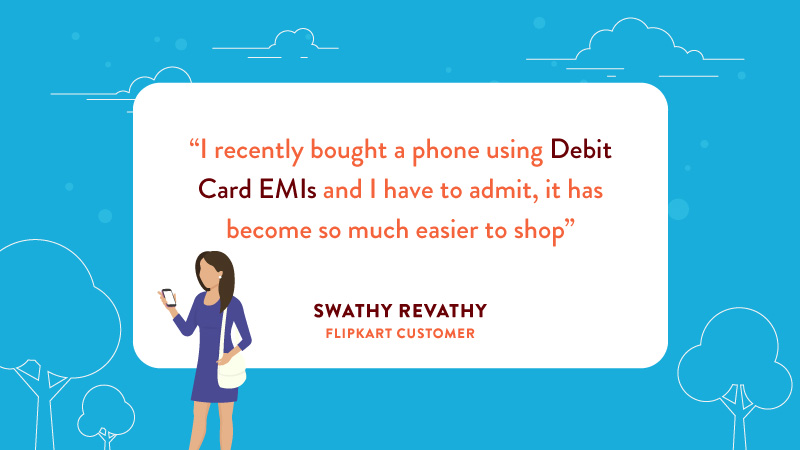 While customers have their own perspective on what makes shopping using Debit Card EMIs an absolute winner, one thing's for sure — everyone who uses it swears by the convenience and simplicity of it.
"I recently bought a phone using Debit Card EMIs and I have to admit, it has become so much easier to shop. I found the process to be simple and hassle-free, almost like how I would pay online usually. Besides, not everyone has a credit card, so this payment innovation is the perfect alternative," Swathy Revathy, another happy customer, tells us.
Even for Manish Saikia, who is a self-confessed infrequent online shopper, using the Debit Card EMIs option was a piece of cake. "Not having to pay for a refrigerator via a single payment was a boon. I was able to shop using this option with ease and rate the service an 8, if not 9 out of 10."
Jordon, who found out about Debit Card EMIs online encapsulated his experience succinctly, "It was straightforward, easy and uncomplicated." We couldn't have said it better ourselves!
Making Debit Card EMIs stronger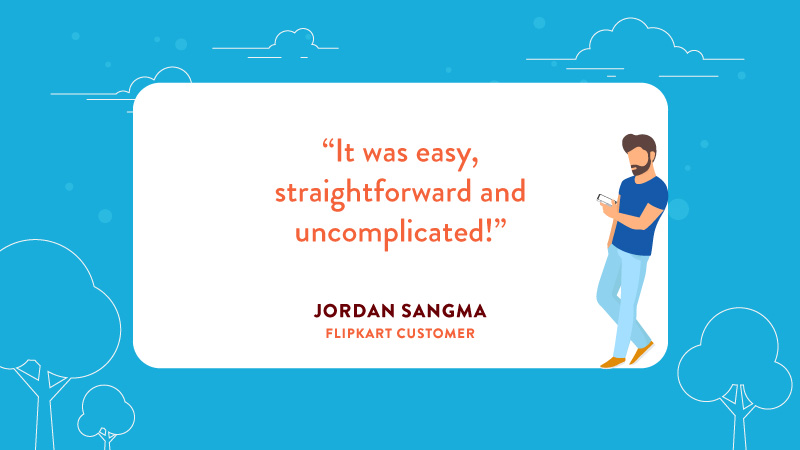 The shoppers, who are increasingly opting to pay via Debit Card EMIs, can't get enough and want the services to expand. Selvakumar R, for instance, says that while he shops mostly from Flipkart, there is one tweak he'd like. "I find it very convenient to shop using this option and so I'd prefer if more banks partnered with Flipkart on this."
Manish echoes this thought. He shares that while Debit Card EMIs have all the features a customer seeks, it would help to have more banks on board.
"Maybe the partner banks could be selected based on statistics. Banks with a higher number of users should certainly feature as Debit Card EMI partners," says Deeptajyoti.
On the other hand Jordan's request has nothing to do with banks. But he does feel strongly about how soon you can shop using Debit Card EMIs again. He says, "Once you make a purchase using this option, you can't use it again until a certain amount of time has passed. I'd prefer if there was no such restriction!"
Spreading the joy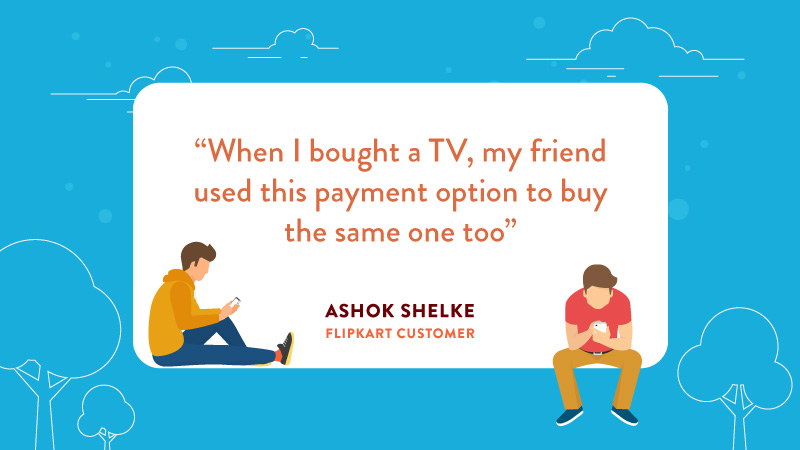 They say word of mouth reviews are the best, and we couldn't agree more. Customers have shared their experience with Debit Card EMIs with friends and family, in the process bringing the uninitiated on board! Swathy, who purchased a phone and then recommended this option to her friends, says that one of them is planning on shopping with Debit Card EMIs soon. "I have already recommended Debit Card EMIs to my friends and family. In fact, when I bought a TV, my friend used this payment option to buy the same one too," adds customer Ashok Shelke. Deeptajyoti too shares, "I have already spoken to friends and family about this payment innovation, and just a few weeks back a friend used it to buy himself a phone!"
With the festive season sales going strong, now's the perfect time for you to shop till you drop without glancing at your bank balance. With Debit Card EMIs by your side, whether it's a collector's edition box set or a new laptop, your budget will no longer hold you back!
---
Also read: Debit Card EMI from Flipkart — Here's everything you need to know
---