Excited about the #TheIndiaToyFair? Treat yourself to some nostalgia and stand a chance to win a Flipkart Gift Voucher. Read on to know more about the #ChildhoodToyStory contest.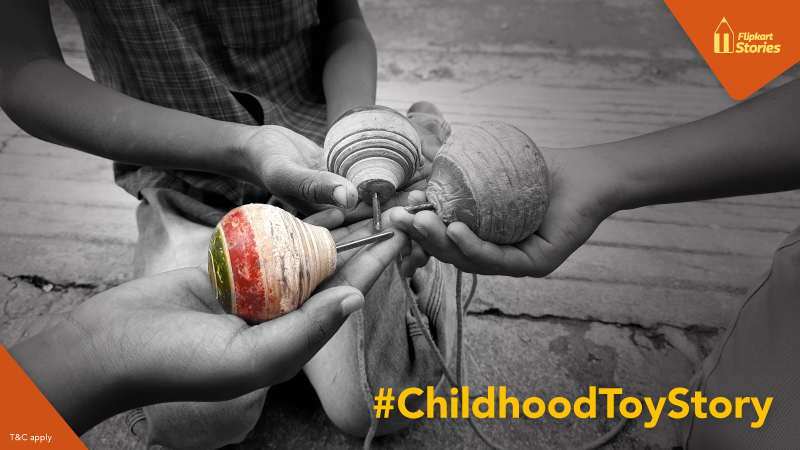 #ChildhoodToyStory – Read this and find out how to play and win big!
Social distancing may have turned playtime into a virtual experience, but your fondest memories playing with toys will always be yours to keep. Especially when it's our old-but-not-forgotten, quintessential Indian toys – no batteries (neither needed, nor supplied), no assembly required, and it didn't cost a pretty penny either! Who can forget that favorite top with a thread that unravelled squeals of laughter, wooden dolls you fought with siblings over, and the cacophony of dumroos.
Reminiscing over your childhood? Have fond memories of playing with your favorite toy as a kid? Share your #ChildhoodToyStory with us and stand a chance to win a Flipkart gift voucher! Contest closes Tuesday, March 2, 2021.
Here's what you need to do
Tag @FlipkartStories
The best entry wins a Flipkart Electronic Gift Voucher (EGV) worth INR 500!
Need a nudge? Here's a story one of our team members shared with us:
Some of my fondest childhood memories are of my family's Dussehra trips to Mysore. While everyone else looked forward to the pomp and fanfare of the festival itself, as an introverted child I preferred to stay home with my grandmother and play with my spinning top. Compared to the toys of today, it wasn't very high-tech or sophisticated – batteries neither needed, nor supplied, no assembly required, and it didn't cost a pretty penny either. There was something special about watching a piece of hand-carved wood spinning on a smooth surface, mesmerizing my 8-year-old self with its movement. Every little crack in the paint, every nick in the wood was a memory of a childhood well-spent. And while it wore itself out to a stubby little ball, its memory is something I'll always hold dear. #ChildhoodToyStory
Be sure to read the terms and conditions before playing!
Terms and Conditions:
---
Also read: #TriviaTuesdays – a fun weekly quiz on all things Flipkart