Women-led small businesses, artisans and eco-entrepreneurs - here's how you can celebrate and support them this International Women's Day.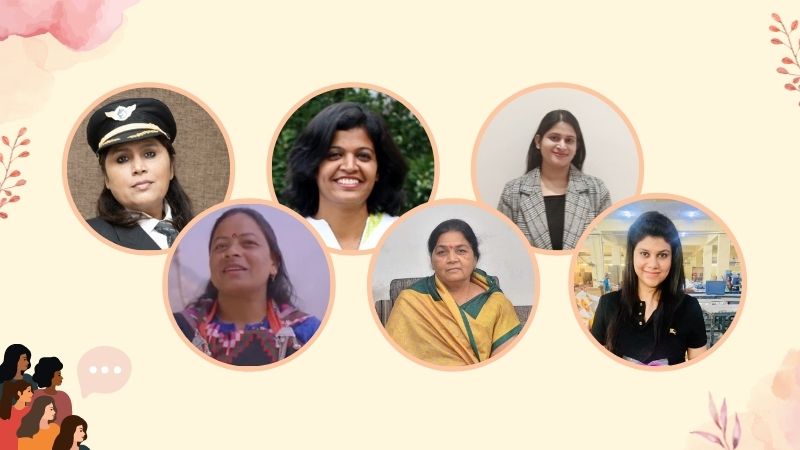 An eco-warrior whose accessible green products have helped divert 12 million sanitary pads from the landfill. An aviation legend and grassroots changemaker who has uplifted scores of women from underserved communities by imparting craft and marketing training. An artisan in the mountains of Kullu, Himachal, who is enabling uneducated women in her locality to learn weaving and become financially independent.
These incredible women entrepreneurs are part of Flipkart's diverse seller community, and our valued Flipkart Samarth partners.
At Flipkart, commerce is equitable and inclusive, and programs such as Flipkart Samarth, founded in 2019 to uplift underserved communities and embrace them into the e-commerce fold, helps ensure that trailblazers like them — artisans, changemakers and small business owners — can continue to grow and impact their communities, as we support them in their journey.
Read on to know some of their remarkable stories, how you can support them and, most importantly, salute their spirit on Women's Day and every day!
The Captain of Change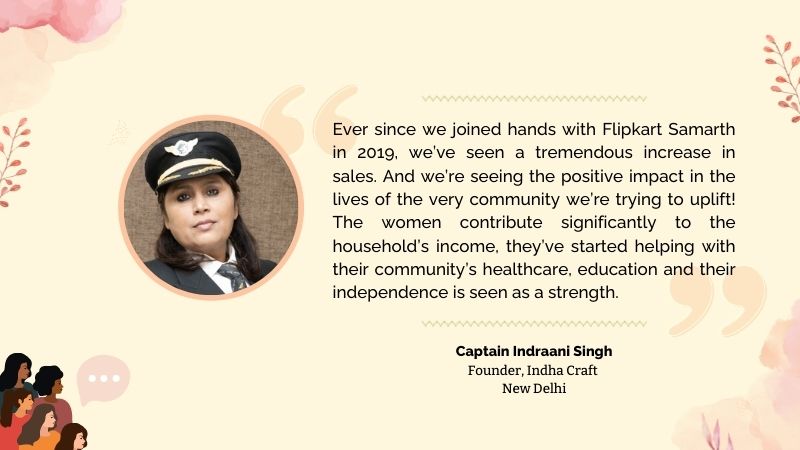 Captain Indraani Singh is a revered name in the aviation community — she's the first-ever woman in Asia to fly the Airbus 320 and the world's first woman commander on the wide-bodied AIRBUS 300. But there's another side to her that often flies a bit under the radar — she's also a grassroots changemaker who founded Literacy India and Indha Craft to help women and children in India's underserved communities.
Pilot, changemaker, Flipkart Samarth partner: The incredible story of Captain Indraani Singh
Now, as a Flipkart Samarth partner, she is able to ensure that these artisans have access to a pan-India customer base and a more sustainable income.
Click here to support this small business.
---
Green living made accessible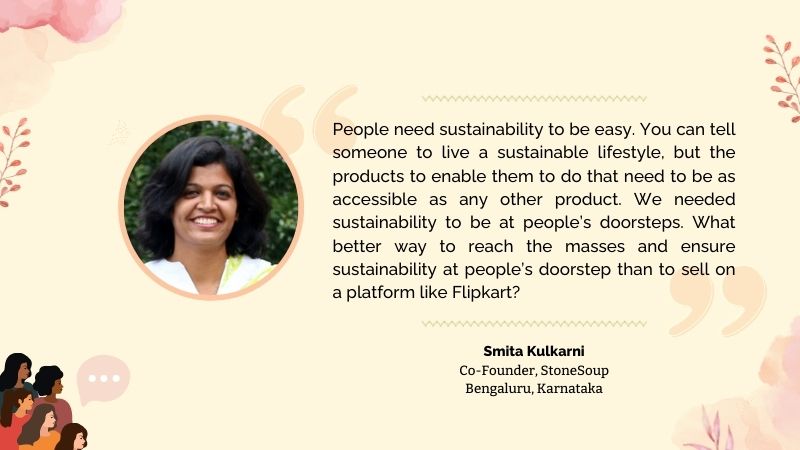 Eco-warriors turned eco-entrepreneurs, Smita Kulkarni and Malini Parmar, who call themselves typical middle class working women, began StoneSoup to make green and sustainable living accessible to people across India.
The StoneSoup story: This Flipkart Samarth partner makes sustainability easy & helps women earn a living!
By becoming a Flipkart Samarth partner, their products ranging from compost kits to reusable sanitary pads and menstrual cups, became available to over 250 million customers who shop on Flipkart.
While all of their products are proudly 'Made In India', their reusable pads are handmade by women who are part of Self Help Groups across the country's villages and small towns.
StoneSoup says that because of its products, "12 million pads have been diverted from the landfill, 10 tonnes of wet waste is composted in our composters daily, there are 5 million less plastic bags in the world because of our cloth bags."
Click here to support this women-led, eco-friendly business.
---
Keepers of our heritage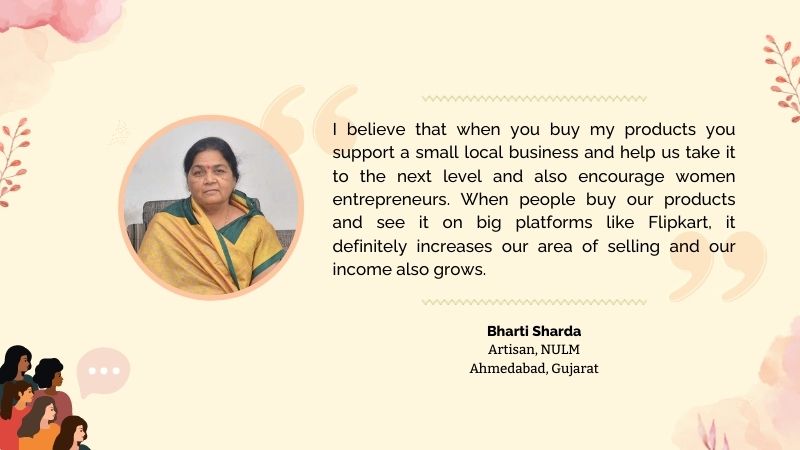 From Ahmedabad, Gujarat to Warangal, Telangana, and Kullu, Himachal Pradesh, lakhs of artisans have been working through generations to create and preserve India's complex and centuries-old artforms. The Housing and Urban Affairs Ministry's Deendayal Antyodaya Yojana – National Urban Livelihoods Mission (DAY-NULM) enables these artisans and urban poor women in this mission by helping them gain access to emerging market opportunities.
In Kullu, Himachal Pradesh, women artisans weave prosperity with Flipkart Samarth
In January 2020, NULM joined hands with Flipkart to further empower skilled workers and artisans by bringing them into the e-commerce fold.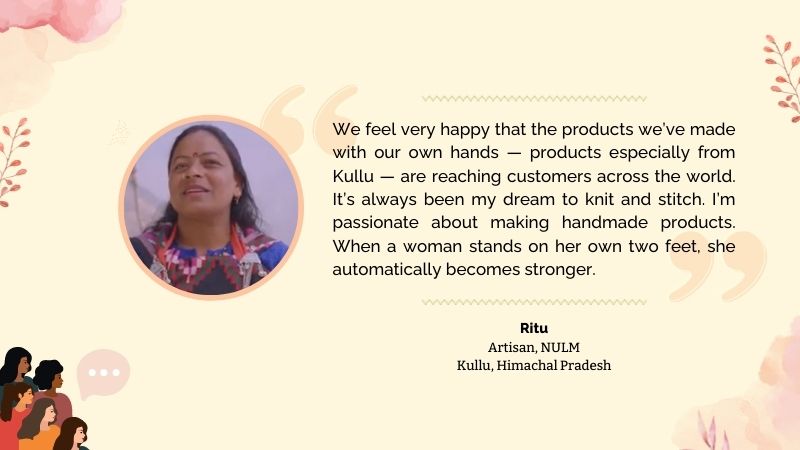 The NULM-Flipkart Samarth partnership spans 25 states, encouraging artisans from each state to bring unique and traditional products onto a common platform.
Kullvi topis and mufflers, dhurries, ankodi craft and more, the exquisite products are handmade by artisans, many of them women. The Flipkart Samarth partnership and its pan-India reach ensures that these artisans now have a sustainable source of income and financial independence.
Click here to support the artisans and buy their products.
---
The Modern Family Business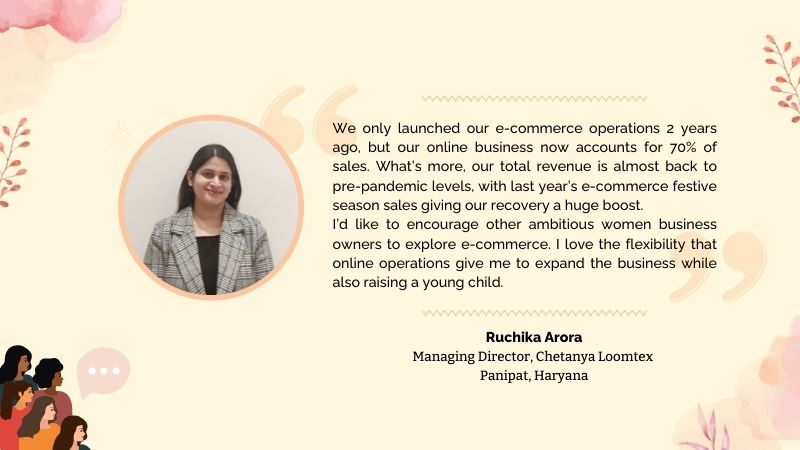 Until her mid-twenties, Ruchika Arora, Managing Director, Chetanya Loomtex, was on a path well-trodden, with a master's degree in computer science and a good government job.
"But after my son was born, I wanted to do something different that would let me look after him and make a name for myself," she says.
Leveraging her strong background in computing, she decided to head the fledgling e-commerce arm of her family business, Chetanya Loomtex, which makes artificial grass carpeting as well as bedsheets and handloom products.
"It was an exciting idea. The year was 2018 and e-commerce was truly taking off across the country. We knew that going online was not an opportunity that could be missed, Ruchika explains.
After launching online operations in 2019, she took charge, handling product packaging and shipment for a steadily increasing online buyer base.
While they launched e-commerce operations only two years ago, the company's online business now accounts for 70% of sales with total revenue almost back to pre-pandemic levels.
"I'd like to encourage other ambitious women business owners to explore e-commerce. I love the flexibility that online operations give me to expand the business while also raising a young child," she adds.
Click here to support this small business.
---
Resolve amid uncertainty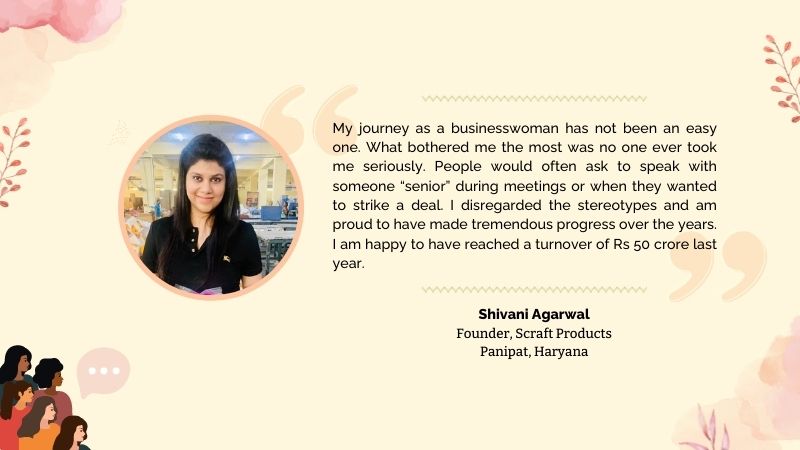 Shivani Agarwal set up Scraft Products Pvt. Ltd. a decade ago. The small business specializes in manufacturing of tissue papers, toilet and kitchen rolls and aluminum foil for food packaging, among other products.
Raised by a businessman father, Shivani had always dreamed of running her own enterprise. But just as she was enjoying the success of her business, the COVID-19 pandemic hit.
"My factory in Sonipat, Haryana, which was operating to full capacity up until then, had to abruptly stop production," she says, adding, "To be honest, I wasn't prepared for this kind of a sudden uncertainty." Shivani was also expecting her first child at the time.
Worried about safeguarding the livelihoods of her hardworking employees as well as her well-being, she took a quick decision. "Keeping all worries aside, I decided to give the business one more shot, before calling it quits by the end of the lockdown."
Noting that a demand transition had begun in the early days of the virus outbreak, she realized Scraft was in a position to redirect its course to meet the growing demand for hand sanitizers and disinfectants in the country. Gradually, as demand increased, she was able to get a steady pace of orders, with her business growing in the months that followed.
Click here to support this small business. 
---
Also read: With Flipkart Samarth, Punjab's women artisans hope for a post-pandemic business revival