30 days. 3 locations. 5 women's engineering colleges. #BcozGirlsJustWannaCode, a unique hackathon for women, brought 283 teams into the fray. Nine finalists traveled to Bengaluru to battle it out at the grand finale, to showcase their hacks to the brightest minds in Indian e-commerce. Read their inspiring story.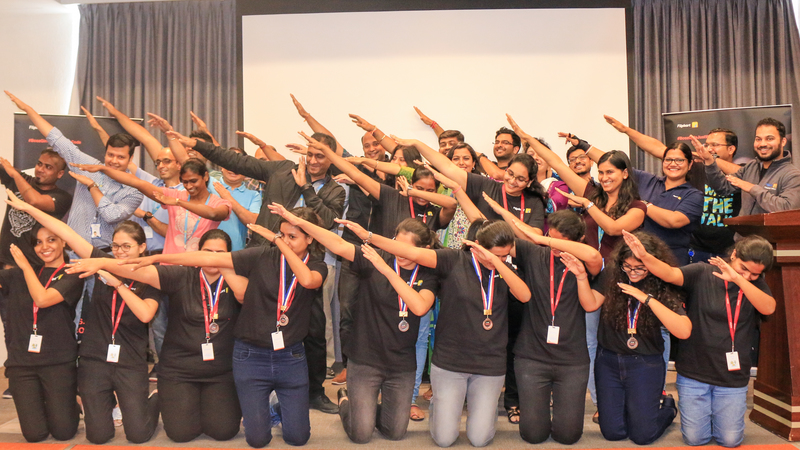 "I'm an amazing mathematician," says Ritu Sharma with conviction. Part of Team RaaRi, Ritu, from Pune, is one of the candidates at #BcozGirlsJustWannaCode, Flipkart's unique campus hackathon for women coders, held on August 29, 2018. Her team is among nine finalists gathered at the Flipkart campus in Bengaluru for the tightly contested finale.
Diversity and inclusivity continue to be an integral part of Flipkart culture, and #BcozGirlsJustWannaCode was conceived with the objective of improving gender diversity in the workplace. Over five days, hackathons were organized in five leading women's engineering colleges across India, to attract the attention of brilliant young women coders keen to begin their careers in coding.
A whopping 283 teams registered from these colleges. Round by round, the top nine hacks and the daredevil women coders behind them won tickets to the final showdown held at the Flipkart office in Bengaluru, with the winning team standing a chance to become part of the Flipkart family.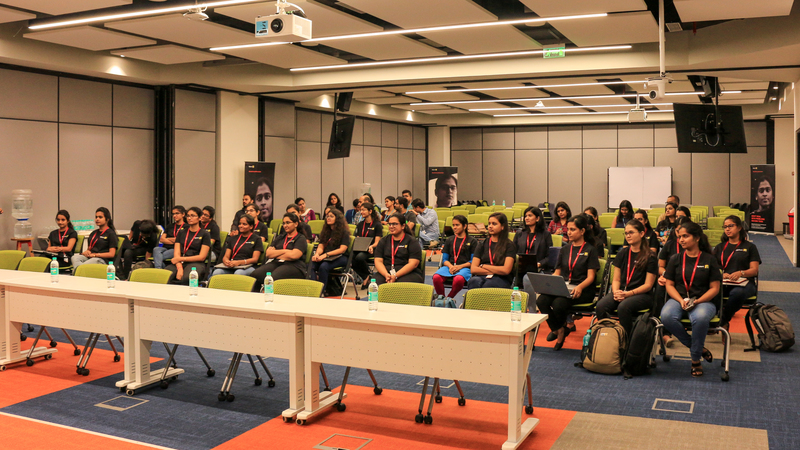 The league of extraordinary women
As the bus rolls in to the Flipkart campus, curious faces peer through the windows. In that moment, thoughts of winning the hackathon or having their hacks declared to be a never-before-seen stroke of genius, were all out the window. These budding women coders, still in college, were aware of the once-in-a-lifetime opportunity of contributing their innovations to the ever-evolving e-commerce industry in India.
"Women who have gathered knowledge, who know how to use that knowledge confidently, stand out. They are visible. That's what women need. Visibility," said Smrithi Ravichandran, Director, Growth, addressing the young finalists at the grand finale. Smrithi, who joined Flipkart in the early days and rose to become one of the company's most prominent women leaders, is among the keynote speakers at the event.
"It's only through initiatives like this that we can bring the hidden talents among women engineers to the forefront. And we need that desperately," adds Raavi Uttarwar, also part of Team RaaRi, looking forward to the last leg of #BcozGirlsJustWannaCode.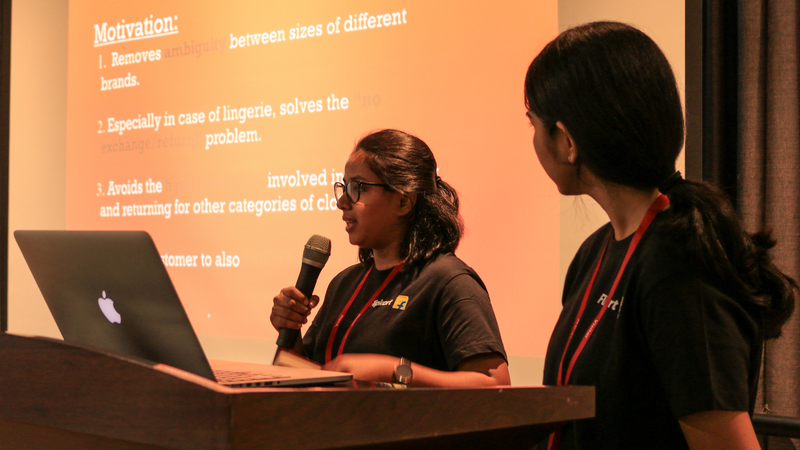 Flipkart has had many Hackdays in the past, with the ninth annual hackathon concluding not more than two months ago. But the atmosphere in this women-only hackathon was not quite the same. Excitement took a backseat and anticipation saturated the air in the room. For the women gathered here, this was their chance to prove themselves, even to naysayers, if any, who doubted their potential even for a second.
"No. I'm not the first woman engineer in my family, but I am the best," says Ritu. With her stellar scores and knack for numbers, she could have easily pursued theoretical mathematics and excelled at it. Instead, she chose to study applied mathematics that often crops up in the field of engineering.
"Even AI is based on statistics and probability. Strictly numbers," she adds. Her undeterred practical approach is evident in her decision to pursue Machine Learning & Artificial Intelligence. She believes that ML & AI will play a huge role in most businesses for years to come, and that the time she spends understanding the applications can be of great use to the e-commerce environment in India.
"I shop from Flipkart. So, as a customer, I know exactly what is lacking to achieve the perfect customer experience… and I believe I can fill those gaps with my work," she adds, getting ready for the final showdown.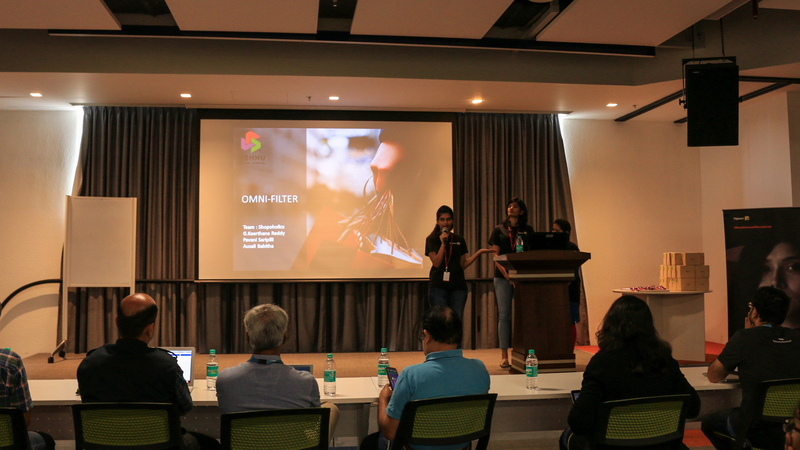 Soon enough, the hackers took the stage, demonstrating their work to the judges, whose questions poked and prodded the nuances and logic behind the hacks. It's no mean feat to impress a Hackday jury at Flipkart, but every 'girl who just wants to code' earned smiles from the judges when they showcased their hard work.
With so many stellar hacks before them, selecting the winners was no easy task for the judges. As they announced the final winners, shouts of jubilation erupted among the anxious participants.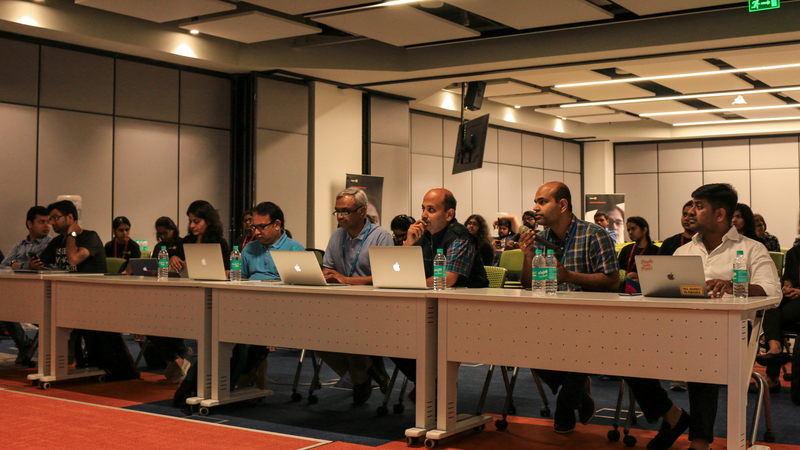 BVRIT, Hyderabad College of Engineering for Women fielded three candidates in #BcozGirlsJustWannaCode. And girl, did they make their college proud!
Pavani Rajula, Anuhya Abhiram and Susmitha Sanikommu from team PowerTech Girls, proposed a hack they called 'E-dressing' — a virtual dressing room aimed at bridging the gap between online shopping and shopping at a physical retail store.
With this hack, customers have the option of trying the product on themselves while still rooted in front of their computer or smartphone. "Will it match with the rest of my wardrobe? Will it suit my look?" You won't be asking these questions anymore because you'd know well before you click 'Buy Now'. Imagine adding only the best to your wardrobe without the hassle of going to stores to wait for your turn in front of trial rooms. That's the kind of empowerment these women coders want to give you customers, with their brilliant hack.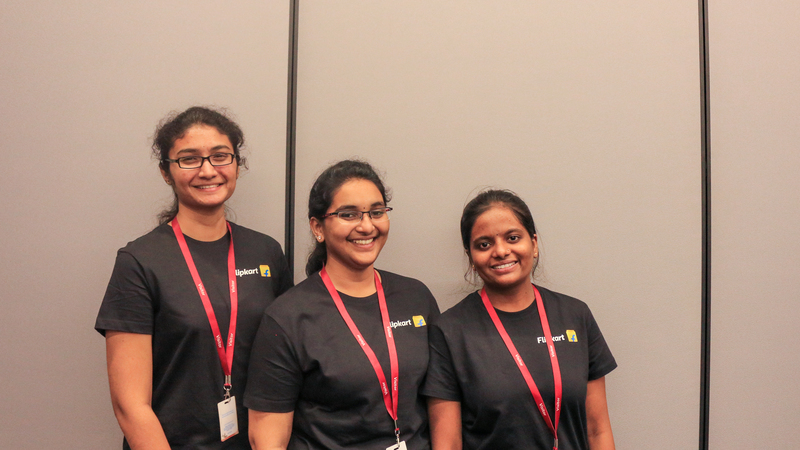 "Flipkart is like a big family that provides the perfect environment for freshers to nurture their skills," says Susmitha.
Upon being asked what motivated them to participate in #BcozGirlsJusWannaCode, the PowerTech girls answer in unison: "We wanted to prove that women are no less than men!"
The PowerTech girls recall how, when they were barely tweens, they became passionate about gadgets and all things tech. Anuhya sees herself pursuing a career in management. Where does tech fit in?
"Today, technology has become a big part of management. And I believe if I want to excel in management, I first need to learn everything I possibly can, tech-wise," she insists.
From Cummins College of Engineering for Women, Pune, came the 'Virtual Try n Buy' hack. Engineered by women coders Prajakti Kapade, Saumeya Katyal and Sneha Bandi of Team THREADS.
A virtual trial room that helps you confidently shop for fashion online is pure genius by itself. But to take it up a notch, Team THREADS designed a hack that could even help you figure out how the clothes you buy could fit you! In a nutshell, a 3D version of yourself tries on the clothes you pick and you get to see exactly how they would look on you.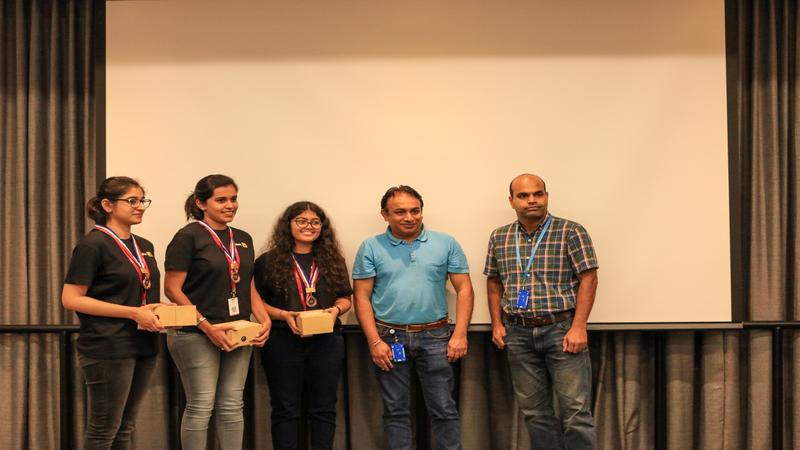 There are endless ways to look at an idea, and many perspectives to consider. That's why Sneha Bandi believes that it is important to gather people with unique experiences and wisdom to share, to maintain a diverse think-tank. Case in point, the judges marvelled at the team's hack not only because of the superb application of coding and technical know-how, but also because they had never even considered that women face many hurdles in getting the right fit. These women coders obviously knew these problems all too well, which is why they could come up with a fix.
What motivated them to participate in #BcozGirlsJustWannaCode?
"We had experienced issues, too, as customers with Flipkart. It didn't deter us from making purchases, but we did come up with a few ideas to make the online shopping experience with Flipkart better. And #BcozGirlsJustWannaCode provided the perfect opportunity for us to be heard," members of Team THREADS say.
Statistically, the number of women in senior management roles in the field of engineering are fewer than the number of men. Raavi from Team RaaRi believes that women need to be bold and ask for what they want, and break stereotypes of the roles women can take on. She also says that there are only positives in having a more balanced male-to-female ratio in the workplace. "It could bring to light different approaches to solving problems and getting around hurdles," she insists.
"Despite being one of the fastest growing economies in the world, if we are to catch up with the current superpowers of the world, we need to seriously assess the societal influences that impair the growth and development of women," she adds.
What advice would she give budding women coders?
"Marks don't matter in the slightest. Explore everything that seems interesting to you. Don't let academics get in the way."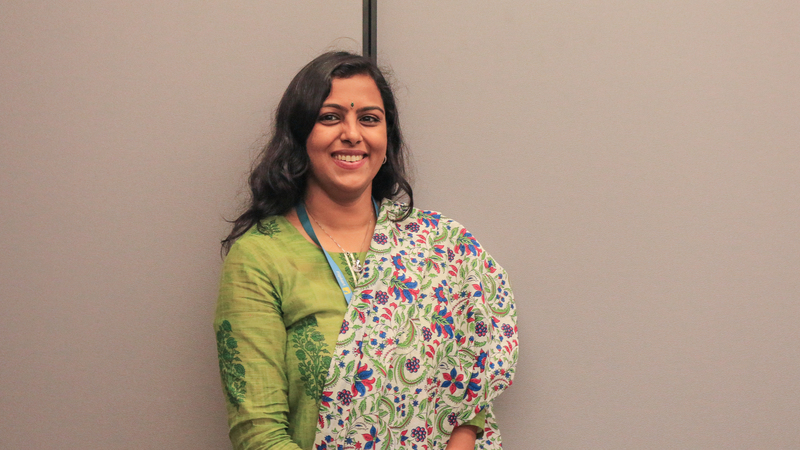 Apart from diversity and inclusivity in the workplace, #BcozGirlsJustWannaCode had another underlying objective — the hackathon was organized in smaller cities. "Coming from smaller cities, they don't get the exposure that students in metros very often enjoy," observes Priti Shetty, Director – HR, Applied Science and Technology, who spearheaded the event. "I can see the appetite to learn in these girls. There is a distinguishable hunger to understand how things function around them. They really want to make a difference."
Photographs by Arjun Paul
---
Also read: At Hackday 9, Flipsters rack brains to solve problems in Indian e-commerce