Akhila Kunjumon is no stranger to struggles. But her will to succeed, for herself and her daughter Meera, is what drives her to do her best every day. Read how this Wishmaster from Ernakulam, Kerala, is making steady progress in life and work.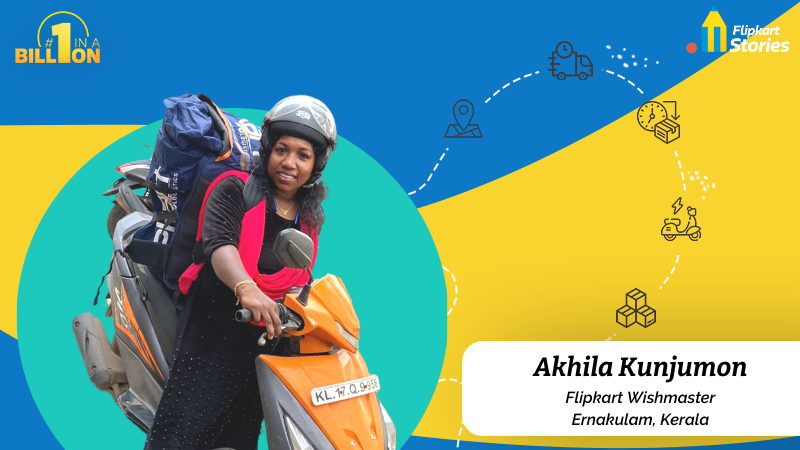 In Ernakulam, Kerala, Akhila Kunjumon is rediscovering independence as a Flipkart Wishmaster. This is her #OneInABillion story. 
---
I married for love. Little did I know that it would be the end of my independence, but also the beginning.
I am good at singing. I started taking professional lessons when I was in 12th grade. But when I entered college, I decided to redirect my focus to studies.
I was in the 3rd year of my BCom degree when I got married. But I dropped out as my husband wished. My marriage was an unhappy one.
When our daughter Meera started going to school, I wanted to resume my studies. Soon, I joined Sunday batches at MG University and was juggling between coursework and taking care of my daughter. Meera is a hearing-impaired child. This requires me to be extra mindful of her needs.
After I received my degree, I also took a 6-month accountancy course, and I joined as an accountant at a travel agency. I was paid Rs. 8000 at the time. But after a week of my joining, my husband abandoned us and left us in debt.
I still managed. But the real challenge came when the pandemic hit. My salary was cut down to Rs. 3,500 and there was no way for me and my daughter to survive on that.
This is when I came across a hiring advertisement for Flipkart Wishmasters. At the time, I didn't know what e-commerce was. But after getting to know about Flipkart and the pay, which was much more than what I was making, I decided to apply. For me, survival was the priority.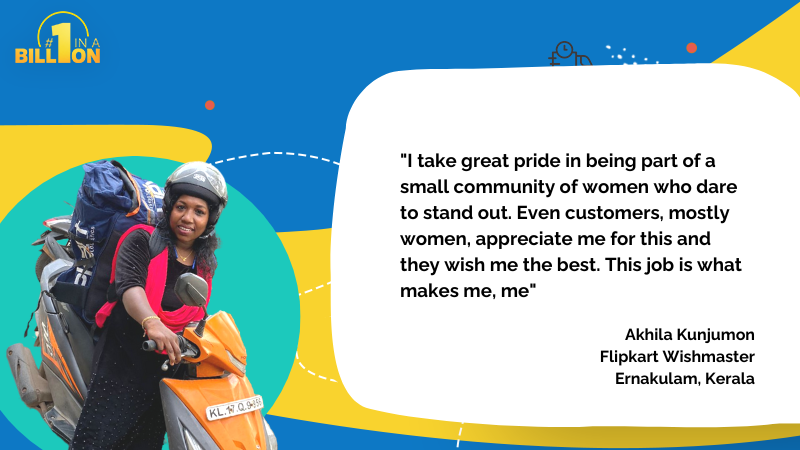 I started work during The Big Billion Days sale in 2020. It was challenging and exciting at the same time. I had never explored Ernakulam before, and my job required me to travel across the city. It was challenging at first but I learned quickly. I felt good that I was able to go around in the city.
Today, I love my job as a Wishmaster. As a woman delivering packages in a town where women are not usually seen in these positions, I take great pride in being part of a small community of women who dare to stand out. Even customers, mostly women, appreciate me for this and they wish me the best. This job is what makes me, me.
I used to be a submissive person. I would break down whenever a challenge hit me. But today, I am brave, independent and confident in my ability to live my life on my own terms. I owe this transformation to my dear daughter and my work.
From not knowing how to ride a scooty to loving every bit of doing just that, I have come a long way. And I am proud of this journey.
When I joined my current hub in Tripunithura, I was the only woman Wishmaster here. But I never felt like I didn't belong. All my team members are extremely supportive. They always guide me to do better.
I love the energy at the hub during BBD. Our team spirit is unbeatable and we work hard to deliver as many packages as we can. Even on normal days, I deliver more than 100 packages. I was given an award last year for my excellent performance during BBD. And I am looking forward to this year's BBD festivities too!
---
Also read: #OneInABillion: Single mom, biker girl — Wishmaster Manisha is fearless!